Publisher/Editorial Director:
Contributing Photographers:
Darold Kohout
Kim Engel
Ed Gardner
Lynn Kohout
Doug Oehler
Joe Streng

Account Executive:
Lynnette Kohout

Account Assistant:
Joni Bennig


Rancho Cordova, Ca. 95742
1-888-FORD-100
Celebrating
Our 45th
Anniversary
1969 - 2014
Thank You!
Rod Shows.com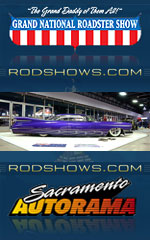 Grand National Roadster Show
January 23-25, 2015
Sacramento Autorama
February 14-16, 2015
--NEW Days--
Now Saturday - Monday
The West Coast's premier hot rod, bike & motorsports tour!
Come and join the two Oldest and Longest Running Indoor Car Shows in the World.
The Association of California Car Clubs (ACCC)
is a volunteer organization with regional representatives who represent the interests of individual members and member clubs across the state.

The ACCC consists of thousands of automobile hobbyists throughout the state who are interested in California laws and policies regarding collector automobiles.

This Custom Ford is
FOR SALE!

The Official Custom Art Frame Shop of

Vintage Fridays


5343 Sunrise Blvd

Fair Oaks, Ca. 95628

916-966-8766
Barris Kustom
Industries
Thanks For The
support George
and the Barris Family!



Click
Above to see what
George Barris has been up to and shop Barris.com



Sacramento Vintage
is an authorized
Barris Kustoms
Dealer!


We have 3 Barris memorabilia sections:



-- Batmobile Related

-- Barris Books
-- The Munster Koach
CLICK
on the Batmobile


Thanks to
Hooters Restaurants
for their support of our Vintage Friday's events!

Rancho Cordova
Sacramento
Natomas
Fresno
Bakersfield
Honolulu
Thank You!
New drivers need to


Start Smart.
Enroll your young driver in a Start Smart program today.
THUNDERBOLTS
Capitol Auto Club
Official Host Club
-Vintage Friday's-
CLICK above to read more about the 'BOLTS'
Butch Gardner
1946-2012
Stop by the
Rancho Cordova

location - Just down the street from Sacramento Vintage Ford!

Rancho Cordova Store Manager: Mitch Harrison
2838 Sunrise Blvd

Rancho Cordova, Ca.

95742

916-858-8666

CLICK above to see what else Lethal Threat has. And they have a lot!
At P.F. Chang's we are committed to providing you with an exceptional dining experience every time you walk through our doors. Each dish on our menu is prepared to order using the freshest and highest quality ingredients.
Majestic 11 foot tall horses grace the entrance to many of the restaurants. The horse symbolizes the original Forbidden City in China, which was built for China's first emperor Qin Shi Huangdi.
At P.F. Chang's you are surrounded by a unique environment combining influences of Chinese and American cultures. A panoramic, hand-painted mural depicting 12th century China, is visible from the main dining room and commands attention as the restaurant's centerpiece, while several terra-cotta warriors stand guard.
P.F. Chang's
(Darold and Lynn highly recommend the Chang's Chicken Lettuce Wraps to start your dining experience!
)
Rod Shows.com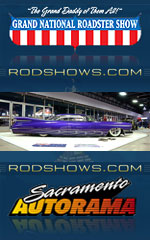 Grand National Roadster Show
January 23-25, 2015
Sacramento Autorama
February 14-16, 2015
--NEW Days--
Now Saturday - Monday
The West Coast's premier hot rod, bike & motorsports tour!
Come and join the two Oldest and Longest Running Indoor Car Shows in the World.
CLICK
above to see
-Dates and Times-
RU Faster Than A RedNeck?


Garage Mahal
American Trucker
Shark Fights
Optima Ultimate Street
Car Invitational
CLICK on any show
for information
Very
cool embossed metal signs from



Ruckus Rods!



CLICK

above if you can't wait!



Aged tin signs complete with bullet holes


Light switch plates

Click any image to view

Classic Shop Talk
Tech Articles
Instructions
Videos
Classic Performace Products
A Valued Vintage
Friday's Sponsor!
California Highway Patrol
The California Highway Patrol
-Valley Division-
A Vintage Fridays Sponsor & Supporter


Nothing Comes Close To
A Cobra

North American Headquarters:

Cobra Electronics Corporation
6500 West Cortland Street
Chicago, IL 60707

productinfo@cobra.com
1-773-889-8870


Sacramento Vintage Ford Shop Tour
by Craig Pike over at
My Ride Is Me.com
'The first thing I noticed'.......CLICK above to read the article
Photos by:

PEPSI COLA


Fender Donated The Bare Guitar!




Gene Winfield Painted
It To Match WILD CAD!



Mike Clines Striped It in 12k White Gold with Green Accents To Match WILD CAD


Best Buy in Roseville, California donated the Fender Amp!





W

e gave it all away for Make-A-Wish
last season!


Watch out for this little
guy in our parking lot area.
Very friendly but hasn't learned he may get squished by a car.
Past Time Signs is one of the largest metal sign manufactures in the world. We are a Southern California company specializing in the manufacturing and selling of metal signs, clocks, thermometers, light boxes and canvas prints.

We hand make our products in the United States using the highest quality materials and the most durable manufacturing procedures. The process bakes the image into a powder coating for a durable and long lasting finish. Just like the craftsmanship of the past, our products are durable and made to stand the test of time!
Esquire IMAX

1211 K Street

Divergent

An IMAX 3D Experience

Rated: PG-13

Release Date
March 21, 2014

Based on Veronica Roth's #1 New York Times best-selling novel, Divergent is a gripping action thriller set in a futuristic world where society has been divided into five factions. As each person approaches adulthood, he or she must choose a faction and commit to it for the rest of their life.


T
he image and sound quality of An IMAX 3D Experience« with proprietary IMAX DMR« (Digital Re-mastering) technology. The crystal-clear images coupled with IMAX's customized theatre geometry and powerful digital audio create a unique environment that will make audiences feel as if they are in the movie.
YOUR Commercial Ad Here!


Contact
news2@vintageford.com

Our little
Vintage Advantage e-Newsletter is distributed monthly to over 46,000 gearhead Subscribers!

1576 Silica Ave Sacramento
Call us today:
(916) 922 1300
Blueline Rental
9656 Jackson Road
Sacramento
YOUR Commercial Ad Here!


Contact
news2@vintageford.com

Our little
Vintage Advantage e-Newsletter is distributed monthly to over 46,000 gearhead Subscribers!

O'Reilly Auto Parts
With over 4000 O'Reilly Auto Parts stores in 42 states,
your O'Reilly Auto Parts store is never far from home!
Better Parts...Better Prices, Everyday!
CLASSIC PERFORMANCE PRODUCTS
A leader in creating computer designed disc Brake, Power Steering and Suspension parts.

CLASSIC PERFORMANCE PRODUCTS

175 East Freedom Avenue
Anaheim, CA 92801Orders: 800-522-5004Tech Line: 714-522-2000

Thank You Classic Performance Products
for your continued support of our
Make-A-Wish Efforts!



TOM MEDLEY PASSES

Courtesy Rodder's Journal
As many of you have undoubtedly heard, Tom Medley has passed away He was born in 1920 and would have turned 94 on March 20th of this year. When we think of Tom Medley the first thing that comes to mind for many of us is the jovial and slightly mischievous cartoon character that he created back in 1948;
Stroker McGurk
.
But, after hearing of his passing we began to give a little more thought to what he had accomplished in his lifetime and it is truly amazing. It has been said that there aren't very many people who leave this world markedly different than it might have been if it weren't for their efforts. Tom Medley was certainly such a person.
How many others can say that their names were on the masthead of Hot Rod Magazine starting with the second issue back in February of 1948? Medley stayed at the old Petersen Publishing until retirement in 1985 and always seemed to be in the center of the action. He created the iconic Stroker McGurk character for Hot Rod's third issue, was listed as the Cartoon and Humor Editor and contributed many of the best-remembered early photo features.
Tom became Hot Rod's ad manager with the May 1955 issue and in the late-'50s he was deeply involved with a group of racecar builders and hot rodders that created the go-kart movement. After spending a little more than a decade as ad manager at HRM, Medley was named the publisher at Rod & Custom in December of 1965. At the time, R&C covered everything from drag racing and go-karts to model cars, mini-bikes, street rods and indoor car shows.
CLICK on the photo to read the complete article
over at The Rodder's Journal.



MORE DINERS, DRIVE-INS AND DIVES
Join New York Times bestselling author and Food Network star Guy Fieri for a second helping of the best diners, drive-ins, and dives across America!
New York Times bestselling author Guy Fieri, host of the hugely popular Food Network show Diners, Drive-ins and Dives, revvs up his engine for an entertaining tour of sixty more of the best local restaurants across America that have been featured in his very favorite episodes.
Bursting with his iconic personality, Diners, Drive-ins & Dives: Another Drop-Top Culinary Cruise follows his hot-rod trips around the country, mapping out the best places you've never heard of. Wherever he goes, Guy showcases the amazing personalities, the fascinating stories, and most important, the outrageously good food provided by these American treasures.
Filled with delicious recipes, photos, and charming memorabilia, and featuring Guy's hilarious voice and rampant enthusiasm for these hidden culinary gems, Diners, Drive-ins & Dives: Another Drop-Top Culinary Cruise is essential for his countless fans and for lovers of the American food scene.
Guy, once again, has generously donated copies of his new book for our Make-A-Wish events in 2014.
And yes, they are all
autographed
by Guy Fieri!
Thank You Guy!
CLICK
on the Food Network sign to check out
Guy's Dot Kom page! DVD's, show info, recipes, restaurants and more.
Check you local listings for show times to view
Diners, Drive-Ins and Dives

VIDEOS: Trade Shows & Events - Street Rod & Hot Rod

Classic Truck - Ford & Chevy Muscle Car

Product Testing


CLICK
above to view
LORDS OF THE CAR HOARDERS
Every year finding unrestored classic American cars is becoming a thing of the past. But there's a secret treasure trove of automotive relics that still exists: Car Hoards -- the last frontier of the American Classic Car. Now, WWE superstar Chuck Palumbo and hot rod guru, Rick Dore are out to rebuild legendary cars and help car hoarders thin out their stockpiles of classic cars in
LORDS OF THE CAR HOARDS.
Each episode of LORDS OF THE CAR HOARDS features Palumbo and Dore helping car hoarders by offering them a deal: pick one dream car from their overcrowded car collection to rebuild while covering the costs of the remake by parting with and selling other cars and car parts from their massive hoard. Every hoard is a surprise, a treasure hunt, and Palumbo and Dore don't always know what they're getting into. Junky hoards mean tight budgets and tight deadlines which is unknown in the custom car world. The pressure is on and they don't always get along, but together they have a passion for cars that touches these hoarders' lives, changing them forever.
Palumbo, the 6'6" athlete and wrestling superstar holds numerous world wrestling titles, including two WWE Tag team titles and four WCW World Tag Team titles. He left WWE in 2008 to pursue his passion for cars and motorcycles. As a longtime hot rod purist, Palumbo is in it to win it.
Dore, a classic car legend known for his vivid imagination, has been in the custom car building game for more than two decades. He's been inducted into numerous automotive halls of fame and his one-of-a-kind creations regularly grace the covers and pages of hot rod magazines, including Rod & Custom, Rodder's Journal and Custom Rodder.
A recent Dore creation, The Black Pearl, won every category in its class at the 2014 Grand National Roadster Show.
On Discovery Monday March 17, 2014 10/9 Central

TCI ENGINEERING
TOTAL COST INVOLVED
Total Cost Involved Engineering Inc. is a US Manufacturing Company that has produced complete chassis plus front and rear suspension for classic cars since 1974 in Ontario, California.


The vehicle applications that they engineer chassis and suspensions for: Ford and Chevy Hot Rod, Street Rod, Classic Trucks and Muscle Car.
Looking for Ford or Chevy Total Cost Involved parts? Give Mike at call over at
Sacramento Vintage Ford!
1-888-FORD-100 --- 916-853-2244
Congratulations Total Cost Involved
on your 40th Anniversary and your support
of our Make-A-Wish efforts for 2014.
DEARBORN - As we get closer to the 50 years celebration of Ford Mustang, @Ford Online had the opportunity to sit down and chat with employees, club members and retirees about their memories around the iconic pony car.
Click on the videos below to see their responses. Also, if you would like to share your own Mustang memories - leave @Ford Online a comment.
Each day @Ford Online will post a new video to countdown to April 17, Mustang's big day.
BUMMER!
NOT THE WAY TO START YOUR DAY
Pepsi Beverages Company
Sacramento, California
Thank You Pepsi Beverages Company, Sacramento,
for your support of our Make-A-Wish efforts.
There Since The First Halftime - CLICK to view
AUTOMETER INSTRUMENTS
O'REILLY AUTO PARTS VINTAGE FRIDAYS
2014
We are very pleased to announce that O'Reilly Auto Parts is the

TITLE SPONSOR

of our
2014 Vintage Friday's Car Show Season!
O'Reilly Automotive, Inc. officially started in the auto parts business in Springfield, Missouri, in November of 1957. However, its historical background in the automotive business, as well as the family's quest for opportunity and advancement, may be traced back to a much earlier time.

CLICK
on the store photo to read the article....
O'Reilly currently operates in 42 states, with a total of 4,000 stores and 24 distribution centers, thus ranking it in the top two auto parts distributors in the United States.
Sacramento Vintage Ford would like to thank
O'Reilly Auto Parts for their continued support of our
Make-A-Wish
efforts.
WANT TO BE ON OVERHAULIN' ?

Know someone who needs their automotive nightmare transformed into the ride of their dreams?

The hit TV series Overhaulin' is back for another season of incredible four-wheeled transformations as world famous designer/builder Chip Foose and his A-Team turn deserving car owners' trash into treasure.

Know someone who is badly in need of an overhaul?
Do they have an amazing story that deserves the attention of Chip Foose and the A-Team?

If you do, we want to hear from you -- because you just might be the next 'mark' on Overhaulin'. To tell us the amazing story and get the chance to have someone special's ride Foose-ified,
go to www.overhaulin.tv and fill out the application!
HUMOR ?

A woman answered the knock at her door and found a destitute man. He wanted to earn money by doing odd jobs, so she asked, "Can you paint?"
"Yes," he said, "I'm a pretty good painter."
"Well, there's a gallon of green paint and a brush out back, and a porch that needs repainting. Be very careful. When you're done, I'll look it over and pay you what it's worth."
It wasn't more than an hour before he knocked again. "All finished!", he reported with a smile.
"Did you do a good job?" she asked.
"Yes, but lady, there's one thing I'd like to point out to you," he said, "That's not a Porsche back there -- it's a Mercedes!"
You know its time to change your car when.....
1. You spend more on oil than on gas
2. Your car leaves three types of liquid in your parking space
3. You offer a friend a lift and they say no because they are in a hurry
4. You feel good if you beat a cyclist at the lights
5. You get invited to join a car restoration club
6. Your neighbors all chip in to buy you a car cover
7. Your car leaves more smoke than a David Copperfield show.
8. Hitch hikers hide when they see you coming
9. And Finally, you know its time to change that car when some old timer tells you that they are the best car ever made.
THE NEW STOCKTON 99 SPEEDWAY

The New Stockton 99 Speedway is located at 4105 N. Wilson Way, ╝-mile west of Highway 99.
For more information on tickets and times, please contact the Speedway Office at (209)466-9999. And remember, Stockton 99 Speedway is Always Family Friendly.
CLICK above for additional details
The Stockton Dirt Track is a lightning fast 3/8 mile clay oval and is located on the San Joaquin County Fairgrounds in Stockton, California.
It is built inside a one-mile horse track and boasts one of the nicest dirt track facilities in the state. Camping will also be available during the weekend with a number of great spots for RV's and Campers on the fairgrounds.
The physical address for the Stockton Dirt Track is 1658 S Airport Way, Stockton, CA 95206.
Stockton 99 Speedway booth at the
Sacramento Autorama
Courtesy Daniel Strohl - Hemmings Daily
Hundreds of show cars
went up in flames 85 years ago at the Los Angeles Auto Show.

Unlike today's auto shows held in permanent structures, the 1929 Los Angeles Auto Show took place in a group of four tents set up on the southeast corner of Washington Boulevard and Hill Street, on what appeared to be an empty lot at the time, with a renaissance fair-looking entrance facing the boulevard. Also unlike today's auto shows, the 1929 Los Angeles Auto Show included displays from aviation companies, one of which was Monocoupe builder Mono Aircraft of Moline, Illinois, which a year prior had moved from Davenport, Iowa, when it became a subsidiary of Velie Motors. We know this because the Los Angeles Times reported that it was near the Monocoupe display that the fire began on the afternoon of March 5.
What exactly caused the fire was the source of some confusion. Initial reports blamed an errant cigarette, while followups attributed it to an electrical short. Whatever the cause, the fire spread quickly, aided by the wind (and, as reported, by the fuel in the tanks of the vehicles in the show), though not so quick as to prevent the 2,500 or so spectators in the tents to escape. Nobody was killed, and only three people - two of them firefighters - were injured.
Established in 1987, the Pick-n-Pull chain of self-service auto parts stores is one of the largest recyclers of end-of-life vehicles in the industry. You bring your tools, pull the parts you need and SAVE lots of money! Their 48 U.S. and 3 Canadian locations offer a huge a selection of used OEM (original equipment manufacturer) parts for cars, vans and light trucks - all makes and models, foreign and domestic - all at incredibly low prices.

Pick-n-Pull is proud of the fact that they recycle more than 350,000 vehicles and service more than 5 million self-service customers each year.

Pick-n-Pull is a subsidiary of Schnitzer Steel Industries, Inc., a global leader in the metals recycling industry that has been in business for over a century. Although Pick-n-Pull and Schnitzer have worked together since 1989, Pick-n-Pull became a fully owned subsidiary of Schnitzer in 2003 as part of its Auto Parts Business unit.
Being part of a Fortune 1000 company has enabled them to grow stronger and introduce cost efficiencies into their system that have allowed them to bring environmental and cost benefits to their customers. At the same time, the Pick-n-Pull stores have retained the regional and local focus that has made them popular with their customers.
CLICK to find a Pick-n-Pull Near You AND check inventory!
Goodguys promotes and produces 20 annual events in 13 states and publishes the monthly Goodguys Goodtimes Gazette from the association's Pleasanton, California headquarters. More info? Visit www.good-guys.com.
Reality Television star and hot rod stylist Chip Foose will be a featured celebrity at as many as 5 Goodguys events next year. Foose will appear at select events to sign autographs and meet with fans. The all new "Chip Foose Experience" semi-truck, featuring Foose-built cars, memorabilia, collectibles and more will be a featured attraction at nearly every 2014 Goodguys event on the midway.
Goodguys 32nd All American Get-Together
March 29 & 30, 2014
Alameda County Fairgrounds
4501 Pleasanton Avenue, Pleasanton, CA 94566
TOBY KEITH'S
I LOVE THIS BAR & GRILL
Leave it to country music legend Toby Keith to create a restaurant that offers great food and the best live music in Oklahoma City. Named after Toby's hit single "I Love This Bar," this exciting venue offers a real down-home experience.
Open for lunch 11am daily. Come as you are.
They'd love to have you anytime!
No reservations, but seated upon order of arrival.
Toby Keith's
I Love This Bar & Grill440 Palladio ParkwayFolsom, California 95630916-984-8629
Located in the PALLADIO at Broadstone
Our fun and rowdy atmosphere is inspired by the music and the attitude of the "Big Dog Daddy" himself,
Toby Keith.
You'll find it all here - great, down-home cooking, the best in high-energy live bands, and a friendly environment that makes you feel like a part of the family!
I Love This Bar offers a mason jar full of entertainment all week long with live music, plasma TV screens and, of course our "Whiskey Girls"!
Whether you want to watch live country music and dancing, watch the big game or if you are just here to eat, Toby Keith's "I Love This Bar And Grill" has a little something for everyone.
Order from our 85 foot guitar shaped bar, or strike up a conversation with one of our beautiful Whiskey Girls - some of the hottest waitresses and bartenders in the business. Toby's has private indoor 'barns' adjacent to the dance floor available to book for private parties, corporate events, or a group night out on the town. For an even more exclusive atmosphere Toby's offers a glass enclosed VIP room within full view of the dance floor.
440 Palladio ParkwayFolsom, California 95630916-984-8629 Located in the PALLADIO at Broadstone
Hours:
Sun: 10am - 10pm
Mon: 11am - 10pm
Tues - Thurs: 11am - Midnight or Later
Fri - Sat: 11am - 2am
B.R. COHN WINERY
Founded by Bruce Cohn in 1984, B.R. Cohn Winery is located in the heart of Sonoma Valley. Offers a full line of ultra-premium wines, extra virgin olive oils, handcrafted vinegars and gourmet food products.
When he is not managing The Doobie Brothers, Bruce R. Cohn, proprietor of the award-winning B.R. Cohn Winery located in Sonoma Valley California, is a hot-rod enthusiast and has been building and racing cars since the early 1960's.
This series of wines features painted label artwork inspired by Bruce Cohn's car collection.
Thanks to B.R. Cohn Winery for their continued support of our Make-A-Wish efforts!
The KEY and TOKEN a WISH recipient is given to unlock the very special room that grants their WISH.
Our Vintage Friday's Events support the Make-A-Wish Foundation of Northeastern California and
Northern Nevada.
Lynn and Darold Kohout (L) and Heather Stover (Sacramento Vintage Ford) present Kerry Cregan (Make-A-Wish Northeastern California & Northern Nevada), our check for $8843.86. A heartfelt 'Thank You' to our car show participants, spectators, sponsors and supporters for their support with our 14th season of Vintage Friday's, 2012.
EDELBROCK FAMILY FOUNDATION
The Edelbrock Family Foundation was formed with the purpose of bringing together like-minded organizations that share a passion for providing education and training for America's youth.
The Foundations goal is to foster a new generation of automotive industry leaders, entrepreneurs, innovators, enthusiasts and more.
Creekside Town Center

1180 Galleria Blvd.

AARON S. HAGAR'S
RAT RUNNERS GARAGE
Rat Runners Garage - "All About The Art of
Resurrecting and Preserving Old Metal"
The Rat Runners Garage Crew:

Robey O'Day, Tony Brown, Nick Phillips, Kevin Brown,

Ronald Goralski and Aaron Hagar.
Over at the
Lincoln Electric booth at the SEMA Show, Las Vegas.


Bryan Fuller, Michaela Hagar, Aaron Hagar and Lon Damon (Lincoln Electric).


Aaron Hagar owns Rat Runners Garage in Lake Tahoe, Calif. The accomplished singer, actor, builder and business owner designs and builds custom hot rods and motorcycles. He is also the lead vocalist of the band,
FightClub.


Aaron and Michaela Hagar's 'RED VOODOO' GMC is:


Congratulations to Michaela Hagar for her 3rd place win in the Stop Staring Clothing contest!


SURF CITY GARAGE PRODUCTS

So where did Surf City Garage detailing products
come from?
Well, to keep the cars looking great, we tried every car care product around, but I just wasn't satisfied with the quality or performance. So we developed our own complete line of Enthusiast Grade« detailing products -- recognized around the world as the best anyone can buy. Our guarantee: if these aren't the best products you've ever used, give me a call and I'll personally buy them back - is unmatched in the industry.
That's why, every day, more and more enthusiasts are switching to Surf City Garage Enthusiast Grade« - because nothing else even comes close.
Tim Miller
Car Enthusiast & Founder, Surf City Garage
Stop by Sacramento Vintage or CLICK below to see what we have from Surf City Garage.
John D'Agostino's 'SOPHIA' 1939 Cadillac
by Oz Kustoms
We are very pleased to announce that
Surf City Garage is the official BBQ Sponsor and the Preferred Car Care Products of Vintage Fridays!
Surf City Garage (Huntington Beach, California)
continues to be a very welcome supporter and sponsor
of our Make-A-Wish efforts.
Purchase your BBQ tickets then come see Sara!
Code Red™ Active Wheel Cleaner
Just to be clear - this is not your dad's wheel cleaner, so get ready to spray on and stand back! If you've picked up this product, you're tired of the same old, wimpy wheel cleaner that's weak, dull & short-lived. Are we right? Then we dare you to call in a Code Red!

Your wheels take a beating from the road and Code Red Wheel Cleaner is just what you've been waiting for! It's acid-free formula actively hunts down brake dust & other contaminants, making it the most effective product for cleaner, brighter wheels. Watch as it's Advanced Reaction Technology™ moves in on the grime, turning from green to red as it's working.


Code Red - no more mercy, no more brake dust™!

On the shelf at Sacramento Vintage!
117 Years of Excellence
Lincoln Electric's tradition of innovative solutions, technological leadership and commitment to customers, employees, and shareholders stems from the vision of its founder, John C. Lincoln and his brother, James F. Lincoln.
Lincoln Electric's commitment to providing the most innovative, cost-effective, quality welding and cutting solutions is one that has guided our company for more than 100 years. This, coupled with our technological leadership and worldwide manufacturing and distribution resources, enables us to provide competent and reliable solutions for each of our customers.
Lincoln Electric was founded in 1895 and is headquartered in Cleveland, Ohio. With more than 40 manufacturing locations, including operations and joint ventures in 20 countries and a worldwide network of distributors and sales offices covering more than 160 countries, Lincoln Electric has a global work force of more than 10,000.
OPTIMA BATTERIES
A special Thank You for Optima's continued support
of our Make-A-Wish efforts!
The 2014 show will be the 50th show for the L.A. Roadsters and will be held on Saturday, June 14th and Sunday, June 15th at the Pomona Fairplex in Pomona, California.
Each year, the L.A. Roadsters put on one of the largest roadster shows, swap meets, and commerical vendor shows in Southern California.

The show is always held on Father's Day Weekend in June of each year at the Fairplex in Pomona, Caliifornia.
In celebration of the 50th Show, the L.A. Roadsters are sponsoring the
2014 McGee-Scritchfield
Charity Roadster.
This is a Project of the L.A. Roadsters and the
Alex Xydia Center for Automotive Arts.



CLICK above for more details on the show
Certified Auto Repair isn't a shop name, a chain of stores or even a franchise. Certified Auto Repair embodies a standard of quality held by a nationwide network of the most respected auto repair facilities in the industry. Our members are asked to join based on reputation, integrity, qualifications and expertise. Certified Auto Repair members will not only take care of all your vehicle needs, but do it with professionalism and a level of customer satisfaction second to none.

Click above to find a mechanic in your area.


CUSTOM CAR CHRONICLES
This online custom car magazine is created by an international team of custom car and hot rod enthusiasts. This initiative started in 2004 with the legendary Custom Car Photo Archive founded by the Editor in Chief, Custom Car historian Rik Hoving.
On February 27, 2014, Kris Welsh passed away, with family at her bedside, at the age of 61 as a result of complications due to the H1N1 flu. Kris was co-owner of Artistic Collision Center with her Husband Steve and son Bryan.
Continuing the Adventure at
Artistic Collision Center
2459 Mercantile Drive
Rancho Cordova, Ca. 95742
March 22, 2014 Beginning at Noon
----You will be missed Kris!----
CLICK above to check out their page,
photos and events.
Hosts Alex and Bob with show engineer, Mike.

Whether you own and/or are interested in the hobby and history of restoring or personalizing a classic, custom, hot rod or muscle car, we've got you covered. We talk about kool cars, events, trends and California vehicle laws that affect our hobby. Our goal is to inform and share experiences of our guests with our listeners and help maintain a continued interest for the next generation of car collectors.


Founded by Butch Gardner in 2001, CRUISIN' GARAGE has been on KAHI Radio broadcasting to Placer, El Dorado and Nevada Counties, and as far away as Yuba City, Gridley, Sacramento, Dixon and Woodland!
The show streams live online at www.kahi.com.


Lambs wool car dusters are in stock! They are what we use on 'Voodoo Priest' and the other fine finish cars.
CLICK above to order yours....
THE SACRAMENTO VINTAGE FORD
F100 PARTS CATALOG!
Our 408 page, full color catalog of 1948-1966 Ford Pickup parts and accessories. If you have been ordering your F-1 & F-100 Pickup parts from Sacramento Vintage, watch for it in your mailbox .
Not on our catalog list? CLICK on the image to order.
What Other Ford Parts Do We Have For You?
1909-27 Model T
1928-31 Model A & AA
1932-48 Ford Passenger
1932-47 Pickup
1948-66 Pickup
1949-56 Ford Passenger
1967-79 Ford Pickup
Parts for your: Hot Rod, Street Rod, Custom,
Suede & Rat.
Cool stuff for your shop, office and garage!
One Shot, Lil Daddy Roth, Von Hot Rod, Mack Brushes
Roth Rattle Bomb Paint, Stickers, Clothing, Books, Art
and a bunch more! And it's all at
www.VINTAGEFORD.com
$100. for speeding and $250. for misleading the public...


OUR WIRING SHOP IS OPEN ON THE WEB!
We have a new page up on our web site.
Like the look of Old Skool cloth wrapped wire and related components? Want to build you own harness?
Cloth wrapped and PVC color coded wire in
14ga, 12ga and 10ga by the roll or by the foot.
2ga cotton wrapped battery cable by the foot.
Terminals: Rings, Flags, Forks and Bullet
Battery Cable & Battery Terminals
Wire tys and clamps
Hot Rod Harness Kits
Books - Manuals - Charts
Bulbs 6-Volt / 12-Volt
Non-Ford Tail Lamps
Cloth Wrapped Spark Plug Cable
Plug Terminals
Voltage Reducers
Non-Ford Headlamps
Loom Material
Heat Shrink Tubing
Fuse Blocks and more!
CLICK on any image to check it out.
AMERICAN RESTORATION
AMERICAN RESTORATION on the History Channel features Rick Dale and his crew of loose screws at Rick┤s Restorations in Las Vegas, Nevada, as they take rusty, beat-up items and restore them to their original glory.
Whether it┤s a giant gas pump from the 1940s or a Hopalong Cassidy bicycle from the 1950s, every restoration is a high-stakes business project where worthless rust is transformed into a valuable collectible. However, these restorations aren┤t easy. Every project presents unique challenges for Rick and his team.
When it comes to restoration, Rick Dale is the Pawn Stars go-to guy. AMERICAN RESTORATION follows Rick's work as owner of Las Vegas-based Rick's Restorations, a family business that finds, restores and up-cycles cool objects ranging from Cadillacs to Coke Machines.
Rick's very nice Ford F-1 Pickup can be spotted on various episodes of American Restoration.
Did we mention Rick's pickup is:
1112 S Commerce Street
Las Vegas, Nevada 89102
RICK BROWN'S 1962 F100 BUILD
We will bring you more in the next issue of Rick Brown's
1962 Ford F100 build progress.
"I can't wait to finish my 1962 ford step side f100 through your business, I have been buying products from you since 1985 when I first purchased this truck, even when I moved to Seattle Washington in 1991-2000 then I came back to Sacramento, my wife is behind me with this rebuild and she can't wait to see the finished product.
I am including some picks of the tear down and the current motor which is a 521 Ford Big Block with a Dyers 871 blower producing
1,255 horsepower
to the wheels. It has a Chris Alston chassis, it will be painted Porsche Artic Silver and all accents will be powder coated black chrome....
and she will have tilt front end.
Stay Tuned!
'LIKE'
us on Facebook!
FIREROCK GRILL
The Sheepherder Inn is now THE FIREROCK GRILL

Back in 1913 The Citrus Inn opened in this very building on Folsom Boulevard. Citrus was sold in front of the building to everyone that passed by on busy Folsom Boulevard.

Folsom Boulevard was a main thoroughfare for the gold rush in the mid 1800s. Many immigrants and forty-niners were in search of some of the gold that James W Marshall and John Sutter found in the American River. The railroads that are still visible across the street today were the same railroads that were constructed in the late 1800s.

Rumor has it that over the years The Citrus Inn became many different businesses, including The Edwards Hotel, and at one point, a brothel. Everyone came to the building to eat good food and to have a good time. There was drinking and dancing 'til late at night.

Later, the building became known as Sheepherder Inn. It was a place for Basque sheepherders to come and rest upstairs in the Inn and enjoy a hearty meal downstairs, which probably consisted of meats, fish, lamb stews, legumes, cheeses and Basque cider.

Firerock Grill
11275 Folsom Blvd.
Rancho Cordova, CA 95742
Phone: (916) 638-4584

Crossroads: Folsom Blvd. and Sunrise Blvd. just down
the street from Sacramento Vintage Ford.....
COBRA ELECTRONICS
Cobra Electronics Corporation
is a leading designer of mobile communications products in the United States, Canada, Europe and around the world. After 50 years of innovation, the company continues to grow by boldly entering into new product categories.
Today the company's products include:
Mobile navigation devicesTwo-way radiosRadar/laser detectorsCitizens band radiosMarine electronicsPower inverters
Cobra products are available in nearly 40,000 storefronts in North America and in a growing number of retailers throughout the world.
We would also like to thank Cobra Electronics for their support of our Make-A-Wish efforts.
During the decade in which John McLeod has owned Classic Instruments, the Boyne City business has established a global reputation - and its growth is prompting a short-distance move to roomier quarters.
Creating instrumentation for classic cars, boats and other vehicles that maintians the style of the vehicle while offering state-of-the-art technology is the company's goal, and a team of graphic designers, computer-aided design drawers and operators, and engineers makes it happen.
Classic Instruments now is offering "The Finishing Touch" for your 1956 Ford F-100. The package is an updated, complete replacement to the original gauges. The electronic cluster features speedometer, tachometer, fuel (75-10 ohms), water temp, oil pressure and volt gauges.
Classic Instruments

826 Moll DriveBoyne City, Mi. 49712phone 800-575-0461
Doug headed over to the Sacramento Autorama last month and shot almost 300 photos for us! Click above to view....all the photos may not be loaded on the Vintage Fridays page yet so please check back. Thanks Doug!
CLICK above to view Doug's photos.


VENOM-X
Last time, we showed you VENOM-X that we had on display in our showroom before the Sacramento Autorama.
CLICK HERE to view Darold photos!
Lee detailing his bike with
Surf City Garage
Speed Demon Wax Detailer. He was so impressed with the products that he stocked up on it. He was not sure if it was going to be available back home in Georgia.
Lee was at the show with his award winning bike and display each day. And each day, all day, he would let the kids hop up on the bike (with Lee's help) and have a photo taken. The kids just lit up!
You just don't see this happen with bikes of this quality and details..... Thanks Lee!
In the hallway to the Suede Pavillion at the
Sacramento Autorama.
QUICK QUACK CAR WASH
Quick Quack is a growing chain of exterior-only, soft cloth car washes in California, Texas & Colorado.
Fully automated and computerized, the high-quality carwashing system is a soft-cloth, exterior-only conveyor wash. Customers stay in their vehicles while being automatically guided through the glass enclosed tunnel where the vehicle is soaked, soaped, washed, polished, rinsed with spot-free water and blown dry all in a matter of minutes. Quick Quack Car Wash also takes pride in being environmentally friendly by conserving water and using environmentally friendly shampoos that are biodegradable and non-corrosive. Additional information is available online at
www.DontDriveDirty.com.
CLICK on any image.
COKER TIRES
Since 1958, Coker
Tire Company has supplied collector vehicle enthusiasts with tires and wheels for many applications.

With such brands as Firestone, Michelin, U.S. Royal and BFGoodrich, the product line at Coker Tire is filled with high quality bias ply and radial tires. Coker Tire ships worldwide and attends more than 40 events a year.

Coker Classic radial wide whitewalls, introduced in 1995, are the first modern radial construction wide whitewalls. DOT and ECE (European Union) approved, with an all-season tread design and backed by our life of the tread warranty.


CLICK on ANY FILMSTRIP
to see what you may have
missed in previous editions of the
Vintage Advantage..........
Sacramento Theatrical Lighting is a family-owned business in continuous operation since 1947. Now operating out of a 65,000 sq. ft. building, STL is a full-service theatrical equipment company. They offer a full line of theatrical lighting equipment and accessories, moving lights, dimming and control, stage curtains and expendables.
The Rental Department can set you up with everything you need for your backyard party or a professional theatrical production. If you are looking for a full service contractor to handle all of your event needs, their Production Department has all of the answers you need.
STL also has a Special Projects Division that specializes in design and installation of large and small theatrical systems, design and install of theatrical drapery, rigging inspections and other specialty projects. They employ a full in-house Tech Service Department.
SACRAMENTO THEATRICAL LIGHTING
950 Richards Blvd
Sacramento, Ca. 95811
916-447-3258
Thank You! SACRAMENTO THEATRICAL LIGHTING for
your assistance with setting up our warehouse for the California Highway Patrol
CHiPs For Kids toy distribution event!
TAKE-A-KID TO A CAR SHOW
There have been countless studies done to prove it, but virtually everyone knows that spending quality time with a kid is the greatest gift you can give them. And sharing your appreciation for collector cars is a great way to nurture their interest in a hobby that you can enjoy together for many years to come.
Through the SEMA Take a Kid to a Car Show coloring book app, kids of all ages will be able to customize and personalize each car.
We encourage users to visit www.takeakidtoacarshow.com to discover additional fun and exciting resources.
(CLICK above)
26th ANNUAL WINTER WINE AND FOOD FEST
Over $525,000. Raised at the Make-A-Wish
Winter Wine and Food Fest 2014
More than 100 of the best local restaurants and wineries were all in one place. Guests were able to leave knowing they helped make wishes come true for children in our local area.
Darold over at the Vintage Ford table at the Sacramento Convention Center with Lynn, Susan and Mark Wetklow and Mike and Renee Kohout. We also had the pleasure of the company of the 5000th WISH recipient and his family.
In 1965 the first T.G.I. Friday's restaurant opened in New York City at the corner of First Avenue and 63rd Street and quickly became the meeting place for single adults, with $1 million in revenues its first year.
"T.G.I. Friday's« is known for serving authentic American food and exciting drinks. We also understand that our restaurants are more than just a place to eat. They are places where communities form, gather and engage."

"So, we take our commitment to community seriously. Our Team Members have cultivated strong local relationships and take great pride in their engagement with guests and their participation in the communities that they live and work in."
LES SCHWAB TIRES
Rancho Cordova, California

Thanks to Mitch and the crew over at Les Schwab Tires in Rancho Cordova for their support of our
Make-A-Wish
efforts!

2838 Sunrise Boulevard Rancho Cordova, CA 95742


Next to Home Depot!


(916) 858-8666
FLOWMASTER MUFFLER
Flowmaster's product line includes exhaust products for Performance Street, Muscle Cars, Trucks, Street Rods, RV's, Motorhomes, and all types of race applications. With over 400 different muffler models, 370+ exhaust systems and numerous exhaust accessories available, Flowmaster offers you the choice of sound to fit your preference from "wild to mild" and your specific vehicle needs.
ELK GROVE FORD

Your Sacramento Area Ford Dealer for
New and Used Cars
At Elk Grove Ford, we believe you should be as hassle free during the car shopping process as possible.
Because we take pride in serving our customers to the fullest, we have established a web site that will not only help you find the right new Ford or used car in the Sacramento area that you are looking for, like the all-new Edge, Escape, Fiesta, Fusion, F-150 and Focus, but also help you with financing, car repair and service and locating the correct car parts. If you can't find what you are looking for, be sure to use our CarFinder for assistance locating the perfect Ford vehicle for you. With the CarFinder, we will let you know when the vehicle arrives that matches your search.
At Elk Grove Ford, we are willing to answer every and all questions you might have during the car finding process. We are conveniently located near Elk Grove, Folsom and Roseville at 9645 Auto Center Drive, Sacramento, California.
You can also reach us anytime by filling out our contact form or calling us at the number below. The entire staff at Elk Grove Ford looks forward to serving you!
Elk Grove Ford
9645 Auto Center DriveElk Grove, CA. 95757

Sales: 800-721-0645
Service: 888-450-8331
Parts: 916-478-7000
'LIKE'
us on Facebook!
PARTS -N- MORE IN THE STORE

Bed Kits for your pickup or any individual part, give us a call or stop by the store. Bed skid strips and harware in plain steel or brillant polished stainless steel. Bed sides with your choice of the stock stake pockets or filled smooth for that custom look. CLICK on the photo.


Got Fenders? We have your fender welt. Sold by the foot, in 25 foot rolls or in 300 foot spools (shown).

Also in lengths: Chrome, black vinyl and stainless steel.


Back in the Vintage Ford receiving department......more parts headed to the warehouse!
Another shipment of Vintage Ford Brake Drums arrives! Made in the U.S.A. exclusively for Sacramento Vintage. These are for the 1940-1948 Ford Passenger cars.
33rd ANNUAL WEST COAST KUSTOMS

CRUISIN NATIONALS
Don't Miss The West Coast Kustoms 32nd Annual Cruisin' Nationals :: May 23, 24, & 25, 2014


If you remember how it was in the nifty fifties, you will recall that it was the West Coast that set the trends, and "Lead" the way in kustomizing. Join us in bringing back those great leadsleds and honoring the many big kustomizers still active on the West Coast.

Here is a chance to get that kustom out of the garage,
load up the family & join us for some good times.

2014 Admission: Adults $15.00

$25.00 2 Day Pass

Senior's 60 & Over $10.00

Military $5.00 with Military ID

Children 10 & under Free
The first choice for generations of American hot rodders. A winner at the drags, dry lakes, shows and circle tracks.
And now available again. With new linkage and fuel delivery parts. And Stromberg clothing & collectibles too. Just the same. Better than ever.
Old Crow Speed Shop belly-tank Streamliner.
Six-time World Land Speed Record Holder.
Powered by Genuine Stromberg 97 Carburetor
A LITTLE BIT 'ABOUT US'
Darold, Lynn and our little Manager in training, Mike....
Day One...1969. Yes, Darold 'HAD' hair back in the day.
A little bit about our history in an article written by
Bill Sessa for HotRod & Restoration Magazine.
CLICK on the photo to read the article
'Storage Wars' Barry Spinoff 'Barry'd Treasure' to Premiere in March
"Storage Wars" favorite Barry Weiss will take the lead with his very own show, "Barry'd Treasure."
The limited series will feature Weiss, now retired from the storage auction game, as he embarks on a cross-country journey unearthing some of the nation's rarest and most fascinating collectibles.
Unloading Hetfield's 'VOODOO PRIEST'


Hot Rod Haulers & Appraisals For All Your
Transportation and Evaluation needs.


Pick up and Delivery within 72 hours


Serving the West Coast Exclusively


35 Years Experience with Collector Cars, Licensed and Insured, One Car at a Time, Personalized Service.

Soft Tie Downs, No Chains.
To Schedule a pick up or get a mileage rate call:
(530) 906-3820
Dan@TheHotRodHaulers.com
TheHotRodHaulers@aol.com
Loading up John D'Agostino's
'SOPHIA'
'LIKE'
us on Facebook!
-Sacramento Vintage Ford-


-Vintage Fridays-


PORTER MUFFLER VISIT
Dave Ward with Porter Mufflers, Maple Grove, Mn. stops by Sacramento Vintage for a visit and to let us know what's new over at Porter Mufflers.
Also stopping by for a visit and tour was Walt Bratton with Brattons Antique Auto Parts, Mt. Airy, Maryland.
Andy and Sue Brizio's 1932 roadster that WAS on display in our showroom.....sadly went back home. Andy missed his roadster....go figure. Thanks Andy!
(Photoshop magic by Heather)


DID YOU SIGN UP FOR OUR NEWSLETTERS?
Sign up a friend for our email newsletters!
CLICK Above
When you join our e-mail list, you can also
'fine tune'
what information you would like to receive from Sacramento Vintage Ford......from the type of car(s) you
have.... to 'Garage Sale' bargins.....Catalogs .....and more!
(We do not sell or rent our valued customers e-mail addresses)
You can also forward this newsletter to a friend using the box at the lower left corner of this newsletter.
CLICK above to view newsletters you may have missed!
Cruisin' around the Sacramento Vintage parking lot in the 'Sacramento Vintage Equipped' Grand National
'Speed 33' Roadster, owned by John Buck.
That's It For This Edition!
Thank You!
Please drive safe, have fun and enjoy your ride!
1-888-FORD-100