Publisher/Editorial Director:
Contributing Photographers:
Darold Kohout
Kim Engel
Ed Gardner
Lynn Kohout
Doug Oehler
Joe Streng

Account Executive:
Lynnette Kohout

Account Assistant:
Joni Bennig


Rancho Cordova, Ca. 95742
1-888-FORD-100
Celebrating
Our 45th
Anniversary
1969 - 2014
Thank You!
Rod Shows.com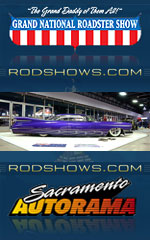 Grand National Roadster Show
January 24-26, 2014


Sacramento Autorama
February 14-16, 2014
The two Oldest and Longest Running Indoor Car Shows in the World.
The Association of California Car Clubs (ACCC)
is a volunteer organization with regional representatives who represent the interests of individual members and member clubs across the state.

The ACCC consists of thousands of automobile hobbyists throughout the state who are interested in California laws and policies regarding collector automobiles.

This Custom Ford is
FOR SALE!

The Official Custom Art Frame Shop of

Vintage Fridays


5343 Sunrise Blvd

Fair Oaks, Ca. 95628

916-966-8766
Barris Kustom
Industries
Thanks For The
support George
and the Barris Family!



Click
Above to see what
George Barris has been up to and shop Barris.com



Sacramento Vintage
is an authorized
Barris Kustoms
Dealer!


We have 3 Barris memorabilia sections:



-- Batmobile Related

-- Barris Books
-- The Munster Koach
CLICK
on the Batmobile


Thanks to
Hooters Restaurants
for their support of our Vintage Friday's events!

Rancho Cordova
Sacramento
Natomas
Fresno
Bakersfield
Honolulu
Thank You!
New drivers need to


Start Smart.
Enroll your young driver in a Start Smart program today.
THUNDERBOLTS
Capitol Auto Club
Official Host Club
-Vintage Friday's-
CLICK above to read more about the 'BOLTS'
Butch Gardner
1946-2012
Stop by the
Rancho Cordova

location - Just down the street from Sacramento Vintage Ford!

Rancho Cordova Store Manager: Mitch Harrison
2838 Sunrise Blvd

Rancho Cordova, Ca.

95742

916-858-8666

CLICK above to see what else Lethal Threat has. And they have a lot!
At P.F. Chang's we are committed to providing you with an exceptional dining experience every time you walk through our doors. Each dish on our menu is prepared to order using the freshest and highest quality ingredients.
Majestic 11 foot tall horses grace the entrance to many of the restaurants. The horse symbolizes the original Forbidden City in China, which was built for China's first emperor Qin Shi Huangdi.
At P.F. Chang's you are surrounded by a unique environment combining influences of Chinese and American cultures. A panoramic, hand-painted mural depicting 12th century China, is visible from the main dining room and commands attention as the restaurant's centerpiece, while several terra-cotta warriors stand guard.
P.F. Chang's
(Darold and Lynn highly recommend the Chang's Chicken Lettuce Wraps to start your dining experience!
)
Rod Shows.com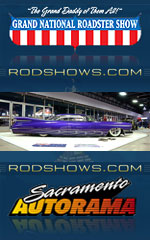 Grand National Roadster Show
January 24-26, 2014
Sacramento Autorama
February 14-16, 2014
The West Coast's premier hot rod, bike & motorsports tour!
Come and join the two Oldest and Longest Running Indoor Car Shows in the World.
Stop by Sacramento Vintage Ford and pick up your entry form or CLICK above.
CLICK
above to see
-Dates and Times-
RU Faster Than A RedNeck?


Garage Mahal
American Trucker
Shark Fights
Optima Ultimate Street
Car Invitational
CLICK on any show
for information
Very
cool signs from

Ruckus Rods!



CLICK

above if you can't wait!
Classic Shop Talk
Tech Articles
Instructions
Videos
Classic Performace Products
A Valued Vintage
Friday's Sponsor!
California Highway Patrol
The California Highway Patrol
-Valley Division-
A Vintage Fridays Sponsor & Supporter


Nothing Comes Close To
A Cobra

North American Headquarters:

Cobra Electronics Corporation
6500 West Cortland Street
Chicago, IL 60707

productinfo@cobra.com
1-773-889-8870


Sacramento Vintage Ford Shop Tour
by Craig Pike over at
My Ride Is Me.com
'The first thing I noticed'.......CLICK above to read the article
Photos by:

PEPSI COLA


Fender Donated The Bare Guitar!




Gene Winfield Painted
It To Match WILD CAD!



Mike Clines Striped It in 12k White Gold with Green Accents To Match WILD CAD


Best Buy in Roseville, California donated the Fender Amp!





W

e gave it all away for Make-A-Wish
last season!


Watch out for this little
guy in our parking lot area.
Very friendly but hasn't learned he may get squished by a car.
Esquire IMAX

1211 K Street

Sacramento , CA 95814 916-443-4629


Jack Ryan: Shadow Recruit

An IMAX 3D Experience

Rated: PG-13


T
he image and sound quality of An IMAX 3D Experience® with proprietary IMAX DMR® (Digital Re-mastering) technology. The crystal-clear images coupled with IMAX's customized theatre geometry and powerful digital audio create a unique environment that will make audiences feel as if they are in the movie.
YOUR Commercial Ad Here!


Contact
news@vintageford.com

Our little
Vintage Advantage e-Newsletter is distributed monthly to over 45,000 gearhead Subscribers!

Volvo Rents
1576 Silica Ave Sacramento, CA, 95815
Call us today:
(916) 922 1300


Cardboard Standups!
Want to stay warm in the snow or in
your Roadster
?
We have the Busted Knuckle Garage Winter Wolley Hats in stock and
ON SALE!
Reg $39.95 now only
$29.95 Item 2852-15
Women's Busted Knuckle Garage Femineering Hats
ON SALE!
Reg $18.95 Now $7.99
Item 02852-03
Chocolate brown with pink accents and 'Let A Women Do It' on the back.
O'Reilly Auto Parts
With over 3600 O'Reilly Auto Parts stores in 38 states, they are never far from home!
Better Parts...Better Prices, Everyday!
MORE DINERS, DRIVE-INS AND DIVES
Join New York Times bestselling author and Food Network star Guy Fieri for a second helping of the best diners, drive-ins, and dives across America!
New York Times bestselling author Guy Fieri, host of the hugely popular Food Network show Diners, Drive-ins and Dives, revvs up his engine for an entertaining tour of sixty more of the best local restaurants across America that have been featured in his very favorite episodes.
Bursting with his iconic personality, Diners, Drive-ins & Dives: Another Drop-Top Culinary Cruise follows his hot-rod trips around the country, mapping out the best places you've never heard of. Wherever he goes, Guy showcases the amazing personalities, the fascinating stories, and most important, the outrageously good food provided by these American treasures.
Filled with delicious recipes, photos, and charming memorabilia, and featuring Guy's hilarious voice and rampant enthusiasm for these hidden culinary gems, Diners, Drive-ins & Dives: Another Drop-Top Culinary Cruise is essential for his countless fans and for lovers of the American food scene.
Guy, once again, has generously donated copies of his new book for our Make-A-Wish events in 2014.
And yes, they are all
autographed
by Guy Fieri!
Thanks Guy!
CLICK
on the Food Network sign to check out
Guy's Dot Kom page! DVD's, show info, recipes, restaurants and more.
Check you local listings for show times to view
Diners, Drive-Ins and Dives

CLASSIC PERFORMANCE PRODUCTS
A leader in creating computer designed disc Brake, Power Steering and Suspension parts.

CLASSIC PERFORMANCE PRODUCTS

175 East Freedom Avenue
Anaheim, CA 92801Orders: 800-522-5004Tech Line: 714-522-2000

Thank You Classic Performance Products
for your continued support of our
Make-A-Wish Efforts!



BREWERS SHOWCASE AT THE
CALIFORNIA AUTO MUSEUM


Raise your glass of local craft beer to toast the opening event of Sacramento Beer Week.
The Sacramento Brewers Showcase presents over 25 breweries from the Sacramento Valley and beyond, all under one roof at the California Auto Museum.
Join your beer-loving friends to get your first taste of a number of beers made exclusively for Sacramento Beer Week and vote for the People's Choice Award.
Guests receive unlimited tasting with admission, a free tasting glass souvenir, swinging music from The Bathtub Gins and delicious food for purchase. Gawk all you'd like at the
Museum's 150+ cars on display
. Thank you to this event's co-sponsor, the
Northern California Brewers Guild
, and the presenting media sponsor
SacTown Magazine
for their support of our local craft beer scene.
Ticket price breakdown:
$50 VIP - Get into the event one hour ahead of the general crowds. VIP hour 5-6pm
$40 General - Grab a glass and enjoy some tastings beginning at 6pm.
$35 Museum Member - We really do love our members! Enjoy this great tasting experience for $5 off for all current Museum Members.
$10 Designated Drivers- DDs of the night can enjoy live music, and the fun of watching their friends misbehave.
*Must be 21+ with valid ID to enter this event.
CLICK
above for additional information and list of brewers.
February 27, 2014 5:00pm - 9:00pm
For any questions please contact the California Automobile Museum at (916) 442-6802.

Giant Shed Sale at the California Auto Museum
CLICK above

TCI ENGINEERING TV


VIDEOS: Trade Shows & Events - Street Rod & Hot Rod

Classic Truck - Ford & Chevy Muscle Car

Product Testing


CLICK
above to view

Eight Cars Damaged by SINKHOLE at the National Corvette Museum
Photos courtesy National Corvette Museum
Article courtesy Kurt Ernst - Hemmings Daily
While nobody was hurt in the sinkhole collapse beneath the Skydome at the National Corvette Museum in Bowling Green, Kentucky, it appears from photos and videos that at least six of the eight Corvettes that fell into the sinkhole suffered significant damages.
The sinkhole, which opened up at 5:40 a.m., is reported to be 40 feet in diameter and up to 30 feet deep, and the structural engineer that the museum called in determined that the perimeter of the Skydome is stable. Nobody was in the museum at the time the sinkhole formed, and the museum has yet to announce whether the cars can even be retrieved.
Of the 80 or so cars on display in the museum, about 30 were in the 140-foot diameter Skydome. Corvette Museum staff were able to remove the rest of the cars in the Skydome not swallowed by the sinkhole later in the day.
CLICK on any image for additional photos and to

read the complete article.
Sinkhole Security Camera Footage
Pepsi Beverages Company
Sacramento, California
Thank You Pepsi Beverages Company, Sacramento,
for your support of our Make-A-Wish efforts.
There Since The First Halftime - CLICK to view
GEORGE BARRIS RESOLUTION
George Barris was awarded with a Resolution by the Los Angeles City Council this month for his many years of dedication to the industry! Congrats George!
O'REILLY AUTO PARTS
We are very pleased to announce that
O'Reilly Auto Parts
will be the
TITLE SPONSOR
of our
2014 Vintage Friday's Car Show Season!
O'Reilly Automotive, Inc. officially started in the auto parts business in Springfield, Missouri, in November of 1957. However, its historical background in the automotive business, as well as the family's quest for opportunity and advancement, may be traced back to a much earlier time.

CLICK
on the store photo to read the article....

O'Reilly currently operates in 42 states, with a total of 4,000 stores and 24 distribution centers, thus ranking it in the top two auto parts distributors in the United States.
Sacramento Vintage Ford would like to thank
O'Reilly Auto Parts for their continued support of our
Make-A-Wish
efforts.
WANT TO BE ON OVERHAULIN' ?

Know someone who needs their automotive nightmare transformed into the ride of their dreams?

The hit TV series Overhaulin' is back for another season of incredible four-wheeled transformations as world famous designer/builder Chip Foose and his A-Team turn deserving car owners' trash into treasure.

Know someone who is badly in need of an overhaul?
Do they have an amazing story that deserves the attention of Chip Foose and the A-Team?

If you do, we want to hear from you -- because you just might be the next 'mark' on Overhaulin'. To tell us the amazing story and get the chance to have someone special's ride Foose-ified,
go to www.overhaulin.tv and fill out the application!
PENNY PICHETTE INDUCTED
GRAND NATIONAL ROADSTER SHOW
HALL OF FAME


Yes it's true! Penny was inducted into the Hall Of Fame last month at the Grand National Roadster Show!
Congratulations Penny...well deserved!

Penny is the driving force behind the
West Coast Kustoms Cruisin Nationals
in Santa Maria


HUMOR ?

One day a mom noticed that when her son was logging onto a favorite website he typed a very long password. She asked him what it was, and he replied, "MickeyMinnieGoofyPluto." She asked him why he would use such a password. "Because," he explained, "it says your password has to have at least four characters."
A college student drove his ratty, raggedy old car into the mechanic's shop, needing some repair advice for his jalopy.


The mechanic looked at it for a couple of minutes and said, "What you really need is the radiator cap solution."


"Oh," said the student, trying not to sound too confused, "Do you mean the radiator cap isn't holding enough pressure?"

"That's part of the problem," the mechanic said. "You need to lift the radiator cap and drive another car under it. Then you can replace the radiator cap, and it should solve your problem."
------------------------
A mechanic was removing a cylinder head from the motor of a Harley motorcycle when he spotted a well-known heart surgeon in his shop.

The surgeon was there waiting for the service manager to come take a look at his bike when the mechanic shouted across the garage, "Hey, Doc, can I ask you a question?"

The surgeon, a bit surprised, walked over to where the mechanic was working on the motorcycle. The mechanic straightened up, wiped his hands on a rag. "So Doc, look at this engine. I open its heart, take the valves out, repair any damage, and then put them back in, and when I finish, it works just like new. So how come I get such a small salary and you get the really big bucks, when you and I are doing basically the same work?"

The surgeon paused, smiled, leaned over, and whispered to the mechanic...

"Try doing it with the engine running"
THE NEW STOCKTON 99 SPEEDWAY

The New Stockton 99 Speedway is located at 4105 N. Wilson Way, ¼-mile west of Highway 99.
For more information on tickets and times, please contact the Speedway Office at (209)466-9999. And remember, Stockton 99 Speedway is Always Family Friendly.
7th Annual Stockton 99 Speedway Swap Meet
Sunday, March 9, 2014


Hot Rod, Race Car & Antique Collectibles Swap Meet
also featuring a race car and hot rod car show!
Hot Rod, Race Car & Antique Collectibles Swap Meet spaces: $30. approx. 20' x 40' space which includes 2 admission passes per vendor, not per space.
Car Corral spaces: $20 each
Includes 2 admission passes per vendor, not per space.

Race Car and Hot Rod Car Show Entry:
$20 each includes 2 admission passes.
There will be class awards and vehicles will be featured on the front straight-a-way of the Stockton 99 race track.
CLICK above for additional details
The Stockton Dirt Track is a lightning fast 3/8 mile clay oval and is located on the San Joaquin County Fairgrounds in Stockton, California.
It is built inside a one-mile horse track and boasts one of the nicest dirt track facilities in the state. Camping will also be available during the weekend with a number of great spots for RV's and Campers on the fairgrounds.
The physical address for the Stockton Dirt Track is 1658 S Airport Way, Stockton, CA 95206.
Goodguys promotes and produces 20 annual events in 13 states and publishes the monthly Goodguys Goodtimes Gazette from the association's Pleasanton, California headquarters. More info? Visit www.good-guys.com.
Reality Television star and hot rod stylist Chip Foose will be a featured celebrity at as many as 5 Goodguys events next year. Foose will appear at select events to sign autographs and meet with fans. The all new "Chip Foose Experience" semi-truck, featuring Foose-built cars, memorabilia, collectibles and more will be a featured attraction at nearly every 2014 Goodguys event on the midway.
Goodguys 32nd All American Get-Together
March 29 & 30, 2014
Alameda County Fairgrounds
4501 Pleasanton Avenue, Pleasanton, CA 94566
TOBY KEITH'S
I LOVE THIS BAR & GRILL
Leave it to country music legend Toby Keith to create a restaurant that offers great food and the best live music in Oklahoma City. Named after Toby's hit single "I Love This Bar," this exciting venue offers a real down-home experience.
Open for lunch 11am daily. Come as you are.
They'd love to have you anytime!
No reservations, but seated upon order of arrival.
Toby Keith's
I Love This Bar & Grill440 Palladio ParkwayFolsom, California 95630916-984-8629
Located in the PALLADIO at Broadstone
Our fun and rowdy atmosphere is inspired by the music and the attitude of the "Big Dog Daddy" himself,
Toby Keith.
You'll find it all here - great, down-home cooking, the best in high-energy live bands, and a friendly environment that makes you feel like a part of the family!
I Love This Bar offers a mason jar full of entertainment all week long with live music, plasma TV screens and, of course our "Whiskey Girls"!
Whether you want to watch live country music and dancing, watch the big game or if you are just here to eat, Toby Keith's "I Love This Bar And Grill" has a little something for everyone.
Order from our 85 foot guitar shaped bar, or strike up a conversation with one of our beautiful Whiskey Girls - some of the hottest waitresses and bartenders in the business. Toby's has private indoor 'barns' adjacent to the dance floor available to book for private parties, corporate events, or a group night out on the town. For an even more exclusive atmosphere Toby's offers a glass enclosed VIP room within full view of the dance floor.
440 Palladio ParkwayFolsom, California 95630916-984-8629 Located in the PALLADIO at Broadstone
Hours:
Sun: 10am - 10pm
Mon: 11am - 10pm
Tues - Thurs: 11am - Midnight or Later
Fri - Sat: 11am - 2am
B.R. COHN WINERY
Founded by Bruce Cohn in 1984, B.R. Cohn Winery is located in the heart of Sonoma Valley. Offers a full line of ultra-premium wines, extra virgin olive oils, handcrafted vinegars and gourmet food products.
When he is not managing The Doobie Brothers, Bruce R. Cohn, proprietor of the award-winning B.R. Cohn Winery located in Sonoma Valley California, is a hot-rod enthusiast and has been building and racing cars since the early 1960's.
This series of wines features painted label artwork inspired by Bruce Cohn's car collection.
Thanks to B.R. Cohn Winery for their continued support of our Make-A-Wish efforts!

TCI ENGINEERING
TOTAL COST INVOLVED
Total Cost Involved Engineering Inc. is a US Manufacturing Company that has produced complete chassis plus front and rear suspension for classic cars since 1974 in Ontario, California.


The vehicle applications that they engineer chassis and suspensions for: Ford and Chevy Hot Rod, Street Rod, Classic Trucks and Muscle Car.
Looking for Ford or Chevy Total Cost Involved parts? Give Mike at call over at
Sacramento Vintage Ford!
1-888-FORD-100 --- 916-853-2244
Congratulations Total Cost Involved
on your 40th Anniversary and your support
of our Make-A-Wish efforts for 2014.
The KEY and TOKEN a WISH recipient is given to unlock the very special room that grants their WISH.
Our Vintage Friday's Events support the Make-A-Wish Foundation of Northeastern California and
Northern Nevada.
Lynn and Darold Kohout (L) and Heather Stover (Sacramento Vintage Ford) present Kerry Cregan (Make-A-Wish Northeastern California & Northern Nevada), our check for $8843.86. A heartfelt 'Thank You' to our car show participants, spectators, sponsors and supporters for their support with our 14th season of Vintage Friday's, 2012.
EDELBROCK FAMILY FOUNDATION
The Edelbrock Family Foundation was formed with the purpose of bringing together like-minded organizations that share a passion for providing education and training for America's youth.
The Foundations goal is to foster a new generation of automotive industry leaders, entrepreneurs, innovators, enthusiasts and more.
Creekside Town Center

1180 Galleria Blvd.

AARON S. HAGAR'S
RAT RUNNERS GARAGE
Rat Runners Garage - "All About The Art of
Resurrecting and Preserving Old Metal"
The Rat Runners Garage Crew:
Robey O'Day, Tony Brown, Nick Phillips, Kevin Brown,
Ronald Goralski and Aaron Hagar.
At the
Lincoln Electric
booth at SEMA, Las Vegas.
Bryan Fuller, Michaela Hagar, Aaron Hagar and Lon Damon (Lincoln Electric).
Aaron Hagar owns Rat Runners Garage in Lake Tahoe, Calif. The accomplished singer, actor, builder and business owner designs and builds custom hot rods and motorcycles. He is also the lead vocalist of the band,
FightClub
.
Courtesy Kirk Jones - Dirty Hero
Once again, Alex Idzardi and crew did an excellent job organizing, setting up and running things at the 2014 Grand National Roadster Show: Suede Palace.
Yep, the Suede Palace was back again in full-force for 2014 and the crowds than mobbed the building all weekend are testimony to the fact that traditional hot rodding is as hot as ever.
Every inch of the sprawling hall was filled with show cars and vendors. What little room was left was packed with spectators. Getting shots of the cars was a trick, but we managed to get shots of some of the stuff we liked. Want more? Make plans to get there next year when Alex does it all again.
CLICK
on the photo to check out the articles
Established in 1987, the Pick-n-Pull chain of self-service auto parts stores is one of the largest recyclers of end-of-life vehicles in the industry. You bring your tools, pull the parts you need and SAVE lots of money! Their 48 U.S. and 3 Canadian locations offer a huge a selection of used OEM (original equipment manufacturer) parts for cars, vans and light trucks - all makes and models, foreign and domestic - all at incredibly low prices.

Pick-n-Pull is proud of the fact that they recycle more than 350,000 vehicles and service more than 5 million self-service customers each year.

Pick-n-Pull is a subsidiary of Schnitzer Steel Industries, Inc., a global leader in the metals recycling industry that has been in business for over a century. Although Pick-n-Pull and Schnitzer have worked together since 1989, Pick-n-Pull became a fully owned subsidiary of Schnitzer in 2003 as part of its Auto Parts Business unit.
Being part of a Fortune 1000 company has enabled them to grow stronger and introduce cost efficiencies into their system that have allowed them to bring environmental and cost benefits to their customers. At the same time, the Pick-n-Pull stores have retained the regional and local focus that has made them popular with their customers.
CLICK to find a Pick-n-Pull Near You AND check inventory!
SEMA TOWN HALL MEETING OVER AT FLOWMASTER
Darold during the Flowmaster Exhaust plant tour. Len Hernandez with Flowmaster, explains one of the welding processes.
Above photo courtesy Steve Sharp - Parts & People.com
Article courtesy SEMA
The first SEMA Town Hall of 2014 featured California State Senator Ted Gaines, SEMA Chairman of the Board Nate Shelton of B&M Racing & Performance, SEMA Board member John Hotchkis of Hotchkis Performance LLC and former SEMA Board member Joel Ayres of Bedslide/Takit Inc.



Special guest California State Senator Ted Gaines joined SEMA for the Town Hall Meeting in West Sacramento, Wednesday, January 29, to meet members and share his perspective about small business and the specialty-equipment market.

For this first stop of the 2014 Town Hall tour, members and industry professionals that were interested in learning more about the association will gathed at Flowmaster, B&M & Hurst Warehouse in West Sacramento, California. The evening will include time to network with other attendees and hear from SEMA leadership about SEMA's current programs and objectives.

The panelist were available to answer questions about what individual companies can gain from a SEMA membership.


These face-to-face interactions will provide members a chance to identify their business challenges and opportunities with association leadership. Ultimately, this feedback helps to enhance membership value as SEMA works to better meet members' needs.
--SACRAMENTO AUTORAMA--
DISCOUNT TICKETS ARE AVAILABLE AT YOUR LOCAL O'REILLY AUTO PARTS



Come and join us at the two oldest and longest running indoor car shows in the world.
Friday: 12pm - 8pm
Saturday 10pm - 8 pm
Sunday 10pm - 6pm
Visit the Suede Pavilion, hear bands, check out the Trophy Queen competition, and admire the amazing cars!
Meet The Celebrities!


Courtney Hansen

Best known for her role as the host of Spike TV's "Powerblock", it seems Courtney was born to talk about cars. Each week she shows off million-dollar rides, rare classics and tricked vehicles, and brings her love and knowledge of everything automotive to interviews with celebrity collectors and enthusiasts like Jay Leno, UFC President Dana White, and automotive legends like Mario Andretti and Daryl Waltrip. In addition to "Powerblock", Courtney is also the current host for NASCAR.com, where she interviews top drivers and discusses the latest in automotive technology, and recently hosted the Velocity Channel series, "Vinsetta Garage".

The middle of three children, Courtney literally grew up on a race track: her father, Jerry Hansen, is heralded as the winningest-driver in SCCA history, with an astounding 27 national titles and once owned Minnesota's Brainerd International Raceway near Hansen's hometown of Orono, MN.

While in Building A, be sure to stop by and say hi to this stunning car-whiz.




"Duck Dynasty's" Mountain Man

Saturday and Sunday you have the opportunity to meet Mountain Man of A&E's hit TV show, Duck Dynasty. Despite his flourishing role on A&E, his 25 year Louisiana residency has made Mountain Man the go-to air conditioning guy in his hometown, where he also hosts a local radio show. In spite of his success, Mountain Man defines himself as a man of God, strongly rooted in the Christian faith. As the Robertson family's trusty air-conditioning fixer, hunting buddy and partner in Christ, Mountain Man has developed a close relationship with the similarly down-to-earth family. He also gives speeches all over the country, where he speaks against bullying and drug use and encourages young individuals to make decisions they are proud of. Ultimately, Mountain Man's happiness and purpose in life centers on his Christian faith and using his ability to reach the public to share the word of God.
In addition to signing autographs, Mountain Man will also conduct the church ceremony Sunday morning at 10:30 am. Stop by to hear his message!
Presented by the Association of California Car Clubs "United for Survival"
This was a HUGE success in 2013 and is back for the 2014 Sacramento Autorama.
Over 200 classic cars will be displayed from the various clubs in the Northern California Area in the HUGE
Pavillion Building.
The Autorama runs from February 14-16 2014
Cal-Expo, Sacramento.
The CLUBHOUSE sold out last year and we understand it has sold out for 2014. Good job Ed and Rex!
The Butch Gardner Clubhouse will be over in The Pavilion Building and up to another 500 vehicles will join the event Saturday and Sunday outside in the Building 'A' lot for the
Autorama Drive-In.
Over 500 show vehicles will compete for awards
inside all of the Cal Expo buildings.
This year's show theme is Need for Speed.
SURF CITY GARAGE PRODUCTS

So where did Surf City Garage detailing products
come from?
Well, to keep the cars looking great, we tried every car care product around, but I just wasn't satisfied with the quality or performance. So we developed our own complete line of Enthusiast Grade® detailing products -- recognized around the world as the best anyone can buy. Our guarantee: if these aren't the best products you've ever used, give me a call and I'll personally buy them back - is unmatched in the industry.
That's why, every day, more and more enthusiasts are switching to Surf City Garage Enthusiast Grade® - because nothing else even comes close.
Tim Miller
Car Enthusiast & Founder, Surf City Garage
Stop by Sacramento Vintage or CLICK below to see what we have from Surf City Garage.
John D'Agostino's 'SOPHIA' 1939 Cadillac
by Oz Kustoms
We are very pleased to announce that for 2014
the BBQ SPONSOR for our Vintage Fridays events
will be Surf City Garage! Surf City Garage (Huntington Beach, California) continues to be a very welcome supporter of our Make-A-Wish efforts.
2014 SACRAMENTO AUTORAMA
BUILDER OF THE YEAR
Inspired as a teen by car legends Barris, Bailon and Winfield, John D'Agostino has a similar arsenal of accomplishments that make him one of the greats.
Winning his first title in 1970 at the Oakland and sporting his trademark chrome wire wheels, D'Agostino is a regular in the winner's circle. From the "Sam Barris Award," "Goodguys Custom D'Elegance" to the "World's Most Beautiful Custom," these are just a few of D'Agostino's achievements.
Today, you can find many of D'Agostino's builds on display at the Petersen Automotive Museum or competing around the U.S. at very car shows.
We are truly honored to have D'Agostino at the Sacramento Autorama Builder of the Year.
John D'Agostino (Celebrity Kustoms) and Oz Welch (Oz Kustoms) and their current project, a 1941 Cadillac!
CLICK on the photo to visit Oz Kustoms.
OPTIMA BATTERIES
A special Thank You for Optima's continued support
of our Make-A-Wish efforts!
The 2014 show will be the 50th show for the L.A. Roadsters and will be held on Saturday, June 14th and Sunday, June 15th at the Pomona Fairplex in Pomona, California.
Each year, the L.A. Roadsters put on one of the largest roadster shows, swap meets, and commerical vendor shows in Southern California.

The show is always held on Father's Day Weekend in June of each year at the Fairplex in Pomona, Caliifornia.
In celebration of the 50th Show, the L.A. Roadsters are sponsoring the
2014 McGee-Scritchfield
Charity Roadster.
This is a Project of the L.A. Roadsters and the
Alex Xydia Center for Automotive Arts.



CLICK above for more details on the show
Certified Auto Repair isn't a shop name, a chain of stores or even a franchise. Certified Auto Repair embodies a standard of quality held by a nationwide network of the most respected auto repair facilities in the industry. Our members are asked to join based on reputation, integrity, qualifications and expertise. Certified Auto Repair members will not only take care of all your vehicle needs, but do it with professionalism and a level of customer satisfaction second to none.

Click above to find a mechanic in your area.


CUSTOM CAR CHRONICLES
This online custom car magazine is created by an international team of custom car and hot rod enthusiasts. This initiative started in 2004 with the legendary Custom Car Photo Archive founded by the Editor in Chief, Custom Car historian Rik Hoving.
7th ANNUAL SWAP MEET
CLICK above to check out their page,
photos and events.
Hosts Alex and Bob with show engineer, Mike.

Whether you own and/or are interested in the hobby and history of restoring or personalizing a classic, custom, hot rod or muscle car, we've got you covered. We talk about kool cars, events, trends and California vehicle laws that affect our hobby. Our goal is to inform and share experiences of our guests with our listeners and help maintain a continued interest for the next generation of car collectors.


Founded by Butch Gardner in 2001, CRUISIN' GARAGE has been on KAHI Radio broadcasting to Placer, El Dorado and Nevada Counties, and as far away as Yuba City, Gridley, Sacramento, Dixon and Woodland!
The show streams live online at www.kahi.com.


Lambs wool car dusters are in stock! They are what we use on 'Voodoo Priest' and the other fine finish cars.
CLICK above to order yours....
THE SACRAMENTO VINTAGE FORD
F100 PARTS CATALOG!
Our 408 page, full color catalog of 1948-1966 Ford Pickup parts and accessories. If you have been ordering your F-1 & F-100 Pickup parts from Sacramento Vintage, watch for it in your mailbox .
Not on our catalog list? CLICK on the image to order.
What Other Ford Parts Do We Have For You?
1909-27 Model T
1928-31 Model A & AA
1932-48 Ford Passenger
1932-47 Pickup
1948-66 Pickup
1949-56 Ford Passenger
1967-79 Ford Pickup
Parts for your: Hot Rod, Street Rod, Custom,
Suede & Rat.
Cool stuff for your shop, office and garage!
One Shot, Lil Daddy Roth, Von Hot Rod, Mack Brushes
Roth Rattle Bomb Paint, Stickers, Clothing, Books, Art
and a bunch more! And it's all at
www.VINTAGEFORD.com
'Pete the Painter' recommends you check out your local
PPG Refinish Store for all your automotive paint needs.
OUR WIRING SHOP IS OPEN ON THE WEB!
We have a new page up on our web site.
Like the look of Old Skool cloth wrapped wire and related components? Want to build you own harness?
Cloth wrapped and PVC color coded wire in
14ga, 12ga and 10ga by the roll or by the foot.
2ga cotton wrapped battery cable by the foot.
Terminals: Rings, Flags, Forks and Bullet
Battery Cable & Battery Terminals
Wire tys and clamps
Hot Rod Harness Kits
Books - Manuals - Charts
Bulbs 6-Volt / 12-Volt
Non-Ford Tail Lamps
Cloth Wrapped Spark Plug Cable
Plug Terminals
Voltage Reducers
Non-Ford Headlamps
Loom Material
Heat Shrink Tubing
Fuse Blocks and more!
CLICK on any image to check it out.
AMERICAN RESTORATION
AMERICAN RESTORATION on the History Channel features Rick Dale and his crew of loose screws at Rick´s Restorations in Las Vegas, Nevada, as they take rusty, beat-up items and restore them to their original glory.
Whether it´s a giant gas pump from the 1940s or a Hopalong Cassidy bicycle from the 1950s, every restoration is a high-stakes business project where worthless rust is transformed into a valuable collectible. However, these restorations aren´t easy. Every project presents unique challenges for Rick and his team.
When it comes to restoration, Rick Dale is the Pawn Stars go-to guy. AMERICAN RESTORATION follows Rick's work as owner of Las Vegas-based Rick's Restorations, a family business that finds, restores and up-cycles cool objects ranging from Cadillacs to Coke Machines.
Rick's very nice Ford F-1 Pickup can be spotted on various episodes of American Restoration.
Did we mention Rick's pickup is:
1112 S Commerce Street
Las Vegas, Nevada 89102
FIREROCK GRILL
The Sheepherder Inn is now THE FIREROCK GRILL

Back in 1913 The Citrus Inn opened in this very building on Folsom Boulevard. Citrus was sold in front of the building to everyone that passed by on busy Folsom Boulevard.

Folsom Boulevard was a main thoroughfare for the gold rush in the mid 1800s. Many immigrants and forty-niners were in search of some of the gold that James W Marshall and John Sutter found in the American River. The railroads that are still visible across the street today were the same railroads that were constructed in the late 1800s.

Rumor has it that over the years The Citrus Inn became many different businesses, including The Edwards Hotel, and at one point, a brothel. Everyone came to the building to eat good food and to have a good time. There was drinking and dancing 'til late at night.

Later, the building became known as Sheepherder Inn. It was a place for Basque sheepherders to come and rest upstairs in the Inn and enjoy a hearty meal downstairs, which probably consisted of meats, fish, lamb stews, legumes, cheeses and Basque cider.

Firerock Grill
11275 Folsom Blvd.
Rancho Cordova, CA 95742
Phone: (916) 638-4584

Crossroads: Folsom Blvd. and Sunrise Blvd. just down
the street from Sacramento Vintage Ford.....
COBRA ELECTRONICS
Cobra Electronics Corporation
is a leading designer of mobile communications products in the United States, Canada, Europe and around the world. After 50 years of innovation, the company continues to grow by boldly entering into new product categories.
Today the company's products include:
Mobile navigation devicesTwo-way radiosRadar/laser detectorsCitizens band radiosMarine electronicsPower inverters
Cobra products are available in nearly 40,000 storefronts in North America and in a growing number of retailers throughout the world.
We would also like to thank Cobra Electronics for their support of our Make-A-Wish efforts.
LUCAS OIL PRODUCTS
Lucas Oil Products is a manufacturer and distributor of automotive oil, additives, and lubricants. It was founded by trucker Forrest Lucas and his wife Charlotte in 1989.
In 1964, I was 21 when I bought my first semi. It was a 1963 Chevrolet with a 327-cubic-inch gas engine. I started working for Mayflower Moving & Storage, making $13,000 to $14,000 a year, which was a lot of money then.
Gas was 25¢ a gallon, and I didn't waste any money. I drove day and night, and ate cheap.
CLICK here to read on......
HOW TO SPOT A FLOOD DAMAGED CAR
Article courtesy David Traver Adolphus - Hemmings Blog
Photo by Mike Baird
With Hurricane Sandy being cleaned up, thousands of cars - including collector cars such as the Aston Martins I recently spotted - will soon start to move through the salvage system. Few will be crushed - most will either be repaired; or written off. After that, they end up being rebuilt and sold with a salvage or rebuilt title.
Except, sometimes that somehow either doesn't happen.....
CLICK
above to read the article.
QUICK QUACK CAR WASH
Quick Quack is a growing chain of exterior-only, soft cloth car washes in California, Texas & Colorado.
Fully automated and computerized, the high-quality carwashing system is a soft-cloth, exterior-only conveyor wash. Customers stay in their vehicles while being automatically guided through the glass enclosed tunnel where the vehicle is soaked, soaped, washed, polished, rinsed with spot-free water and blown dry all in a matter of minutes. Quick Quack Car Wash also takes pride in being environmentally friendly by conserving water and using environmentally friendly shampoos that are biodegradable and non-corrosive. Additional information is available online at
www.DontDriveDirty.com.
CLICK on any image.


Since 1958, Coker Tire Company has supplied collector vehicle enthusiasts with tires and wheels for many applications.

With such brands as Firestone, Michelin, U.S. Royal and BFGoodrich, the product line at Coker Tire is filled with high quality bias ply and radial tires. Coker Tire ships worldwide and attends more than 40 events a year.



Coker Classic radial wide whitewalls, introduced in 1995, are the first modern radial construction wide whitewalls. DOT and ECE (European Union) approved, with an all-season tread design and backed by our life of the tread warranty.


CLICK on ANY FILMSTRIP
to see what you may have
missed in previous editions of the
Vintage Advantage..........
Sacramento Theatrical Lighting is a family-owned business in continuous operation since 1947. Now operating out of a 65,000 sq. ft. building, STL is a full-service theatrical equipment company. They offer a full line of theatrical lighting equipment and accessories, moving lights, dimming and control, stage curtains and expendables.
The Rental Department can set you up with everything you need for your backyard party or a professional theatrical production. If you are looking for a full service contractor to handle all of your event needs, their Production Department has all of the answers you need.
STL also has a Special Projects Division that specializes in design and installation of large and small theatrical systems, design and install of theatrical drapery, rigging inspections and other specialty projects. They employ a full in-house Tech Service Department.
SACRAMENTO THEATRICAL LIGHTING
950 Richards Blvd
Sacramento, Ca. 95811
916-447-3258
Thank You! SACRAMENTO THEATRICAL LIGHTING for
your assistance with setting up our warehouse for the California Highway Patrol
CHiPs For Kids toy distribution event!
TAKE-A-KID TO A CAR SHOW
There have been countless studies done to prove it, but virtually everyone knows that spending quality time with a kid is the greatest gift you can give them. And sharing your appreciation for collector cars is a great way to nurture their interest in a hobby that you can enjoy together for many years to come.
Through the SEMA Take a Kid to a Car Show coloring book app, kids of all ages will be able to customize and personalize each car.
We encourage users to visit www.takeakidtoacarshow.com to discover additional fun and exciting resources.
(CLICK above)
26th ANNUAL WINTER WINE AND FOOD FEST
Toast to the Make-A-Wish mission, and join us for the region's premier wine and food tasting event.
Sample more than 100 of the best local restaurants and wineries all in one place. Even better-you'll leave knowing you helped make wishes come true for children in our local area. There are two different ways to experience the Winter Wine & Food Fest.
General Admission include's the region's best restaurants, wineries, and microbreweries. Enjoy live entertainment as you peruse fantastic silent auction items featuring an array of wine, unique experience and one-of-a-kind items.
The VIP experience include's a scrumptious dinner provided by world class caterer, Classique Catering, followed by a live auction featuring coveted wine, culinary, and travel lots. VIP guests will also witness a LIVE wish reveal.
Tickets start at $85, and will help us grant more wishes for local children battling life-threatening medical conditions.
Sacramento Convention CenterMarch 1, 20145:00pm - 10:00pm
In 1965 the first T.G.I. Friday's restaurant opened in New York City at the corner of First Avenue and 63rd Street and quickly became the meeting place for single adults, with $1 million in revenues its first year.
"T.G.I. Friday's® is known for serving authentic American food and exciting drinks. We also understand that our restaurants are more than just a place to eat. They are places where communities form, gather and engage."

"So, we take our commitment to community seriously. Our Team Members have cultivated strong local relationships and take great pride in their engagement with guests and their participation in the communities that they live and work in."
LES SCHWAB TIRES
Rancho Cordova, California

Thanks to Mitch and the crew over at Les Schwab Tires in Rancho Cordova for their support of our
Make-A-Wish
efforts!

2838 Sunrise Boulevard Rancho Cordova, CA 95742


Next to Home Depot!


(916) 858-8666
FLOWMASTER MUFFLER
Flowmaster's product line includes exhaust products for Performance Street, Muscle Cars, Trucks, Street Rods, RV's, Motorhomes, and all types of race applications. With over 400 different muffler models, 370+ exhaust systems and numerous exhaust accessories available, Flowmaster offers you the choice of sound to fit your preference from "wild to mild" and your specific vehicle needs.
PARTS -N- MORE IN THE STORE

Bed Kits for your pickup or any individual part, give us a call or stop by the store. Bed skid strips and harware in plain steel or brillant polished stainless steel. Bed sides with your choice of the stock stake pockets or filled smooth for that custom look. CLICK on the photo.


Got Fenders? We have your fender welt. Sold by the foot, in 25 foot rolls or in 300 foot spools (shown).

Also in lengths: Chrome, black vinyl and stainless steel.


Back in the Vintage Ford receiving department......more parts headed to the warehouse!
Another shipment of Vintage Ford Brake Drums arrives! Made in the U.S.A. exclusively for Sacramento Vintage. These are for the 1940-1948 Ford Passenger cars.
33rd ANNUAL WEST COAST KUSTOMS

CRUISIN NATIONALS
Don't Miss The West Coast Kustoms 32nd Annual Cruisin' Nationals :: May 23, 24, & 25, 2014


If you remember how it was in the nifty fifties, you will recall that it was the West Coast that set the trends, and "Lead" the way in kustomizing. Join us in bringing back those great leadsleds and honoring the many big kustomizers still active on the West Coast.

Here is a chance to get that kustom out of the garage,
load up the family & join us for some good times.

2014 Admission: Adults $15.00

$25.00 2 Day Pass

Senior's 60 & Over $10.00

Military $5.00 with Military ID

Children 10 & under Free
The first choice for generations of American hot rodders. A winner at the drags, dry lakes, shows and circle tracks.
And now available again. With new linkage and fuel delivery parts. And Stromberg clothing & collectibles too. Just the same. Better than ever.
Old Crow Speed Shop belly-tank Streamliner.
Six-time World Land Speed Record Holder.
Powered by Genuine Stromberg 97 Carburetor
A LITTLE BIT 'ABOUT US'
Darold, Lynn and our little Manager in training, Mike....
Day One...1969. Yes, Darold 'HAD' hair back in the day.
A little bit about our history in an article written by
Bill Sessa for HotRod & Restoration Magazine.
CLICK on the photo to read the article
Unloading Hetfield's 'VOODOO PRIEST'


Hot Rod Haulers & Appraisals For All Your
Transportation and Evaluation needs.


Pick up and Delivery within 72 hours


Serving the West Coast Exclusively


35 Years Experience with Collector Cars, Licensed and Insured, One Car at a Time, Personalized Service.

Soft Tie Downs, No Chains.
To Schedule a pick up or get a mileage rate call:
(530) 906-3820
Dan@TheHotRodHaulers.com
TheHotRodHaulers@aol.com
Loading up John D'Agostino's
'SOPHIA'
Andy and Sue Brizio's 1932 roadster that WAS on display in our showroom.....sadly went back home. Andy missed his roadster....go figure. Thanks Andy!
(Photoshop magic by Heather)


DID YOU SIGN UP FOR OUR NEWSLETTERS?
Sign up a friend for our email newsletters!
CLICK Above
When you join our e-mail list, you can also
'fine tune'
what information you would like to receive from Sacramento Vintage Ford......from the type of car(s) you
have.... to 'Garage Sale' bargins.....Catalogs .....and more!
(We do not sell or rent our valued customers e-mail addresses)
You can also forward this newsletter to a friend using the box at the lower left corner of this newsletter.
CLICK above to view newsletters you may have missed!
Cruisin' around the Sacramento Vintage parking lot in the 'Sacramento Vintage Equipped' Grand National
'Speed 33' Roadster, owned by John Buck.
That's It For This Edition!
Thank You!
Please drive safe, have fun and enjoy your ride!
1-888-FORD-100