Publisher/Editorial Director:
Associate Publisher/Contributing Editor:
Contributing Photographers:
Darold Kohout
Doug Oehler
Ed Gardner
Joe Streng
Web Producers:
Rancho Cordova, Ca. 95742
1-888-FORD-100
Celebrating
Our 44th
Anniversary
1969 - 2013
Thank You!
Rod Shows.com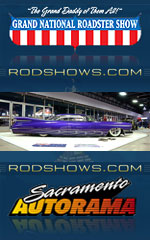 Grand National Roadster Show
January 24-26, 2014


Sacramento Autorama
February 14-16, 2014
The two Oldest and Longest Running Indoor Car Shows in the World.
The Association of California Car Clubs (ACCC)
is a volunteer organization with regional representatives who represent the interests of individual members and member clubs across the state.

The ACCC consists of thousands of automobile hobbyists throughout the state who are interested in California laws and policies regarding collector automobiles.

Music & Entertainment
at our shows for
13 YEARS!
-- RIP Larry --
2013 Niello Concours

at Serrano


Join Us As We Celebrate

Ten Years Of Concours Excellence


Featuring the Marque of

Rolls-Royce Motor Cars

And Celebrating 50 Years

of Lamborghini &

The Porsche 9112013
Grand Marshal Bruce Canepa
WHEN - October 6, 2013
Event is open to the public from 10:00 AM to 5:00 PM
WHERE
- On the Green -
Serrano Visitor's Center
4525 Serrano Parkway
El Dorado Hills, California 95762
Serrano is located in
El Dorado Hills - 25 miles from downtown Sacramento and 90 minutes from Lake Tahoe.
ACCESS
Event is open to the public from 10:00 AM to 5:00 PM
For Ticketing Information
click above.
Your hosts
Brian and Michele Moore
Premier Concours Promotions. Inc.

FAST FRAME

The Official Custom Art Frame Shop of
Vintage Fridays

5343 Sunrise Blvd
Fair Oaks, Ca. 95628
916-966-8766
Barris Kustom
Industries
Thanks For The
support George
and the Barris Family!



Click
Above to see what
George Barris has been up to and shop Barris.com



Sacramento Vintage
is an authorized
Barris Kustoms
Dealer!


We have 3 Barris memorabilia sections:



-- Batmobile Related

-- Barris Books
-- The Munster Koach
CLICK
on the Batmobile


Thanks to
Hooters Restaurants
for their support of our Vintage Friday's events!

Rancho Cordova
Sacramento
Natomas
Fresno
Bakersfield
Honolulu
Thank You!
New drivers need to


Start Smart.
Enroll your young driver in a Start Smart program today.
THUNDERBOLTS
Capitol Auto Club
Official Host Club
-Vintage Friday's-
CLICK above to read more about the 'BOLTS'
Butch Gardner
1946-2012
Stop by the
Rancho Cordova

location - Just down the street from Sacramento Vintage Ford!

Rancho Cordova Store Manager: Mitch Harrison
2838 Sunrise Blvd

Rancho Cordova, Ca.

95742

916-858-8666

CLICK above to see what else Lethal Threat has. And they have a lot!
At P.F. Chang's we are committed to providing you with an exceptional dining experience every time you walk through our doors. Each dish on our menu is prepared to order using the freshest and highest quality ingredients.
Majestic 11 foot tall horses grace the entrance to many of the restaurants. The horse symbolizes the original Forbidden City in China, which was built for China's first emperor Qin Shi Huangdi.
At P.F. Chang's you are surrounded by a unique environment combining influences of Chinese and American cultures. A panoramic, hand-painted mural depicting 12th century China, is visible from the main dining room and commands attention as the restaurant's centerpiece, while several terra-cotta warriors stand guard.
P.F. Chang's
(Darold and Lynn highly recommend the Chang's Chicken Lettuce Wraps to start your dining experience!
)
Rod Shows.com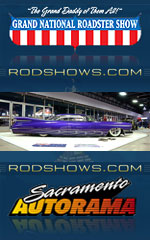 Grand National Roadster Show
January 24-26, 2014
Sacramento Autorama
February 14-16, 2014
The West Coast's premier hot rod, bike & motorsports tour!
Come and join the two Oldest and Longest Running Indoor Car Shows in the World.
CLICK
above to see
-Dates and Times-
RU Faster Than A RedNeck?


Garage Mahal
American Trucker
Shark Fights
Optima Ultimate Street
Car Invitational
CLICK on any show
for information
Very
cool signs from

Ruckus Rods!



CLICK

above if you can't wait!
Classic Shop Talk
Tech Articles
Instructions
Videos
Classic Performace Products
A Valued Vintage
Friday's Sponsor!
California Highway Patrol
The California Highway Patrol
-Valley Division-
A Vintage Fridays Sponsor & Supporter


Nothing Comes Close To
A Cobra

North American Headquarters:

Cobra Electronics Corporation
6500 West Cortland Street
Chicago, IL 60707

productinfo@cobra.com
1-773-889-8870


Sacramento Vintage Ford Shop Tour
by Craig Pike over at
My Ride Is Me.com
'The first thing I noticed'.......CLICK above to read the article
Photos by

PEPSI COLA


Fender Donated The Bare Guitar!




Gene Winfield Painted
It To Match WILD CAD!



Mike Clines Striped It in 12k White Gold with Green Accents To Match WILD CAD


Best Buy in Roseville, California donated the Fender Amp!





W

e gave it all away for Make-A-Wish
last season!


Watch out for this little
guy in our parking lot area.
Very friendly but hasn't learned he may get squished by a car.
Esquire IMAX

1211 K Street
Sacramento , CA 95814 916-443-4629
Metallica Through the Never:
An IMAX 3D Experience


Release Date: September 27, 2013. Rated: R.

Metallica Through the Never stars Metallica, one of the most popular, influential rock bands in history.

In this music driven, 3D motion picture event, award-winning filmmaker Nimród Antal immerses audiences in a bracing, raw and visceral cinematic experience with spectacular live performance footage of Metallica's most iconic songs -- created exclusively for film -- combined with a bold, narrative story featuring imagery drawn from the band's trailblazing iconography.

Dane DeHaan portrays Trip, a young roadie sent on an urgent mission, during the Metallica's roaring live set in front of a sold-out arena. The film features dazzling pyrotechnics, the most elaborate live-performance stage ever built and state-of-the-art 3-D photography, captured using up to 24 cameras simultaneously.


The IMAX release of Metallica Through the Never will be digitally re-mastered into the image and sound quality of An IMAX 3D Experience® with proprietary IMAX DMR® (Digital Re-mastering) technology. The crystal-clear images coupled with IMAX's customized theatre geometry and powerful digital audio create a unique environment that will make audiences feel as if they are in the movie.


YOUR Commercial Ad Here!


Contact
news@vintageford.com

Our little
Vintage Advantage e-Newsletter is distributed monthly to over 45,000 gearhead Subscribers!

O'Reilly Auto Parts
With over 3600 O'Reilly Auto Parts stores in 38 states, they are never far from home!
Better Parts...Better Prices, Everyday!
Certified Auto Repair isn't a shop name, a chain of stores or even a franchise. Certified Auto Repair embodies a standard of quality held by a nationwide network of the most respected auto repair facilities in the industry. Our members are asked to join based on reputation, integrity, qualifications and expertise. Certified Auto Repair members will not only take care of all your vehicle needs, but do it with professionalism and a level of customer satisfaction second to none.
Click above to find a mechanic in your area.
TOBY KEITH'S
I LOVE THIS BAR & GRILL
Leave it to country music legend Toby Keith to create a restaurant that offers great food and the best live music in Oklahoma City. Named after Toby's hit single "I Love This Bar," this exciting venue offers a real down-home experience.
Open for lunch 11am daily. Come as you are.
They'd love to have you anytime!
No reservations, but seated upon order of arrival.
Toby Keith's
I Love This Bar & Grill440 Palladio ParkwayFolsom, California 95630916-984-8629
Located in the PALLADIO at Broadstone
TIKI MAGAZINE - FINAL ISSUE

KIM with the final shipment of 'Tiki Magazine'.
Volume 9 Number 2, Summer/Fall 2013.
Cover art by Hassan Patterson
Item Number 2679-22 $6.99
THANK YOU... SURF CITY GARAGE!
"Every month, we will honor one of our great Surf City Garage Official Dealers/Distributors who've helped make us a success. From the first day they became a Dealer, Sacramento Vintage Ford has done an amazing job building the Surf City Garage brand.
Their Vintage Fridays Car Shows, grassroots marketing and traditional advertising have turned thousands of enthusiasts into Surf City Garage fans.
From the entire Surf City Garage family, Thank You!"
Surf City Garage: Hot Rod Protective Detailer
Pepsi Beverages Company
Sacramento, California
Thank You Pepsi Beverages Company, Sacramento,
for your support of our Make-A-Wish efforts.
LOOK FOR THE SALE TABLES!
(No, not a sale on tables....the stuff ON the tables
is priced to move!)
Kim, Kathy and Stephanie need to make more room for all the new car care and gift store items coming in! They also have a BIG clearance table at the back of the Gift Shop with neat gift shop and collectible items! The items above are being marked down and headed to the
BIG CLEARANCE TABLE!
All Men's and Women's
Hoven sunglasses are 20% off!
Prices shown on the web do not reflect the discount.
All Men's and Women's
FORD logo watches are 20% off!
-Limited to stock on hand-
Prices shown on the web do not reflect the discount.
And speaking of the Gift Shop, look for the red 'clearance' tags on assorted items from our Gift Shop around the store. We are making room for more cool stuff for you and your garage!
T-Shirts - Sweatshirts - Mechanics Shirts
Plastic Model Kits - Die Cast Cars - License Plate Frames
3M Car Care - Silicone Water Tools - Wash Sponges
Absorbers - Detail Towel Sets - Clocks - Neon
CD Holders - and more!
Slow movers that have to go! We need the room!
Many items way below our cost.
Kustomrama is a Wikipedia dedicated to traditional hot rods and kustom cars. It is an online encyclopedia covering all aspects of our kulture.
Everyone is welcome to contribute and start new and interesting topics on the Kustomrama Wikipedia. Write about yourself, your company, your car, your favorite kustom or your all time automotive hero. All entries are welcome as long as they somehow relates to traditional Rods & Kustoms.
James Hetfield's V-12 Lincoln Zephyr is on display
in our showroom...stop by and take a look!
Article courtesty Rob Fortier, Rod & Custom Magazine
Back when Rick Dore first teamed up with Metallica front man James Hetfield on their first build, the resulting finished product, a dream car-inspired '53 Buick Skylark, wasn't the only thing on their minds. Seems James was looking a bit further down the road, like six years and nearly as many collaborated customs (Rick Dore Kustoms, that is).

According to Rick, the two were at Pomona (Grand National Roadster Show), where they were debuting the car James' daughter dubbed "Skyscraper", when out of the blue, James brought up Lincoln Zephyrs. The pair compared fellow Beatnik club members' versions with others-most of which were drivers-and also with Terry Cook's 'glass-bodied sled, "Scrape". Rick says that he was pretty sure he knew what James was getting at, but he didn't just want to come out and say it. But it wasn't long before he had no other choice but to ask, "So what are we talking about here?
You want to build your version of a Zephyr or keep dreaming about it?" With the talent-blessed ability to do so, eventually they would fulfill that dream-but there were some other things that needed tending first ... a Candy Root Beer Auburn custom, for one......
CLICK HERE to read the article by Rob Fortier
HOW TO STOP PEOPLE FROM BUGGING
YOU ABOUT GETTING MARRIED

Old aunts used to come up to me at weddings,
poking me in the ribs and cackling, telling me,
"You're next."
They stopped after I started doing the same thing
to them at funerals.
SAVE $3. AT THE EVENTS
(Click to print)
Goodguys promotes and produces 20 annual events in 13 states and publishes the monthly Goodguys Goodtimes Gazette from the association's Pleasanton, California headquarters. More info? Visit www.good-guys.com.
B.R. COHN WINERY
Founded by Bruce Cohn in 1984, B.R. Cohn Winery is located in the heart of Sonoma Valley. Offers a full line of ultra-premium wines, extra virgin olive oils, handcrafted vinegars and gourmet food products.
Thanks to B.R. Cohn Winery for their continued support of our Make-A-Wish efforts!
Aaron Hagar's Fight Club opened the Sunday concert for The Doobie Brothers, Heart, Bad Company with Paul Rodgers, Pablo Cruise and the Gin Blossoms for the 27th Anniversary B.R. Cohn Charity Events Fall Music Festival & Celebrity Golf Tournament!
General Admission, VIP, Auction Dinner and Golf Tickets were available thru the website or at the Winery Tasting Room.
Aaron Hagar's great taste in his wardrobe selection!
Thanks Aaron!
Fight Club's view from the stage
Check out Aaron's Mic stand!
Lynn Kohout, Aaron & Michaela Hagar and Darold
Signing guitars, wine bottles and posters for the B.R. Cohn Winery charity auction.
The KEY and TOKEN a WISH recipient is given to unlock the very special room that grants their WISH.
Our Vintage Friday's Events support the Make-A-Wish Foundation of Northeastern California and
Northern Nevada.
Lynn and Darold Kohout (L) and Heather Stover (Sacramento Vintage Ford) present Kerry Cregan with Make-A-Wish Northeastern California & Northern Nevada our check for $8843.86. A heartfelt 'Thank You' to our car show participants, spectators, sponsors and supporters for their support with our 14th season of Vintage Friday's, 2012.
And yes, our
Vintage Friday's events are on hiatus
(taking a break) for 2013.....
but back in full swing for the 2014 season.
Doug Gets To RETIRE!
Doug, our Assistant Sales Manager, is headed for lounge chairs, blue waters and umbrella drinks (after the honey-do list is caught up at home), as he retires from Sacramento Vintage Ford after 18 years of dedicated service. Doug also was a contribting photographer to this newsletter. We wish you and your family all the best
Doug, you will be missed.....
CLASSIC PERFORMANCE PRODUCTS
is a leader in creating computer designed disc Brake, Power Steering and Suspension parts.

CLASSIC PERFORMANCE PRODUCTS

175 East Freedom Avenue
Anaheim, CA 92801Orders: 800-522-5004Tech Line: 714-522-2000
Real Hot Rod Girl
by Randy Johnson

Bonnie Honea is a hot rodder in Southern Oregon
who works as a bookkeeper and property manager, picks up her two kids from school, and goes grocery shopping-all in the cool '37 Plymouth rat truck that she designed, helped build, and uses as her daily driver.

She isn't the blonde who drove the white '55 T-Bird in the 1956 movie Hot Rod Girl (starring Lori Nelson and Chuck Connors). And she definitely isn't one of the scantily clad models draped over the flashy hot rods and motorcycles in today's slick magazines.

Nope, she's the real thing: a bright, contemporary woman who loves hot rods and isn't afraid of a little bit of grease.

Starring Bonnie Honea as herself, her husband Dale, and her father-in-law J.R. Shot on location in Rogue River and Gold Hill, Oregon, on Interstate 5, and at Del Rio Vineyards.
Tech Sheet on the Bonnieville Speed Rat Truck:
'37 Plymouth Pickup cab
'37 Plymouth Pickup grille w/custom insert
'56 Ford bed
Chevy 327
Offenhouser Tri Power intake
Three 97 Stomberg 2-barrel carbs
2-speed Power Glide trans
'37 Plymouth pickup dash
JR-50 Suziki piston shifter knob
Dirt Track racing steering wheel
9" Ford rear end
Drum brakes front and rear
Suicide front end: springover dropped axle
w/wishbones
Rear suspension: coil-over w/radius rods
Wheels: 15x5 F and 15x8 R steel
Front tires: Firestone 500/15 Dirt Track
Rear tires: Firestone 820/15 Grooved
Original Guide 882 C headlights
'37 Ford taillights
'50s-style gasser tank
45 caliber slug in front post
Family-built by J.R., Dale, and Bonnie Honea
Frame, steering linkage, and hanging of rear end by Ron Crume, Infinity Motorsports
Paint, pinstriping, and Bonnieville Speed logo by Don Tippit
Club affiliation: Rogue River Rats, Rogue River, Oregon
Real Hot Rod Girl Video - CLICK to view
Randy Grubb Sells His DECOLINER!


Automotive artist Randy Grubb turns his incredible fantasies into hard, metal-warped reality in his Grants Pass garage in Southern Oregon. His large-scale iconic builds include Jay Leno's Tank Car, the Indy Special, the B-702, Piss'd Off Pete, and most recently, the Decoliner.

The Decoliner is an extreme build, designed by Randy to appear to be a 1940s period sculpture that could have been Flash Gordon's motor home. Built on a 1973 GMC RV chassis with an Olds 455 engine, it features the nose of a White 3000 COE truck cab and a flying bridge with a second driving station up top.

In episode 3 of Randy Grubb's Garage series you'll see the complete story of the Decoliner, inside and out, and on the road.
Randy got an offer on the Decoliner in July 2013 that he couldn't refuse, so took his buddies with him on the vehicle's final shakedown voyage to Sequoia National Park in California. After passing its final tests on mountain roads with flying colors, Randy turned over the keys to the Decoliner's new owner in Michigan. Look for it at car shows and on the highway!
Click HERE To Watch The VIDEO!


For much more about the automotive and motorcycle sculptures of Randy Grubb, see episodes 1 and 2 of Randy Grubb's Garage on YouTube, and visit his Web site: http://www.randygrubb.com
Established in 1987, the Pick-n-Pull chain of self-service auto parts stores is one of the largest recyclers of end-of-life vehicles in the industry. You bring your tools, pull the parts you need and SAVE lots of money! Their 48 U.S. and 3 Canadian locations offer a huge a selection of used OEM (original equipment manufacturer) parts for cars, vans and light trucks - all makes and models, foreign and domestic - all at incredibly low prices.

Pick-n-Pull is proud of the fact that they recycle more than 350,000 vehicles and service more than 5 million self-service customers each year.

Pick-n-Pull is a subsidiary of Schnitzer Steel Industries, Inc., a global leader in the metals recycling industry that has been in business for over a century. Although Pick-n-Pull and Schnitzer have worked together since 1989, Pick-n-Pull became a fully owned subsidiary of Schnitzer in 2003 as part of its Auto Parts Business unit. Being part of a Fortune 1000 company has enabled them to grow stronger and introduce cost efficiencies into their system that have allowed them to bring environmental and cost benefits to their customers. At the same time, the Pick-n-Pull stores have retained the regional and local focus that has made them popular with their customers.
CLICK to find a Pick-n-Pull Near You!
OPTIMA BATTERIES
A special Thank You for Optima's continued support
of our Make-A-Wish efforts!
CUSTOM CAR CHRONICLES
This online custom car magazine is created by an international team of custom car and hot rod enthusiasts. This initiative started in 2004 with the legendary Custom Car Photo Archive founded by the Editor in Chief, Custom Car historian Rik Hoving.
MOTHERS' AT SACRAMENTO VINTAGE
In stock at Sacramento Vintage the complete line of
Mothers car care cloths, detail tools and brushes.
CLICK
above to check them out.
CLICK on the ad to check out their Facebook
page, photos and events.
CLICK HERE to listen to hour 1
CLICK HERE to listen to hour 2
Lambs wool car dusters are back in stock! They are what we use on 'Voodoo Priest' and the other fine finish cars.
CLICK above to order yours....
THE SACRAMENTO VINTAGE FORD
F100 PARTS CATALOG!
Our 408 page, full color catalog of 1948-1966 Ford Pickup parts and accessories. If you have been ordering your F-1 & F-100 Pickup parts from Sacramento Vintage, watch for it in your mailbox .
Not on our catalog list? CLICK on the image to order.
THE SACRAMENTO VINTAGE FORD
MODEL A PARTS CATALOG!
Our 480 page, catalog of parts for the 1928-1931 Ford Model A & AA. Parts and Accessories, Gift Items, Apparel and even a few items to make your little
Model A go.....faster!

Your source of quality Model A Parts since 1969!
What Other Ford Parts Do We Have For You?
1909-27 Model T
1928-31 Model A & AA
1932-48 Ford Passenger
1932-47 Pickup
1948-66 Pickup
1949-56 Ford Passenger
1967-79 Ford Pickup
Parts for your Hot Rod, Street Rod, Custom,
Suede & Rat.
Cool stuff for your shop, office and garage!
One Shot, Lil Daddy Roth, Von Hot Rod, Mack Brushes
Roth Rattle Bomb Paint, Stickers, Clothing, Books, Art
and a bunch more! And it's all at
www.VINTAGEFORD.com
SURF CITY GARAGE PRODUCTS
A little bit about Surf City Garge by Tim Miller:
Step into Surf City Garage and you are transported back in time. There before you is a Flying A gas station, just like it was in the 50s. A '68 Shelby GT-500 sits at the pumps.
You walk through the Shelby Showroom past a 22-foot-long neon Buick dealership sign and head toward Corvette Corner. In front of you is a red and white '58 Corvette, the first car I ever restored. Just to your left is my wife's '54 Polo White Corvette. Straight ahead an original Chevrolet Super Service sign signals your entry onto Chevrolet Way, where you're greeted by a '66 turquoise and white Bel Air hardtop. Next, you reach MOPAR Alley on your right, flanked by Pontiac Row on your left.
On the wall is a huge neon Pontiac dealership sign. Looking down, you see a '67 Cameo Ivory GTO Coupe. You're now at the other end of our garage and you enter a complete restoration shop. Here expert craftsmen maintain our collection and restore new acquisitions. Professional detailers clean and wax over a mile of 60's chrome. When you have over 100 vintage muscle cars, the work never stops.

So where did Surf City Garage detailing products
come from?
Well, to keep the cars looking great, we tried every car care product around, but I just wasn't satisfied with the quality or performance. So we developed our own complete line of Enthusiast Grade® detailing products -- recognized around the world as the best anyone can buy. Our guarantee: if these aren't the best products you've ever used, give me a call and I'll personally buy them back - is unmatched in the industry.
That's why, every day, more and more enthusiasts are switching to Surf City Garage Enthusiast Grade® - because nothing else even comes close.
Tim Miller
Car Enthusiast & Founder, Surf City Garage
Stop by Sacramento Vintage or CLICK below to see what we have from Surf City Garage.
John D'Agostino's 'SOPHIA' 1939 Cadillac
by Oz Kustoms
In our web store: 'Supplies & Care Care' you have
8 aisles of Surf City Garage to choose from!
And the much requested Surf City Garage
Hot Rod Protective Detailer in the 1-gallon
size are here!
'Pete the Painter' recommends you check out your local
PPG Refinish Store for all your automotive paint needs.
OUR WIRING SHOP IS OPEN ON THE WEB!
We have a new page up on our web site.
Like the look of Old Skool cloth wrapped wire and related components? Want to build you own harness?
Cloth wrapped and PVC color coded wire in
14ga, 12ga and 10ga by the roll or by the foot.
2ga cotton wrapped battery cable by the foot.
Terminals: Rings, Flags, Forks and Bullet
Battery Cable & Battery Terminals
Wire tys and clamps
Hot Rod Harness Kits
Books - Manuals - Charts
Bulbs 6-Volt / 12-Volt
Non-Ford Tail Lamps
Cloth Wrapped Spark Plug Cable
Plug Terminals
Voltage Reducers
Non-Ford Headlamps
Loom Material
Heat Shrink Tubing
Fuse Blocks and more!
CLICK on any image to check it out.

Poteet's '34 Ford Nails Hot Rod
of the Year Award
(Click to view the article courtesy Goodguys News)


Indianapolis, IN - It's been quite a summer for Memphis-based hot rodder George Poteet. For the second time this season, a car from his stable has grabbed a signature award from the Goodguys Rod & Custom Association.
George's "Hugger Orange" 1934 Ford, built by the talented Dave Lane of Fastlane Rod Shop, captured the Goodguys 2013 Tank's Hot Rod of the Year award at last weekend's 3rd Speedway Nationals held on the hallowed grounds of Indianapolis Motor Speedway. Earlier this summer, Poteet's '69 Torino drove off with the Goodguys 2013 Optima Batteries Street Machine of the Year award in Columbus, Ohio. Sandwiched between the two big wins was a trip to race at the Bonneville Salt Flats in August where he raced to the fastest speed in the SCTA record books - an eye popping 437.183mph behind the wheel of the Poteet & Main streamliner. Through it all Poteet remained humble and grateful, a true Southern gentleman.
Unlike any other Goodguys award, the
Tank's Hot Rod of the Year
competition is demanding. The car's agility, road worthiness and performance is factored in as well as looks and build quality. All contestants must take a 100-mile drive around Indianapolis as well as blast down a drag strip (Muncie Dragway in this instance) doing a smoky burnout and racing to the 1/8th mile as fast as possible.
CLICK on the photo above for the complete article.


Pleasanton, CA - Goodguys is happy to announce a special new Texas Road Tour this fall that will take rodders from Goodguys World Headquarters in Pleasanton, California to the 21st Lone Star Nationals at Texas Motor Speedway. The Goodguys Texas Road Tour blasts off from Pleasanton, CA Friday, September 27th and lands at Texas Motor Speedway Thursday, October 3rd covering 1,969 total miles. The newly built, all yellow, 525-horsepower Goodguys G/RS 1969 Camaro will pace the tour.

The all-inclusive 7-day road tour travels through California, Arizona, New Mexico and Texas stopping at the Southwest's finest rod shops, car collections, museums, race shops and more.

Only 50 spots were available and are sold on a first come, first serve basis!
AMERICAN RESTORATION
AMERICAN RESTORATION on the History Channel features Rick Dale and his crew of loose screws at Rick´s Restorations in Las Vegas, Nevada, as they take rusty, beat-up items and restore them to their original glory.
Whether it´s a giant gas pump from the 1940s or a Hopalong Cassidy bicycle from the 1950s, every restoration is a high-stakes business project where worthless rust is transformed into a valuable collectible. However, these restorations aren´t easy. Every project presents unique challenges for Rick and his team.
When it comes to restoration, Rick Dale is the Pawn Stars go-to guy. AMERICAN RESTORATION follows Rick's work as owner of Las Vegas-based Rick's Restorations, a family business that finds, restores and up-cycles cool objects ranging from Cadillacs to Coke Machines.
Rick's very nice Ford F-1 Pickup can be spotted on various episodes of American Restoration.
Did we mention Rick's pickup is:
1112 S Commerce Street
Las Vegas, Nevada 89102
SHEEPHERDER BAR AND GRILLE
The Citrus Inn opened in 1913
in this very building on Folsom Boulevard. Citrus was sold in front of the building to everyone that passed by on busy Folsom Boulevard.

Folsom Boulevard was a main thoroughfare for the gold rush in the mid 1800s. Many immigrants and forty-niners were in search of some of the gold that James W Marshall and John Sutter found in the American River. The railroads that are still visible across the street today were the same railroads that were constructed in the late 1800s.

Rumor has it that over the years The Citrus Inn became many different businesses, including The Edwards Hotel, and at one point, a brothel. Everyone came to the building to eat good food and to have a good time. There was drinking and dancing 'til late at night.

Later, the building became known as Sheepherder Inn. It was a place for Basque sheepherders to come and rest upstairs in the Inn and enjoy a hearty meal downstairs, which probably consisted of meats, fish, lamb stews, legumes, cheeses and Basque cider.

Sheepherder Bar and Grille
11275 Folsom Blvd.
Rancho Cordova, CA 95742
Phone: (916) 638-4584

Crossroads: Folsom Blvd. and Sunrise Blvd. just down
the street from Sacramento Vintage Ford.....
QUICK QUACK CAR WASH
Quick Quack is a growing chain of exterior-only, soft cloth car washes in California, Texas & Colorado.
Fully automated and computerized, the high-quality carwashing system is a soft-cloth, exterior-only conveyor wash. Customers stay in their vehicles while being automatically guided through the glass enclosed tunnel where the vehicle is soaked, soaped, washed, polished, rinsed with spot-free water and blown dry all in a matter of minutes. Quick Quack Car Wash also takes pride in being environmentally friendly by conserving water and using environmentally friendly shampoos that are biodegradable and non-corrosive. Additional information is available online at
www.DontDriveDirty.com.
CLICK on any image.
CLICK on
to see what you may have
missed in previous editions of the
Vintage Advantage..........
Sacramento Theatrical Lighting is a family-owned business in continuous operation since 1947. Now operating out of a 65,000 sq. ft. building, STL is a full-service theatrical equipment company. They offer a full line of theatrical lighting equipment and accessories, moving lights, dimming and control, stage curtains and expendables.
The Rental Department can set you up with everything you need for your backyard party or a professional theatrical production. If you are looking for a full service contractor to handle all of your event needs, their Production Department has all of the answers you need.
STL also has a Special Projects Division that specializes in design and installation of large and small theatrical systems, design and install of theatrical drapery, rigging inspections and other specialty projects. They employ a full in-house Tech Service Department.
SACRAMENTO THEATRICAL LIGHTING
950 Richards Blvd
Sacramento, Ca. 95811
916-447-3258

CRUISIN FOR A CURE
Presented by Debbie Baker, Ross Kroenert
and over 75 volunteers!
The World's Largest One Day Charity Car Show
14th Annual Show - Saturday, Sept. 28, 2013
OC Fair & Events Center, Costa Mesa CA
Supporting CITY of HOPE Prostate Cancer Program
Gates open 4:30 AM for participant cars
7 AM for spectators
Spectators: $15; $13 with AAA card
Kids under 12 are free
CLICK on the above poster for details
TAKE-A-KID TO A CAR SHOW
There have been countless studies done to prove it, but virtually everyone knows that spending quality time with a kid is the greatest gift you can give them. And sharing your appreciation for collector cars is a great way to nurture their interest in a hobby that you can enjoy together for many years to come.
Through the SEMA Take a Kid to a Car Show coloring book app, kids of all ages will be able to customize and personalize each car. We encourage users to visit www.takeakidtoacarshow.com to discover additional fun and exciting resources through this campaign.
The 1916 Maxwell From The Jack Benny
TV Show Is In Our Lobby
1916 Maxwell from the television series.

The Jack Benny Program, starring Jack Benny, was a radio-TV comedy series that ran for more than three decades and is generally regarded as a high-water mark in 20th-century American comedy. 1950 thru 1965.


Jack Benny was a regular on his own radio program since 1932. He brought the program, with his underplayed humor, to TV along with his radio regulars. Jack, who remained 39-years-old, kept his money in his basement and drove his old Maxwell car just as he had done on the radio.


CLICK to view

In 1965 the first T.G.I. Friday's restaurant opened in New York City at the corner of First Avenue and 63rd Street and quickly became the meeting place for single adults, with $1 million in revenues its first year.
"T.G.I. Friday's® is known for serving authentic American food and exciting drinks. We also understand that our restaurants are more than just a place to eat. They are places where communities form, gather and engage."

"So, we take our commitment to community seriously. Our Team Members have cultivated strong local relationships and take great pride in their engagement with guests and their participation in the communities that they live and work in."
Todays Joke: Heavens Clerk
All arrivals in heaven have to go through a bureaucratic examination to determine whether admission will be granted. One room has a clerk who inputs computerized records of what each applicant did on his or her last day of life.
The first applicant of the day explained that his last day was not a good one. "I came home early and found my wife lying naked in bed. She claimed she had just gotten out of the shower. Her hair was dry, so I checked the shower and it was completely dry too. I knew she was into some hanky-panky, and I began to look for her lover.
I went onto the balcony of our 9th floor apartment and found the guy clinging to the rail by his finger tips. I was so angry that I began bashing his fingers with a flower pot. He let go and fell, but his fall was broken by some awnings and bushes.
On seeing he was still alive I found super human strength to drag our antique cedar chest to the balcony and threw it over. It hit the man and killed him. At this point the stress got to me, and I suffered a massive heart attack and died."
The clerk thanked him and sent him on to the next office.
The second applicant said that his last day was his worst.
"I was on the roof of an apartment building working on the AC equipment. I stumbled over my tools and toppled off the building. I managed to grab onto the balcony rail of a 9th floor apartment, but some idiot came rushing out on the balcony and bashed my hands with a flower pot.
I fell but hit some awnings and bushes and survived,
but as I looked up I saw a huge chest falling toward me. I tried to crawl out of the way but failed and was hit and killed by the chest."
The clerk couldn't help but chuckle as he directed the man to the next room. He was still giggling when his third customer of the day entered.
He apologized and said, "I doubt that your last day was as
interesting as the fellow in here just before you."
"I don't know," replied the man, "picture this, I'm buck naked hiding in this cedar chest.....
'A Blast From The Past'
Joe Bailon Car Show in Auburn, Ca.
FLOWMASTER MUFFLER
Flowmaster's product line includes exhaust products for Performance Street, Muscle Cars, Trucks, Street Rods, RV's, Motorhomes, and all types of race applications. With over 400 different muffler models, 370+ exhaust systems and numerous exhaust accessories available, Flowmaster offers you the choice of sound to fit your preference from "wild to mild" and your specific vehicle needs.
COBRA ELECTRONICS
Cobra Electronics Corporation
is a leading designer of mobile communications products in the United States, Canada, Europe and around the world. After 50 years of innovation, the company continues to grow by boldly entering into new product categories.
Today the company's products include:
Mobile navigation devicesTwo-way radiosRadar/laser detectorsCitizens band radiosMarine electronicsPower inverters
Cobra products are available in nearly 40,000 storefronts in North America and in a growing number of retailers throughout the world.
We would also like to thank Cobra Electronics for their support of our Make-A-Wish efforts.
LUCAS OIL PRODUCTS
Lucas Oil Products is a manufacturer and distributor of automotive oil, additives, and lubricants. It was founded by trucker Forrest Lucas and his wife Charlotte in 1989.
FORTUNE -- Forrest Lucas, 70, is widely known for his sponsorship of the Indianapolis Colts' Lucas Oil Stadium (home of the 2012 Super Bowl).
But few fans know of his journey from long-haul trucker to oil-products producer to race team sponsor. In 1989 he launched Lucas Oil Products, which now sells nearly 200 items in 27 countries. Though Lucas won't reveal his private company's sales or profits, revenue is reportedly around $150 million. He recently sat down with Fortune to share his story.
Home was Columbus, Ind., and both sides of the family were farmers. By the time I was 13, I was showing registered cattle in professional breeder shows. But I always had a fascination for trucks. I'd help my dad with logging, or we'd use a truck when he worked as a mason. Dad had a drinking problem for several years, and I left home when I was 15. I started working for a guy who had a small cattle ranch until I got married at 17.
In 1964, I was 21 when I bought my first semi. It was a 1963 Chevrolet with a 327-cubic-inch gas engine. I started working for Mayflower Moving & Storage, making $13,000 to $14,000 a year, which was a lot of money then.
Gas was 25¢ a gallon, and I didn't waste any money. I drove day and night, and ate cheap.
CLICK to read on......
HOLLYWOOD HOT ROD ACCESSORIES
PARTS -N- MORE IN THE STORE

Bed Kits for your pickup or any individual part, give us a call or stop by the store. Bed skid strips and harware in plain steel or brillant polished stainless steel. Bed sides with your choice of the stock stake pockets or filled smooth for that custom look. CLICK on the photo.


Got Fenders? We have your fender welt. Sold by the foot, in 25 foot rolls or in 300 foot spools (shown).

Also in lengths: Chrome, black vinyl and stainless steel.


Back in the Vintage Ford receiving department......more parts headed to the warehouse!
Another shipment of Vintage Ford Brake Drums arrives! Made in the U.S.A. exclusively for Sacramento Vintage. These are for the 1940-1948 Ford Passenger cars.
Desk Lamps, Tire Clocks, F1 Salt & Pepper Sets,
Key Racks and Bookends.

A LITTLE BIT 'ABOUT US'
Darold, Lynn and our little Manager in training, Mike....
Day One...1969. Yes, Darold 'HAD' hair back in the day.
A little bit about our history in an article written by Bill Sessa for HotRod & Restoration Magazine. CLICK above.
Vicky and Norm doing a little shopping during their visit at the store before heading to Bonneville.
This was the progress on the coupe when they were here in the states last time.
This is the car today! Norm Hardinge's Pierson Bros Coupe inspired V12 'Bonneville Special'.
You can read all about it over at FUEL MAGAZINE.
Norm and Vicky also produce the Kings of Speed DVD Series.....available in the store and on-line.
CLICK on the DVD.
Hot Rod Haulers & Appraisals For All Your
Transportation and Evaluation needs.


Pick up and Delivery within 72 hours


Serving the West Coast Exclusively


35 Years Experience with Collector Cars, Licensed and Insured, One Car at a Time, Personalized Service.


We use soft Tie Downs, No Chains.


Summer auto shows are here up so please book early to insure transportation of your car.


= If It Rolls, We can Haul It =
To Schedule a pick up or get a mileage rate call:
(530) 906-3820
Dan@TheHotRodHaulers.com
TheHotRodHaulers@aol.com
Barry Meguiar is shown here with Michael Anthony (center), a founding member of the rock band Van Halen and co-founder Brad Fanshaw (left) of Bonspeed Wheels.


For the 10th consecutive year, Barry Meguiar, president and host of "Car Crazy Television," will sit down and interview the biggest names in the automotive industry during SEMA's all-star week, November 5-7, 2013.

"Car Crazy TV" will once again film two episodes for Discovery's Velocity Channel, which will broadcast live to more than 100,000 SEMA Show attendees, and appear on the screens of more than 91,000 hotel rooms throughout the city, 24 hours per day, during the 2013 SEMA Show.


'LIKE'
us on Facebook!
Boyd's Coffee is one of the oldest family-owned coffee companies in the world. Founded in 1900 in Portland, Oregon, Boyd's has a long, storied history of helping restaurants, hotels and convenience stores attract and keep customers by providing them with consistently excellent coffee, tea and other beverages.
At Boyd's, we don't believe that coffee bestows status or makes a statement about the person who drinks it. We believe that people are capable of making their own statements. We hold that coffee is fuel, not fashion. It is what it has always been: a reward for good work, done well; and a kick in the pants to get back out there and do some more.
That's the legacy of coffee in America and that's the Boyd's legacy, as well.
Sacramento Vintage proudly serves Boyds coffee in
our little diner....... The Chrome Grille.
Andy and Sue Brizio's 1932 roadster that WAS on display in our showroom.....sadly went back home. Andy missed his roadster....go figure. Thanks Andy!
(Photoshop magic by Heather)


DID YOU SIGN UP FOR OUR NEWSLETTERS?
Sign up a friend for our email newsletters!
CLICK Above
When you join our e-mail list, you can also
'fine tune'
what information you would like to receive from Sacramento Vintage Ford......from the type of car(s) you
have.... to 'Garage Sale' bargins.....Catalogs .....and more!
(We do not sell or rent our valued customers e-mail addresses)
You can also forward this newsletter to a friend using the box at the lower left corner of this newsletter.
CLICK above to view newsletters you may have missed!
Cruisin' around the Sacramento Vintage parking lot in the 'Sacramento Vintage Equipped' Grand National
'Speed 33' Roadster, owned by John Buck.
That's It For This Edition!
Thank You!
Please drive safe, have fun and enjoy your ride!
1-888-FORD-100