Publisher/Editorial Director:
Associate Publisher/Contributing Editor:
Contributing Photographers:
Darold Kohout
Doug Oehler
Ed Gardner
Joe Streng
Web Producers:
Rancho Cordova, Ca. 95742
1-888-FORD-100
Celebrating
Our 44th
Anniversary
1969 - 2013
Thank You!
Rod Shows.com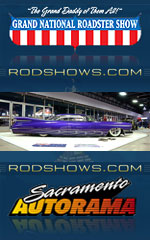 Grand National Roadster Show
January 24-26, 2014


Sacramento Autorama
February 14-16, 2014
The two Oldest and Longest Running Indoor Car Shows in the World.
The Association of California Car Clubs (ACCC)
is a volunteer organization with regional representatives who represent the interests of individual members and member clubs across the state.

The ACCC consists of thousands of automobile hobbyists throughout the state who are interested in California laws and policies regarding collector automobiles.

Music & Entertainment
at our shows for
13 YEARS!
-- RIP Larry --

FAST FRAME

The Official Custom Art Frame Shop of
Vintage Fridays

5343 Sunrise Blvd
Fair Oaks, Ca. 95628
916-966-8766
Barris Kustom
Industries
Thanks For The Support George and the Barris Family!



Click
Above to see what
George Barris has been up to and shop Barris.com



Sacramento Vintage
is an authorized
Barris Kustoms
Dealer!


We have 3 Barris memorabilia sections:



-- Batmobile Related

-- Barris Books
-- The Munster Koach
CLICK
on the Batmobile

Thanks to
Hooters Restaurants
for their support of our Vintage Friday's events!

Rancho Cordova
Sacramento
Natomas
Fresno
Bakersfield
Honolulu
Thank You!
New drivers need to


Start Smart.
Enroll your young driver in a Start Smart program today.
THUNDERBOLTS
Capitol Auto Club
Official Host Club
-Vintage Friday's-
CLICK above to read more about the 'BOLTS'
Butch Gardner
1946-2012
Stop by the
Rancho Cordova

location - Just down the street from Sacramento Vintage Ford!

Rancho Cordova Store Manager: Mitch Harrison
2838 Sunrise Blvd

Rancho Cordova, Ca.

95742

916-858-8666

CLICK above to see what else Lethal Threat has. And they have a lot!
At P.F. Chang's we are committed to providing you with an exceptional dining experience every time you walk through our doors. Each dish on our menu is prepared to order using the freshest and highest quality ingredients.
Majestic 11 foot tall horses grace the entrance to many of the restaurants. The horse symbolizes the original Forbidden City in China, which was built for China's first emperor Qin Shi Huangdi.
At P.F. Chang's you are surrounded by a unique environment combining influences of Chinese and American cultures. A panoramic, hand-painted mural depicting 12th century China, is visible from the main dining room and commands attention as the restaurant's centerpiece, while several terra-cotta warriors stand guard.
P.F. Chang's
(Darold and Lynn highly recommend the Chang's Chicken Lettuce Wraps to start your dining experience!
)
Rod Shows.com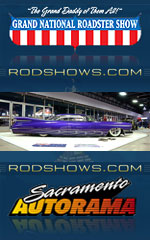 Grand National Roadster Show
January 24-26, 2014
Sacramento Autorama
February 14-16, 2014
The West Coast's premier hot rod, bike & motorsports tour!
Come and join the two Oldest and Longest Running Indoor Car Shows in the World.
CLICK
above to see
-Dates and Times-
RU Faster Than A RedNeck?


Garage Mahal
American Trucker
Shark Fights
Optima Ultimate Street
Car Invitational
CLICK on any show
for information
Very
cool signs from

Ruckus Rods!



CLICK

above if you can't wait!
Classic Shop Talk
Tech Articles
Instructions
Videos
Classic Performace Products
A Valued Vintage
Friday's Sponsor!
California Highway Patrol
The California Highway Patrol
-Valley Division-
A Vintage Fridays Sponsor & Supporter


Nothing Comes Close To
A Cobra

North American Headquarters:

Cobra Electronics Corporation
6500 West Cortland Street
Chicago, IL 60707

productinfo@cobra.com
1-773-889-8870


Sacramento Vintage Ford Shop Tour
by Craig Pike over at
My Ride Is Me.com
'The first thing I noticed'.......CLICK above to read the article
Photos by

PEPSI COLA


Fender Donated The Bare Guitar!




Gene Winfield Painted
It To Match WILD CAD!



Mike Clines Striped It in 12k White Gold with Green Accents To Match WILD CAD


Best Buy in Roseville, California donated the Fender Amp!





W

e gave it all away for Make-A-Wish
in 2012!


Watch out for this little
guy in our parking lot area.
Very friendly but hasn't learned he may get squished by a car.
Esquire IMAX

YOUR ad here!


Contact
news@vintageford.com
We are approaching 50,000 Subscribers!
O'Reilly Auto Parts
With over 3600 O'Reilly Auto Parts stores in 38 states, they are never far from home!
Better Parts...Better Prices, Everyday!
FLATHEAD JACK'S TWIN ENGINE, NITRO POWERED FLATHEAD DRAGSTER IS HERE!
181:10 MPH Flathead!
Photos by Darold
Jack dosen't know it but his treasured nitro powered dragster is now:
The valve caps were the only thing we had in stock

(FOR A DRAGSTER!)......and Jack said

please.....NO dice valve caps! So red-eyed skulls it is.
The dragster runs on 94 percent nitromethane, 6 percent alky and the nitrous system (BLUE BUTTON - see below)
is pushed for the last 3 seconds only!
The nitrous oxide is what is called a dry system and has only a 12 thousandths nozzle per cylinder, the 3 second burn time gives what is called a 50 shot per engine which is a added 100 H.P. boost through the increased cylinder pressures. Remember flatheads can't breathe, so it's like a blower with out the volume of stuff getting shoved in.
That system is all new and has never been used as yet... it was my next trick after it had gone as fast as it can without it....... Jack.
Best times were 181:10 and 180:42, best E.T. 7:79
Click above to read about Jack's Dragster
These photos courtesy Flathead Jack
CLICK on the models! Monster Rides are
ON SALE!
VISITORS at VINTAGE
While we are speaking Flathead Ford....we had two very well known Ford Reproduction Parts gentlemen stop by the store last week that know all about flatheads and literally thousands of other Ford parts.
Bob Drake (L) with Bob Drake Reproductions came down from Grants Pass Oregon in his 1940 Ford Standard Coupe. Bob was headed up to Lake Tahoe for the Early V8 Club National Meet.
Bob checking out the 1932 Ford Cabriolet display. Bob Drake Reproductions makes over 7000 different high quality Ford parts. No, we NEVER dust the 'patina' off
the Cabriolet!
Bob Drake and Ed Hill in the Diner after the store tour and getting ready to head up the hill to Lake Tahoe in Bob's 1940 Coupe. Yes, we do have Strombergs and intakes on display in our little diner!
On the way back from the National V8 meet at Lake Tahoe, Dennis Carpenter (L) stopped by the store to check
things out. Dennis is the man behind Dennis Carpenter Ford Reproductions out of Charlotte, North Carolina.
Dennis makes over 11,749 different Ford reproduction parts including the Ford Licensed all steel 1940 Coupe body. And it will be available from Sacramento Vintage Ford as well as other sheet metal for the very popular 1940 Ford Coupe.
Tom, Dennis and Ron Palmer (Sacramento Vintage) go over a few details of one of our wire harnesses.
Over at the harness braiders.These wrap or 'braid' a cotton loom over the completed wire harnes bundle, just like the originals. Ron explains the process as Dennis, Tom, Janis Carpenter and Cindy listen and take notes.
Yes, there was a test. :)
Pick-n-Pull
Self-Service Auto & Truck Dismantlers
51 locations throughout the U.S. and Canada
TOBY KEITH'S
I LOVE THIS BAR & GRILL
Leave it to country music legend Toby Keith to create a restaurant that offers great food and the best live music in Oklahoma City. Named after Toby's hit single "I Love This Bar," this exciting venue offers a real down-home experience.
Open for lunch 11am daily. Come as you are.
They'd love to have you anytime!
No reservations, but seated upon order of arrival.
Toby Keith's
I Love This Bar & Grill440 Palladio ParkwayFolsom, California 95630916-984-8629
Located in the PALLADIO at Broadstone
Pepsi Beverages Company
Sacramento, California
Thank You Pepsi Beverages Company, Sacramento,
for your support of our Make-A-Wish efforts.
LOOK FOR THE LITTLE ROUND SALE TABLES!
(No, not a sale on tables....the stuff ON the tables
is priced to move!)
This one table (we have others) has select car care products, dusters, water blades, wash mitts and paint kits...all 50% off! Kim, Kathy and Stephanie are making room for all the new car care products over by the cashier area. There is a BIG table at the back of the Gift Shop with neat gift shop and collectible items!
Back-issue magazines and calendars.....Only $1.

And this tables WAS loaded, but more around the corner! Sorry the photo is a bit fuzzy, prices so low Darold was shaking......


Yes....FREE programs! We are cleaning things up back in the Gift Shop warehouse and ran across several cases of assorted event programs from the Sacramento Autorama and the Grand National Roadster Shows. Stop by the store and grab one or two or three.......
FREE!



Update- FREE Programs and the $1. magazines
are almost gone!

And speaking of the Gift Shop, look for the red 'clearance' tags on assorted items from our Gift Shop around the store. We are making room for more cool stuff for you and your garage!
T-Shirts - Sweatshirts - Mechanics Shirts
Plastic Model Kits - Die Cast Cars - License Plate Frames
3M Car Care - Silicone Water Tools - Wash Sponges
Absorbers - Detail Towel Sets - Clocks - Neon
CD Holders - and more!
Slow movers that have to go! We need the room!
Many items way below our cost.
-FROM THE WEB -
YOU KNOW IT'S HOT WHEN:
The KEY and TOKEN a WISH recipient is given to unlock the very special room that grants their WISH.
Our Vintage Friday's Events support the Make-A-Wish Foundation of Northeastern California and
Northern Nevada.
Lynn and Darold Kohout (L) and Heather Stover (Sacramento Vintage Ford) present Kerry Cregan with Make-A-Wish Northeastern California & Northern Nevada our check for $8843.86. A heartfelt 'Thank You' to our car show participants, spectators, sponsors and supporters for their support with our 14th season of Vintage Friday's, 2012.
And yes, our
Vintage Friday's events will be on hiatus
(taking a break) for 2013.....
but back in full swing for the 2014 season.
Ole is walking down the street when up drives his friend Sven in a brand new Ford. "By golly vhere did you get dat new Ford?" asks Ole. "Vell, I'll tell ya" says Sven. "I vas valking down da street vhen Lena pulls up in dis new Ford und asks me to go for a ride. Ve vere driving down da highvay vhen all of a sudden she turns down a dirt road, stops da car, jumps out, takes off all her clothes, throws dem on the ground, und says "Sven, you can have anyting you vant". So I took da Ford." Ole looks at him and says "Dat vas some pretty good tinking dere. None of dem clothes vould have fit ya"!
HERE IS YOUR $3. OFF COUPON!
Goodguys promotes and produces 20 annual events in 13 states and publishes the monthly Goodguys Goodtimes Gazette from the association's Pleasanton, California headquarters. More info? Visit www.good-guys.com.
Darold Kohout and Gary Meadors at the store. Gary just looks a little grumpy cause he wanted to be closer to the camera. : )
Goodguys tin 'bank' from back in the day that Darold
had squirreled away.....empty.
CLICK above to find Goodguys Events in your area
B.R. COHN WINERY
Founded by Bruce Cohn in 1984, B.R. Cohn Winery is located in the heart of Sonoma Valley. Offers a full line of ultra-premium wines, extra virgin olive oils, handcrafted vinegars and gourmet food products.
Thanks to B.R. Cohn Winery for their continued support of our Make-A-Wish efforts!
(Featured In Our May Issue)
JAMES HETFIELD'S 'VOODOO PRIEST'
1937 V-12 LINCOLN ZEPHYR
BY RICK DORE KUSTOMS
IS AT SACRAMENTO VINTAGE
'Voodoo Priest' a 1937 Lincoln Zephyr restyled by Rick Dore and his crew at RD Kustoms, for Metallica frontman and Beatniks member James Hetfield of Downey, California. To get hold of a 1937 Lincoln Zephyr is not a easy task. The car once belonged to a fellow in Sacramento which was serving as a soldier in Vietnam. When he returned home in 1972, he literally hopped a train, and was never seen or heard from again. The car rested in his mother's driveway for the next several decades, where it has sat since the late 1960's, until James bought it.


Antioch Muffler was responsible for the chassis work and exhaust. A Mustang II independent front suspension and a Ford 9" rear end was installed along with a RideTech airbag setups and dual exhaust.[1]


Keith Dean, Dick Dean's son lowered the deck lid, reworked the rockers, molded in rear quarter panels from a 1938 Lincoln, leaned the rear edge of the doors forward, added the custom-made taillights, leaned the headlights back, and integrated a canted 1953 Kaiser overrider to the rear.
The stock lower body trim was discarded, and a new set trim was handmade from brass stock. Final preparations on the bodywork and paint was done by Darryl Hollenbeck up at his studio in Concord, California. The Candy Apple was laid over raspberry to achieve that nice deep red. The chrome was done by Sherm's Plating.
Read more over at Kustomrama - click here
(Article and link courtesy Kustomrama.com)

Stop by when you are in the area and check out
'Voodoo Priest'
Thanks Rick and James!
James Hetfield Recalls The 2012 Orion Car + Motorcycle Show (click to play)
2013 Custom Car + Motorcycle Show
100 of the best Customs, Hot Rods, Muscle Cars and Custom Motorcycles will be on display again this year at the Orion Custom Car + Motorcycle Show inside the festival grounds throughout the entire weekend. Orion ticketholders will be able to check out incredible machines from across the world, including James Hetfield's West Coast Chopper, 1936 Ford Custom "Iron Fist" and a 1953 Buick Skylark "Skyscraper", as well as Rob's 1964 Buick Riviera.
Awards will be given for Best in Show in each category: Customs, Hot Rods, Muscle Cars, and Custom Motorcycles. Plus, festival-goers were also able to cast their votes for the Fan Favorite.
Rick Dore, Justin Hills and James Hetfield during the ORION Awards Ceremony. (Photo courtesy Justin Hills)
Justin won the
Master of Kustoms Award
at the Orion show with his custom silver Dodge Dart
'ATOM'
.
Justin's
'ATOM'
along with John D'Agostino's
'SOPHIA'
in our showroom earlier this year.
Established in 1987, the Pick-n-Pull chain of self-service auto parts stores is one of the largest recyclers of end-of-life vehicles in the industry. You bring your tools, pull the parts you need and SAVE lots of money! Their 48 U.S. and 3 Canadian locations offer a huge a selection of used OEM (original equipment manufacturer) parts for cars, vans and light trucks - all makes and models, foreign and domestic - all at incredibly low prices.

Pick-n-Pull is proud of the fact that they recycle more than 350,000 vehicles and service more than 5 million self-service customers each year.

Pick-n-Pull is a subsidiary of Schnitzer Steel Industries, Inc., a global leader in the metals recycling industry that has been in business for over a century. Although Pick-n-Pull and Schnitzer have worked together since 1989, Pick-n-Pull became a fully owned subsidiary of Schnitzer in 2003 as part of its Auto Parts Business unit. Being part of a Fortune 1000 company has enabled them to grow stronger and introduce cost efficiencies into their system that have allowed them to bring environmental and cost benefits to their customers. At the same time, the Pick-n-Pull stores have retained the regional and local focus that has made them popular with their customers.
CLICK to find a Pick-n-Pull Near You!
Race day at Sonoma!
Throttle Queen Kim working the ROW 52 booth for the NASCAR event.
With over 1 billion vehicles on the world's roads, the demand for recycled auto parts is stronger than ever.
Self-service auto part yards are an excellent resource for local do-it-yourselfers and mechanics as millions of end-of-life vehicles are processed by these operations every year. However, most parts go unsold because of just that, self-service yards only serve their walk-in customers.
Row52 is changing that. By creating web and mobile tools that connect part seekers with part pullers, Row52 is making more recycled auto parts available to more people.
CLICK on the ROW 52 logo above to learn more.
Search 66,826 Vehicles from 65 Self-Service Yards!
OPTIMA BATTERIES
A special Thank You for Optima's continued support
of our Make-A-Wish efforts!
NOW AT SACRAMENTO VINTAGE
Now in stock at Sacramento Vintage the complete line of
Mothers car care cloths, detail tools and brushes.
CLICK
above to check them out.
CLICK on the ad to check out their Facebook
page and events.
Lambs wool car dusters are back in stock! They are what we use on 'Voodoo Priest' and the other fine finish cars.
CLICK above to order your very own!
1951 PAN PACIFIC MOTORAMA MOVIE
Rik Hoving's good friend and best car researcher in the world Geoff Hacker has found an amazing movie about the 1951 Petersen Motorama show held at the Pan Pacific Auditorium. (Courtesy Rik and Geoff).
This movie footage gives us an amazing look at how these early car show really were.
Check it out.
CLICK
above.
Congrats to Mike Gardner over at Celebrity Kustoms for making the cover of this months Hot Rod Deluxe Magazine with 'RUBY' and a nice 7 page article about the 1951 Lincoln build.
The Celebrity Kustom staff headed by Mike Gardner and John D'Agostino completed this project in an amazing 5 weeks with over 1000 man hours and they took home the Joe Bailon Award at the Sacramento Autorama.
We hope to be able to share 'RUBY' with you later
in the year!
In this same issue of Hot Rod Deluxe, you will also find a centerspread on Justin Hills 'ATOM' who took home The World's Most Beautiful Custom Award at the Sacramento Autorama.
Yep....all about Justin..... not Darold, Justin! He's in the September issue of Rod & Custom as well. Congrats all around Mr. Hills!
ABOUT US
Darold, Lynn and Mike....Day One...1969
A little bit about our history in an article written by Bill Sessa for HotRod & Restoration Magazine. CLICK above.
THE SACRAMENTO VINTAGE FORD
F100 PARTS CATALOG!
Our 408 page, full color catalog of 1948-1966 Ford Pickup parts and accessories. If you have been ordering your F-1 & F-100 Pickup parts from Sacramento Vintage, watch for it in your mailbox .
Not on our catalog list? CLICK on the image to order.
THE SACRAMENTO VINTAGE FORD
MODEL A PARTS CATALOG!
Our 480 page, catalog of parts for the 1928-1931 Ford Model A & AA. Parts and Accessories, Gift Items, Apparel and even a few items to make your little
Model A go.....faster!

Your source of quality Model A Parts since 1969!
What Other Ford Parts Do We Have For You?
1909-27 Model T
1928-31 Model A & AA
1932-48 Ford Passenger
1932-47 Pickup
1948-66 Pickup
1949-56 Ford Passenger
1967-79 Ford Pickup
Parts for your Hot Rod, Street Rod, Custom,
Suede & Rat.
Cool stuff for your shop, office and garage!
One Shot, Lil Daddy Roth, Von Hot Rod, Mack Brushes
Roth Rattle Bomb Paint, Stickers, Clothing, Books, Art
and a bunch more! And it's all at
www.VINTAGEFORD.com
SURF CITY GARAGE PRODUCTS
A little bit about Surf City Garge by Tim Miller:
Step into Surf City Garage and you are transported back in time. There before you is a Flying A gas station, just like it was in the 50s. A '68 Shelby GT-500 sits at the pumps.
You walk through the Shelby Showroom past a 22-foot-long neon Buick dealership sign and head toward Corvette Corner. In front of you is a red and white '58 Corvette, the first car I ever restored. Just to your left is my wife's '54 Polo White Corvette. Straight ahead an original Chevrolet Super Service sign signals your entry onto Chevrolet Way, where you're greeted by a '66 turquoise and white Bel Air hardtop. Next, you reach MOPAR Alley on your right, flanked by Pontiac Row on your left.
On the wall is a huge neon Pontiac dealership sign. Looking down, you see a '67 Cameo Ivory GTO Coupe. You're now at the other end of our garage and you enter a complete restoration shop. Here expert craftsmen maintain our collection and restore new acquisitions. Professional detailers clean and wax over a mile of 60's chrome. When you have over 100 vintage muscle cars, the work never stops.

So where did Surf City Garage detailing products come from? Well, to keep the cars looking great, we tried every car care product around, but I just wasn't satisfied with the quality or performance. So we developed our own complete line of Enthusiast Grade® detailing products -- recognized around the world as the best anyone can buy. Our guarantee: if these aren't the best products you've ever used, give me a call and I'll personally buy them back - is unmatched in the industry.
That's why, every day, more and more enthusiasts are switching to Surf City Garage Enthusiast Grade® - because nothing else even comes close.
Tim Miller
Car Enthusiast & Founder, Surf City Garage
Stop by the store or CLICK below to see what we have from Surf City Garage.
In our web store: 'Supplies & Care Care' you have
8 aisles of Surf City Garage to choose from!
OUR WIRING SHOP IS OPEN ON THE WEB!
We have a new page up at our web site.
Like the look of Old Skool cloth wrapped wire and related components? Want to build you own harness?
Clotch wrapped and PVC color coded wire in
14ga, 12ga and 10ga by the roll or by the foot.
2ga cotton wrapped battery cable by the foot.
Terminals: Rings, Flags, Forks and Bullet
Battery Cable & Battery Terminals
Wire tys and clamps
Hot Rod Harness Kits
Books - Manuals - Charts
Bulbs 6-Volt / 12-Volt
Non-Ford Tail Lamps
Cloth Wrapped Spark Plug Cable
Plug Terminals
Voltage Reducers
Non-Ford Headlamps
Loom Material
Heat Shrink Tubing
Fuse Blocks and more!
CLICK on any image to check it out.
GOODGUYS ROD & CUSTOM ASSOCIATION JUNIOR MEMBERSHIP
Goodguys Rod & Custom Association is proud to announce the all-new, no-cost, Goodguys Junior Membership Program! It costs nothing...NADA... and only requires a minute of your time to sign up. All you have to do is log on to Good-guys.com, click on the "Read The Latest Gazette" link, create a user name & password and BAM, you're in!
As a Goodguys Junior Member, you'll receive:
* Access to the monthly Goodguys Goodtimes Digital Gazette Magazine online at Good-Guys.com or on your iPhone or Android based Smartphone or Tablet*
* Goodguys Exclusive Sticker Pack**
* Special Offers and Promotional Notifications
Now you can log in and receive the award-winning Goodguys Goodtimes Gazette Magazine in digital format on your home computer or on your iPhone or Android based Smartphone or Tablet absolutely FREE of charge. The Digital Goodguys Goodtimes Gazette is loaded with over 250 pages of full-color photos and content that's a must read for any serious automotive enthusiast!

It's really that simple. There's no catch! Try it out and of you like what you see and dig being a Goodguys Junior Member, you can upgrade to Silver or Gold Member status with the click of a mouse or a simple phone call! So don't hesitate. Join the world's largest hot rodding association and become a Goodguys Junior Member today!
Goodguys... Celebrating 30 Years of Cool Cars, Cool People, Good Times!
Pleasanton, CA - Goodguys is happy to announce a special new Texas Road Tour this fall that will take rodders from Goodguys World Headquarters in Pleasanton, California to the 21st Lone Star Nationals at Texas Motor Speedway. The Goodguys Texas Road Tour blasts off from Pleasanton, CA Friday, September 27th and lands at Texas Motor Speedway Thursday, October 3rd covering 1,969 total miles. The newly built, all yellow, 525-horsepower Goodguys G/RS 1969 Camaro will pace the tour.

The all-inclusive 7-day road tour travels through California, Arizona, New Mexico and Texas stopping at the Southwest's finest rod shops, car collections, museums, race shops and more. There is a one-time entry fee of $1,500 which covers your nightly hotel, most meals (breakfast, lunch and dinner) and commemorative tour booklet. The entry fee also includes two tee shirts, two caps, two decals, entry to the Goodguys 21st Lone Star Nationals October 4-6 at Texas Motor Speedway and a special at-event parking area exclusive to Road Tour cars only.

Only 50 spots are available and will be sold on a first come, first serve basis! To register online for the Goodguys Texas Road Tour and view the daily itinerary, CLICK HERE. For questions, contact Ed Capen with Goodguys (e-mail inquiries will be answered as soon as possible) edcapen@good-guys.com or by phone (602) 821-3146
AMERICAN RESTORATION
AMERICAN RESTORATION features Rick Dale and his crew of loose screws at Rick's Restorations in Las Vegas, Nevada, as they take rusty, beat-up items and restore them to their original glory.
When it comes to restoration, Rick Dale is the Pawn Stars go-to guy. AMERICAN RESTORATION follows Rick's work as owner of Las Vegas-based Rick's Restorations, a family business that finds, restores and up-cycles cool objects ranging from Cadillacs to Coke Machines.
Rick's very nice Ford F-1 Pickup can be spotted on various episodes of American Restoration.
Did we mention Rick's pickup is:
1112 S Commerce Street
Las Vegas, Nevada 89102
SHEEPHERDER BAR AND GRILLE
The Citrus Inn opened in 1913
in this very building on Folsom Boulevard. Citrus was sold in front of the building to everyone that passed by on busy Folsom Boulevard.

Folsom Boulevard was a main thoroughfare for the gold rush in the mid 1800s. Many immigrants and forty-niners were in search of some of the gold that James W Marshall and John Sutter found in the American River. The railroads that are still visible across the street today were the same railroads that were constructed in the late 1800s.

Rumor has it that over the years The Citrus Inn became many different businesses, including The Edwards Hotel, and at one point, a brothel. Everyone came to the building to eat good food and to have a good time. There was drinking and dancing 'til late at night.

Later, the building became known as Sheepherder Inn. It was a place for Basque sheepherders to come and rest upstairs in the Inn and enjoy a hearty meal downstairs, which probably consisted of meats, fish, lamb stews, legumes, cheeses and Basque cider.

Sheepherder Bar and Grille
11275 Folsom Blvd.
Rancho Cordova, CA 95742
Phone: (916) 638-4584

Crossroads: Folsom Blvd. and Sunrise Blvd. just down
the street from Sacramento Vintage Ford.....
QUICK QUACK CAR WASH
Quick Quack is a growing chain of exterior-only, soft cloth car washes in California, Texas & Colorado.
Fully automated and computerized, the high-quality carwashing system is a soft-cloth, exterior-only conveyor wash. Customers stay in their vehicles while being automatically guided through the glass enclosed tunnel where the vehicle is soaked, soaped, washed, polished, rinsed with spot-free water and blown dry all in a matter of minutes. Quick Quack Car Wash also takes pride in being environmentally friendly by conserving water and using environmentally friendly shampoos that are biodegradable and non-corrosive. Additional information is available online at
www.DontDriveDirty.com.
CLICK on any image.
Did You Miss The Last One?
CLICK on the
NEWSLETTER ARCHIVE BAR
to see what you may have
missed in previous editions of the
Vintage Advantage..........
NEWSLETTER ARCHIVE BAR
Sacramento Theatrical Lighting is a family-owned business in continuous operation since 1947. Now operating out of a 65,000 sq. ft. building, STL is a full-service theatrical equipment company. They offer a full line of theatrical lighting equipment and accessories, moving lights, dimming and control, stage curtains and expendables.
The Rental Department can set you up with everything you need for your backyard party or a professional theatrical production. If you are looking for a full service contractor to handle all of your event needs, their Production Department has all of the answers you need.
STL also has a Special Projects Division that specializes in design and installation of large and small theatrical systems, design and install of theatrical drapery, rigging inspections and other specialty projects. They employ a full in-house Tech Service Department.
SACRAMENTO THEATRICAL LIGHTING
950 Richards Blvd
Sacramento, Ca. 95811
916-447-3258
TAKE-A-KID TO A CAR SHOW
There have been countless studies done to prove it, but virtually everyone knows that spending quality time with a kid is the greatest gift you can give them. And sharing your appreciation for collector cars is a great way to nurture their interest in a hobby that you can enjoy together for many years to come.
Through the SEMA Take a Kid to a Car Show coloring book app, kids of all ages will be able to customize and personalize each car. We encourage users to visit www.takeakidtoacarshow.com to discover additional fun and exciting resources through this campaign.
RU FASTER THAN A REDNECK?
Flannel-wearing, mullet-sporting and tobacco-chewing All-American rednecks defend the honor of the American muscle car in a winner-take-all road racing event. With $10,000 on the line, they're ready to take on all challengers - any average Joe with a Porsche, exotic or Japanese tuner car that think they can win with a full-blown hillbilly inches from their fender.
On SPEED TV - Check your local listing for dates and times.
CLICK above for the latest video clip.
In 1965 the first T.G.I. Friday's restaurant opened in New York City at the corner of First Avenue and 63rd Street and quickly became the meeting place for single adults, with $1 million in revenues its first year.
"T.G.I. Friday's® is known for serving authentic American food and exciting drinks. We also understand that our restaurants are more than just a place to eat. They are places where communities form, gather and engage."

"So, we take our commitment to community seriously. Our Team Members have cultivated strong local relationships and take great pride in their engagement with guests and their participation in the communities that they live and work in."
A cowboy, who is visiting Wyoming from Texas , walks into a bar and orders three mugs of Bud. He sits in the back of the room, drinking a sip out of each one in turn. When he finishes them, he comes back to the bar and orders three more.


The bartender approaches and tells the cowboy, "You know, a mug goes flat after I draw it. It would taste better if you bought one at a time." The cowboy replies, "Well, you see, I have two brothers. One is in Arizona , the other is in Colorado When we all left our home in Texas , we

promised that we'd drink this way to remember the days when we drank together. So I'm drinking one beer for each of my brothers and one for myself."


The bartender admits that this is a nice custom, and leaves it there. The cowboy becomes a regular in the bar, and always drinks the same way. He orders three mugs and drinks them in turn.


One day, he comes in and only orders two mugs. All the regulars take notice and fall silent. When he comes back to the bar for the second round, the bartender says, "I don't want to intrude on your grief, but I wanted to offer my condolences on your loss."


The cowboy looks quite puzzled for a moment, then a light dawns in his eyes and he laughs. "Oh, no, everybody's just fine," he explains, "It's just that my wife

and I joined the Baptist Church and I had to quit drinking."


"Hasn't affected my brothers though."

FLOWMASTER MUFFLER
In 1983 California Sprint Car racers were experiencing 'excessive sound' issues at numerous race tracks and were told to quiet the cars down or lose racing privileges. All attempts to silence the race engines without sacrificing power repeatedly failed.

Enter Flowmaster founder, Ray Flugger, with over 45+ years of exhaust design experience, and while working out of a small 800 square foot barn in Kenwood, California, created Flowmaster's first patented design of racing silencers. Ray attached handles to ease carrying the square shaped race mufflers through the race pits, and the mufflers became known as the "suitcase muffler." Today, these innovative Flowmaster mufflers are the result of years of development with top race engine builders, thousands of hours of dyno research and "real-world" on-track testing

Flowmaster's product line includes exhaust products for Performance Street, Muscle Cars, Trucks, Street Rods, RV's, Motorhomes, and all types of race applications. With over 400 different muffler models, 370+ exhaust systems and numerous exhaust accessories available, Flowmaster offers you the choice of sound to fit your preference from "wild to mild" and your specific vehicle needs.
COBRA ELECTRONICS
Cobra Electronics Corporation
is a leading designer of mobile communications products in the United States, Canada, Europe and around the world. After 50 years of innovation, the company continues to grow by boldly entering into new product categories.
Today the company's products include:
Mobile navigation devicesTwo-way radiosRadar/laser detectorsCitizens band radiosMarine electronicsPower inverters
Cobra products are available in nearly 40,000 storefronts in North America and in a growing number of retailers throughout the world.
We would also like to thank Cobra Electronics for their support of our Make-A-Wish efforts.
LUCAS OIL
HOLLYWOOD HOT ROD ACCESSORIES
Troy Ladd and the crew over at Hollywood Hot Rods have a bunch of new and very cool accessories in their web store.


WHAT IS IT?
Rat Wax™ No Shine Car Soap and Rat Wax™ No Shine Detailer are the first products of their kind. They are designed specifically for rod & kustom cars with flat, matte, satin, and patina paint. Rat Wax™ No Shine cleans and protects in one easy step. While the product name implies that it's a "wax", it really isn't! After all, you can't "wax" these types of finishes. Rat Wax™ No Shine removes dirt, dust, water spots, grease, tar, fingerprints, grime, oil, fuel, & bird droppings from your car's unique finish. Rat Wax™ No Shine also leaves a clean natural look and an invisible layer of UV protection against the fade of the sun, rain, and other harsh elements.
CLICK
on the logo to read more about Rat Wax.
CLICK
on the ad to order from us.
The U.S. Senate has passed Senate Resolution 176 (S. Res. 176), which designates July 12, 2013 as "Collector Car Appreciation Day," an annual event to celebrate and raise awareness of the vital role automotive restoration and collection plays in American society.
The resolution was requested by SEMA and its Automotive Restoration Market Organization (ARMO) and Hot Rod Industry Alliance (HRIA) Councils. The date marks the fourth commemoration of the event, according to SEMA.
"We again thank the U.S. Senate for the continuing recognition of the collector car hobby as a strong American tradition and pastime," said Steve McDonald, SEMA vice president of government affairs. "With Australia and Canada joining the mix, Collector Car Appreciation Day has now become an international recognition of the collector car industry and the millions of hobbyists it supports.
'LIKE'
us on Facebook!
PARTS -N- MORE IN THE STORE

Bed Kits for your pickup or any individual part, give us a call or stop by the store. Bed skid strips and harware in plain steel or brillant polished stainless steel. Bed sides with your choice of the stock stake pockets or filled smooth for that custom look. CLICK on the photo.


Got Fenders? We have your fender welt. Sold by the foot, in 25 foot rolls or in 300 foot spools (shown).


Kim, still... out in the showroom working on new displays.


Back in the Vintage Ford receiving department......more parts headed to the warehouse!




A man went to visit his 90 year old grandfather in a very secluded rural area of the state he lived in. After spending the night, his grandfather prepared breakfast for him consisting of eggs and bacon. He noticed a film like substance on his plate and he questioned his grandfather...."are these plates clean?" His grandfather replied, "Those plates are as clean as cold water can get them, so go on and finish your meal".


That afternoon, while eating the hamburgers his grandfather made for lunch, he noticed tiny specks around the edge of his plate, and a substance that looked like dried egg yokes. ... so he ask again,

"Are you sure these plates are clean. Without looking up from his hamburger, the grandfather says, "I told you before; those dishes are as clean as cold water can get them. Now don't ask me about it anymore.


Later that afternoon, he was on his way out to get dinner in a nearby town. As he was leaving, his grandfather's dog started to growl and wouldn't let him pass so he said, "Grandfather, your dog won't let me out." Without diverting his attention from the football game he was watching on TV his grandfather shouted, ... "COLDWATER, Go lay down!

4th of July is just around the corner!


Flags and Holders - CLICK above

Hot Rod Haulers & Appraisals For All Your
Transportation and Evaluation needs.


Pick up and Delivery within 72 hrs.


Serving the West Coast Exclusively


35 Years Experience with Collector Cars, Licensed and Insured, One Car at a Time, Personalized Service.


We use soft Tie Downs, No Chains.


Summer auto shows are coming up so please book early to insure transportation of your car.


= If It Rolls, We can Haul It =
To Schedule a pick up or get a mileage rate call:
(530) 906-3820
Don@TheHotRodHaulers.com
TheHotRodHaulers@aol.com
Andy and Sue Brizio's 1932 roadster that WAS on display in our showroom.....sadly went back home. Andy missed his roadster....go figure. Thanks Andy!
(Photoshop magic by Heather)


DID YOU SIGN UP FOR OUR NEWSLETTERS?
Sign up a friend for our email newsletters!
CLICK Above
When you join our e-mail list, you can also
'fine tune'
what information you would like to receive from Sacramento Vintage Ford......from the type of car(s) you
have.... to 'Garage Sale' bargins.....Catalogs .....and more!
(We do not sell or rent our valued customers e-mail addresses)
You can also forward this newsletter to a friend using the box at the lower left corner of this newsletter.
CLICK above to view newsletters you may have missed!
Cruisin' around the Sacramento Vintage parking lot in the 'Sacramento Vintage Equipped' Grand National
'Speed 33' Roadster, owned by John Buck.
That's It For This Edition!
Thank You!
Please drive safe, have fun and enjoy your ride!
1-888-FORD-100