Publisher/Editorial Director:
Associate Publisher/Contributing Editor:
Contributing Photographers:
Darold Kohout
Doug Oehler
Ed Gardner
Joe Streng
Web Producers:
Rancho Cordova, Ca. 95742
1-888-FORD-100
Celebrating
Our 44th
Anniversary
1969 - 2013
Thank You!
Rod Shows.com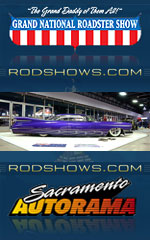 Grand National Roadster Show
January 24-26, 2014


Sacramento Autorama
February 14-16, 2014
The two Oldest and Longest Running Indoor Car Shows in the World.
The Association of California Car Clubs (ACCC)
is a volunteer organization with regional representatives who represent the interests of individual members and member clubs across the state.

The ACCC consists of thousands of automobile hobbyists throughout the state who are interested in California laws and policies regarding collector automobiles.

Music & Entertainment
at our shows for
13 YEARS!
-- RIP Larry --

FAST FRAME

The Official Custom Art Frame Shop of
Vintage Fridays

5343 Sunrise Blvd
Fair Oaks, Ca. 95628
916-966-8766
Barris Kustom
Industries
Thanks For The Support George and the Barris Family!



Click
Above to see what
George Barris has been up to and shop Barris.com



Sacramento Vintage
is an authorized
Barris Kustoms
Dealer!


We have 3 Barris memorabilia sections:



-- Batmobile Related

-- Barris Books
-- The Munster Koach
CLICK
on the Batmobile

Thanks to
Hooters Restaurants
for their support of our Vintage Friday's events!

Rancho Cordova
Sacramento
Natomas
Fresno
Bakersfield
Honolulu
Thank You!
New drivers need to


Start Smart.
Enroll your young driver in a Start Smart program today.
THUNDERBOLTS
Capitol Auto Club
Official Host Club
-Vintage Friday's-
CLICK above to read more about the 'BOLTS'
Butch Gardner
1946-2012
Stop by the
Rancho Cordova

location - Just down the street from Sacramento Vintage Ford!

Rancho Cordova Store Manager: Mitch Harrison
2838 Sunrise Blvd

Rancho Cordova, Ca.

95742

916-858-8666

CLICK above to see what else Lethal Threat has. And they have a lot!
At P.F. Chang's we are committed to providing you with an exceptional dining experience every time you walk through our doors. Each dish on our menu is prepared to order using the freshest and highest quality ingredients.
Majestic 11 foot tall horses grace the entrance to many of the restaurants. The horse symbolizes the original Forbidden City in China, which was built for China's first emperor Qin Shi Huangdi.
At P.F. Chang's you are surrounded by a unique environment combining influences of Chinese and American cultures. A panoramic, hand-painted mural depicting 12th century China, is visible from the main dining room and commands attention as the restaurant's centerpiece, while several terra-cotta warriors stand guard.
P.F. Chang's
(Darold and Lynn highly recommend the Chang's Chicken Lettuce Wraps to start your dining experience!
)
Rod Shows.com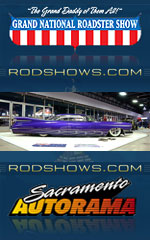 Grand National Roadster Show
January 24-26, 2014
Sacramento Autorama
February 14-16, 2014
The West Coast's premier hot rod, bike & motorsports tour!
Come and join the two Oldest and Longest Running Indoor Car Shows in the World.
CLICK
above to see
-Dates and Times-
RU Faster Than A RedNeck?


Garage Mahal
American Trucker
Shark Fights
Optima Ultimate Street
Car Invitational
CLICK on any show
for information
Very
cool signs from

Ruckus Rods!



CLICK

above if you can't wait!
Classic Shop Talk
Tech Articles
Instructions
Videos
Classic Performace Products
A Valued Vintage
Friday's Sponsor!
California Highway Patrol
The California Highway Patrol
-Valley Division-
A Vintage Fridays Sponsor & Supporter


Nothing Comes Close To
A Cobra

North American Headquarters:

Cobra Electronics Corporation
6500 West Cortland Street
Chicago, IL 60707

productinfo@cobra.com
1-773-889-8870


Sacramento Vintage Ford Shop Tour
by Craig Pike over at
My Ride Is Me.com
'The first thing I noticed'.......CLICK above to read the article
Photos by

PEPSI COLA


Fender Donated The Bare Guitar!




Gene Winfield Painted
It To Match WILD CAD!



Mike Clines Striped It in 12k White Gold with Green Accents To Match WILD CAD


Best Buy in Roseville, California donated the Fender Amp!





W

e gave it all away for Make-A-Wish
in 2012!


Watch out for this little
guy in our parking lot area.
Very friendly but hasn't learned he may get squished by a car.
Esquire IMAX

All star sons of rock band composed of Aaron and Andrew Hagar, Miles Schon, Ry Kihn, Trevor William Church and Tony Montanez.
'For those of you who may not know me, I am Aaron Samuel Hagar and I am embarking on a historical journey in the music industry and have formed a band of "son's of rock" of legendary greats. The members of FIGHTCLUB are the children of local bay area rockers that have a lifetime of friendship and professional heritage together
.' Stay Tuned!
Edelbrock
Rev'ved Up 4-Kids


Breakfast Club Cruise-In at the Petersen


O'Reilly Auto Parts
With over 3600 O'Reilly Auto Parts stores in 38 states, they are never far from home!
Better Parts...Better Prices, Everyday!
CLICK on the ad for the details

LOOK FOR THE LITTLE ROUND SALE TABLES!
(No, not a sale on tables....the stuff ON the tables
is priced to move!)
This table has select car care and Kustom Shop paint kits...all 50% off! Kim and Kathy are making room for all the new car care products over by the cashier area.
Back-issue magazines and calendars.....Only $1.

And this tables WAS loaded, but more around the corner! Sorry the photo is a bit fuzzy, prices so low Darold was shaking......


Yes....FREE programs! We are cleaning things up back in the Gift Shop warehouse and ran across several cases of assorted event programs from the Sacramento Autorama and the Grand National Roadster Shows. Stop by the store and grab one or two or three.......
FREE!
And speaking of the Gift Shop, look for the red 'clearance' tags on assorted items from our Gift Shop around the store. We are making room for more cool stuff for you and your garage!
T-Shirts - Sweatshirts - Mechanics Shirts
Plastic Model Kits - Die Cast Cars - License Plate Frames
3M Car Care - Silicone Water Tools - Wash Sponges
Absorbers - Detail Towel Sets - Clocks - Neon
CD Holders - and more!
Slow movers that have to go! We need the room!
Many items way below our cost.
Pick-n-Pull
Self-Service Auto & Truck Dismantlers
51 locations throughout the U.S. and Canada
TOBY KEITH'S
I LOVE THIS BAR & GRILL
Leave it to country music legend Toby Keith to create a restaurant that offers great food and the best live music in Oklahoma City. Named after Toby's hit single "I Love This Bar," this exciting venue offers a real down-home experience.
Open for lunch 11am daily. Come as you are.
They'd love to have you anytime!
No reservations, but seated upon order of arrival.
Toby Keith's
I Love This Bar & Grill440 Palladio ParkwayFolsom, California 95630916-984-8629
Located in the PALLADIO at Broadstone
Pepsi Beverages Company
Sacramento, California
Thank You Pepsi Beverages Company, Sacramento,
for your support of our Make-A-Wish efforts.
The KEY and TOKEN a WISH recipient is given to unlock the very special room that grants their WISH.
Our Vintage Friday's Events support the Make-A-Wish Foundation of Northeastern California and
Northern Nevada.
Lynn and Darold Kohout (L) and Heather Stover (Sacramento Vintage Ford) present Kerry Cregan with Make-A-Wish Northeastern California & Northern Nevada our check for $8843.86. A heartfelt 'Thank You' to our car show participants, spectators, sponsors and supporters for their support with our 14th season of Vintage Friday's, 2012.
And yes, our
Vintage Friday's events will be on hiatus
(taking a break) for 2013.....
but back in full swing for the 2014 season.
A businessman is having dinner in an exclusive restaurant, at the next table is a drop dead gorgeous redhead. He wants to say something to her but he's nervous & shy.

Suddenly she sneezes & her glass eye flies out. Without even thinking he reaches out & grabs it. He returns it & the young lady is extremely embarrased & runs to the restroom to rectify the problem.

Upon returning she tells him that it's never happened before & could she buy him dinner.

He has the waiter take his things to her table & they start talking about their lives & their futures & become very friendly. While sipping their brandy she asks if he'd like to come over to her place for a nightcap & maybe breakfast.

Next morning while she's fixing him an omelet.
He asks "last night was wonderful dinner & everything, do you do this sort of thing often"

"No this is the first time, but, You caught My eye".
The The Salvador Dalí of automotive art, Randy Grubb turns his incredible fantasies into hard, metal-warped reality in his Southern Oregon garage.


From mind to metal, Randy Grubb produced the classics: the B-702, the Indy Special, Jay Leno's Tank Car, Piss'd Off Pete, the Decoliner, the Decopods, and is about to debut the Decoson.
It's jam-packed with automotive art and gearhead adventures. Click the link below to see it on YouTube.


First up, Randy reveals the plan for building "Frogman" Tim Cotterill's Rocket 3, the fantastic follow-up to Tim's 200 mph Rocket 2 super trike. Then Randy debuts the Decoson, his first streamlined sculpture based on a 1984 Harley-Davidson Sportster chassis, in downtown Grants Pass, Oregon. Back at the workbench, Randy gives a metal fabricator's lesson in metal joining and riveting. Then Randy makes his last journey in the Art Deco Decoliner from Southern Oregon to the Monterey Bay Peninsula in California for The Quail Motorcycle Gathering, the premier motorcycle show on the West Coast.
Randy won two major awards on May 4th at Quail. He took 2nd in the Custom/Modified category for his Decoson, owned by Steve Boone of Northwest Harley-Davidson, Olympia, Washington. Then he captured the Innovation Award, presented by streamlining pioneer Craig Vetter, for his first Deco-Tripod, built on a Piaggio MP3 chassis and owned by Dave Johnston of American-Retro. Another crowd favorite was his very first Deco-Helmet, a fantastic polished aluminum headgear styled to go with the Decoson.
Warning: Viewing Randy Grubb's Garage may cause symptoms of delirium in motorheads.
HERE IS YOUR $3. OFF COUPON!
Goodguys promotes and produces 20 annual events in 13 states and publishes the monthly Goodguys Goodtimes Gazette from the association's Pleasanton, California headquarters. More info? Visit www.good-guys.com.
Over 2,000 American made and/or powered Hot Rods, Customs, Classics, Muscle Cars and Trucks of all years

Indoor Muscle Car Exhibit - Click Here For More Details

Special Indoor Exhibit by Golden Gate Street Machines

Indoor Custom Bicycle Exhibit

Hot Rodders of Tomorrow Engine Challenge

Goodguys Autocross

Vendor & Manufacturer Exhibits

Ahwooga.com Swap Meet

AutoTrader Classics Cars 4 Sale Corral

Model & Pedal Car Show

Goodgals Arts & Crafts Gallery

Free Kids Entertainment - Revell Model Car Make n' Take, PPG Kids Coloring Contest, Clowns & More!

Pinstripers Brush Bash

Diablo Valley College "Rock, Rythm & Blues Review"
Looking for a break in the action and a cool beverage to help you recharge at the show? Then make sure to head on over to the all-new Goodguys GoodBeer Garden at the Goodguys 20th Summer Get-Together!
The GoodBeer Garden will feature a daily beer special, assorted craft brews and live music featuring music from Mark Banks on Sunday in a relaxed, shaded setting right smack in the middle of the fairgrounds!
Watch the Goodguys Commercial
B.R. COHN WINERY
Founded by Bruce Cohn in 1984, B.R. Cohn Winery is located in the heart of Sonoma Valley. Offers a full line of ultra-premium wines, extra virgin olive oils, handcrafted vinegars and gourmet food products.
Thanks to B.R. Cohn Winery for their continued support of our Make-A-Wish efforts!
2013 L.A.
ROADSTER SHOW
Year 2013 will be the 49th time the Los Angeles Roadsters Car Club has produced its world-renowned show and the 34th year it will be held at the Fairplex in Pomona, California. The show will be held on Father's Day Weekend, Saturday, June 15th and Sunday, June 16th for your enjoyment.


This year's show will be new and exciting. The show will have a new look and be located in the beautiful inner fairgrounds and in Exhibitor Building #4.


There's something for everyone at the L.A. Roadster Show. Late model enthusiasts will find the swappers and manufacturers with many of the parts they are looking for, while early car parts will be in abundance for the fellows who are restoring antiques or building that special new car. Come and see the West Coast's largest trade show, where over 200 manufacturers and vendors of reproduction hot rod parts and accessories will display their products and services. They will have their own special section outside and in Exhibitor Building #4.


By popular demand the Cacklefest is returning in 2013 and will fire up on Saturday at 10:00 am and 2:00 pm in the Specialty Parking area.

JAMES HETFIELD'S 'VOODOO PRIEST'
1937 V-12 LINCOLN ZEPHYR
BY RICK DORE KUSTOMS
IS AT SACRAMENTO VINTAGE
'Voodoo Priest' a 1937 Lincoln Zephyr restyled by Rick Dore and his crew at RD Kustoms, for Metallica frontman and Beatniks member James Hetfield of Downey, California. To get hold of a 1937 Lincoln Zephyr is not a easy task. The car once belonged to a fellow in Sacramento which was serving as a soldier in Vietnam. When he returned home in 1972, he literally hopped a train, and was never seen or heard from again. The car rested in his mother's driveway for the next several decades, where it has sat since the late 1960's, until James bought it.


Antioch Muffler was responsible for the chassis work and exhaust. A Mustang II independent front suspension and a Ford 9" rear end was installed along with a RideTech airbag setups and dual exhaust.[1]


Keith Dean, Dick Dean's son lowered the deck lid, reworked the rockers, molded in rear quarter panels from a 1938 Lincoln, leaned the rear edge of the doors forward, added the custom-made taillights, leaned the headlights back, and integrated a canted 1953 Kaiser overrider to the rear.
The stock lower body trim was discarded, and a new set trim was handmade from brass stock. Final preparations on the bodywork and paint was done by Darryl Hollenbeck up at his studio in Concord, California. The Candy Apple was laid over raspberry to achieve that nice deep red. The chrome was done by Sherm's Plating.
Read more over at Kustomrama - click here
(Article and link courtesy Kustomrama.com)

Stop by when you are in the area and check out
'Voodoo Priest'
Thanks Rick and James!
James Hetfield Recalls The 2012 Orion Car + Motorcycle Show (click to play)
2013 Custom Car + Motorcycle Show
100 of the best Customs, Hot Rods, Muscle Cars and Custom Motorcycles will be on display again this year at the Orion Custom Car + Motorcycle Show inside the festival grounds throughout the entire weekend. Orion ticketholders will be able to check out incredible machines from across the world, including James Hetfield's West Coast Chopper, 1936 Ford Custom "Iron Fist" and a 1953 Buick Skylark "Skyscraper", as well as Rob's 1964 Buick Riviera.
Awards will be given for Best in Show in each category: Customs, Hot Rods, Muscle Cars, and Custom Motorcycles. Plus, festival-goers were also able to cast their votes for the Fan Favorite.
Established in 1987, the Pick-n-Pull chain of self-service auto parts stores is one of the largest recyclers of end-of-life vehicles in the industry. You bring your tools, pull the parts you need and SAVE lots of money! Their 48 U.S. and 3 Canadian locations offer a huge a selection of used OEM (original equipment manufacturer) parts for cars, vans and light trucks - all makes and models, foreign and domestic - all at incredibly low prices.

Pick-n-Pull is proud of the fact that they recycle more than 350,000 vehicles and service more than 5 million self-service customers each year.

Pick-n-Pull is a subsidiary of Schnitzer Steel Industries, Inc., a global leader in the metals recycling industry that has been in business for over a century. Although Pick-n-Pull and Schnitzer have worked together since 1989, Pick-n-Pull became a fully owned subsidiary of Schnitzer in 2003 as part of its Auto Parts Business unit. Being part of a Fortune 1000 company has enabled them to grow stronger and introduce cost efficiencies into their system that have allowed them to bring environmental and cost benefits to their customers. At the same time, the Pick-n-Pull stores have retained the regional and local focus that has made them popular with their customers.

CLICK to find a Pick-n-Pull Near You!
OPTIMA BATTERIES
A special Thank You for Optima's continued support
of our Make-A-Wish efforts!
NOW AT SACRAMENTO VINTAGE
Now in stock at Sacramento Vintage the complete line of
Mothers car care cloths, detail tools and brushes.
CLICK
above to check them out.
TWIN ENGINE FLATHEAD DRAGSTER
HEADED TO VINTAGE FORD
Flathead Jacks
Twin Engine Flathead
dragster is scheduled to arrive in the Sacramento Vintage showroom the first week of June 2013. It will be here for a spell so please come by and check it out!
CLICK ABOVE
for the article on Jack's dragster.
CLICK ABOVE
to watch
SACRAMENTO VINTAGE BANNER IN COSTCO
In May, Costco participates in a month-long miracle campaign at all warehouses in the United States and Canada. Costco employees' hearts are as big as the warehouses they work in.

Look for the Sacramento Vintage banner in support of the Children's Miracle Network Hosplitals in the Rancho Cordova, California Costco store!


Aaron Hagar's Rat Runners Garage
Open House
Aaron and his crew had a great turnout over the May 5th weekend at the Rat Runners Garage open house at Lake Tahoe. Over 700 people came through the shop, ate hot dogs, bought the new Rat Runners Garage T-shirts and purchased lots of Aaron's art! Amazing! Aaron would like to thank you for all your love and support.
Aaron and Sammy Hagar talking shop.
More new shirts are on the way!
Misa and Aaron Hagar with their 'garage warming' gift!
CLICK on the painting to view more of Aarons work
over at the HagarArts site.
THE SACRAMENTO VINTAGE FORD
F100 PARTS CATALOG!
Our 408 page, full color catalog of 1948-1966 Ford Pickup parts and accessories. If you have been ordering your F-1 & F-100 Pickup parts from Sacramento Vintage, watch for it in your mailbox .
Not on our catalog list? CLICK on the image to order.
THE SACRAMENTO VINTAGE FORD
MODEL A PARTS CATALOG!
Our 480 page, catalog of parts for the 1928-1931 Ford Model A & AA. Parts and Accessories, Gift Items, Apparel and even a few items to make your little
Model A go.....faster!

Your source of quality Model A Parts since 1969!
What Other Ford Parts Do We Have For You?
1909-27 Model T
1928-31 Model A & AA
1932-48 Ford Passenger
1932-47 Pickup
1948-66 Pickup
1949-56 Ford Passenger
1967-79 Ford Pickup
Parts for your Hot Rod, Street Rod, Custom,
Suede & Rat.
Cool stuff for your shop, office and garage!
One Shot, Lil Daddy Roth, Von Hot Rod, Mack Brushes
Roth Rattle Bomb Paint, Stickers, Clothing, Books, Art
and a bunch more! And it's all at
www.VINTAGEFORD.com
SURF CITY GARAGE PRODUCTS
A little bit about Surf City Garge by Tim Miller:
Step into Surf City Garage and you are transported back in time. There before you is a Flying A gas station, just like it was in the 50s. A '68 Shelby GT-500 sits at the pumps.
You walk through the Shelby Showroom past a 22-foot-long neon Buick dealership sign and head toward Corvette Corner. In front of you is a red and white '58 Corvette, the first car I ever restored. Just to your left is my wife's '54 Polo White Corvette. Straight ahead an original Chevrolet Super Service sign signals your entry onto Chevrolet Way, where you're greeted by a '66 turquoise and white Bel Air hardtop. Next, you reach MOPAR Alley on your right, flanked by Pontiac Row on your left.
On the wall is a huge neon Pontiac dealership sign. Looking down, you see a '67 Cameo Ivory GTO Coupe. You're now at the other end of our garage and you enter a complete restoration shop. Here expert craftsmen maintain our collection and restore new acquisitions. Professional detailers clean and wax over a mile of 60's chrome. When you have over 100 vintage muscle cars, the work never stops.

So where did Surf City Garage detailing products come from? Well, to keep the cars looking great, we tried every car care product around, but I just wasn't satisfied with the quality or performance. So we developed our own complete line of Enthusiast Grade® detailing products -- recognized around the world as the best anyone can buy. Our guarantee: if these aren't the best products you've ever used, give me a call and I'll personally buy them back - is unmatched in the industry.
That's why, every day, more and more enthusiasts are switching to Surf City Garage Enthusiast Grade® - because nothing else even comes close.
Tim Miller
Car Enthusiast & Founder, Surf City Garage
Stop by the store or CLICK below to see what we have from Surf City Garage.
In our web store: 'Supplies & Care Care' you have
8 aisles of Surf City Garage to choose from!
GOODGUYS ROD & CUSTOM ASSOCIATION JUNIOR MEMBERSHIP
In a constant quest to bring good times and cool cars to car guys & gals worldwide, Goodguys Rod & Custom Association is proud to announce the all-new, no-cost, Goodguys Junior Membership Program! It costs nothing...NADA... and only requires a minute of your time to sign up. All you have to do is log on to Good-guys.com, click on the "Read The Latest Gazette" link, create a user name & password and BAM, you're in!
As a Goodguys Junior Member, you'll receive:
* Access to the monthly Goodguys Goodtimes Digital Gazette Magazine online at Good-Guys.com or on your iPhone or Android based Smartphone or Tablet*
* Goodguys Exclusive Sticker Pack**
* Special Offers and Promotional Notifications
How's that for a Happy New Year? Now you can log in and receive the award-winning Goodguys Goodtimes Gazette Magazine in digital format on your home computer or on your iPhone or Android based Smartphone or Tablet absolutely FREE of charge. The Digital Goodguys Goodtimes Gazette is loaded with over 250 pages of full-color photos and content that's a must read for any serious automotive enthusiast!

It's really that simple. There's no catch! Try us out and of you like what you see and dig being a Goodguys Junior Member, you can upgrade to Silver or Gold Member status with the click of a mouse or a simple phone call! So don't hesitate. Join the world's largest hot rodding association and become a Goodguys Junior Member today!
Goodguys... Celebrating 30 Years of Cool Cars, Cool People, Good Times!
Pleasanton, CA - Goodguys is happy to announce a special new Texas Road Tour this fall that will take rodders from Goodguys World Headquarters in Pleasanton, California to the 21st Lone Star Nationals at Texas Motor Speedway. The Goodguys Texas Road Tour blasts off from Pleasanton, CA Friday, September 27th and lands at Texas Motor Speedway Thursday, October 3rd covering 1,969 total miles. The newly built, all yellow, 525-horsepower Goodguys G/RS 1969 Camaro will pace the tour.

The all-inclusive 7-day road tour travels through California, Arizona, New Mexico and Texas stopping at the Southwest's finest rod shops, car collections, museums, race shops and more. There is a one-time entry fee of $1,500 which covers your nightly hotel, most meals (breakfast, lunch and dinner) and commemorative tour booklet. The entry fee also includes two tee shirts, two caps, two decals, entry to the Goodguys 21st Lone Star Nationals October 4-6 at Texas Motor Speedway and a special at-event parking area exclusive to Road Tour cars only.

Only 50 spots are available and will be sold on a first come, first serve basis! To register online for the Goodguys Texas Road Tour and view the daily itinerary, CLICK HERE. For questions, contact Ed Capen with Goodguys (e-mail inquiries will be answered as soon as possible) edcapen@good-guys.com or by phone (602) 821-3146
AMERICAN RESTORATION
AMERICAN RESTORATION features Rick Dale and his crew of loose screws at Rick's Restorations in Las Vegas, Nevada, as they take rusty, beat-up items and restore them to their original glory.
When it comes to restoration, Rick Dale is the Pawn Stars go-to guy. AMERICAN RESTORATION follows Rick's work as owner of Las Vegas-based Rick's Restorations, a family business that finds, restores and up-cycles cool objects ranging from Cadillacs to Coke Machines.
Rick's very nice Ford F-1 Pickup can be spotted on various episodes of American Restoration.
Did we mention Rick's pickup is:
ALL NEW American Restoration epsodes: What happens when Billy Joel stops by Rick's Restorations!


1112 S Commerce Street
Las Vegas, Nevada 89102
SHEEPHERDER BAR AND GRILLE
The Citrus Inn opened in 1913
in this very building on Folsom Boulevard. Citrus was sold in front of the building to everyone that passed by on busy Folsom Boulevard.

Folsom Boulevard was a main thoroughfare for the gold rush in the mid 1800s. Many immigrants and forty-niners were in search of some of the gold that James W Marshall and John Sutter found in the American River. The railroads that are still visible across the street today were the same railroads that were constructed in the late 1800s.

Rumor has it that over the years The Citrus Inn became many different businesses, including The Edwards Hotel, and at one point, a brothel. Everyone came to the building to eat good food and to have a good time. There was drinking and dancing 'til late at night.

Later, the building became known as Sheepherder Inn. It was a place for Basque sheepherders to come and rest upstairs in the Inn and enjoy a hearty meal downstairs, which probably consisted of meats, fish, lamb stews, legumes, cheeses and Basque cider.

Sheepherder Bar and Grille
11275 Folsom Blvd.
Rancho Cordova, CA 95742
Phone: (916) 638-4584

Crossroads: Folsom Blvd. and Sunrise Blvd. just down
the street from Sacramento Vintage Ford.....
QUICK QUACK CAR WASH
Quick Quack is a growing chain of exterior-only, soft cloth car washes in California, Texas & Colorado.
Fully automated and computerized, the high-quality carwashing system is a soft-cloth, exterior-only conveyor wash. Customers stay in their vehicles while being automatically guided through the glass enclosed tunnel where the vehicle is soaked, soaped, washed, polished, rinsed with spot-free water and blown dry all in a matter of minutes. Quick Quack Car Wash also takes pride in being environmentally friendly by conserving water and using environmentally friendly shampoos that are biodegradable and non-corrosive. Additional information is available online at
www.DontDriveDirty.com.
CLICK on any image.
Did You Miss The Last One?
CLICK on the
NEWSLETTER ARCHIVE BAR
to see what you may have
missed in previous editions of the
Vintage Advantage..........
NEWSLETTER ARCHIVE BAR
Sacramento Theatrical Lighting is a family-owned business in continuous operation since 1947. Now operating out of a 65,000 sq. ft. building, STL is a full-service theatrical equipment company. They offer a full line of theatrical lighting equipment and accessories, moving lights, dimming and control, stage curtains and expendables.
The Rental Department can set you up with everything you need for your backyard party or a professional theatrical production. If you are looking for a full service contractor to handle all of your event needs, their Production Department has all of the answers you need.
STL also has a Special Projects Division that specializes in design and installation of large and small theatrical systems, design and install of theatrical drapery, rigging inspections and other specialty projects. They employ a full in-house Tech Service Department.
SACRAMENTO THEATRICAL LIGHTING
950 Richards Blvd
Sacramento, Ca. 95811
916-447-3258
TAKE-A-KID TO A CAR SHOW
There have been countless studies done to prove it, but virtually everyone knows that spending quality time with a kid is the greatest gift you can give them. And sharing your appreciation for collector cars is a great way to nurture their interest in a hobby that you can enjoy together for many years to come.
Through the SEMA Take a Kid to a Car Show coloring book app, kids of all ages will be able to customize and personalize each car. We encourage users to visit www.takeakidtoacarshow.com to discover additional fun and exciting resources through this campaign.
RU FASTER THAN A REDNECK?
Flannel-wearing, mullet-sporting and tobacco-chewing All-American rednecks defend the honor of the American muscle car in a winner-take-all road racing event. With $10,000 on the line, they're ready to take on all challengers - any average Joe with a Porsche, exotic or Japanese tuner car that think they can win with a full-blown hillbilly inches from their fender.
On SPEED TV - Check your local listing for dates and times.
CLICK above for the latest video clip.
In 1965 the first T.G.I. Friday's restaurant opened in New York City at the corner of First Avenue and 63rd Street and quickly became the meeting place for single adults, with $1 million in revenues its first year.
"T.G.I. Friday's® is known for serving authentic American food and exciting drinks. We also understand that our restaurants are more than just a place to eat. They are places where communities form, gather and engage."

"So, we take our commitment to community seriously. Our Team Members have cultivated strong local relationships and take great pride in their engagement with guests and their participation in the communities that they live and work in."
George has been at the foremost of the customizing industry since he opened his first shop, the 'Barris Brother's Custom Shop', in 1944 with his brother Sam Barris. His iconic creations include the Batmobile, Munster's Koach, KITT from Nightrider and the Dukes of Hazzard's General Lee. In addition to his kustoms, George is recognized for his presence and contribution throughout the media and in numerous car shows.
STEAM POWERED WOODEN BOX FACTORY
UP IN THE HILLS - VIDEO CLIP
This is about a very old steam powered wood box factory that makes quality wooden boxes. You may have to move your cursor about on the picture to make it play all the way though, but it is fun. I bet this would be a typical factory in the mid 1800's.
Please enjoy...very interesting.
During a visit to the mental asylum, a visitor asked the Director how do you determine whether or not a patient should be institutionalized.
'Well,' said the Director, 'we fill up a bathtub, then we offer a teaspoon, a teacup and a bucket to the patient and ask him or her to empty the bathtub.'
'Oh, I understand,' said the visitor. 'A normal person would use the bucket because it's bigger than the spoon or the teacup.'
'No.' said the Director, 'A normal person would pull the plug. Do you want a bed near the window?'
FLOWMASTER MUFFLER
In 1983 California Sprint Car racers were experiencing 'excessive sound' issues at numerous race tracks and were told to quiet the cars down or lose racing privileges. All attempts to silence the race engines without sacrificing power repeatedly failed.

Enter Flowmaster founder, Ray Flugger, with over 45+ years of exhaust design experience, and while working out of a small 800 square foot barn in Kenwood, California, created Flowmaster's first patented design of racing silencers. Ray attached handles to ease carrying the square shaped race mufflers through the race pits, and the mufflers became known as the "suitcase muffler." Today, these innovative Flowmaster mufflers are the result of years of development with top race engine builders, thousands of hours of dyno research and "real-world" on-track testing

Flowmaster's product line includes exhaust products for Performance Street, Muscle Cars, Trucks, Street Rods, RV's, Motorhomes, and all types of race applications. With over 400 different muffler models, 370+ exhaust systems and numerous exhaust accessories available, Flowmaster offers you the choice of sound to fit your preference from "wild to mild" and your specific vehicle needs.
COBRA ELECTRONICS
Cobra Electronics Corporation
is a leading designer of mobile communications products in the United States, Canada, Europe and around the world. After 50 years of innovation, the company continues to grow by boldly entering into new product categories.
Today the company's products include:
Mobile navigation devicesTwo-way radiosRadar/laser detectorsCitizens band radiosMarine electronicsPower inverters
Cobra products are available in nearly 40,000 storefronts in North America and in a growing number of retailers throughout the world.
We would also like to thank Cobra Electronics for their support of our Make-A-Wish efforts.
1949 STUDEBAKER......ROD!
(Courtesy John Paul Sullivan - Kneebeau Photo / Design)
HOLLYWOOD HOT ROD ACCESSORIES
Troy Ladd and the crew over at Hollywood Hot Rods have a bunch of new and very cool accessories coming soon to their web store.


SaberCat1 filming in HD the B17 and the B25 WWII Bombers over and around Arizona's Superstition Mountains and Saguaro Lake.
H5 Productions, in conjunction with The Commemorative Air Force filmed these aircraft during the Veterans Day Celebration on Saturday, November 13th, 2010. The B17 Bomber was flown by pilot Russ Gilmore and the B25 Bomber was flown by pilot Spike McLane. The base for these bombers is Falcon Field located in Mesa, Arizona.
SaberCat1 pilot, Mitch Kelldorf. SaberCat1 aerial cinematographer, Mike Murray. Editor, Mike Murray.
CLICK
above to view
AMERICAN GRAFFITI DRAG RACE RECREATION
(Kathy and her husband Jeff have a clone of the
black 1955 Chevy and they also produce the
Zoom Zoom Woof Woof Car Shows.)
A note from Kathy Zastrow.
I am sure you all heard that Jeff was asked to bring his 1955 Chevy American Graffiti movie car to the 40th anniversary car show in Petaluma. They had originals or clones of all the major movie cars and a film crew and actors to re-enact scenes from the movie.
At 3:00 a.m. on Monday they closed Frates Road and re-enacted the race scene. On Tuesday at midnight, they closed Petaluma Blvd and re-enacted the cruise and race scene. On the last race, Jeff's engine blew. The rest of the week he had to trailer it and push it into the displays.
Jeff still had an awesome time but was upset at the thought of having to rebuild or replace the engine. But on Saturday at the show, he won the raffle for a new motor that will replace the one that blew up. It really turned out to be a great week for Jeff.
American Graffiti: Drag Race Scene Recreation
(Courtesy ELEVATE)
Here are some shots of the recreation of the drag race scene from American Graffiti. Elevate was shooting for the upcoming 40th anniversary of the film - organized by Cruisin' The Boulevard Inc.
Elevate shot the recreation scene over two nights and two original filming locations in Petaluma, CA.
1. Frates Rd (Paradise Road in the film)
2. Petaluma Boulevard
The film starred Harrison Ford, Paul LeMat, Candy Clark, Mackenzie Philips, Richard Dreyfuss and Ron Howard. It was filmed locally in Petaluma, CA many years ago, and many of the film locations look amazingly similar to the original look of the film!
CLICK
on ELEVATE to view more scenes
OLD GUYS RULE......?
That's right were BAD!
Well.... Darold is just old!
Darold (Sacramento Vintage), Oz Welch (Oz Kustoms- Oroville, Ca.) and John D' Agostino (Celebrity Kustoms- Tracy, Ca.). 'SOPHIA' is a custom 1940 Cadillac.
PARTS -N- MORE PARTS
Pickup Bed Kits or any individual part, give us a call or stop by the store. Bed skid strips and harware in plain steel or brillant polished stainless steel. Bed sides with your choice of the stock stake pockets or filled smooth for that custom look.
CLICK
on the photo.
Got Fenders?
We have your fender welt. Sold by the foot, in 25 foot rolls or in 300 foot spools (shown).
Delivery of our custom oak bed wood for your F100 pickup
and more Model A Ford floorboards.
Kim out in the showroom working on new displays.
Back in the Vintage Ford receiving department......more parts headed to the warehouse!
'SOPHIA'
on her way to the Santa Maria show. Darold and John with this month's issue of
Rod & Custom Magazine
with John's car on the cover.
Sven and Ole, were out hunting and shot a buck. They were pulling the carcass through the woods by the tail when they encountered another hunter. "What are you guys doing?" he asked. "God gave that animal a set of antlers. They're like a handle. Use the antlers to pull it."
After about fifteen minutes, Sven said, "You know, Ole, dat guy vas right. Dis is a lot easier." "Yah, Sven," said Ole, "but ve keep getting farder avay from the pickup truck!"
Courtesy Hemmings Daily- Written by Jim Donnelly
Photos courtesy Kickstarter.
For a guy who's famously taciturn, Kent Fuller is one of the most powerful thinkers in the world of drag racing and land speed competition. He built his first dragster in 1956, and soon revolutionized that category by pioneering the horizontal-loop three-point roll bar, which obsoleted the earlier "skidbar" configuration favored by the likes of Scotty Fenn. That started a journey that led Fuller to a collaboration with Tommy Ivo, the discovery of Don Prudhomme, and his chassis as the basis for the most dominant Top Fuel dragster in history, the Greer-Black-Prudhomme dragster.
Since then, Fuller went on to design the radical Magicar dragster of 1963, a frame-within-a-frame innovation that allowed the driveline to be suspended. Later, he went into business building Volkswagen-based replica hot rods.
At 79, he's still at it. Fuller's last stand, assisted by 14-year-old grandson Greg, is to build a new Bonneville streamliner with an even newer method of financing it: Fuller is using social media to fund the car via Kickstarter, an online funding platform that has seen more than 3.9 million people pledge more than $591 million, funding more than 40,000 creative projects ranging from books and film to technology, since its launch in 2009. The practice is known as crowdfunding, and Kickerstarter says Fuller's LSR project will be the world's first crowdfunded competition vehicle.
Spec-wise, the Fuller car is a radical monocoque streamliner, designed so the pilot, ex-Indy Lights driver Andy Davis, will have to lie flat, his only view of the course coming via the mirrors on a periscope. Using an
unblown flathead on nitro
, the team aims to topple the current SCTA XF/FS record at 280 MPH and change.
Flags and Holders -
CLICK
above
Hot Rod Haulers & Appraisals For All Your
Transportation and Evaluation needs.


Pick up and Delivery within 72 hrs.


Serving the West Coast Exclusively


35 Years Experience with Collector Cars, Licensed and Insured, One Car at a Time, Personalized Service.


We use soft Tie Downs, No Chains.


Summer auto shows are coming up so please book early to insure transportation of your car.


= If It Rolls, We can Haul It =
To Schedule a pick up or get a mileage rate call:
(530) 906-3820
Don@TheHotRodHaulers.com
TheHotRodHaulers@aol.com
CALIFORNIA AUTO MUSEUM DINNER
The California Automobile Museum hosted an all-you-can-eat Spaghetti dinner on April 7, 2013. The Museum catered to nearly 500 guests to enjoy delicious food provided by taste of Tuscany, live music by Northern Lights, a few words from staff and Museum board members and 'almost' a word from Sharon Gardner who was presented with a special award.
This event was a unique way for visitors to enjoy the Museum at the cost of just $10 per person.
Courtesy Natalie Minas (California Auto Museum).
Except the comment about about Sharon....
that was Darold.
Experience Automotive Evolution
at the California Automobile Museum
2200 Front Street, Sacramento, California 95818
(916) 442-6802

This has been around for a while but
Dont Fall For Jury Duty Scams

The phone rings, you pick it up, and the caller identifies himself as an officer of the court. He says you failed to report for jury duty and that a warrant is out for your arrest. You say you never received a notice. To clear it up, the caller says he'll need some information for "verification purposes"-your birth date, social security number, maybe even a credit card number.


This is when you should hang up the phone. It's a scam.


Jury scams have been around for years, but have seen a resurgence in recent months. Communities in more than a dozen states have issued public warnings about cold calls from people claiming to be court officials seeking personal information. As a rule, court officers never ask for confidential information over the phone; they generally correspond with prospective jurors via mail.


The scam's bold simplicity may be what makes it so effective. Facing the unexpected threat of arrest, victims are caught off guard and may be quick to part with some information to defuse the situation.


"They get you scared first," says a special agent in the Minneapolis field office who has heard the complaints. "They get people saying, 'Oh my gosh! I'm not a criminal. What's going on?'" That's when the scammer dangles a solution-a fine, payable by credit card, that will clear up the problem.


By Nadeem Muaddi, TheHogRing.com
Thanks to a regular appearance on Discovery Channel's hit TV show Fast N' Loud, Yu-Lan Haiso Martin - known the world over as "Sue" - has become the most recognizable figure in auto upholstery.
Fans of the show tune in each week to revel in her witty humor and relentless bashing of costars Richard and Aaron of Gas Monkey Garage. However, it's not just her charismatic personality that keeps viewers coming back for more. Sue is, in fact, a talented trimmer who always manages to breathe new life into the "junk" interiors that customers bring her.
Of course, Sue's success cannot be simply attributed to a television show. On the contrary, she has earned her stripes the old fashioned way: hard work.
Sue founded her shop, ASM Auto Upholstery, 23 years ago after immigrating to the United States from Taiwan and teaching herself the craft. Since then, she has worked day and night - sometimes even sleeping in her garage - to build a strong reputation for quality and dependability.
Sue's hard work has certainly paid off. Today, she operates a busy nine-person auto upholstery shop in Dallas, TX; stars in a hit reality TV show about the auto restoration industry; and is revered by peers and car enthusiasts alike. As her website states, "Sue is an example of the true American dream."
CLICK
below on 'The Hog Ring' to read the interview with Sue of Fast N' Loud and ASM Auto Upholstery for the sixth installment of the "10 Questions" series.
One of the questions asked:
3. Your catch phrase on Fast N' Loud is:


"Why you always bring me junk?"
Do Richard and Aaron of Gas Monkey Garage really always bring you junk?
Posted By Patricia Kaowthumrong in E-News, Interior,
Rod Shops.
'LIKE'
us on Facebook!
Andy and Sue Brizio's 1932 roadster that WAS on display in our showroom.....sadly went back home. Andy missed his roadster....go figure. Thanks Andy!
(Photoshop magic by Heather)


DID YOU SIGN UP FOR OUR NEWSLETTERS?
Sign up a friend for our email newsletters!
CLICK Above
When you join our e-mail list, you can also
'fine tune'
what information you would like to receive from Sacramento Vintage Ford......from the type of car(s) you
have.... to 'Garage Sale' bargins.....Catalogs .....and more!
(We do not sell or rent our valued customers e-mail addresses)
You can also forward this newsletter to a friend using the box at the lower left corner of this newsletter.
CLICK above to view newsletters you may have missed!
Cruisin' around the Sacramento Vintage parking lot in the 'Sacramento Vintage Equipped' Grand National
'Speed 33' Roadster, owned by John Buck.
That's It For This Edition!
Thank You!
Please drive safe, have fun and enjoy your ride!
1-888-FORD-100