Publisher/Editorial Director:
Associate Publisher/Contributing Editor:
Contributing Photographers:
Darold Kohout
Doug Oehler
Ed Gardner
Joe Streng
Web Producers:
Rancho Cordova, Ca. 95742
1-888-FORD-100
Celebrating
Our 44th
Anniversary
1969 - 2013
Thank You!
Rod Shows.com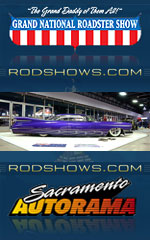 Grand National Roadster Show
January 24-26, 2014


Sacramento Autorama
February 14-16, 2014
The two Oldest and Longest Running Indoor Car Shows in the World.
The Association of California Car Clubs (ACCC)
is a volunteer organization with regional representatives who represent the interests of individual members and member clubs across the state.

The ACCC consists of thousands of automobile hobbyists throughout the state who are interested in California laws and policies regarding collector automobiles.

Music & Entertainment
at our shows for
13 YEARS!
-- RIP Larry --

FAST FRAME

The Official Custom Art Frame Shop of
Vintage Fridays

5343 Sunrise Blvd
Fair Oaks, Ca. 95628
916-966-8766
Barris Kustom
Industries
Thanks For The Support George and the Barris Family!



Click
Above to see what
George Barris has been up to and shop Barris.com



Sacramento Vintage
is an authorized
Barris Kustoms
Dealer!


We have 3 Barris memorabilia sections:



-- Batmobile Related

-- Barris Books
-- The Munster Koach
CLICK
on the Batmobile

Thanks to
Hooters Restaurants
for their support of our Vintage Friday's events!

Rancho Cordova
Sacramento
Natomas
Fresno
Bakersfield
Honolulu
Thank You!
New drivers need to


Start Smart.
Enroll your young driver in a Start Smart program today.
THUNDERBOLTS
Capitol Auto Club
Official Host Club
-Vintage Friday's-
CLICK above to read more about the 'BOLTS'
Butch Gardner
1946-2012
Stop by the
Rancho Cordova

location - Just down the street from Sacramento Vintage Ford!

Rancho Cordova Store Manager: Mitch Harrison
2838 Sunrise Blvd

Rancho Cordova, Ca.

95742

916-858-8666

CLICK above to see what else Lethal Threat has. And they have a lot!
At P.F. Chang's we are committed to providing you with an exceptional dining experience every time you walk through our doors. Each dish on our menu is prepared to order using the freshest and highest quality ingredients.
Majestic 11 foot tall horses grace the entrance to many of the restaurants. The horse symbolizes the original Forbidden City in China, which was built for China's first emperor Qin Shi Huangdi.
At P.F. Chang's you are surrounded by a unique environment combining influences of Chinese and American cultures. A panoramic, hand-painted mural depicting 12th century China, is visible from the main dining room and commands attention as the restaurant's centerpiece, while several terra-cotta warriors stand guard.
P.F. Chang's
(Darold and Lynn highly recommend the Chang's Chicken Lettuce Wraps to start your dining experience!
)
Rod Shows.com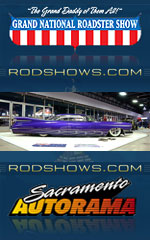 Grand National Roadster Show
January 24-26, 2014
Sacramento Autorama
February 14-16, 2014
The West Coast's premier hot rod, bike & motorsports tour!
Come and join the two Oldest and Longest Running Indoor Car Shows in the World.
CLICK
above to see
-Dates and Times-
RU Faster Than A RedNeck?


Garage Mahal
American Trucker
Shark Fights
Optima Ultimate Street
Car Invitational
CLICK on any show
for information
Very
cool signs from

Ruckus Rods!



CLICK

above if you can't wait!
Classic Shop Talk
Tech Articles
Instructions
Videos
Classic Performace Products
A Valued Vintage
Friday's Sponsor!
California Highway Patrol
The California Highway Patrol
-Valley Division-
A Vintage Fridays Sponsor & Supporter


Nothing Comes Close To
A Cobra

North American Headquarters:

Cobra Electronics Corporation
6500 West Cortland Street
Chicago, IL 60707

productinfo@cobra.com
1-773-889-8870


Sacramento Vintage Ford Shop Tour
by Craig Pike over at
My Ride Is Me.com
'The first thing I noticed'.......CLICK above to read the article
Photos by

PEPSI COLA


Fender Donated The Bare Guitar!




Gene Winfield Painted
It To Match WILD CAD!



Mike Clines Striped It in 12k White Gold with Green Accents To Match WILD CAD


Best Buy in Roseville, California donated the Fender Amp!





W

e gave it all away for Make-A-Wish
in 2012!


Watch out for this little
guy in our parking lot area.
Very friendly but hasn't learned he may get squished by a car.
Esquire IMAX

1211 K Street
Sacramento , CA 95814 916-443-4629
Iron Man 3 An IMAX 3D
Experience
Release Date:
May 3, 2013
Rated: PG-13
Exclusively for IMAX fans as part of the IMAX® 12:01 program, those attending midnight shows of Marvel's IRON MAN 3 in the first hours of May 3rd will receive a limited edition IRON MAN 3 print featuring original artwork by renowned artist, Jock.

All star sons of rock band composed of Aaron and Andrew Hagar, Miles Schon, Ry Kihn, Trevor William Church and Tony Montanez.

This is... FIGHTCLUB


'For those of you who may not know me, I am Aaron Samuel Hagar and I am embarking on a historical journey in the music industry and need your help. I have formed a band of "son's of rock" of legendary greats. The members of FIGHTCLUB are the children of local bay area rockers that have a lifetime of friendship and professional heritage together
.'

CLICK
above for the details.


George Barris'
Cruisin' Back To
The Fifties


Edelbrock
Rev'ved Up 4-Kids


Moldy Marvin's
13th Annual
Rat Fink Party


& Kustom Kulture Extravaganza
Breakfast Club Cruise-In at the Petersen


O'Reilly Auto Parts
With over 3600 O'Reilly Auto Parts stores in 38 states, they are never far from home!
Better Parts...Better Prices, Everyday!
CLICK ABOVE for the details


BOB DRON'S RIVER RANCH RUN
MAY 18, 2013

Hot rod designer-builder-entrepreneur Roy Brizio will lead a procession of Brizio-built Ford roadsters, coupes and sedans headed for the May 18 River Ranch Run at Bob Dron's historic Delta Diamond Farm near Isleton.


Dron will throw open the grounds of his 25-acre Delta Diamond estate for a gathering of hot rods and custom cars and motorcycles at the riverside facility.

Admission is $10 per vehicle, and with any number of occupants. Hours for the River Ranch Run are 10 a.m. to 5 p.m. Refreshments and entertainment will be available along with auto and motorcycle-related booths.


"I can't say at this point which of his sweet-running street rods Roy will be bringing," Dron says, "but we know that dozens of his customers are going to make the River Ranch Run in all manner of Brizio rides."


Bob Dron and his wife Tracey are staging the 125-year-old Sacramento River cherry orchard and Victorian homesite as a center for weddings, car shows, corporate gatherings, retreats and picnics. Located right in the center of the vast and untrammeled Delta, the Farm includes renovated and new buildings for catering, on-property work centers and meeting facilities.

Bob is an Isleton native and motoring enthusiast who's been building and riding custom motorcycles and hot rods for more than four decades. For some 30 years, the Drons set national benchmarks for Harley-Davidson motorcycle sales, marketing and merchandising at their Oakland, CA, dealership. He is a member of the Oakland Roadster Show Hall of Fame.

For information on the River Ranch Run and other special events, contact the Delta Diamond Ranch at (916)777-5800.
15175 Hwy 160, Isleton, CA 95641

(916) 777-5800

LOOK FOR THE LITTLE ROUND SALE TABLES!
(No, not a sale on tables....the stuff ON the tables
is priced to move!)
This table has select car care and Kustom Shop paint kits...all 50% off! Kim and Kathy are making room for all the new car care products over by the cashier area.
Back-issue magazines and calendars.....Only $1.

And this tables WAS loaded, but more around the corner! Sorry the photo is a bit fuzzy, prices so low Darold was shaking......


Yes....FREE programs! We are cleaning things up back in the Gift Shop warehouse and ran across several cases of assorted event programs from the Sacramento Autorama and the Grand National Roadster Shows. Stop by the store and grab one or two or three.......FREE!
And speaking of the Gift Shop, look for the red 'clearance' tags on assorted items from our Gift Shop around the store. We are making room for more cool stuff for you and your garage!
Pick-n-Pull
Self-Service Auto & Truck Dismantlers
51 locations throughout the U.S. and Canada
West Coast Kustoms Cruisin' Nationals
May 24-26 2013
The West Coast Kustoms Cruisin' Nationals Car Show will be held at the Santa Maria Fairpark May 24-26, 2013 in Santa Maria, California. This car show draws participants, vendors and attendees from all over the world. The show having been inexistence for 31 years, has established its reputation as one of the best car shows in the US!

This show is very family friendly and has something for everyone. On Friday night, prior to opening day on Saturday, there will be a cruise down Broadway for the community to enjoy at no cost. The two-day weekend show will include musical entertainment, food, artists demonstrating their talents of pin striping and vendors selling a variety of wares from clothing to car parts.

On Sunday afternoon there will be an auction and the proceeds will be donated to help the Alzheimer's Association. The weekend will conclude with an awards ceremony for the 800-1,000 participants, featuring specific categories.


Santa Maria Fairpark
937 S. Thornburg
Santa Maria, CA 93458
TOBY KEITH'S
I LOVE THIS BAR & GRILL
Leave it to country music legend Toby Keith to create a restaurant that offers great food and the best live music in Oklahoma City. Named after Toby's hit single "I Love This Bar," this exciting venue offers a real down-home experience.
Open for lunch 11am daily. Come as you are.
They'd love to have you anytime!
No reservations, but seated upon order of arrival.
Toby Keith's
I Love This Bar & Grill440 Palladio ParkwayFolsom, California 95630916-984-8629
Located in the PALLADIO at Broadstone
Pepsi Beverages Company
Sacramento, California
Thank You Pepsi Beverages Company, Sacramento,
for your support of our Make-A-Wish efforts.
The KEY and TOKEN a WISH recipient is given to unlock the very special room that grants their WISH.
Our Vintage Friday's Events support the Make-A-Wish Foundation of Northeastern California and
Northern Nevada.
Lynn and Darold Kohout (L) and Heather Stover (Sacramento Vintage Ford) present Kerry Cregan with Make-A-Wish Northeastern California & Northern Nevada our check for $8843.86. A heartfelt 'Thank You' to our car show participants, spectators, sponsors and supporters for their support with our 14th season of Vintage Friday's, 2012.
And yes, our
Vintage Friday's events will be on hiatus
(taking a break) for 2013.....
but back in full swing for the 2014 season.
The The Salvador Dalí of automotive art, Randy Grubb turns his incredible fantasies into hard, metal-warped reality in his Southern Oregon garage.

From mind to metal, Randy Grubb produced the classics: the B-702, the Indy Special, Jay Leno's Tank Car, Piss'd Off Pete, the Decoliner, the Decopods, and is about to debut the Decoson.


This first episode of Randy Grubb's Garage shows Randy building new masterpieces down and dirty. Learn about how the Art Deco Decoliner spawned the evolution of the Decopod scooters. Watch Randy, (CLICK on Randy) complete and go for his first ride in the Deco-Tripod (built on a Piaggio MP3 chassis), and the birth of the beautifully-sleek Decoson, built on a 1984 Harley-Davidson Sportster chassis: a radical machine like nobody has ever built or designed in the history of motorcycles.


EXTRA! See two different European film crews visit the garage to shoot Randy's automotive art for TV programs to be aired in Germany, Austria, Sweden, and Switzerland.

Warning: Viewing Randy Grubb's Garage may cause symptoms of delirium in motorheads.
Goodguys promotes and produces 20 annual events in 13 states and publishes the monthly Goodguys Goodtimes Gazette from the association's Pleasanton, California headquarters. More info? Visit www.good-guys.com.
B.R. COHN WINERY
Founded by Bruce Cohn in 1984, B.R. Cohn Winery is located in the heart of Sonoma Valley. Offers a full line of ultra-premium wines, extra virgin olive oils, handcrafted vinegars and gourmet food products.
Thanks to B.R. Cohn Winery for their continued support of our Make-A-Wish efforts!
2013 L.A.
ROADSTER SHOW
Year 2013 will be the 49th time the Los Angeles Roadsters Car Club has produced its world-renowned show and the 34th year it will be held at the Fairplex in Pomona, California. The show will be held on Father's Day Weekend, Saturday, June 15th and Sunday, June 16th for your enjoyment.


This year's show will be new and exciting. The show will have a new look and be located in the beautiful inner fairgrounds and in Exhibitor Building #4.


There's something for everyone at the L.A. Roadster Show. Late model enthusiasts will find the swappers and manufacturers with many of the parts they are looking for, while early car parts will be in abundance for the fellows who are restoring antiques or building that special new car. Come and see the West Coast's largest trade show, where over 200 manufacturers and vendors of reproduction hot rod parts and accessories will display their products and services. They will have their own special section outside and in Exhibitor Building #4.


By popular demand the Cacklefest is returning in 2013 and will fire up on Saturday at 10:00 am and 2:00 pm in the Specialty Parking area.

Established in 1987, the Pick-n-Pull chain of self-service auto parts stores is one of the largest recyclers of end-of-life vehicles in the industry. You bring your tools, pull the parts you need and SAVE lots of money! Their 48 U.S. and 3 Canadian locations offer a huge a selection of used OEM (original equipment manufacturer) parts for cars, vans and light trucks - all makes and models, foreign and domestic - all at incredibly low prices.

Pick-n-Pull is proud of the fact that they recycle more than 350,000 vehicles and service more than 5 million self-service customers each year.

Pick-n-Pull is a subsidiary of Schnitzer Steel Industries, Inc., a global leader in the metals recycling industry that has been in business for over a century. Although Pick-n-Pull and Schnitzer have worked together since 1989, Pick-n-Pull became a fully owned subsidiary of Schnitzer in 2003 as part of its Auto Parts Business unit. Being part of a Fortune 1000 company has enabled them to grow stronger and introduce cost efficiencies into their system that have allowed them to bring environmental and cost benefits to their customers. At the same time, the Pick-n-Pull stores have retained the regional and local focus that has made them popular with their customers.

CLICK to find a Pick-n-Pull Near You!
SACRAMENTO SWINGTIME
SACRAMENTO SWINGTIME 2013
Car & Music Festival
Friday, June 21st and Saturday, June 22nd.

Car Building Legends Bo Huff, John D'Agostino and
Award Winning Pinstriper, Junior Huff!
Pre-Registration for your car is available for PRE 1972 AMERCIAN CARS. You may pre-register your car and get your festival ticket which will include all access for both days for yourself and ONE passenger/guest. Premium parking will be available for Pre-Registered vehicles.
Click above.

The Car Show is on Saturday, at the Crowne Plaza Hotel.



This year's Car Show will be hosted by RiffRaff Car Club.

The Crowne Plaze Hotel is located at 5321 Date Avenue Sacramento, Ca. 95841

Phone number for reservations:
877-270-1393
OPTIMA BATTERIES
A special Thank You for Optima's continued support
of our Make-A-Wish efforts!
NOW AT SACRAMENTO VINTAGE
Now in stock at Sacramento Vintage the complete line of
Mothers car care cloths, detail tools and brushes.
CLICK
above to check them out.
SACRAMENTO VINTAGE BANNER IN COSTCO
In May, Costco participates in a month-long miracle campaign at all warehouses in the United States and Canada. Costco employees' hearts are as big as the warehouses they work in. Along with the campaign, there are many warehouses that run other programs to raise money to increase their fundraising totals. They have popcorn sales, car washes, races and walks, and dozens of other creative fundraising activities.

Look for the Sacramento Vintage banner in support of the Children's Miracle Network Hosplitals in the Rancho Cordova, California Costco store!

Costco Wholesale, headquartered in Seattle, has raised more than $137 million for Children's Miracle Network Hospitals since 1988. Currently 412 warehouses in 89 markets participating in fundraising campaigns for their local Children's Miracle Network Hospital.


Willow Run Assembly Plant Faces The Wrecking Ball
Courtesy Daniel Strohl / Hemmings Daily Blog
Photo courtesy GM Media

It built bombers in World War II, Kaisers afterward, and the Corvair in the Sixties. It served both Ford and General Motors, and it remained in operation for seven decades. Yet the Willow Run assembly plant near Ypsilanti, Michigan, faces demolition if the current owner of the plant doesn't sell it by August.

As reported last week by the Detroit Free Press and AnnArbor.com, the trust that controls the properties that GM shed during its 2009 bankruptcy - including the entire 332-acre Willow Run plant - has announced that its efforts to sell the property have been stymied by the 72-year-old plant and associated buildings.

"We were told unequivocally by the market that the real opportunity at this site relies on capitalizing on the amenities the site has to offer and not on the building," said Bruce Rasher, redevelopment manager for the Revitalizing Automotive Communities Environmental Response Trust. "The building is an impediment to redevelopment on the site." As a trust and not a liquidating company, RACER's mission is to sell the former GM properties to companies committed to creating jobs and revitalizing the surrounding community.

RACER has reportedly pegged the market value of the property at more than $32 million. It has been able to sell a 23,000-square-foot portion of the property to an aircraft maintenance company, but the 5 million-square-foot building that formerly housed the GM Powertrain Center remains unsold, and Rasher said that nobody has yet made an offer for the building.

The Yankee Air Museum last week launched a campaign to buy a 175,000-square-foot portion of the GM Powertrain Center where Ford built bombers during World War II, but it would need to raise $6 million by August 1 to do so. The museum has already secured $1 million toward the purchase of the bomber plant and has an agreement from the Smithsonian to get the world's last surviving Willow Run-built bomber for display, should the museum raise enough money to go through with the purchase.

Built on land owned by Henry Ford to crank out B-24 Liberator bombers in 1941, the Albert Kahn-designed plant became the largest single industrial building under one roof, encompassing about 3.5 million square feet. One it ramped up to full production in late 1943, the so-called "Grand Canyon of the mechanized world" would produce a bomber per hour, along with a number of wood-bodied gliders. After the war, Ford declined its option to buy the massive plant from the federal government, so the government - through the Reconstruction Finance Corporation and the War Assets Administration - ended up leasing, and eventually selling, Willow Run to the newly formed Kaiser-Frazer.
CLICK on the photo to read the entire article.


THE SACRAMENTO VINTAGE FORD
F100 PARTS CATALOG!
Our 408 page, full color catalog of 1948-1966 Ford Pickup parts and accessories. If you have been ordering your F-1 & F-100 Pickup parts from Sacramento Vintage, watch for it in your mailbox .
Not on our catalog list? CLICK on the image to order.
THE SACRAMENTO VINTAGE FORD
MODEL A PARTS CATALOG!
Our 480 page, catalog of parts for the 1928-1931 Ford Model A & AA. Parts and Accessories, Gift Items, Apparel and even a few items to make your little
Model A go.....faster!

Your source of quality Model A Parts since 1969!
What Other Ford Parts Do We Have For You?
1909-27 Model T
1928-31 Model A & AA
1932-48 Ford Passenger
1932-47 Pickup
1948-66 Pickup
1949-56 Ford Passenger
1967-79 Ford Pickup
Parts for your Hot Rod, Street Rod, Custom,
Suede & Rat.
Cool stuff for your shop, office and garage!
One Shot, Lil Daddy Roth, Von Hot Rod, Mack Brushes
Roth Rattle Bomb Paint, Stickers, Clothing, Books, Art
and a bunch more! And it's all at
www.VINTAGEFORD.com
SURF CITY GARAGE PRODUCTS
A little bit about Surf City Garge by Tim Miller:
Step into Surf City Garage and you are transported back in time. There before you is a Flying A gas station, just like it was in the 50s. A '68 Shelby GT-500 sits at the pumps.
You walk through the Shelby Showroom past a 22-foot-long neon Buick dealership sign and head toward Corvette Corner. In front of you is a red and white '58 Corvette, the first car I ever restored. Just to your left is my wife's '54 Polo White Corvette. Straight ahead an original Chevrolet Super Service sign signals your entry onto Chevrolet Way, where you're greeted by a '66 turquoise and white Bel Air hardtop. Next, you reach MOPAR Alley on your right, flanked by Pontiac Row on your left.
On the wall is a huge neon Pontiac dealership sign. Looking down, you see a '67 Cameo Ivory GTO Coupe. You're now at the other end of our garage and you enter a complete restoration shop. Here expert craftsmen maintain our collection and restore new acquisitions. Professional detailers clean and wax over a mile of 60's chrome. When you have over 100 vintage muscle cars, the work never stops.

So where did Surf City Garage detailing products come from? Well, to keep the cars looking great, we tried every car care product around, but I just wasn't satisfied with the quality or performance. So we developed our own complete line of Enthusiast Grade® detailing products -- recognized around the world as the best anyone can buy. Our guarantee: if these aren't the best products you've ever used, give me a call and I'll personally buy them back - is unmatched in the industry.
That's why, every day, more and more enthusiasts are switching to Surf City Garage Enthusiast Grade® - because nothing else even comes close.
Tim Miller
Car Enthusiast & Founder, Surf City Garage
Stop by the store or CLICK below to see what we have from Surf City Garage.
In our web store: 'Supplies & Care Care' you have
8 aisles of Surf City Garage to choose from!
GOODGUYS ROD & CUSTOM ASSOCIATION ANNOUNCES A NO-COST JUNIOR MEMBERSHIP TO THE WORLD'S LARGEST HOT RODDING ASSOCIATION!
In a constant quest to bring good times and cool cars to car guys & gals worldwide, Goodguys Rod & Custom Association is proud to announce the all-new, no-cost, Goodguys Junior Membership Program! It costs nothing...NADA... and only requires a minute of your time to sign up. All you have to do is log on to Good-guys.com, click on the "Read The Latest Gazette" link, create a user name & password and BAM, you're in!
As a Goodguys Junior Member, you'll receive:
* Access to the monthly Goodguys Goodtimes Digital Gazette Magazine online at Good-Guys.com or on your iPhone or Android based Smartphone or Tablet*
* Goodguys Exclusive Sticker Pack**
* Special Offers and Promotional Notifications
How's that for a Happy New Year? Now you can log in and receive the award-winning Goodguys Goodtimes Gazette Magazine in digital format on your home computer or on your iPhone or Android based Smartphone or Tablet absolutely FREE of charge. The Digital Goodguys Goodtimes Gazette is loaded with over 250 pages of full-color photos and content that's a must read for any serious automotive enthusiast!

It's really that simple. There's no catch! Try us out and of you like what you see and dig being a Goodguys Junior Member, you can upgrade to Silver or Gold Member status with the click of a mouse or a simple phone call! So don't hesitate. Join the world's largest hot rodding association and become a Goodguys Junior Member today!
Goodguys... Celebrating 30 Years of Cool Cars, Cool People, Good Times!
AMERICAN RESTORATION
AMERICAN RESTORATION features Rick Dale and his crew of loose screws at Rick's Restorations in Las Vegas, Nevada, as they take rusty, beat-up items and restore them to their original glory.
When it comes to restoration, Rick Dale is the Pawn Stars go-to guy. AMERICAN RESTORATION follows Rick's work as owner of Las Vegas-based Rick's Restorations, a family business that finds, restores and up-cycles cool objects ranging from Cadillacs to Coke Machines.
Rick's very nice Ford F-1 Pickup can be spotted on various episodes of American Restoration.
Did we mention Rick's pickup is:
1112 S Commerce Street
Las Vegas, Nevada 89102
SHEEPHERDER BAR AND GRILLE
The Citrus Inn opened in 1913
in this very building on Folsom Boulevard. Citrus was sold in front of the building to everyone that passed by on busy Folsom Boulevard.

Folsom Boulevard was a main thoroughfare for the gold rush in the mid 1800s. Many immigrants and forty-niners were in search of some of the gold that James W Marshall and John Sutter found in the American River. The railroads that are still visible across the street today were the same railroads that were constructed in the late 1800s.

Rumor has it that over the years The Citrus Inn became many different businesses, including The Edwards Hotel, and at one point, a brothel. Everyone came to the building to eat good food and to have a good time. There was drinking and dancing 'til late at night.

Later, the building became known as Sheepherder Inn. It was a place for Basque sheepherders to come and rest upstairs in the Inn and enjoy a hearty meal downstairs, which probably consisted of meats, fish, lamb stews, legumes, cheeses and Basque cider.

Sheepherder Bar and Grille
11275 Folsom Blvd.
Rancho Cordova, CA 95742
Phone: (916) 638-4584

Crossroads: Folsom Blvd. and Sunrise Blvd. just down
the street from Sacramento Vintage Ford.....
QUICK QUACK CAR WASH
Quick Quack is a growing chain of exterior-only, soft cloth car washes in California, Texas & Colorado.
Fully automated and computerized, the high-quality carwashing system is a soft-cloth, exterior-only conveyor wash. Customers stay in their vehicles while being automatically guided through the glass enclosed tunnel where the vehicle is soaked, soaped, washed, polished, rinsed with spot-free water and blown dry all in a matter of minutes. Quick Quack Car Wash also takes pride in being environmentally friendly by conserving water and using environmentally friendly shampoos that are biodegradable and non-corrosive. Additional information is available online at
www.DontDriveDirty.com.
CLICK on any image.
Did You Miss The Last One?
CLICK on the
NEWSLETTER ARCHIVE BAR
to see what you may have
missed in previous editions of the
Vintage Advantage..........
NEWSLETTER ARCHIVE BAR
Sacramento Theatrical Lighting is a family-owned business in continuous operation since 1947. Now operating out of a 65,000 sq. ft. building, STL is a full-service theatrical equipment company. They offer a full line of theatrical lighting equipment and accessories, moving lights, dimming and control, stage curtains and expendables.
The Rental Department can set you up with everything you need for your backyard party or a professional theatrical production. If you are looking for a full service contractor to handle all of your event needs, their Production Department has all of the answers you need.
STL also has a Special Projects Division that specializes in design and installation of large and small theatrical systems, design and install of theatrical drapery, rigging inspections and other specialty projects. They employ a full in-house Tech Service Department.
SACRAMENTO THEATRICAL LIGHTING
950 Richards Blvd
Sacramento, Ca. 95811
916-447-3258
Rancho Cordova - Sacramento - Natomas

Bakersfield - Fresno - Honolulu
Be sure to check out the Gift Shop at Hooter's!
Neat Items For The Grown-Ups & Kids
Rancho Cordova Hooters
10750 Olson Drive Rancho Cordova, CA.
(916) 638-2449
Again this year Hooters Restaurants are raising money to support breast cancer research though the Kelly Jo Dowd fund and the V Foundation for Cancer Research.
Over the past several years Hooters reached the $2 Million fundraising goal and continues to raise money toward the fund in an effort to find a cure for this disease.
Kelly Jo Dowd, one of the original Hooters Girls, graced the cover of the 1995 Hooters Calendar and worked her way up the Hooters ranks to manager of the Palm Harbor location. In 2002, she was diagnosed with breast cancer and despite radical and aggressive treatment; on May 24, 2007, the Hooters system suffered a tremendous loss with her passing. Kelly Jo spent the last five years of her life battling this dreaded disease. Through the struggle, she was courageous and selfless, becoming an advocate for early detection, education and fundraising in the battle against breast cancer within the Hooters organization.
Hooters restaurants across the country have participated in raising money towards the grant and this year the fundraising tradition continues.
This bikini contest is one part of their
fundraising efforts.

Natomas Hooters
3541 Truxel Road Sacramento, CA 95834
(916) 929-9464
TAKE-A-KID TO A CAR SHOW
There have been countless studies done to prove it, but virtually everyone knows that spending quality time with a kid is the greatest gift you can give them. And sharing your appreciation for collector cars is a great way to nurture their interest in a hobby that you can enjoy together for many years to come.
Through the SEMA Take a Kid to a Car Show coloring book app, kids of all ages will be able to customize and personalize each car. We encourage users to visit www.takeakidtoacarshow.com to discover additional fun and exciting resources through this campaign.
RU FASTER THAN A REDNECK?
Flannel-wearing, mullet-sporting and tobacco-chewing All-American rednecks defend the honor of the American muscle car in a winner-take-all road racing event. With $10,000 on the line, they're ready to take on all challengers - any average Joe with a Porsche, exotic or Japanese tuner car that think they can win with a full-blown hillbilly inches from their fender.
On SPEED TV - Check your local listing for dates and times.
CLICK above for the latest video clip.
Carroll Shelby Tribute and Car Show
The event benefitting the Carroll Shelby Foundation will feature a Ford and Shelby car show; awards ceremony; panel discussion led by Rick Titus; a Texas-style Chili bar; special guests such as famous racers Don Prudhomme, John Morten and Alan Grant; and an engine rev salute, according to the LASAAC.

"Carroll Shelby changed the course of history and touched millions of lives through his racing, his companies and his charity," said Randy Richards, LASAAC president. "He challenged us to honor his legacy by continuing his work. This annual event will be a celebration for everyone who shares Carroll's passion for performance and pursuit of excellence, while also supporting causes he truly believed in."

The rarest Shelby cars from the past five decades will be on display at the event, including vintage GT350s and GT500s, original Cobras, GT40s and Dodge Shelby models from the '80s. The LASAAC will give awards to top vehicles from each class.

The one-day celebration will start at 10 a.m. at the Carroll Shelby Foundation Headquarters. There is no charge for admission, but attendees who donate $10 will receive a show decal. Shelby owners interested in displaying their cars can find the registration form on the Carroll Shelby Foundation website for a $20 donation.

(Photo Courtesy of the Carroll Shelby Foundation)
(Article courtesy Patricia Kaowthumrong)
In 1965 the first T.G.I. Friday's restaurant opened in New York City at the corner of First Avenue and 63rd Street and quickly became the meeting place for single adults, with $1 million in revenues its first year.
"T.G.I. Friday's® is known for serving authentic American food and exciting drinks. We also understand that our restaurants are more than just a place to eat. They are places where communities form, gather and engage."

"So, we take our commitment to community seriously. Our Team Members have cultivated strong local relationships and take great pride in their engagement with guests and their participation in the communities that they live and work in."
FLOWMASTER MUFFLER
In 1983 California Sprint Car racers were experiencing 'excessive sound' issues at numerous race tracks and were told to quiet the cars down or lose racing privileges. All attempts to silence the race engines without sacrificing power repeatedly failed.

Enter Flowmaster founder, Ray Flugger, with over 45+ years of exhaust design experience, and while working out of a small 800 square foot barn in Kenwood, California, created Flowmaster's first patented design of racing silencers. Ray attached handles to ease carrying the square shaped race mufflers through the race pits, and the mufflers became known as the "suitcase muffler." Today, these innovative Flowmaster mufflers are the result of years of development with top race engine builders, thousands of hours of dyno research and "real-world" on-track testing

Flowmaster's product line includes exhaust products for Performance Street, Muscle Cars, Trucks, Street Rods, RV's, Motorhomes, and all types of race applications. With over 400 different muffler models, 370+ exhaust systems and numerous exhaust accessories available, Flowmaster offers you the choice of sound to fit your preference from "wild to mild" and your specific vehicle needs.
COBRA ELECTRONICS
Cobra Electronics Corporation
is a leading designer of mobile communications products in the United States, Canada, Europe and around the world. After 50 years of innovation, the company continues to grow by boldly entering into new product categories.
Today the company's products include:
Mobile navigation devicesTwo-way radiosRadar/laser detectorsCitizens band radiosMarine electronicsPower inverters
Cobra products are available in nearly 40,000 storefronts in North America and in a growing number of retailers throughout the world.
We would also like to thank Cobra Electronics for their support of our Make-A-Wish efforts.
AT GOODGUYS
(Photos Courtesy Goodguys)
Nick Rogers' '51 Merc wins Goodguys 2013 Mother's Custom of the Year
Pleasanton, CA - Nick Rogers' radical 1951 Mercury custom has won the Goodguys 2013 Mother's Custom of the Year award. On a sun baked afternoon in Pleasanton, California at the Goodguys 31st All American Get-Together presented by Specialty Sales Classics, Rogers' sleek candy blue Merc beat out a stellar national field of customs, collecting its second major award this spring. The car also won the coveted Custom d'Elegance crown at February's Sacramento AutoRama.
Finished and produced for the show season by Bill Ganahl's South City Rod & Custom, Rogers' Merc started with humble beginnings. "I wanted a thirty thousand dollar flat black Merc custom," he said..."That's how this car started out. But once things got rolling and I began to dream, the project took on a life of its own. I've never really done things half speed so it's not too surprising we went all in. We saw the possibilities of what it could be and Bill was the man to take it there" said Rogers, a financial advisor on the San Francisco peninsula.
Del Mar, CA
- Ron Cizek's "Checkered Past" '40 Ford from Bennington, Nebraska won the Goodguys 2013 March Performance
Street Rod d'Elegance Award
at the 13th Meguiar's Del Mar Nationals in Del Mar, California. The Cranberry-hued '40 Ford was first introduced to the hot rodding world back in March when it won the prestigious Ridler Award at the Detroit Autorama. It gets its name from a decades-long dirt track lineage.
Although Cizek himself originally started the build three years ago as a "weekend project", it was finished and coach-built by his partner Andy Leach and the talented team at Cal Automotive Creations in Omaha, Nebraska. Leach apprenticed for six years under the watchful eye of Troy Trepanier prior to joining forces with Cizek.
Checkered Past is the shop's first completed concept-to-finished-show-car project, stamping them as major players to keep an eye on going forward. Winning the Ridler then the Street Rod d'Elegance crown has been pulled off by only a select few over the years. Sitting on the ground, the car has a perfect profile. Like all big show cars, it's been hand crafted and reshaped while keeping a fair share of its factory lines. Leach and his team wedge-sectioned the car one inch from front to back then chopped the top 3/8" for the perfect hot rod rake. The hood and fenders have been reshaped as were the meticulously hand-shaped running boards. Finishing off the front end mods is a custom grille with thinned out headlamp rings.
CLICK
on a photo to read more at Goodguys News.
HOLLYWOOD HOT ROD ACCESSORIES
New Beers Eve?
New Beer's Eve is an unofficial holiday in the United States, celebrating the end of Prohibition in the United States on April 6.
The beginning of the end of Prohibition in the United States occurred as a result of the Cullen-Harrison Act and its signing into law by President Franklin D. Roosevelt on March 23, 1933. Sales of beer in the U.S would become legal on April 7, 1933, provided that the state in question had enacted its own law allowing such sales. The beer had to have an alcohol content less than 3.2% (4% ABV), compared to the 0.5% limit of the Volstead Act, because 3.2% was considered too low to produce intoxication.


On the evening of April 6, people lined up outside breweries and taverns, waiting for midnight when they would be able to legally purchase beer for the first time in over 13 years.


Since then, the night of April 6 has been referred to as "New Beer's Eve."


'SOPHIA' 1940 CADILLAC WILL BE
HEADED TO THE
WEST COAST KUSTOMS SANTA MARIA EVENT
That's right were BAD!
Well.... Darold is just old!
Darold (Sacramento Vintage), Oz Welch (Oz Kustoms- Oroville, Ca.) and John D' Agostino (Celebrity Kustoms- Tracy, Ca.).
See 'SOPHIA' at the Cruisin Nationals in Santa Maria!
Pickup Bed Kits or any individual part, give us a call or stop by the store. Bed skid strips and harware in plain steel or brillant polished stainless steel. Bed sides with your choice of the stock stake pockets or filled smooth for that custom look.
CLICK
on the photo.
Photos by Darin Schnabel, courtesy RM Auctions.
Article courtesy Daniel Strohl / Hemmings Blog

Dual-quad 409, four-speed, Posi, tach, and power steering. That's about all the original owner of the 1962 Chevrolet Bel Air Sport Coupe optioned onto his car, and that's exactly the configuration in which it remains today, a configuration good for $110,000 at this past weekend's Don Davis collection sale.

While not necessarily the lightest full-size Chevrolet available that year (it had a good 30-40 pounds over the Bel Air and Biscayne two-door sedans), the Sport Coupe two-door hardtop was perhaps the most dashing, and the original owner of this Roman Red example - as noted on the car's original order form from Quality Chevrolet in Wichita, Kansas - made almost every effort to get that weight down, deleting the radio, heater, clock, and cigarette lighter. At the same time, the original owner specified the most powerful Chevrolet engine available that year: the 409hp 11.0-compression, all-forged-internals W-motor. As noted in the Bel Air's auction description, with a little bit of style and the ease of power steering, it's believed the car was ordered for everyday use and the occasional street race rather than for an all-out dragstrip campaign.

The example at the Don Davis auction came with enough supporting documentation - including the original order form, the dealer invoice, and original warranty protection plan book - to prove the Bel Air's authenticity, and according to the auction description, all the numbers and stampings appear to indicate that its original drivetrain remains with the car. Offered with no reserve, the Bel Air's pre-auction estimate ranged from $80,000 to $100,000. Price guides tend to value Bel Air Sport Coupes in this configuration between $50,000 and $75,000.



CLICK

on the photo additional information and photos.
Saturday morning, April 20th the F.A.S.T. Club stopped by Sacramento Vintage for a meeting in the parking lot and we had a chance to check out the members cars.



CLICK

on the photo above to view the album.
This little 4-cylinder Ford engine project for the Museum is equipped with a few little parts from Sacramento Vintage Ford ! Yours can be too....

CLICK on Number 11 to view the album.


Andy and Sue Brizio's 1932 roadster that WAS on display in our showroom.....sadly went back home. Andy missed his roadster....go figure. Thanks Andy!
(Photoshop magic by Heather)


DID YOU SIGN UP FOR OUR NEWSLETTERS?
Sign up a friend for our email newsletters!
CLICK Above
When you join our e-mail list, you can also
'fine tune'
what information you would like to receive from Sacramento Vintage Ford......from the type of car(s) you
have.... to 'Garage Sale' bargins.....Catalogs .....and more!
(We do not sell or rent our valued customers e-mail addresses)
You can also forward this newsletter to a friend using the box at the lower left corner of this newsletter.
CLICK above to view newsletters you may have missed!
Cruisin' around the Sacramento Vintage parking lot in the 'Sacramento Vintage Equipped' Grand National
'Speed 33' Roadster, owned by John Buck.
That's It For This Edition!
Thank You!
Please drive safe, have fun and enjoy your ride!
1-888-FORD-100