Publisher/Editorial Director:
Associate Publisher/Contributing Editor:
Contributing Photographers:
Darold Kohout
Doug Oehler
Joe Streng
Web Producers:
Rancho Cordova, Ca. 95742
1-888-FORD-100
Celebrating
Our 44th
Anniversary
1969 - 2013
Thank You!
The Association of California Car Clubs (ACCC)
is a volunteer organization with regional representatives who represent the interests of individual members and member clubs across the state.

The ACCC consists of thousands of automobile hobbyists throughout the state who are interested in California laws and policies regarding collector automobiles.

Music & Entertainment
at our shows for
13 YEARS!
-- RIP Larry --

FAST FRAME

The Official Custom Art Frame Shop of
Vintage Fridays

5343 Sunrise Blvd
Fair Oaks, Ca. 95628
916-966-8766
Mooneyes 2012 Exhibit
at the

NHRA Museum
Barris Kustom
Industries
Thanks For The Support George and the Barris Family!



Click
Above to see what
George Barris has been up to and shop Barris.com



Sacramento Vintage
is an authorized
Barris Kustoms
Dealer!


We have 3 Barris memorabilia sections:



-- Batmobile Related

-- Barris Books
-- The Munster Koach
CLICK
on the Batmobile

Thanks to
Hooters Restaurants
for their support of our Vintage Friday's events!

Rancho Cordova
Sacramento
Natomas
Fresno
Bakersfield
Honolulu
Thank You!
New drivers need to


Start Smart.
Enroll your young driver in a Start Smart program today.
THUNDERBOLTS
Capitol Auto Club
Official Host Club
-Vintage Friday's-
CLICK above to read more about the 'BOLTS'
Butch Gardner
1946-2012
Stop by the
Rancho Cordova

location - Just down the street from Sacramento Vintage Ford!

Rancho Cordova Store Manager: Mitch Harrison
2838 Sunrise Blvd

Rancho Cordova, Ca.

95742

916-858-8666

WIN Some Very Cool Lethal Threat

Rat Rod Embroidered Mechanics Shirts
at all of our Vintage Friday's events!
CLICK above to see what else Lethal Threat has. And they have a lot!
At P.F. Chang's we are committed to providing you with an exceptional dining experience every time you walk through our doors. Each dish on our menu is prepared to order using the freshest and highest quality ingredients.
Majestic 11 foot tall horses grace the entrance to many of the restaurants. The horse symbolizes the original Forbidden City in China, which was built for China's first emperor Qin Shi Huangdi.
At P.F. Chang's you are surrounded by a unique environment combining influences of Chinese and American cultures. A panoramic, hand-painted mural depicting 12th century China, is visible from the main dining room and commands attention as the restaurant's centerpiece, while several terra-cotta warriors stand guard.
P.F. Chang's
(Darold and Lynn highly recommend the Chang's Chicken Lettuce Wraps to start your dining experience!
)
Rod Shows.com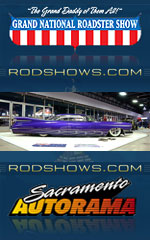 Grand National Roadster Show
January 24-26, 2014
Sacramento Autorama
February 14-16, 2014
The West Coast's premier hot rod, bike & motorsports tour!
Come and join the two Oldest and Longest Running Indoor Car Shows in the World.
CLICK
above to see
-Dates and Times-
RU Faster Than A RedNeck?


Garage Mahal
American Trucker
Shark Fights
Optima Ultimate Street
Car Invitational
CLICK on any show
for information
Very
cool signs from

Ruckus Rods!



CLICK

above if you can't wait!
Classic Shop Talk
Tech Articles
Instructions
Videos
Classic Performace Products
A Valued Vintage
Friday's Sponsor!
California Highway Patrol
The California Highway Patrol
-Valley Division-
A Vintage Fridays Sponsor & Supporter


Nothing Comes Close To
A Cobra

North American Headquarters:

Cobra Electronics Corporation
6500 West Cortland Street
Chicago, IL 60707

productinfo@cobra.com
1-773-889-8870


Sacramento Vintage Ford Shop Tour
by Craig Pike over at
My Ride Is Me.com
'The first thing I noticed'.......CLICK above to read the article
Photos by

PEPSI COLA


Fender Donated The Bare Guitar!




Gene Winfield Painted
It To Match WILD CAD!



Mike Clines Striped It in 12k White Gold with Green Accents To Match WILD CAD


Best Buy in Roseville, California donated the Fender Amp!





W

e gave it all away for Make-A-Wish
in 2012!


Watch out for this little
guy in our parking lot area.
Very friendly but hasn't learned he may get squished by a car.
O'Reilly Auto Parts
With over 3600 O'Reilly Auto Parts stores in 38 states, they are never far from home!
Better Parts...Better Prices, Everyday!
Another happy winner over at the O'Reilly Auto Parts booth during the Sacramento Autorama!

March 23 & 24, 2013
The Fairgrounds in Pleasanton
4501 Pleasanton Avenue, Pleasanton, CA 94566
Goodguys makes its first Bay Area pit stop of the year at the event that started it all - the Goodguys 31st All American Get-Together at the Fairgrounds in Pleasanton, CA, March 23 & 24, 2013!
Open to all years of American made and/or powered cars & trucks, this festive weekend will feature a giant outdoor show & shine showcasing over 3,500 early and late model hot rods, customs, classics, muscle cars and trucks on display and a special indoor display featuring 1942-1972 customs where the prestigious Goodguys West Coast Custom of the Year Award will be up for grabs!
Plus, learn about the latest collector car products and trends at the Vendor and Sponsor Exhibits, shop the mega Ahwooga.com Swap Meet for those hard-to-find parts and automotive memorabilia, buy or sell a vehicle at the AutoTrader Classics Cars 4 Sale Corral, watch or compete in the Goodguys AutoCross timed racing competition, check out the Pinstriper's Brush Bash, enjoy FREE fun stuff for the kids like the Revell Model Car Make n' Take & Kids Play Area and so much more.
Don't hesitate - Register your vehicle, purchase spectator tickets or get more details today at Good-Guys.com. Goodguys Rod & Custom Association.... Celebrating 30 Years of Cool Cars, Cool People and Good Times!
SACRAMENTO AUTORAMA
Making history for the 63rd year in a row, Rodshows.com presented one of the most exciting and stunning shows to date. With the finest hot rods, custom, and motorcycles from across the globe.
Sacramento Vintage has TWO of the Award Winners from the 2013 Sacramento Autorama in our showroom.
CLICK on the Award Winners logo to view all of
the 2013 awards.
John D'Agostino's 1940 Cadillac 'SOPHIA' won the
Sam Barris Memorial Award and the
King of Customs Award.
Justin Hills (Australia) 1960 Dodge Dart 'ATOM'
won the H.A. Bagdasarian
World's Most Beautiful Custom Award.
'SOPHIA' and 'ATOM' are in our showroom.
Back at the Sacramento Autorama, Darold with Candy Clark (Debbie Dunham)......and poor 'ole' Bo Hopkins
(Joe Young). Just kidding Mr Hopkins!
Over in the Suede Pavilion:
The
Butch Gardner Memorial Trophy
was awarded to Rick Robbins (center) of West Sacramento for his
1957 Ford Fairlane 500. Ed Gardner (L) and the 'Pinup Ladies' presented the award to Rick.
Photos courtesy Ed Gardner
The Sacramento Autorama is
"The Kustom Capital of the World"
and boasts being home to one of longest running indoor car shows in the world.
The Autorama is recognized as the premiere custom car show on the West Coast.
Yes....FREE programs! We are cleaning things up back in the Gift Shop warehouse and ran across several cases of assorted event programs from the Sacramento Autorama and the Grand National Roadster Shows. Stop by the store and grab one or two or three.......FREE!
And speaking of the Gift Shop, look for the red 'clearance' tags on assorted items from our Gift Shop. We are making room for more cool stuff for you and your garage!
Pick-n-Pull
Self-Service Auto & Truck Dismantlers
51 locations throughout the U.S. and Canada
TOBY KEITH'S
I LOVE THIS BAR & GRILL
Leave it to country music legend Toby Keith to create a restaurant that offers great food and the best live music in Oklahoma City. Named after Toby's hit single "I Love This Bar," this exciting venue offers a real down-home experience.
Open for lunch 11am daily. Come as you are.
They'd love to have you anytime!
No reservations, but seated upon order of arrival.
Toby Keith's
I Love This Bar & Grill440 Palladio ParkwayFolsom, California 95630916-984-8629
Located in the PALLADIO at Broadstone
West Coast Kustoms Cruisin' Nationals
May 24-26 2013
The West Coast Kustoms Cruisin' Nationals Car Show will be held at the Santa Maria Fairpark May 24-26, 2013 in Santa Maria, California. This car show draws participants, vendors and attendees from all over the world. The show having been inexistence for 31 years, has established its reputation as one of the best car shows in the US!

This show is very family friendly and has something for everyone. On Friday night, prior to opening day on Saturday, there will be a cruise down Broadway for the community to enjoy at no cost. The two-day weekend show will include musical entertainment, food, artists demonstrating their talents of pin striping and vendors selling a variety of wares from clothing to car parts.

On Sunday afternoon there will be an auction and the proceeds will be donated to help the Alzheimer's Association. The weekend will conclude with an awards ceremony for the 800-1,000 participants, featuring specific categories.


Santa Maria Fairpark
937 S. Thornburg
Santa Maria, CA 93458
Gene Winfield's
1962 Custom Ford Econoline "Pacifica"
at the Sacramento Autorama
The 1960 Ford Econoline was originally built for the Ford
Custom Car Caravan in 1962-63
. It's been updated with a new interior and Thunderbird engine and components. It now has a false floor in the bed to make room for the T-bird suspension.
The Pacifica recreation will be going on tour this year throughout the US and Canada.
Gene Winfield's Pacifica is:
A special thanks to Dennis Carpenter Reproductions.
Pepsi Beverages Company
Sacramento, California
Thank You Pepsi Beverages Company, Sacramento,
for your support of our Make-A-Wish efforts.
The KEY and TOKEN a WISH recipient is given to unlock the very special room that grants their WISH.
Our Vintage Friday's Events support the Make-A-Wish Foundation of Northeastern California and
Northern Nevada.
Lynn and Darold Kohout (L) and Heather Stover (Sacramento Vintage Ford) present Kerry Cregan with Make-A-Wish Northeastern California & Nort
hern Nevada our check for $8843.86. A heartfelt 'Thank You' to our car show participants, spectators, sponsors and supporters for their support with our 14th season of Vintage Friday's, 2012.
And yes, our Vintage Friday's events will be on hiatus for 2013 but back in full swing for the 2014 season.


Goodguys promotes and produces 20 annual events in 13 states and publishes the monthly Goodguys Goodtimes Gazette from the association's Pleasanton, California headquarters. More info? Visit www.good-guys.com.
FINS: FROM WITHOUT FUNCTION
EXHIBIT AT THE PETERSEN MUSEUM
Today fins are remembered as the outward expression of American automotive design prowess during the height of postwar optimism. But they were first used far earlier than most would imagine. This exhibit, opening February 23, will feature more than a dozen vehicles ranging from icons like the 1959 Cadillac and Exner-designed Chrysler to the impossibly Art Deco 1937 Delage Aerosport and wild 1952 Spohn Palos. Together, they speak to a period of automotive history during which the public craved chrome-laden dream machines and imagination was the stylist's only limit.
Thanks to Steve Spatola for sending us the photos of the X-51 display at the Petersen Museum.
6060 Wilshire Blvd.
Los Angeles, CA 90036
Museum hours: Tues - Sun | 10 a.m. - 6 p.m.
Closed Mondays (except holidays)

FINS: Form Without Function Exhibit
FEBRUARY 23, 2013 - FEBRUARY 2, 2014
The X-51 visits Sacramento Vintage Ford
Thanks to Renee Page for allowing us to share
Bob's favorite Ford!
B.R. COHN WINERY
Founded by Bruce Cohn in 1984, B.R. Cohn Winery is located in the heart of Sonoma Valley. Offers a full line of ultra-premium wines, extra virgin olive oils, handcrafted vinegars and gourmet food products.
Thanks to B.R. Cohn Winery for their continued support of our Make-A-Wish efforts!
2013 L.A.
ROADSTER SHOW
Year 2013 will be the 49th time the Los Angeles Roadsters Car Club has produced its world-renowned show and the 34th year it will be held at the Fairplex in Pomona, California. The show will be held on Father's Day Weekend, Saturday, June 15th and Sunday, June 16th for your enjoyment.


This year's show will be new and exciting. The show will have a new look and be located in the beautiful inner fairgrounds and in Exhibitor Building #4.


There's something for everyone at the L.A. Roadster Show. Late model enthusiasts will find the swappers and manufacturers with many of the parts they are looking for, while early car parts will be in abundance for the fellows who are restoring antiques or building that special new car. Come and see the West Coast's largest trade show, where over 200 manufacturers and vendors of reproduction hot rod parts and accessories will display their products and services. They will have their own special section outside and in Exhibitor Building #4.


By popular demand the Cacklefest is returning in 2013 and will fire up on Saturday at 10:00 am and 2:00 pm in the Specialty Parking area.

Established in 1987, the Pick-n-Pull chain of self-service auto parts stores is one of the largest recyclers of end-of-life vehicles in the industry. You bring your tools, pull the parts you need and SAVE lots of money! Their 48 U.S. and 3 Canadian locations offer a huge a selection of used OEM (original equipment manufacturer) parts for cars, vans and light trucks - all makes and models, foreign and domestic - all at incredibly low prices.

Pick-n-Pull is proud of the fact that they recycle more than 350,000 vehicles and service more than 5 million self-service customers each year.

Pick-n-Pull is a subsidiary of Schnitzer Steel Industries, Inc., a global leader in the metals recycling industry that has been in business for over a century. Although Pick-n-Pull and Schnitzer have worked together since 1989, Pick-n-Pull became a fully owned subsidiary of Schnitzer in 2003 as part of its Auto Parts Business unit. Being part of a Fortune 1000 company has enabled them to grow stronger and introduce cost efficiencies into their system that have allowed them to bring environmental and cost benefits to their customers. At the same time, the Pick-n-Pull stores have retained the regional and local focus that has made them popular with their customers.


CLICK to find a Pick-n-Pull Near You!
SACRAMENTO SWINGTIME
SACRAMENTO SWINGTIME 2013
Car & Music Festival
Friday, June 21st and Saturday, June 22nd.

Car Building Legends Bo Huff, John D'Agostino and
Award Winning Pinstriper, Junior Huff!
Pre-Registration for your car is available for PRE 1972 AMERCIAN CARS. You may pre-register your car and get your festival ticket which will include all access for both days for yourself and ONE passenger/guest. Premium parking will be available for Pre-Registered vehicles.
Click above.

The Car Show is on Saturday, at the Crowne Plaza Hotel.



This year's Car Show will be hosted by RiffRaff Car Club.

The Crowne Plaze Hotel is located at 5321 Date Avenue Sacramento, Ca. 95841

Phone number for reservations:
877-270-1393
OPTIMA BATTERIES
A special Thank You for Optima's continued support
of our Make-A-Wish efforts!
Ruby dragster estimated to bring up to $200,000 at auction
Courtesy Hemmings Daily - Photo courtesy Bonhams
Why exactly somebody crafted a scale model of one of the world's most famous dragsters out of ruby, we can only guess. After all, aren't there any yellow gems that would work well? Historical accuracy aside, it stands to become perhaps the world's most expensive gemstone-based model dragster (a bustling market, we're sure) later this year when it crosses the block in Los Angeles.

According to Bonhams, which will include the ruby dragster at its Gems, Minerals, and Lapidary Works of Art sale, designer Luis Alberto Quispe Aparici created the model with ruby for the panels; obsidian for the tires; gold vermeil for the engine, wheels and chassis components; and rock crystal for the windscreen.
Quispe Aparici based the model on the Greer-Black-Prudhomme dragster, a car funded by Tommy Greer, powered by a Keith Black-built blown Chrysler 392 Hemi, built by Kent Fuller, and painted and shoed by legendary drag racer Don Prudhomme. Granted, it didn't always wear its signature yellow paint - when it debuted in June 1962, it was red and the team hadn't yet adorned its engine with that unique scoop - but with eight-second runs at 190 MPH and a win rate of about 90 percent over the next two years, did it really matter what color Prudhomme painted it?

Bonhams estimates that the 60-centimeter-long model will sell for $150,000 to $200,000 at the auction, which takes place May 21 to 22. The real Greer-Black-Prudhomme dragster, by the way, is currently owned by collector Bruce Meyer.
Auction will be held in Los Angeles May 21-22, 2013
BACK IN THE DAY
A few photos from via our friends over at
New Zealand Hot Rod Magazine.
THE SACRAMENTO VINTAGE FORD
F100 PARTS CATALOG!
Our 408 page, full color 2012 catalog of 1948-1966 Ford Pickup parts and accessories. If you have been ordering your F-1 & F-100 Pickup parts from Sacramento Vintage, watch for it in your mailbox .
Not on our catalog list? CLICK on the image to order.
THE SACRAMENTO VINTAGE FORD
MODEL A PARTS CATALOG!
Our 480 page, catalog of parts for the 1928-1931 Ford Model A & AA. Parts and Accessories, Gift Items, Apparel and even a few items to make your little
Model A go.....faster!

Your source of quality Model A Parts since 1969!
What Other Ford Parts Do We Have For You?
1909-27 Model T
1928-31 Model A & AA
1932-48 Ford Passenger
1932-47 Pickup
1948-66 Pickup
1949-56 Ford Passenger
1967-79 Ford Pickup
Parts for your Hot Rod, Street Rod, Custom,
Suede & Rat.
Cool stuff for your shop, office and garage!
One Shot, Lil Daddy Roth, Von Hot Rod, Mack Brushes
Roth Rattle Bomb Paint, Stickers, Clothing, Books, Art
and a bunch more! And it's all at
www.VINTAGEFORD.com
1932 Ford Woody Wagon Street Rod from the Lynn Wardley Collection
Mecum Auction April 4-6, 2013
This Lot scheduled to be sold Saturday 4:05PM
Hand-crafted Birdseye Maple was used in the making of this outstanding 1932 Ford Woody wagon, including the rear coachwork and its beautiful slatted ceiling beneath the padded roof. The luminous Yellow paint covering the car's sheet metal is also used inside on the custom dash and steering column, and again on the fuel tank, Ford 9-inch rear axle housing and rear brake drums, the latter contrasting with the staggered diameter Coys Black Chrome wheels, while chrome plating decorates the front and rear bumpers, dropped front axle and rear coil springs. Powered by a show-ready 350 CI Chevy small block V-8 fitted with headers and mated to an automatic transmission, this sharp Woody features a custom interior with White-faced gauges in a modified dash, a leather-wrapped banjo steering wheel, air conditioning, a hidden stereo system.
CLICK on the photo for more auction details.
GOODGUYS ROD & CUSTOM ASSOCIATION ANNOUNCES A NO-COST JUNIOR MEMBERSHIP TO THE WORLD'S LARGEST HOT RODDING ASSOCIATION!
In a constant quest to bring good times and cool cars to car guys & gals worldwide, Goodguys Rod & Custom Association is proud to announce the all-new, no-cost, Goodguys Junior Membership Program! It costs nothing...NADA... and only requires a minute of your time to sign up. All you have to do is log on to Good-guys.com, click on the "Read The Latest Gazette" link, create a user name & password and BAM, you're in!
As a Goodguys Junior Member, you'll receive:
* Access to the monthly Goodguys Goodtimes Digital Gazette Magazine online at Good-Guys.com or on your iPhone or Android based Smartphone or Tablet*
* Goodguys Exclusive Sticker Pack**
* Special Offers and Promotional Notifications
How's that for a Happy New Year? Now you can log in and receive the award-winning Goodguys Goodtimes Gazette Magazine in digital format on your home computer or on your iPhone or Android based Smartphone or Tablet absolutely FREE of charge. The Digital Goodguys Goodtimes Gazette is loaded with over 250 pages of full-color photos and content that's a must read for any serious automotive enthusiast!

It's really that simple. There's no catch! Try us out and of you like what you see and dig being a Goodguys Junior Member, you can upgrade to Silver or Gold Member status with the click of a mouse or a simple phone call! So don't hesitate. Join the world's largest hot rodding association and become a Goodguys Junior Member today!
Goodguys... Celebrating 30 Years of Cool Cars, Cool People, Good Times!
Meanwhile over in Sonoma, California:
Marc Meadors driving the "Pure Hell2" '69 Camaro Pro Mod Meadors became the first converter-driven blown pro mod to break the 250 MPH barrier clicking off a 252mph blast. But there was more to come. Much more.

During eliminations, a classic semi-final race between #2 qualifier Mike Magio and #3 qualifier Marc Meadors netted the quickest-ever side by side Pro Mod drag race. Meadors' flamed Camaro got the win with a career best 5.759 @ 252.24mph to Maggio's 5.778 @ 256.60mph.

The final round pitted new record-holder Nickelson against Meadors but proved anticlimactic when a trans brake button failure led to Meadors' car leaving before the tree was activated, sending Nickelson and his red Viper down track soloing to a 6.912 @ 133.63 win.

While the red-light for Meadors and the Goodguys team was disappointing - the weekend overall was a huge success for the first outing of the year. "Nothing to hang our heads over," said Meadors following the event. "I'm so proud of Crew Chief Jason Bunker, Danny Miller, Billy Fereira and Greg Lee for making our Pure Hell2 Camaro the fastest converter driven blown Pro Mod in history. That right there made our weekend. To take down Maggio in that historic semi-final and run our career best ET and speed in the process - that's the kind of things you dream about. I've never been part of something like that before. It was the best moment in my racing career and without my great sponsors Goodguys Rod & Custom Association, Red Line Oil, Fiber Optic Supply, Tim McAmis Race Cars and DMPE none of it would have been possible."

For complete event results and pictures, visit www.westcoastoutlawpromods.com.

For more on Marc Meadors and the Pure Hell2 '69 Camaro, visit
www.facebook.com/pages/Goodguys-Racing
AMERICAN RESTORATION
AMERICAN RESTORATION features Rick Dale and his crew of loose screws at Rick's Restorations in Las Vegas, Nevada, as they take rusty, beat-up items and restore them to their original glory.
When it comes to restoration, Rick Dale is the Pawn Stars go-to guy. AMERICAN RESTORATION follows Rick's work as owner of Las Vegas-based Rick's Restorations, a family business that finds, restores and up-cycles cool objects ranging from Cadillacs to Coke Machines.
Rick's very nice Ford F-1 Pickup can be spotted on various episodes of American Restoration.
Did we mention Rick's pickup is:
1112 S Commerce Street
Las Vegas, Nevada 89102
SHEEPHERDER BAR AND GRILLE
The Citrus Inn opened in 1913
in this very building on Folsom Boulevard. Citrus was sold in front of the building to everyone that passed by on busy Folsom Boulevard.

Folsom Boulevard was a main thoroughfare for the gold rush in the mid 1800s. Many immigrants and forty-niners were in search of some of the gold that James W Marshall and John Sutter found in the American River. The railroads that are still visible across the street today were the same railroads that were constructed in the late 1800s.

Rumor has it that over the years The Citrus Inn became many different businesses, including The Edwards Hotel, and at one point, a brothel. Everyone came to the building to eat good food and to have a good time. There was drinking and dancing 'til late at night.

Later, the building became known as Sheepherder Inn. It was a place for Basque sheepherders to come and rest upstairs in the Inn and enjoy a hearty meal downstairs, which probably consisted of meats, fish, lamb stews, legumes, cheeses and Basque cider.

Sheepherder Bar and Grille
11275 Folsom Blvd.
Rancho Cordova, CA 95742
Phone: (916) 638-4584

Crossroads: Folsom Blvd. and Sunrise Blvd. just down
the street from Sacramento Vintage Ford.....
QUICK QUACK CAR WASH
Quick Quack is a growing chain of exterior-only, soft cloth car washes in California, Texas & Colorado.
Fully automated and computerized, the high-quality carwashing system is a soft-cloth, exterior-only conveyor wash. Customers stay in their vehicles while being automatically guided through the glass enclosed tunnel where the vehicle is soaked, soaped, washed, polished, rinsed with spot-free water and blown dry all in a matter of minutes. Quick Quack Car Wash also takes pride in being environmentally friendly by conserving water and using environmentally friendly shampoos that are biodegradable and non-corrosive. Additional information is available online at
www.DontDriveDirty.com.
CLICK on any image.
Did You Miss The Last One?
CLICK on the
NEWSLETTER ARCHIVE BAR
to see what you may have
missed in previous editions of the
Vintage Advantage..........
NEWSLETTER ARCHIVE BAR
Sacramento Theatrical Lighting is a family-owned business in continuous operation since 1947. Now operating out of a 65,000 sq. ft. building, STL is a full-service theatrical equipment company. They offer a full line of theatrical lighting equipment and accessories, moving lights, dimming and control, stage curtains and expendables.
The Rental Department can set you up with everything you need for your backyard party or a professional theatrical production. If you are looking for a full service contractor to handle all of your event needs, their Production Department has all of the answers you need.
STL also has a Special Projects Division that specializes in design and installation of large and small theatrical systems, design and install of theatrical drapery, rigging inspections and other specialty projects. They employ a full in-house Tech Service Department.
SACRAMENTO THEATRICAL LIGHTING
950 Richards Blvd
Sacramento, Ca. 95811
916-447-3258
TAKE-A-KID TO A CAR SHOW
There have been countless studies done to prove it, but virtually everyone knows that spending quality time with a kid is the greatest gift you can give them. And sharing your appreciation for collector cars is a great way to nurture their interest in a hobby that you can enjoy together for many years to come.
Through the SEMA Take a Kid to a Car Show coloring book app, kids of all ages will be able to customize and personalize each car. We encourage users to visit www.takeakidtoacarshow.com to discover additional fun and exciting resources through this campaign.
RU FASTER THAN A REDNECK?
Flannel-wearing, mullet-sporting and tobacco-chewing All-American rednecks defend the honor of the American muscle car in a winner-take-all road racing event. With $10,000 on the line, they're ready to take on all challengers - any average Joe with a Porsche, exotic or Japanese tuner car that think they can win with a full-blown hillbilly inches from their fender.
On SPEED TV - Check your local listing for dates and times.
CLICK above for the latest video clip.
Legislation Introduced In Congress To Suspend The Sale Of E15 Gasoline
Courtesy Hemmings Blog - Photo by Todd Ehlers.

The ethanol gasoline blend known as E10 has already caused concern and hesitation, especially among owners of vehicles not designed to run the fuel, and despite the mounting questions over its use, the Environmental Protection Agency last summer approved the use of E15 gasoline, increasing the amount of ethanol in pump gasoline. Two bills recently introduced in Congress, however, seek to suspend that approval.

House Bill 875 and Senate Bill 344 address concerns with the destructive byproduct of the higher ethanol additive, formic acid, which can contaminate fuel systems, melt plastic and rubber and corrode some metals. The EPA began allowing gas dispensaries to offer E15-laced gasoline in June of last year, and the Renewable Fuels Association has stated that the E15 blend was extensively tested by the EPA before approving its use and is safe for virtually all vehicles manufactured after 2001.

However, with the implementation of E15-based fuels, many new car manufacturers have weighed in on the subject, with producers such as Nissan, Chrysler, Toyota, BMW and Volkswagen announcing that they will not cover fuel-related claims on their new car warranties. Other companies like Ford, Mercedes and Volvo will not honor any drivetrain warranties in vehicles that use E15. AAA (Automotive Association of America) has also issued statements that further testing of the E85 blend is needed and that the labeling on refueling pumps is insufficient to warn consumers of the possible damage that could occur with the E15 blend.

Both bills have the backing of SEMA, and the wording of each bill differs slightly. HB875 asks that the use of E15 be suspended for an additional 18 months while more testing is done. The Senate bill would suspend the sale of E15 entirely. SEMA is especially concerned for classic car enthusiasts whose cars see less road miles over the course of a year and allow the fuel to sit idle inside their fuel systems for even longer periods of time. The same concerns should also apply to anyone who owns a lawn mower, chain saw, weed trimmer, motorcycle, boat, snowmobile or ATV as all of these machines also sit idly by for extended periods of inactivity. The lack of use and infrequent refilling of the fuel system is where most of the problems have occurred to date.

HB875 has been referred to the House Energy and Commerce Committee, while SB344 has been referred to the Senate Committee on Environment and Public Works.
In 1965 the first T.G.I. Friday's restaurant opened in New York City at the corner of First Avenue and 63rd Street and quickly became the meeting place for single adults, with $1 million in revenues its first year.
"T.G.I. Friday'sŪ is known for serving authentic American food and exciting drinks. We also understand that our restaurants are more than just a place to eat. They are places where communities form, gather and engage."

"So, we take our commitment to community seriously. Our Team Members have cultivated strong local relationships and take great pride in their engagement with guests and their participation in the communities that they live and work in."
FLOWMASTER MUFFLER
In 1983 California Sprint Car racers were experiencing 'excessive sound' issues at numerous race tracks and were told to quiet the cars down or lose racing privileges. All attempts to silence the race engines without sacrificing power repeatedly failed.

Enter Flowmaster founder, Ray Flugger, with over 45+ years of exhaust design experience, and while working out of a small 800 square foot barn in Kenwood, California, created Flowmaster's first patented design of racing silencers. Ray attached handles to ease carrying the square shaped race mufflers through the race pits, and the mufflers became known as the "suitcase muffler." Today, these innovative Flowmaster mufflers are the result of years of development with top race engine builders, thousands of hours of dyno research and "real-world" on-track testing

Flowmaster's product line includes exhaust products for Performance Street, Muscle Cars, Trucks, Street Rods, RV's, Motorhomes, and all types of race applications. With over 400 different muffler models, 370+ exhaust systems and numerous exhaust accessories available, Flowmaster offers you the choice of sound to fit your preference from "wild to mild" and your specific vehicle needs.

Scott Santana Memorial Foundation
LIVE ON - DRIVE ON CAR SHOW
May 18, 2013 at Lakehills Church, 7000 Rossmore Drive
El Dorado Hills, CA.
Presented by:
Scott Santana Memorial Foundation: Sidney "Scott" was a local car guy who grew up with gear oil in his veins as part of his pedigree! With influence from his dad, Rich Santana; Godfather, Sid Chavers; and countless car guys, his life revolved around wheels. Scott built and drove a 1973 240z, 1969 Triumph Trophy and loved almost all things with motors and wheels. He died in 2011 and became a hero to over 50 through the gift of organ and tissue donation. Join the event to help raise money for Scott's scholarship and to raise awareness about the need for organ and tissue donation through the "Live On, Drive On!" campaign. There will be a $35 registration fee, each entry will receive an event T-Shirt.
Two Live Bands - Food Vendors
Live Auction - Raffles
Click above to register your Hot Rod for the Show.
Have questions? Email Rich at info@scottsantana.org
Or call Rich at 530-295-3727
It is often said that the dates on either end are not important, it is the dash in the middle. This could not be more true than it is in Scott's life. Scott made an exceptional impression on almost everyone he met. He loved to give charitably, play hard and care deeply.
COBRA ELECTRONICS
Cobra Electronics Corporation
is a leading designer of mobile communications products in the United States, Canada, Europe and around the world. After 50 years of innovation, the company continues to grow by boldly entering into new product categories.
Today the company's products include:
Mobile navigation devicesTwo-way radiosRadar/laser detectorsCitizens band radiosMarine electronicsPower inverters
Cobra products are available in nearly 40,000 storefronts in North America and in a growing number of retailers throughout the world.
We would also like to thank Cobra Electronics for their support of our Make-A-Wish efforts.
GILMORE RACER HEADS HOME
If you stopped by the store and ventured into our little Diner-Gift Shop, you could not miss Dick Bertolucci's Gilmore hill climber. We were honored to have had it on display for quite some time, but it headed back to Dick's shop. This racer was hand built from scratch. It is powered by a 4 cylinder Chevrolet power plant.
We're going to miss Dick's Gilmore Special!
HOLLYWOOD HOT ROD ACCESSORIES
NSRA Northern California Appreciation Day
501 S. Manthey RoadLathrop, CA 95330
NSRA Safety Inspections - Games - Big Raffle - BBQ
Music - 50/50 Raffle - Fun and More
Dash plaques for the first 350 entries
Hosted by the Modesto Area Street Rods
Contact:
Dave Cahal 209-772-1657
Bill Grieve 209-524-9033
Gene Gewin 408-842-3777
In Memory of:
Doc Faulkner
Mary Cahal
Butch Gardner
Don Walker
Jerry Malone
Jim Esparza
23rd Annual
NSRA Northern California Appreciation Day

Saturday April 13, 2013
501 S. Manthey Road
Lathrop, CA 95330
CLICK
on the logo for directions.
HUMOR?
Four guys have been going to the same fishing trip for many years.


Two days before the group is to leave, Kevin's Wife puts her foot down ...and tells him he isn't going. Kevin's mates are very upset that he can't go, but what can they do. Two days later the three mates get to the camping site only to find Kevin sitting there with a tent set up, firewood gathered, and dinner cooking on the fire. "Holy Moley ,Kevin how long you been here? How did you talk your missus into letting you go ?"

"Well, I've been here since last night. After dinner at home yesterday evening, I was sitting in my chair and my wife came up behind me and put her hands over my eyes and said, 'Guess who ?'"


I pulled her hands off, and she was wearing sexy brand new lingerie. She said had been reading 'Fifty Shades of Grey' and she had a devilish look in her eyes!!! She took my hand and led me to our bedroom. The room had candles and rose petals all over.

On the bed she had handcuffs, and ropes!

She told me to tie her up and cuff her to the bed, so I did.

And then she said, "Do whatever you want honey."


So . . . . here I am !


'SOPHIA' 1940 CADILLAC HEADS
TO PLEASANTON GOODGUYS EVENT
That's right were BAD!
Well.... Darold is just old!
Darold (Sacramento Vintage), Oz Welch (Oz Kustoms- Oroville, Ca.) and John D' Agostino (Celebrity Kustoms- Tracy, Ca.).
Oz and John were checking out a few things on the 1940 Cadillac before it heads to the Goodguys show this weekend in Pleasanton. It will be back on display on our showroom floor until the Santa Maria show.
ALL YOU CAN EAT SPAGHETTI DINNER
Join the
California Automobile Museum
Sunday, April 7 for a delicious all-you-can-eat spaghetti dinner.
This is the best opportunity to enjoy the Museum in a unique way for just $2 more than our regular admission prices.
Between the hours of 4pm-7pm you will have the opportunity to rub elbows with other car enthusiasts, Museum board members, and our Executive Director, Karen McClaflin.
Programming for that evening will include insight for our new building plans, live music, wine and beer sales, and a delicious spaghetti dinner by
Taste of Tuscany
! Purchase tickets on-line, over the phone, or in person.
CLICK
above.
Andy and Sue Brizio's 1932 roadster is currently on display in our showroom. Stop by and take a peek!
(Photoshop magic by Heather)


DID YOU SIGN UP FOR OUR NEWSLETTERS?
Sign up a friend for our email newsletters!
CLICK Above
When you join our e-mail list, you can also
'fine tune'
what information you would like to receive from Sacramento Vintage Ford......from the type of car(s) you
have.... to 'Garage Sale' bargins.....Catalogs .....and more!
(We do not sell or rent our valued customers e-mail addresses)
You can also forward this newsletter to a friend using the box at the lower left corner of this newsletter.
CLICK above to view newsletters you may have missed!
Cruisin' around the Sacramento Vintage parking lot in the 'Sacramento Vintage Equipped' Grand National
'Speed 33' Roadster, owned by John Buck.
That's It For This Edition!
Thank You!
Please drive safe, have fun and enjoy your ride!
1-888-FORD-100