Publisher/Editorial Director:
Associate Publisher/Contributing Editor:
Contributing Photographers:
Darold Kohout
Doug Oehler
Joe Streng
Web Producers:
Rancho Cordova, Ca. 95742
1-888-FORD-100
Celebrating
Our 44th
Anniversary
1969 - 2013
Thank You!
The Association of California Car Clubs (ACCC)
is a volunteer organization with regional representatives who represent the interests of individual members and member clubs across the state.

The ACCC consists of thousands of automobile hobbyists throughout the state who are interested in California laws and policies regarding collector automobiles.

Music & Entertainment
at our shows for
13 YEARS!
-- RIP Larry --

FAST FRAME

The Official Custom Art Frame Shop of
Vintage Fridays

5343 Sunrise Blvd
Fair Oaks, Ca. 95628
916-966-8766
Mooneyes 2012 Exhibit
at the

NHRA Museum
Barris Kustom
Industries
Thanks For The Support George and the Barris Family!



Click
Above to see what
George Barris has been up to and shop Barris.com



Sacramento Vintage
is an authorized
Barris Kustoms
Dealer!


We have 3 Barris memorabilia sections:



-- Batmobile Related

-- Barris Books
-- The Munster Koach
CLICK
on the Batmobile

Thanks to
Hooters Restaurants
for their support of our Vintage Friday's events!

Rancho Cordova
Sacramento
Natomas
Fresno
Bakersfield
Honolulu
Thank You!
New drivers need to


Start Smart.
Enroll your young driver in a Start Smart program today.
THUNDERBOLTS
Capitol Auto Club
Official Host Club
of our Vintage Friday's Car Shows!
CLICK above to read more about the 'BOLTS'
Stop by the
Rancho Cordova

location - Just down the street from Sacramento Vintage Ford!

Rancho Cordova Store Manager: Mitch Harrison
2838 Sunrise Blvd

Rancho Cordova, Ca.

95742

916-858-8666

WIN Some Very Cool Lethal Threat

Rat Rod Embroidered Mechanics Shirts
at all of our Vintage Friday's events!
CLICK above to see what else Lethal Threat has. And they have a lot!
At P.F. Chang's we are committed to providing you with an exceptional dining experience every time you walk through our doors. Each dish on our menu is prepared to order using the freshest and highest quality ingredients.
Majestic 11 foot tall horses grace the entrance to many of the restaurants. The horse symbolizes the original Forbidden City in China, which was built for China's first emperor Qin Shi Huangdi.
At P.F. Chang's you are surrounded by a unique environment combining influences of Chinese and American cultures. A panoramic, hand-painted mural depicting 12th century China, is visible from the main dining room and commands attention as the restaurant's centerpiece, while several terra-cotta warriors stand guard.
P.F. Chang's
(Darold and Lynn highly recommend the Chang's Chicken Lettuce Wraps to start your dining experience!
)
Rod Shows.com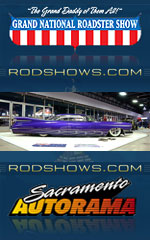 Grand National Roadster Show
January 25-27, 2013
Sacramento Autorama
February 16-18, 2013
Join the West Coast's premier hot rod, bike & motorsports tour!
Come and join the two Oldest and Longest Running Indoor Car Shows in the World.
CLICK
above to see
-Dates and Times-
RU Faster Than A RedNeck?


Garage Mahal
American Trucker
Shark Fights
Optima Ultimate Street
Car Invitational
CLICK on any show
for information
Classic Shop Talk
Tech Articles
Instructions
Videos
Classic Performace Products
A Valued Vintage
Friday's Sponsor!
WIN some very
cool signs from

Ruckus Rods!

We will have these NEW signs in stock soon!



CLICK

above if you can't wait!
California Highway Patrol
The California Highway Patrol
-Valley Division-
A Vintage Fridays Sponsor & Supporter


Nothing Comes Close To
A Cobra

North American Headquarters:

Cobra Electronics Corporation
6500 West Cortland Street
Chicago, IL 60707

productinfo@cobra.com
1-773-889-8870


Sacramento Vintage Ford Shop Tour
by Craig Pike over at
My Ride Is Me.com
'The first thing I noticed'.......CLICK above to read the article
Photos by
Fender Donated The Bare Guitar!




Gene Winfield Painted
It To Match WILD CAD!



Mike Clines Striped It in 12k White Gold with Green Accents To Match WILD CAD


Best Buy in Roseville, California donated the Fender Amp!





W

e gave it all away for Make-A-Wish
in 2012!


Watch out for this little
guy in our parking lot area.
Very friendly but hasn't learned he may get squished by a car.
O'Reilly Auto Parts
With over 3600 O'Reilly Auto Parts stores in 38 states, they are never far from home!
Better Parts...Better Prices, Everyday!
Making history for the 63rd year in a row, Rodshows.com anticipates one of the most exciting and stunning shows to date. This weekend you will see the finest hot rods, custom, and motorcycles from across the globe.
SHOW HOURS

Friday, February 15 12:00 pm - 8:00 pm
Saturday, February 16 10:00 am - 8:00 pm
Sunday, February 17 10:00 am - 8:00 pm
The A and B Mezzanine hosts the Custom D'Elegance competition, stop by and check out this year's amazing contenders. While there, be sure to check out the annual
Pinstriping Event and Charity Auction,
where the best pinstripers in the industry are working
hard to raise money for the UC Davis Children's Hospital.
Meet the stars of "American Graffiti" all weekend!
Bo Hopkins (Joe Young), Paul LeMat (John Milner ) and Candy Clark (Debbie Dunham).
The 'Monster Kool' Bus

Check out the video!

www.monsterkoolbus.com
Be sure to check this Kool Bus out at the show and hop on for a very cool ride for charity!
Friday-
February 15th, 2013 12pm-8pm
Saturday-
February 16th, 2013 10am-8pm
Sunday-
February 17th, 2013 10am-6pm
Stop by Building C to congratulate Jason and Robyn Wolwrath of Gearhead Garage.
Sacramento Autorama's 2013 Builder Of The Year
Suede Pavilion is located in Building D
In memory of Butch Gardner, who passed away in December 2012, the Sacramento Autorama has renamed the Clubhouse in his honor. With his vital role in making the Autorama possible, Rod Shows can't think of a better way to honor him and all of his hard work.
The Sacramento Autorama is now in its 63rd year
The Sacramento Autorama is also "The Kustom Capital of the World" and boasts being home to one of longest running indoor car shows in the world. The Autorama is recognized as the premiere custom car show on the West Coast.
The Show will feature over 450 of the finest custom cars, hot rods, classics, motorcycles, and specialty vehicles from around the country.

Autorama Awards ceremony kicks off at 4:00pm on Sunday when the 2013 Custom d'Elegance and King of Kustoms winners will be announced.
In addition the Big B Awards,
Bagdasarian, Barris, Bertolucci and Bailon,
will make history along with many other awards.
You can purchase your advance tickets at Sacramento Vintage Ford and get into the show


ONE HOUR EARLY!
"The Kustom Capital of the World"
Rodding USA Magazine
RoddingUSA
is a high quality monthly magazine printed on Gloss Art paper featuring hot rods and events from across America. It's a content rich magazine designed for readers who enjoy the core hot rod experience and is created for them by true hot rodders with a ton of experience and a passion for the hobby.
It features a range of cars from the mid-1920s through the early 1960s with an emphasis on traditional style hot rods. Editor, Paul Martinez says "Our master hot rod articles will run from 10-12 pages and will not only focus on the overall look of a car but the details which make it flow. Likewise for extended event coverage. Paul relates, "When you have 500 to 5,000 cars at an event you need to devote enough space to have the reader feel that they have experienced something special even if they were not able to attend. Our event coverage will range from 6-15 pages depending on the event."That's complemented by technical stories, a business spotlight, car collections, garage scenes, industry icons, readers' rods, a product showcase and more.
The
Premier Issue
(March), is just about ready to send to the printer. It will be available in a hard copy edition and also on all major digital news stands on February 28, 2013.
Rodding USA...by hot rodders, for hot rodders.
Available Soon at Sacramento Vintage Ford
X-51 Custom 1951 Ford Heads To The
Petersen Museum


The X-51 heads to the Petersen Museum in Los Angeles for their upcoming Cars & Fins Exhibit. Thanks to Renee Page for allowing us to share it with you and to John Sweeney for the heads up on the X-51.
Before the X-51 left Sacramento Vintage Darold Kohout (L) was presented a very cool 'Thank You' gift from Renee Page presented and crafted by Steve Spatola (R).
The iconic 'flipper' hub cap was one that Bob Page had on his X-51 back in the day. Thanks Renee and Steve!
America's Most Beautiful Roadster Winner
2013 America's Most Beautiful Roadster Winner

-CLICK to view-
Pick-n-Pull
Self-Service Auto & Truck Dismantlers
51 locations throughout the U.S. and Canada
John D'Agostino's 1940 Cadillac- SOPHIA
If you came by the store the first of the week you had a chance to see John's 1940 Cadillac in our showroom before it headed over to the Sacramento Autorama.
Monday at the store. Photo shoot for Rod & Custom Magazine. Photographer Tim Sutton up in the cage, Darold by the building, Ron on the fork lift and John on the far right. Photo by Heather.
Body - Oz's Kustoms (Kyle & Oz) Oroville, CA
Paint - Oz Welch Oroville, CA
Interior - Divine's Custom Interiors Pittsburg, CA
Chrome - Sherm's Custom Plating Sacramento, CA
Mechanical - Taylor Automotive Riverbank, CA
Suspension - Ride Tech/Oz's Kustoms
Engine - Bill Taylor Modesto, CA
Glass - Jackson Glass / Oz Welch Oroville, CA
Transmission - Brentwood Transmission Brentwood, CA
Wheels - Paulsen's House of Wheels French Camp, CA
Tires - Coker Tires Chattanooga, TN

Sponsors: House of Kolor, U.S. Radiator, Coker Tires, Brentwood Transmission and A&A Auto

This Kustom is a special tribute to Hollywood movie star Sophia Loren. Born September 20, 1934 in Rome, Italy, Sophia started her film career in the 50's and has been chosen for numerous Academy awards, Golden Globe awards, Grammy awards etc... A true "Italian Superstar"!
TOBY KEITH'S
I LOVE THIS BAR & GRILL
Leave it to country music legend Toby Keith to create a restaurant that offers great food and the best live music in Oklahoma City. Named after Toby's hit single "I Love This Bar," this exciting venue offers a real down-home experience.
Open for lunch 11am daily. Come as you are.
They'd love to have you anytime!
No reservations, but seated upon order of arrival.
Toby Keith's
I Love This Bar & Grill440 Palladio ParkwayFolsom, California 95630916-984-8629
Located in the PALLADIO at Broadstone
Gene Winfield 1962 Custom Ford Econoline "Pacifica" will be on display at the
Sacramento Autorama
Legendary Car Builder Gene Winfield was at SEMA 2012 in Las Vegas with his newly rebuilt "Pacifica".
Matt with the Eastwood Company interviews Gene Winfield at the SEMA Show in Las Vegas and they discuss the Pacifica build.
CLICK
on the photo for the video.
Courtesy the Eastwood Company.
This 1960 Ford Econoline was originally built for the Ford Custom Car Caravan in 1962-63. It's been updated with a new interior and thunderbird engine and components. It now has a false floor in the bed to make room for the t-bird suspension.
The Pacifica will be going on tour this year throughout the US and Canada.
Grand National Roadster Show
- January 25-27, 2013
Sacramento Vintage Ford
- Early February, 2013
Sacramento Autorama
- February 15-17, 2013
Gene Winfield's Pacifica is:
And a special thanks to Dennis Carpenter Reproductions.
Pepsi Beverages Company
Sacramento, California
Thank You Pepsi Beverages Company, Sacramento,
for your support of our Make-A-Wish efforts.
Over 500 show vehicles will compete for awards inside all of the Cal Expo buildings.
The Clubhouse will be in The Pavilion Building and up to another 500 vehicles will join the event Saturday and newly added Sunday for the Autorama Drive-In parked in the Building A lot.
Vehicle Registration for the Drive-In has closed.
But come and check it out!
F.A.S.T. is a special interest group among old Ford enthusiasts. F.A.S.T. covers the past, present and future of vintage 4 cylinder Model T, A and B engines and the vehicles they power.
F.A.S.T. Nor Cal will have 13 cars on display in the Butch Gardner Clubhouse (Pavilion).
Goodguys promotes and produces 20 annual events in 13 states and publishes the monthly Goodguys Goodtimes Gazette from the association's Pleasanton, California headquarters. More info? Visit www.good-guys.com.
The KEY and TOKEN a WISH recipient is given to unlock the very special room that grants their WISH.
Our Vintage Friday's Events support the Make-A-Wish Foundation of Northeastern California and
Northern Nevada.
The 25th Annual Winter Wine & Food Fest: Saturday, February 23, 2013 at the Sacramento Convention Center.
They anticipate 1,000+ people in attendance for this exclusive event, featuring more than 100 of the best local restaurants and wineries. Guests will enjoy a live and silent auction, live entertainment and delicious food and drink from elite restaurants and wineries. Come hear the compelling stories of our two Wish Ambassadors, Chris and Emily.
This year Make-A-Wish honors Joe and Pat Harbison who have greatly contributed to this event.

This elegant Make-A-Wish® event raises funds to grant wishes for children ages 2-1/2 to 18 with life-threatening medical conditions to enrich their human experience with hope, strength, and joy. All proceeds raised stay within our Northeastern California and Northern Nevada chapter and make dreams a reality for our local wish children.

Last year this fundraiser was able to grant 87 wishes to children, like Chris and Emily, from our chapter.

CLICK above for the details and ticket prices.

Sacramento Convention Center
14th and J Streets - Sacramento, Ca.
Food, Wine Tasting and Silent Auction:
5:00 p.m.- 7:30 p.m.
Exclusive VIP Live Auction
7:30 p.m.- 10:00 p.m.
B.R. COHN WINERY
Founded by Bruce Cohn in 1984, B.R. Cohn Winery is located in the heart of Sonoma Valley. Offers a full line of ultra-premium wines, extra virgin olive oils, handcrafted vinegars and gourmet food products.
Thanks to B.R. Cohn Winery for their continued support of our Make-A-Wish efforts!
Master Fabricator Phil Remington Passes
Photo courtesy Greg Sharp, Wally Parks NHRA

Motorsports Museum. Article courtesy Daniel Strohl.

If it had anything to do with going fast and came out of Southern California, Phil Remington not only likely had something to do with it; he also likely was instrumental in its success, which is why the hot rodding and performance worlds are mourning Remington's death on Friday at the age of 92.

Remington's fabrication skills almost seemed to come naturally, and he employed them to great effect early on, building hot rods to race on the California dry lakes in his teenage years before World War II. If it hadn't been for a motorcycle accident after the war, we may very well remember him today for his prowess at the wheel; instead, he quit racing after the accident and focused on developing his skills to the point where he could shape or create just about anything out of metal.

Those skills led him to work with - among many others - Emil Diedt and Lujie Lesovsky, building Indy cars; with Sterling Edwards, building Edwards's well-regarded sports cars; with Lance Reventlow in his effort to dominate sports car racing with the Scarab; with Carroll Shelby to develop the Cobra; with Ford to develop the GT-40; and for the last 40-plus years with Dan Gurney at All-American Racers.

Shelby called him one of the most indispensable people at Shelby American and "one of the finest craftsmen in the world" while Pete Weismann, who worked on the Ford GT-40 project with Remington, noted that the GT-40 "would have been an unbelievable failure" without him.

"He is a marvel, an old salt, and an inspiration to young and old," Gurney said of Remington on the occasion of his 90th birthday. "I know, it is a cliché, but when they made old Rem, they threw away the mold."

Goodguys Founder, Gary Meadors, Receives
Brizio Family "Driven" Award
Roy Brizio (center) presents the Brizio Family "Driven"
award to Goodguys Founder & Chairman Gary Meadors (left). Grand National Roadster Show promoter John Buck looks on. Photo courtesy of Scott Killeen. www.teamkilleen.com
Goodguys Founder and Chairman Gary Meadors got a nice surprise at the 64th annual Grand National Roadster awards ceremony. The head Goodguy himself received the Brizio Family "Driven" Award which is presented annually to a pre-'49 street-driven rod.
Meadors' '48 Chrysler Town & Country was on display at the event in the Hot Rods & Hobbies booth - builders of the long, lean and low convertible. Fittingly, Meadors hopped in the car and drove it to Pomona, CA from his home in Cave Creek, Arizona then jumped back in and drove it back home Monday morning!
Long a believer in driving hot rods instead of putting them on a trailer, the Meadors Town & Country convertible, which debuted last year, has already been driven over 10,000 road miles (with rock chips to prove it) including last fall's Rodfather/Goodguys Road Tour to Indianapolis and back.
Look for Meadors cruisin' the Town & Country on a highway near you! Congrats Gary!
(Courtesy Goodguys Gazette)
Established in 1987, the Pick-n-Pull chain of self-service auto parts stores is one of the largest recyclers of end-of-life vehicles in the industry. You bring your tools, pull the parts you need and SAVE lots of money! Their 48 U.S. and 3 Canadian locations offer a huge a selection of used OEM (original equipment manufacturer) parts for cars, vans and light trucks - all makes and models, foreign and domestic - all at incredibly low prices.

Pick-n-Pull is proud of the fact that they recycle more than 350,000 vehicles and service more than 5 million self-service customers each year.

Pick-n-Pull is a subsidiary of Schnitzer Steel Industries, Inc., a global leader in the metals recycling industry that has been in business for over a century. Although Pick-n-Pull and Schnitzer have worked together since 1989, Pick-n-Pull became a fully owned subsidiary of Schnitzer in 2003 as part of its Auto Parts Business unit. Being part of a Fortune 1000 company has enabled them to grow stronger and introduce cost efficiencies into their system that have allowed them to bring environmental and cost benefits to their customers. At the same time, the Pick-n-Pull stores have retained the regional and local focus that has made them popular with their customers.


CLICK to find a Pick-n-Pull Near You!
OPTIMA BATTERIES
A special Thank You for Optima's continued support
of our Make-A-Wish efforts!
Watch a Ford F-150 SVT Raptor Jump,
We all enjoy watching a car launch off a jump - just as long as it's not our car.

That may be true for most people, but a few brave individuals don't mind subjecting their own vehicles to the extreme punishment that often follows the landing. In these two videos, a Ford F-150 SVT Raptor gets some serious air, but pays the price afterward.


In the videos, two people attempt to jump a Ford F-150 SVT Raptor off a ramp, and are airborne for several seconds before finally landing nose-first in the dirt. Once the truck hits the ground, its airbags deploy and hazards begin to flash. The crowd of spectators cheers, then rushes to the scene to help pull out the truck's occupants. Based on the comments made by spectators in the video, the driver may have been carrying too much speed into the jump, which made him overshoot the landing. In the second video, which shows the impact from a closer vantage point, we get a better look at the damage.
Watch both videos. Source: YouTube
THE SACRAMENTO VINTAGE FORD
F100 PARTS CATALOG!
Our 408 page, full color 2012 catalog of 1948-1966 Ford Pickup parts and accessories. If you have been ordering your F-1 & F-100 Pickup parts from Sacramento Vintage, watch for it in your mailbox .
Not on our catalog list? CLICK on the image to order.
THE SACRAMENTO VINTAGE FORD
MODEL A PARTS CATALOG!
Our 480 page, catalog of parts for the 1928-1931 Ford Model A & AA. Parts and Accessories, Gift Items, Apparel and even a few items to make your little
Model A go.....faster!

Your source of quality Model A Parts since 1969!
What Other Ford Parts Do We Have For You?
1909-27 Model T
1928-31 Model A & AA
1932-48 Ford Passenger
1932-47 Pickup
1948-66 Pickup
1949-56 Ford Passenger
1967-79 Ford Pickup
Parts for your Hot Rod, Street Rod, Custom,
Suede & Rat.
Cool stuff for your shop, office and garage!
One Shot, Lil Daddy Roth, Von Hot Rod, Mack Brushes
Roth Rattle Bomb Paint, Stickers, Clothing, Books, Art
and a bunch more! And it's all at
www.VINTAGEFORD.com
GOODGUYS ROD & CUSTOM ASSOCIATION ANNOUNCES A NO-COST JUNIOR MEMBERSHIP TO THE WORLD'S LARGEST HOT RODDING ASSOCIATION!
In a constant quest to bring good times and cool cars to car guys & gals worldwide, Goodguys Rod & Custom Association is proud to announce the all-new, no-cost, Goodguys Junior Membership Program! It costs nothing...NADA... and only requires a minute of your time to sign up. All you have to do is log on to Good-guys.com, click on the "Read The Latest Gazette" link, create a user name & password and BAM, you're in!
As a Goodguys Junior Member, you'll receive:
* Access to the monthly Goodguys Goodtimes Digital Gazette Magazine online at Good-Guys.com or on your iPhone or Android based Smartphone or Tablet*
* Goodguys Exclusive Sticker Pack**
* Special Offers and Promotional Notifications
How's that for a Happy New Year? Now you can log in and receive the award-winning Goodguys Goodtimes Gazette Magazine in digital format on your home computer or on your iPhone or Android based Smartphone or Tablet absolutely FREE of charge. The Digital Goodguys Goodtimes Gazette is loaded with over 250 pages of full-color photos and content that's a must read for any serious automotive enthusiast!

It's really that simple. There's no catch! Try us out and of you like what you see and dig being a Goodguys Junior Member, you can upgrade to Silver or Gold Member status with the click of a mouse or a simple phone call! So don't hesitate. Join the world's largest hot rodding association and become a Goodguys Junior Member today!
Goodguys... Celebrating 30 Years of Cool Cars, Cool People, Good Times!
Goodguys opens its arms once again on Sundays in 2013 to late model American made and/or powered vehicles of ALL YEARS at their "All American Sunday" celebrations!
Formerly named "Super Sunday Get-Together", Goodguys All American Sundays will take place at 15 out of 16 National events in 2013 and offers car guys and gals of all ages the opportunity to hang with their fellow car club members and show off their rides to thousands of automotive enthusiasts.
AMERICAN RESTORATION
AMERICAN RESTORATION features Rick Dale and his crew of loose screws at Rick's Restorations in Las Vegas, Nevada, as they take rusty, beat-up items and restore them to their original glory.
When it comes to restoration, Rick Dale is the Pawn Stars go-to guy. AMERICAN RESTORATION follows Rick's work as owner of Las Vegas-based Rick's Restorations, a family business that finds, restores and up-cycles cool objects ranging from Cadillacs to Coke Machines.
Rick's very nice Ford F-1 Pickup can be spotted on various episodes of American Restoration.
Did we mention Rick's pickup is:
1112 S Commerce Street
Las Vegas, Nevada 89102
SHEEPHERDER BAR AND GRILLE
The Citrus Inn opened in 1913
in this very building on Folsom Boulevard. Citrus was sold in front of the building to everyone that passed by on busy Folsom Boulevard.

Folsom Boulevard was a main thoroughfare for the gold rush in the mid 1800s. Many immigrants and forty-niners were in search of some of the gold that James W Marshall and John Sutter found in the American River. The railroads that are still visible across the street today were the same railroads that were constructed in the late 1800s.

Rumor has it that over the years The Citrus Inn became many different businesses, including The Edwards Hotel, and at one point, a brothel. Everyone came to the building to eat good food and to have a good time. There was drinking and dancing 'til late at night.

Later, the building became known as Sheepherder Inn. It was a place for Basque sheepherders to come and rest upstairs in the Inn and enjoy a hearty meal downstairs, which probably consisted of meats, fish, lamb stews, legumes, cheeses and Basque cider.

Sheepherder Bar and Grille
11275 Folsom Blvd.
Rancho Cordova, CA 95742
Phone: (916) 638-4584

Crossroads: Folsom Blvd. and Sunrise Blvd. just down
the street from Sacramento Vintage Ford.....
QUICK QUACK CAR WASH
3 Minutes Fast & No Waiting!
Quick Quack is a growing chain of exterior-only, soft cloth car washes in California, Texas & Colorado.
Fully automated and computerized, the high-quality carwashing system is a soft-cloth, exterior-only conveyor wash. Customers stay in their vehicles while being automatically guided through the glass enclosed tunnel where the vehicle is soaked, soaped, washed, polished, rinsed with spot-free water and blown dry all in a matter of minutes. Quick Quack Car Wash also takes pride in being environmentally friendly by conserving water and using environmentally friendly shampoos that are biodegradable and non-corrosive. Additional information is available online at
www.DontDriveDirty.com.
CLICK on any image.
Did You Miss The Last One?
CLICK on the
NEWSLETTER ARCHIVE BAR
to see what you may have
missed in previous editions of the
Vintage Advantage..........
NEWSLETTER ARCHIVE BAR
Sacramento Theatrical Lighting is a family-owned business in continuous operation since 1947. Now operating out of a 65,000 sq. ft. building, STL is a full-service theatrical equipment company. They offer a full line of theatrical lighting equipment and accessories, moving lights, dimming and control, stage curtains and expendables.
The Rental Department can set you up with everything you need for your backyard party or a professional theatrical production. If you are looking for a full service contractor to handle all of your event needs, their Production Department has all of the answers you need.
STL also has a Special Projects Division that specializes in design and installation of large and small theatrical systems, design and install of theatrical drapery, rigging inspections and other specialty projects. They employ a full in-house Tech Service Department.
STL setting up the drapes in Sacramento Vintage Ford's warehouse for the
California Highway Patrol
CHiPs For Kids Toy Disribution Day.
SACRAMENTO THEATRICAL LIGHTING
950 Richards Blvd
Sacramento, Ca. 95811
916-447-3258
TAKE-A-KID TO A CAR SHOW
There have been countless studies done to prove it, but virtually everyone knows that spending quality time with a kid is the greatest gift you can give them. And sharing your appreciation for collector cars is a great way to nurture their interest in a hobby that you can enjoy together for many years to come.
Through the SEMA Take a Kid to a Car Show coloring book app, kids of all ages will be able to customize and personalize each car. We encourage users to visit www.takeakidtoacarshow.com to discover additional fun and exciting resources through this campaign.
RU FASTER THAN A REDNECK?
Flannel-wearing, mullet-sporting and tobacco-chewing All-American rednecks defend the honor of the American muscle car in a winner-take-all road racing event. With $10,000 on the line, they're ready to take on all challengers - any average Joe with a Porsche, exotic or Japanese tuner car that think they can win with a full-blown hillbilly inches from their fender.
On SPEED TV - Check your local listing for dates and times.
CLICK above for the latest video clip.
In 1965 the first T.G.I. Friday's restaurant opened in New York City at the corner of First Avenue and 63rd Street and quickly became the meeting place for single adults, with $1 million in revenues its first year.
"T.G.I. Friday's® is known for serving authentic American food and exciting drinks. We also understand that our restaurants are more than just a place to eat. They are places where communities form, gather and engage."

"So, we take our commitment to community seriously. Our Team Members have cultivated strong local relationships and take great pride in their engagement with guests and their participation in the communities that they live and work in."
FLOWMASTER MUFFLER
In 1983 California Sprint Car racers were experiencing 'excessive sound' issues at numerous race tracks and were told to quiet the cars down or lose racing privileges. All attempts to silence the race engines without sacrificing power repeatedly failed.

Enter Flowmaster founder, Ray Flugger, with over 45+ years of exhaust design experience, and while working out of a small 800 square foot barn in Kenwood, California, created Flowmaster's first patented design of racing silencers. Ray attached handles to ease carrying the square shaped race mufflers through the race pits, and the mufflers became known as the "suitcase muffler." Today, these innovative Flowmaster mufflers are the result of years of development with top race engine builders, thousands of hours of dyno research and "real-world" on-track testing

Flowmaster's product line includes exhaust products for Performance Street, Muscle Cars, Trucks, Street Rods, RV's, Motorhomes, and all types of race applications. With over 400 different muffler models, 370+ exhaust systems and numerous exhaust accessories available, Flowmaster offers you the choice of sound to fit your preference from "wild to mild" and your specific vehicle needs.

COBRA ELECTRONICS
Cobra Electronics Corporation
is a leading designer of mobile communications products in the United States, Canada, Europe and around the world. After 50 years of innovation, the company continues to grow by boldly entering into new product categories.
Today the company's products include:
Mobile navigation devicesTwo-way radiosRadar/laser detectorsCitizens band radiosMarine electronicsPower inverters
Cobra products are available in nearly 40,000 storefronts in North America and in a growing number of retailers throughout the world.
We would also like to thank Cobra Electronics for their support of our Make-A-Wish efforts.
HOLLYWOOD HOT ROD ACCESSORIES
Andy and Sue Brizio's 1932 roadster is currently on display in our showroom. Stop by and take a peek!
(Photoshop magic by Heather)


DID YOU SIGN UP FOR OUR NEWSLETTERS?
Sign up a friend for our email newsletters!
CLICK Above
When you join our e-mail list, you can also
'fine tune'
what information you would like to receive from Sacramento Vintage Ford......from the type of car(s) you
have.... to 'Garage Sale' bargins.....Catalogs .....and more!
(We do not sell or rent our valued customers e-mail addresses)
You can also forward this newsletter to a friend using the box at the lower left corner of this newsletter.
CLICK above to view newsletters you may have missed!
Cruisin' around the Sacramento Vintage parking lot in the 'Sacramento Vintage Equipped' Grand National
'Speed 33' Roadster, owned by John Buck.
That's It For This Edition!
Thank You!
Please drive safe, have fun and enjoy your ride!
1-888-FORD-100