Publisher/Editorial Director:
Associate Publisher/Contributing Editor:
Contributing Photographers:
Darold Kohout
Doug Oehler
Joe Streng
Web Producers:
Rancho Cordova, Ca. 95742
1-888-FORD-100
Celebrating
Our 43rd
Anniversary
1969 - 2012
Thank You!
The Association of California Car Clubs (ACCC)
is a volunteer organization with regional representatives who represent the interests of individual members and member clubs across the state.

The ACCC consists of thousands of automobile hobbyists throughout the state who are interested in California laws and policies regarding collector automobiles.

Vintage Friday's
Car Shows!
Music & Entertainment
at our shows for
13 YEARS!
-- RIP Larry --

FAST FRAME

The Official Custom Art Frame Shop of
Vintage Fridays

5343 Sunrise Blvd
Fair Oaks, Ca. 95628
916-966-8766
Barris Kustom
Industries
Thanks For The Support George and the Barris Family!



Click
Above to see what
George Barris has been up to and shop Barris.com



Sacramento Vintage
is an authorized
Barris Kustoms
Dealer!


We have 3 Barris memorabilia sections:



-- Batmobile Related

-- Barris Books
-- The Munster Koach
CLICK
on the Batmobile

Thanks to
Hooters Restaurants
for their support of our Vintage Friday's events!

Rancho Cordova
Sacramento
Natomas
Fresno
Bakersfield
Honolulu
Thank You!
New drivers need to


Start Smart.
Enroll your young driver in a Start Smart program today.
Sacramento Vintage Ford was
Honored with a
2010
All Star Award
from
Constant Contact
for our 2009 & 2010
newsletters!


THUNDERBOLTS
Capitol Auto Club
Official Host Club
of our Vintage Friday's Car Shows!
CLICK above to read more about the 'BOLTS'
Stop by the
Rancho Cordova

location - Just down the street from Sacramento Vintage Ford!

Rancho Cordova Store Manager: Mitch Harrison
2838 Sunrise Blvd

Rancho Cordova, Ca.

95742

916-858-8666

WIN Some Very Cool Lethal Threat

Rat Rod Embroidered Mechanics Shirts
at all of our Vintage Friday's events!
CLICK above to see what else Lethal Threat has. And they have a lot!
At P.F. Chang's we are committed to providing you with an exceptional dining experience every time you walk through our doors. Each dish on our menu is prepared to order using the freshest and highest quality ingredients.
Majestic 11 foot tall horses grace the entrance to many of the restaurants. The horse symbolizes the original Forbidden City in China, which was built for China's first emperor Qin Shi Huangdi.
At P.F. Chang's you are surrounded by a unique environment combining influences of Chinese and American cultures. A panoramic, hand-painted mural depicting 12th century China, is visible from the main dining room and commands attention as the restaurant's centerpiece, while several terra-cotta warriors stand guard.
P.F. Chang's
(Darold and Lynn highly recommend the Chang's Chicken Lettuce Wraps to start your dining experience!
)
Rod Shows.com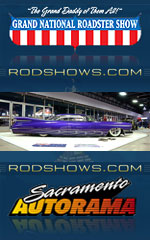 Grand National Roadster Show
January 25-27, 2013
Sacramento Autorama
February 16-18, 2013
Join the West Coast's premier hot rod, bike & motorsports tour!
Come and join the two Oldest and Longest Running Indoor Car Shows in the World.
CLICK
above to see
-Dates and Times-
Garage Mahal
American Trucker
Shark Fights
Optima Ultimate Street
Car Invitational
CLICK on any show
for information
Monster Rides On Sale!
Hot Rod Magazine
Monster Rides

We also have the mirror hangers and ornaments for the Holidays!
Ask the Gift Shop about the HOT ROD Monster Rides hat, FREE with your purchase of 2 or more 'full size' Monster Rides! and........ we just received the Monster Rides motorcycles!
Classic Shop Talk
Tech Articles
Instructions
Videos
Classic Performace Products
A Valued Vintage
Friday's Sponsor!
U.S. NAVY F432
CORSAIR COUPE
in 1:18 Scale
WIN some very
cool signs from

Ruckus Rods!

We will have these NEW signs in stock soon!



CLICK

above if you can't wait!

California Highway Patrol
The California Highway Patrol
-Valley Division-
A Vintage Fridays Sponsor & Supporter


Nothing Comes Close To
A Cobra

North American Headquarters:

Cobra Electronics Corporation
6500 West Cortland Street
Chicago, IL 60707

productinfo@cobra.com
1-773-889-8870


Sacramento Vintage Ford Shop Tour
by Craig Pike over at
My Ride Is Me.com
'The first thing I noticed'.......CLICK above to read the article
Photos by
Fender Donated The Guitar!




Gene Winfield Painted
It To Match WILD CAD!



Mike Clines Striped It in 12k White Gold with Green Accents To Match WILD CAD


Best Buy in Roseville, California donated the Fender Amp!





W

e gave it all away for Make-A-Wish
in July!


Watch out for this little
guy in our parking lot area.
Very friendly but hasn't learned he may get squished by a car.
O'Reilly Auto Parts
With over 3600 O'Reilly Auto Parts stores in 38 states, they are never far from home!
Better Parts...Better Prices, Everyday!
Godfather Lincolns Will Cross The Block
Courtesy Daniel Strohl - Photos courtesy Bonhams.
While it's a bit cliche to look at every big black closed car from the Thirties and Forties as a mobster's ride, some cars seem naturally suited to those roles. Such was the case with the 1941 Lincoln Continental coupe and 1941 Lincoln Custom limousine that appeared in
Francis Ford Coppola's 1972 epic The Godfather
and that will both cross the block at no reserve next month in Scottsdale.

While Richard Nelson is given credit as the car coordinator for the film, the Bonhams description for both cars notes that Chuck Hannah was tasked with finding appropriate cars to use in the film and that he approached the Mid-Atlantic Region of the Lincoln Continental Owners Club to fill out his roster. At least two of the region's members responded: Charles Murray of Brookville, New York, with his Custom limousine, and Eugene Beardslee, also of Brookville, with his Continental coupe. The limousine, which had just come out of restoration not long before, was deployed for a brief scene as an opposing mob boss's car, but the Continental became the car in which Sonny Corleone would meet his demise at a Jones Beach causeway toll booth.
CLICK on the photos to read the complete article at the Hemmings Daily Blog, see more photos and a video clip.
The Bonhams Scottsdale auction will take place January 17, 2013 at the Westin Kierland Resort & Spa. For more information, visit Bonhams.com.
Pick-n-Pull
Self-Service Auto & Truck Dismantlers
51 locations throughout the U.S. and Canada
BUTCH GARDNER PASSES
Clarence E. 'Butch' Gardner
1946 - 2012
Butch was born in 1946 in Harrisburg, PA but grew up in Rialto, CA. He attended San Bernardino Valley College and the University of CA at Pomona. Following his move to Sacramento he married Sharon, his wife of 45 years. They had a son Edward in 1968. Butch is also survived by his brother-in-law William Hurley.
Butch retired after 32 years at McClellan AFB as Instrument and Electro Optics Night Vision Repair Division Chief. During that time he received multiple Manager of the Year and Civilian All Star Awards as well as the USAF Civilian Meritorious Service Award. He was also a Certified Industrial Engineer. After retirement he served as a consultant for GEC Marconi Electronics, Army Missile Command and the County of Sacramento. Other than family, the love of his life centered around the classic/hot rod car hobby. Since his first car, a 56 Ford Ranch Wagon, at age 17 - he was hooked. He started his own business, Artesia Street Rod Promotions and was active in the facilitation of automotive events.
He owned and promoted his own car show in Placerville for 15 years. He has been building and showing hot rods and customs since 1963 with four being featured in national magazines. Butch was the host of the
Hot August Nights 'Cruise of Champions'
for many years. More recently was the
Swap Meet Manager
under the ownership of Bob and Vivian Davies.
He began a long association with the
Sacramento Autorama
when he started showing his cars in 1973 and went on to become a professional show judge. In 1999, he became
Show Director and Floor Manager for the Autorama and the Grand National Roadster Show
under Dan Cyr Enterprises. He was proud to become a member of the Autorama Legends Society and served as Society Chairmen hosting the event for several years. He was very happy to return to the Autorama in 2012 as the venue manager for the
'Clubhouse'
under John Buck (Rod Shows.com). He was really looking forward to participating again in 2013.
Butch was extremely proud to be a
Life Member in the Capitol Auto Club Thunderbolts.
He joined the club in 1974 and it has been like a second family ever since. He was President seven times and earned several awards. He was very happy when his son joined in 2005. He was currently on the Board of Directors for the
ACCC
(Association of California Car Clubs), working to protect the car hobby through open communication with our elected officials. He was looking forward to several events in the coming year.
Butch has been the host of the
'Cruisin' Garage'
radio show on AM 950 KAHI since 2001. He also kept busy as a Specialty Vehicle Appraiser. Over the years he has been an automotive columnist for the Sacramento Bee and the Placerville Mountain Democrat.
Photo Courtesy Jay Walding


It has been said that there is a large hot rod club in the sky. Well, they just got a strong member. Krooze Safe. The Funeral Service was held December 10, 2012 at Mount Vernon Memorial Park, Fair Oaks, Ca.
Butch and members of the 'Bolts' were always on hand to help out at the Vintage Friday's car shows held at Sacramento Vintage and at the NSRA Poker Run stops at the store. Butch shown below during an interview at the NSRA Poker Run stop in October.
Rest in Peace Butch. You were truly a good friend and damn you will be missed. Just wished I had known
about 'Clarence'..... you never mentioned that :)
RIP Mr. Gardner.
TOBY KEITH'S
I LOVE THIS BAR & GRILL
Leave it to country music legend Toby Keith to create a restaurant that offers great food and the best live music in Oklahoma City. Named after Toby's hit single "I Love This Bar," this exciting venue offers a real down-home experience.
Open for lunch 11am daily. Come as you are.
They'd love to have you anytime!
No reservations, but seated upon order of arrival.
Toby Keith's
I Love This Bar & Grill440 Palladio ParkwayFolsom, California 95630916-984-8629
Located in the PALLADIO at Broadstone
Your very own Toby Keith guitar pick. Available in the
Sacramento Vintage Gift Shop.
Pepsi Beverages Company
Sacramento, California
Thank You Pepsi Beverages Company, Sacramento,
for your support of our Make-A-Wish and California Highway Patrol, CHiPs For Kids efforts.
All the donated toys and bikes end up here
in the Sacramento Vintage warehouse!
Thanks to the following for their help with
the toyland distribution day:


Sacramento Theatrical Lighting

Tom Urban- Santa

Volvo Rents- Sacramento
Costco- Rancho Cordova
Sacramento Rivercats
Chick-fil-A - Folsom
Pepsi Beverages- Sacramento
Sacramento Kings Dancers
Hooter Girls- Rancho Cordova
Aramark Uniform Service- Sacramento

Salvation Army- Sacramento

United Way- Sacramento

Anrak Corporation

KCRA 3

The California Highway Patrol

Heather Stover & Ron Palmer

and ALL THE VOLUNTEERS!


Sacramento Vintage Ford was honored to be the
distribution center again for 2012.
Meanwhile.....earlier in the month over at Cal Expo, Darold gets to 'race' CHP Officer aka 'Cassie' around the main entrance during the toy drive.
Officer Quintero's gas powered cruiser is:
and is on display in our showroom.
Heather takes a lap!
Gulstan Dart (KCRA 3), Tanya (United Way) and Darold (Sacramento Vintage) at Cal Expo.
The Butch Gardner Clubhouse
December 19, 2012
From John Buck - Rod Shows.com
In memory of the late Butch Gardner, the Sacramento Autorama will formally rename the Clubhouse in his honor.

Butch began a long association with the Sacramento Autorama when he began showing cars in 1973, and later went on to become a show judge. In 1999, Butch became Show Director and Floor Manager of the Sacramento Autorama. A favorite of many frequenters of the Autorma, Butch was an active member of the Legends and was the Legends Luncheon Chairman for many years.

As a lifetime member and former President of the Capitol Auto Club Thunderbolts, car clubs were always close to his heart. Butch brought many car clubs together as the Clubhouse venue manager for the 2012 show and had planned to continue as venue manager in 2013.

With his vital role in making the Autorama Clubhouse possible, we can't think of a greater way to honor his memory than with The Butch Gardner Clubhouse.
Photos by Darold
Goodguys promotes and produces 20 annual events in 13 states and publishes the monthly Goodguys Goodtimes Gazette from the association's Pleasanton, California headquarters. More info? Visit www.good-guys.com.
The KEY and TOKEN a WISH recipient is given to unlock the very special room that grants their WISH.
Our Vintage Friday's Events support the Make-A-Wish Foundation of Northeastern California and
Northern Nevada.
B.R. COHN WINERY
Founded by Bruce Cohn in 1984, B.R. Cohn Winery is located in the heart of Sonoma Valley. Offers a full line of ultra-premium wines, extra virgin olive oils, handcrafted vinegars and gourmet food products.
Thanks to B.R. Cohn Winery for their continued support of our Make-A-Wish efforts!
B.R. Cohn Winery Amphitheater - Glen Ellen, California
Established in 1987, the Pick-n-Pull chain of self-service auto parts stores is one of the largest recyclers of end-of-life vehicles in the industry. You bring your tools, pull the parts you need and SAVE lots of money! Their 48 U.S. and 3 Canadian locations offer a huge a selection of used OEM (original equipment manufacturer) parts for cars, vans and light trucks - all makes and models, foreign and domestic - all at incredibly low prices.

Pick-n-Pull is proud of the fact that they recycle more than 350,000 vehicles and service more than 5 million self-service customers each year.

Pick-n-Pull is a subsidiary of Schnitzer Steel Industries, Inc., a global leader in the metals recycling industry that has been in business for over a century. Although Pick-n-Pull and Schnitzer have worked together since 1989, Pick-n-Pull became a fully owned subsidiary of Schnitzer in 2003 as part of its Auto Parts Business unit. Being part of a Fortune 1000 company has enabled them to grow stronger and introduce cost efficiencies into their system that have allowed them to bring environmental and cost benefits to their customers. At the same time, the Pick-n-Pull stores have retained the regional and local focus that has made them popular with their customers.


CLICK to find a Pick-n-Pull Near You!
IN THE SACRAMENTO VINTAGE FORD
SHOWROOM
Fresh off the Rodfather Goodguys Road Tour we have Andy and Sue Brizio's 1932 Roadster on display in our showroom for you to enjoy. (Above photo courtesy Goodguys)
Darold gets a ride along with Andy as the 1932 Roadster heads into our showroom.
(Following Article Courtesy GoodGuys Gazette)
(Photos by Heather and Darold)
Few people have been more dedicated to the hot rod lifestyle than Andy "The Rodfather" Brizio. Andy and his lovely wife, Sue, have been criss crossing the country in his iconic roadster, going from event to event more than any other rodder.
Built by Andy's son Roy and a group of Andy's Bay Area friends, the roadster was presented to Andy in 1985 on the occasion of his 50th birthday. A car of the times, it featured a signature "Roy Boy" chassis with four-bar links, a billet-posted windshield, grilles let into the hood sides, and a purple paint with the letter A incorporated into the graphics. However, after 11 years and 70,000 miles, the "Hi-Roy" was in a need of a makeover.
Away went the four-bar links and the tube axle, replaced with hairpin radius rods and a dropped and drilled I-beam. Away went the aluminum gills in the hood sides, replaced with more traditional louvers. Away went the billet-posted windshield, replaced with a Past Tech DuVall-style windshield. And away went the 1980's graphics, replaced with a more traditional flames added by Andy's longtime friend Art Himsl over House of Kolor Electric Purple paint applied by The Toy Works.
The body is a Wescott fiberglass. The grille shell is filled and peaked. In the rear, the pan is rolled and the recessed "RODFTHR" license plate is flanked by '39 teardrops. Proudly exposed below the pan is a Halibrand Champ quick-change located on ladder bars and suspended on coil-over shocks. Up front there's an in-your-face Moon tank ahead of the billet grille insert.
Under the three-piece hood is a nice, reliable, 350-ci smallblock Chevy built by Andy's friend Cub Barnett. The tranny is a Turbo 350. With so many miles under his belt, Andy's roadster now sports BF Goodrich tires mounted on Billet Specialities Legacy wheels measuring 14x6 up front and 15x10 in the rear.
Sid Chavers handled the simple yet practical interior, which he upholstered in cream leather. The dash contains a Haneline five-hole Stewart-Warner-style instrument panel with Ford racing instruments. The steering wheel was milled from billet by Chet Thomas and wrapped in matching leather.
When the rebuild was complete, late in 1996, Andy signed on, as he had always wanted, to visit every Goodguys event on their 1997 calendar.
And he's still driving it 37 years later.

Andy's Picnic Signs, Hats and T-Shirts
are still available.... but in limited quantity.

CLICK
on the sign to view.
OPTIMA BATTERIES
A special Thank You for Optima's continued support
of our Make-A-Wish efforts!
BATMOBILE #1
BARRETT-JACKSON 2013

Courtesy Blake Z. Rong - Autoweek
George Barris Batmobile Up For Auction In Scottsdale
Asking George Barris about how he built the Batmobile is, for some fans, like having Michelangelo walk you through the Sistine Chapel or touring Fallingwater with Frank Lloyd Wright. Recognizable by car fans and comic book fans alike, some of whom may have never rebuilt a Ford 390 V8, it is arguably one of the most iconic cars of all time, a pop-cultural juggernaut, burned into the faraway memories of baby boomers who grew up watching the whimsical "pow!" "whiz!" Batman instead of the gravelly voiced superhero of our generation.
And the
very first Batmobile
is going up for auction at Barrett-Jackson under the bright lights in Scottsdale, Arizona, on Jan. 19. "I'm just honored to do this for George," said Craig Jackson, CEO of the auction house that bears his family's name.
"I've known him probably 30 years, something like that. He's been coming to the auction forever. So I was really savoring spending a lot of time with George and just having him tell his stories and share his pictures."
This one is Batmobile #1
. Peel back the black paint and automotive archaeologists can find shades of the 1955 Lincoln Futura concept-a cartoonish, chrome-laden body that caricatured the sweeping optimism of the 1950s within twin bubble-tops. A significant car in itself, the Futura co-starred with Glenn Ford and Debbie Reynolds before languishing in a Hollywood backlot for 10 years, when Ford sold it to Barris for the princely sum of $1 (plus "other valuable consideration").
CLICK
on the drawing above to read the complete article with photos over at Auto Week.
Lynn Kohout (Sacramento Vintage) had the opportunity to check out
Batmobile NUMBER ONE
with Mr. George Barris at Barris Industries. George was showing Lynn all the features including the Bat Phone. Thanks George.
THE SACRAMENTO VINTAGE FORD
F100 PARTS CATALOG!
Our 408 page, full color 2012 catalog of 1948-1966 Ford Pickup parts and accessories. If you have been ordering your F-1 & F-100 Pickup parts from Sacramento Vintage, watch for it in your mailbox .
And a special THANKS to artist David R. Barrett for the very cool pickup art!
Not on our list? CLICK to order.
THE SACRAMENTO VINTAGE FORD
MODEL A PARTS CATALOG!
Our 480 page, catalog of parts for the 1928-1931 Ford Model A & AA. Parts and Accessories, Gift Items, Apparel and even a few items to make your little
Model A go.....faster!

Your source of quality Model A Parts since 1969!
What Other Ford Parts Do We Have For You?
1909-27 Model T
1928-31 Model A & AA
1932-48 Ford Passenger
1932-47 Pickup
1948-66 Pickup
1949-56 Ford Passenger
1967-79 Ford Pickup
Parts for your Hot Rod, Street Rod, Custom,
Suede & Rat.
Cool stuff for your shop, office and garage!
One Shot, Lil Daddy Roth, Von Hot Rod, Mack Brushes
Roth Rattle Bomb Paint, Stickers, Clothing, Books, Art
and a bunch more! And it's all at
www.VINTAGEFORD.com
Mac's Distributing
6001 Auburn Blvd, Ste 100
Citrus Heights, California 95621
916-722-6227
AMERICAN RESTORATION
AMERICAN RESTORATION features Rick Dale and his crew of loose screws at Rick's Restorations in Las Vegas, Nevada, as they take rusty, beat-up items and restore them to their original glory.
When it comes to restoration, Rick Dale is the Pawn Stars go-to guy. AMERICAN RESTORATION follows Rick's work as owner of Las Vegas-based Rick's Restorations, a family business that finds, restores and up-cycles cool objects ranging from Cadillacs to Coke Machines.
Rick's very nice Ford F-1 Pickup can be spotted on various episodes of American Restoration.
Did we mention Rick's pickup is:
1112 S Commerce Street
Las Vegas, Nevada 89102

The Red Rocker's Rumerator

Watch Rick and his crew turn a refrigerator into a Rumerator for Sammy Hagar. CLICK here.

It's over at Sammy's Rockin' Island Bar & Grill
238 Vernon St.
Roseville, CA 95678
916-773-7625
Jon with Sammy's Rockin' Island Bar & Grill lets Darold check out the Rumerator! Thanks Jon and Bill!
FLATHEAD JACK'S
TWIN ENGINE FLATHEAD DRAGSTER
FOR SALE
Flathead Jack is putting his record breaking
TWIN ENGINE
FLATHEAD dragster up for sale.
Dragster - Trailer - Spare Parts - Nitro - ALL GOES
$300K invested.....Will take $100K CASH..
Fresh Art Himsl paint job
Serious inquiries Contact:
Flathead Jack
Walnut Creek, CA 94598
925-932-2233
925-932-1851 (fax)
flatheadjack1@sbcglobal.net
SHEEPHERDER BAR AND GRILLE
The Citrus Inn opened in 1913
in this very building on Folsom Boulevard. Citrus was sold in front of the building to everyone that passed by on busy Folsom Boulevard.

Folsom Boulevard was a main thoroughfare for the gold rush in the mid 1800s. Many immigrants and forty-niners were in search of some of the gold that James W Marshall and John Sutter found in the American River. The railroads that are still visible across the street today were the same railroads that were constructed in the late 1800s.

Rumor has it that over the years The Citrus Inn became many different businesses, including The Edwards Hotel, and at one point, a brothel. Everyone came to the building to eat good food and to have a good time. There was drinking and dancing 'til late at night.

Later, the building became known as Sheepherder Inn. It was a place for Basque sheepherders to come and rest upstairs in the Inn and enjoy a hearty meal downstairs, which probably consisted of meats, fish, lamb stews, legumes, cheeses and Basque cider.

Sheepherder Bar and Grille
11275 Folsom Blvd.
Rancho Cordova, CA 95742
Phone: (916) 638-4584

Crossroads: Folsom Blvd. and Sunrise Blvd. just down
the street from Sacramento Vintage Ford.....
QUICK QUACK CAR WASH
3 Minutes Fast & No Waiting!
Quick Quack is a growing chain of exterior-only, soft cloth car washes in California, Texas & Colorado.
Fully automated and computerized, the high-quality carwashing system is a soft-cloth, exterior-only conveyor wash. Customers stay in their vehicles while being automatically guided through the glass enclosed tunnel where the vehicle is soaked, soaped, washed, polished, rinsed with spot-free water and blown dry all in a matter of minutes. Quick Quack Car Wash also takes pride in being environmentally friendly by conserving water and using environmentally friendly shampoos that are biodegradable and non-corrosive. Additional information is available online at
www.DontDriveDirty.com.
CLICK on any image.
ANDY'S PICNIC 2012
TIN SIGNS - HATS - SHIRTS
If you missed the annual Andy's Picnic you can still have a very cool souvenir of the event!
These metal signs are in full color and autographed by Andy Brizio himself. A great addition to your sign collection or garage art. CLICK above to order yours.
CLICK above to order

Bud Bryan, Andy & Sue Brizio and Darold
Rancho Cordova - Sacramento - Natomas

Bakersfield - Fresno - Honolulu
Be sure to check out the Gift Shop at Hooter's!
Neat Items For The Grown-Ups & Kids
Rancho Cordova Hooters
1785 Challenge Way Sacramento, CA 95815
(916) 927-9464
Natomas Hooters
3541 Truxel Road Sacramento, CA 95834
(916) 929-9464
Thanks to the above Hooters Restaurants for accepting toys for the California Highway Patrol
CHiPs For Kids Toy Drive!
THANK YOU
Hooters!
TAKE-A-KID TO A CAR SHOW
There have been countless studies done to prove it, but virtually everyone knows that spending quality time with a kid is the greatest gift you can give them. And sharing your appreciation for collector cars is a great way to nurture their interest in a hobby that you can enjoy together for many years to come.
Through the SEMA Take a Kid to a Car Show coloring book app, kids of all ages will be able to customize and personalize each car. We encourage users to visit www.takeakidtoacarshow.com to discover additional fun and exciting resources through this campaign.
Edsel Ford's Model A Dual-Cowl Phaeton Heads to Auction
Photos by Mike Maez, courtesy Gooding and Company.
Article Courtesy Hemmings Blog
It's no surprise that Edsel Ford's personal Model A received a number of upgrades in the aesthetics department; Edsel continually pressured his father to jazz up Ford's products.
More surprising, however, is the fact that Edsel's personal Model A spent 50 years in a dairy barn hidden away from the world and that it won't make its debut as a fully restored car until next month, when it crosses the block at Gooding's Scottsdale auction.

As a member of the team that developed the Model A, Edsel Ford made sure to infuse it with some of the same styling that made Lincoln a standout in previous years and thus address the criticism that Ford's Model T lacked style. In doing so, he earned hard-won praise from his father: "We've got a pretty good man in my son," Henry Ford said upon the introduction of the Model A. "He knows style - how a car ought to look."

Considered one of his crowning achievements, the Model A could still benefit from some upgrades, Edsel figured, so in 1929 he and his father approached LeBaron to create a special one-off Model A. They specified a dual-cowl phaeton - a body style Ford never offered in the Model A lineup - built about two inches narrower than a standard Model A and with a number of custom touches, like the laid-back windshields, the Victoria-like back panel, smooth cowl sides, and elongated front fenders.
As was LeBaron's practice, its craftsmen built the body in aluminum over a wood structure. To the black-painted body Edsel and Henry added Stephen Grebel headlamps, a center-mounted Klaxon horn, exposed chrome detailing, and patent leather splash aprons. Powered by a standard Model A four-cylinder, the chassis still featured a number of modifications, including a completely custom frame, a rear axle narrowed by eight inches, a factory-dropped front axle, and cantilever rear springs similar to those found on a Ford Model AA truck. "There's really not much on this that's from a stock Model A," said Chris Roberts, who worked on the restoration of the car.......
CLICK on any photo to read the complete article by
Daniel Strohl over at Hemmings.
Gooding's Scottsdale auction, scheduled for January 18-19, where the phaeton is expected to sell for $325,000 to $400,000. For more information on Gooding's Scottsdale auction, visit GoodingCo.com.
In 1965 the first T.G.I. Friday's restaurant opened in New York City at the corner of First Avenue and 63rd Street and quickly became the meeting place for single adults, with $1 million in revenues its first year.
"T.G.I. Friday'sŪ is known for serving authentic American food and exciting drinks. We also understand that our restaurants are more than just a place to eat. They are places where communities form, gather and engage."

"So, we take our commitment to community seriously. Our Team Members have cultivated strong local relationships and take great pride in their engagement with guests and their participation in the communities that they live and work in."
MODEL T PARTS
Yes....we are hard at work on our ALL NEW parts catalog for the Model T Fords, 1909-1927!
CLICK above to get on our list for your FREE copy or give us a call at 888-FORD-100 and ask to be added to the Model T Catalog list.

As new parts arrive, and there are a lot, please check our Model T web pages as they will go up to the web as soon as they become available.
CLICK the logo to browse our Model T parts!
You can also send an email with your name and mailing address to modelt@vintageford.com and we will place you on the list for a FREE copy when available.

LES SCHWAB TIRES
Rancho Cordova, California

Thanks to Mitch and the crew over at Les Schwab Tires in Rancho Cordova for their support of our Make-A-Wish efforts!


2838 Sunrise Boulevard Rancho Cordova, CA 95742


Next to Home Depot!


(916) 858-8666



Remember......Tires and service on your 'modern' car go see Mitch over at Les Schwab in Rancho Cordova!

Skinny Tires for your Antique or Vintage car, head over to Sacramento Vintage Ford.
FLOWMASTER MUFFLER
In 1983 California Sprint Car racers were experiencing 'excessive sound' issues at numerous race tracks and were told to quiet the cars down or lose racing privileges. All attempts to silence the race engines without sacrificing power repeatedly failed.

Enter Flowmaster founder, Ray Flugger, with over 45+ years of exhaust design experience, and while working out of a small 800 square foot barn in Kenwood, California, created Flowmaster's first patented design of racing silencers. Ray attached handles to ease carrying the square shaped race mufflers through the race pits, and the mufflers became known as the "suitcase muffler." Today, these innovative Flowmaster mufflers are the result of years of development with top race engine builders, thousands of hours of dyno research and "real-world" on-track testing

Flowmaster's product line includes exhaust products for Performance Street, Muscle Cars, Trucks, Street Rods, RV's, Motorhomes, and all types of race applications. With over 400 different muffler models, 370+ exhaust systems and numerous exhaust accessories available, Flowmaster offers you the choice of sound to fit your preference from "wild to mild" and your specific vehicle needs.

NEW 1940 FORD STEEL BODIES
Photos and article courtesy Ford Media
One of the most cherished and collected classic cars of the pre-World War II and hot rod era - the iconic 1940 Ford Coupe - is the latest addition to Ford Motor Company's growing stable of officially licensed all-steel reproduction car bodies.
The 1940 Ford Coupe body is constructed of modern, high-strength steel and is assembled using modern welding techniques. The new body comes rustproofed from the factory and is ready to be assembled as a custom hot rod or as a faithful tribute to the original.
At the Specialty Equipment Market Association (SEMA) show in Las Vegas, Ford displayed a custom 1940 Ford hot rod built using a reproduction body shell that demonstrates the high-quality construction. Prices start at $11,900 plus shipping.
The fully built, copper-colored SEMA show car sported a new 5.0-liter V8 engine, four-speed automatic transmission and Mustang II front suspension. The roof has also been chopped or lowered to give the car an even meaner look.
The full body shell as well as individual steel panels are available. Hobbyists looking to build a hot rod using the new 1940 body are limited only by their imagination and budget. The new body is available with a stock firewall that accommodates the original flathead V8. However, for those looking for greater performance from a modern powertrain, the new 1940 Ford body can alternatively be ordered with a recessed firewall that will allow much larger modern engines to be installed.
Photo courtesy Joe Whitaker, Real Deal Steel.
Joe Whitaker from Real Deal Steel said that the bodies are built to the original Ford blueprints, but that doesn't mean there wasn't room for improvement in the assembly process, given that Ford originally mass produced the bodies and Real Deal Steel will craft each one by hand. "Basically we're using the same steel used in modern automotive construction, but because we're using a high-tension stamping process, which puts a real strong finish in the panel, we're able to use 19-gauge steel instead of the original 18-gauge; all the subrails and inner bracing remains 16-gauge, just like Henry used," Whitaker said.
"We're using about 20 to 25 percent more spot welds than originally used. Also, during the assembly process we build the body around fixtures, which allows us to assemble the doors and decklid before we do the final fit of the rear quarters and tailpan. That's quite an improvement in fit and finish over building the bodies, then hanging the doors and decklid afterward, as Ford originally did."
Whitaker said he and Randy Irwin, his partner in Real Deal Steel, can put together a complete 1940 Ford coupe body in about four days. With some experience, he said he believes they can eventually complete the coupe bodies in three days.
CALIFORNIA SUPER STORES
Facing the terrain and looking for a

Dodge Ram Truck
or
Jeep
Dealer?
Thinking that a
Chrysler
is more your style?
Vintage Dodge At the Folsom Boulevard Store
PARTS - ACCESSORIES - APPAREL - GIFTS
California Superstores - Folsom
12545 Folsom Blvd Folsom, California 95630
888-228-9289
MOPAR - CHRYSLER - DODGE - JEEP - DODGE RAM

VINTAGE FRIDAY'S
- Car Shows and BBQ -


2012

Was Our 14th Season!


June - July - September - October
Sacramento Vintage presented our 14th Annual
Season of Vintage Friday's 2012!
All pre-1973 U.S. makes and models are welcome! Participant parking is limited, please no saving spaces.
A relaxed, family cruise night with good friends and their rides! No car? No Problem!
Come on by, check out the cars & trucks, grab one of our famous burgers or hot dogs, a Soda, a bag of chips and enjoy the evening. There is no entry fee for vehicles or spectators.
Oh...and Win Stuff! Excellent prizes from our great sponsors and supporters! Remember to relax, we have tables and chairs at the BBQ.

Home & Garage Accessories, Cars on Display
In The Showroom and All Kinds Of Neat Stuff
in the Gift Shop!
COBRA ELECTRONICS
Cobra Electronics Corporation
is a leading designer of mobile communications products in the United States, Canada, Europe and around the world. After 50 years of innovation, the company continues to grow by boldly entering into new product categories.
Today the company's products include:
Mobile navigation devicesTwo-way radiosRadar/laser detectorsCitizens band radiosMarine electronicsPower inverters
Cobra products are available in nearly 40,000 storefronts in North America and in a growing number of retailers throughout the world.
We would also like to thank Cobra Electronics for their support of our Make-A-Wish efforts.
HOLLYWOOD HOT ROD ACCESSORIES
Troy Ladd and the crew over at Hollywood Hot Rods have a bunch of new and very cool accessories coming soon to their web store and...... to the Sacramento Vintage Ford Gift Shop! Stay tuned.......
Our Christmas display ...stop by and take a look!
Andy and Darold heading over to In-n-Out Burger!
(Photoshop magic by Heather)

DID YOU SIGN UP FOR OUR NEWSLETTERS?
Sign up a friend for our email newsletters!
CLICK Above
When you join our e-mail list, you can also
'fine tune'
what information you would like to receive from Sacramento Vintage Ford......from the type of car(s) you
have.... to 'Garage Sale' bargins.....Catalogs .....and more!
(We do not sell or rent our valued customers e-mail addresses)
You can also forward this newsletter to a friend using the box at the lower left corner of this newsletter.
CLICK above to view newsletters you may have missed!
Cruisin' around the Sacramento Vintage parking lot in the 'Sacramento Vintage Equipped' Grand National
'Speed 33' Roadster, owned by John Buck.
That's It For This Edition!
Thank You!
Please drive safe, have fun and enjoy your ride!
1-888-FORD-100