Publisher/Editorial Director:
Associate Publisher/Contributing Editor:
Contributing Photographers:
Darold Kohout
Doug Oehler
Joe Streng
Web Producers:
Rancho Cordova, Ca. 95742
1-888-FORD-100
Celebrating
Our 43rd
Anniversary
1969 - 2012
Thank You!
Vintage Friday's
Car Shows!
Music & Entertainment
at our shows for
13 YEARS!
-- RIP Larry --
The Association of California Car Clubs (ACCC)
is a volunteer organization with regional representatives who represent the interests of individual members and member clubs across the state.

The ACCC consists of thousands of automobile hobbyists throughout the state who are interested in California laws and policies regarding collector automobiles.


FAST FRAME

The Official Custom Art Frame Shop of
Vintage Fridays

5343 Sunrise Blvd
Fair Oaks, Ca. 95628
916-966-8766
Barris Kustom
Industries
Thanks For The Support George and the Barris Family!



Click
Above to see what
George Barris has been up to and shop Barris.com



Sacramento Vintage
is an authorized
Barris Kustoms
Dealer!


We have 3 Barris memorabilia sections:



-- Batmobile Related

-- Barris Books
-- The Munster Koach
CLICK
on the Batmobile

Thanks to
Hooters Restaurants
for their support of our Vintage Friday's events!

Rancho Cordova
Sacramento
Natomas
Fresno
Bakersfield
Honolulu
Thank You!
New drivers need to


Start Smart.
Enroll your young driver in a Start Smart program today.
Sacramento Vintage Ford was
Honored with a
2010
All Star Award
from
Constant Contact
for our 2009 & 2010
newsletters!


THUNDERBOLTS
Capitol Auto Club
Official Host Club
of our Vintage Friday's Car Shows!
CLICK above to read more about the 'BOLTS'
Stop by the
Rancho Cordova

location - Just down the street from Sacramento Vintage Ford!

Rancho Cordova Store Manager: Mitch Harrison
2838 Sunrise Blvd

Rancho Cordova, Ca.

95742

916-858-8666

WIN Some Very Cool Lethal Threat

Rat Rod Embroidered Mechanics Shirts
at all of our Vintage Friday's events!
CLICK above to see what else Lethal Threat has. And they have a lot!
At P.F. Chang's we are committed to providing you with an exceptional dining experience every time you walk through our doors. Each dish on our menu is prepared to order using the freshest and highest quality ingredients.
Majestic 11 foot tall horses grace the entrance to many of the restaurants. The horse symbolizes the original Forbidden City in China, which was built for China's first emperor Qin Shi Huangdi.
At P.F. Chang's you are surrounded by a unique environment combining influences of Chinese and American cultures. A panoramic, hand-painted mural depicting 12th century China, is visible from the main dining room and commands attention as the restaurant's centerpiece, while several terra-cotta warriors stand guard.
P.F. Chang's
(Darold and Lynn highly recommend the Chang's Chicken Lettuce Wraps to start your dining experience!
)
Rod Shows.com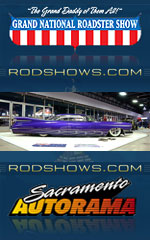 Grand National Roadster Show
January 25-27, 2013
Sacramento Autorama
February 16-18, 2013
Join the West Coast's premier hot rod, bike & motorsports tour!
Come and join the two Oldest and Longest Running Indoor Car Shows in the World.
CLICK
above to see
-Dates and Times-
Garage Mahal
American Trucker
Shark Fights
Optima Ultimate Street
Car Invitational
CLICK on any show
for information
Monster Rides On Sale!
Hot Rod Magazine
Monster Rides

We also have the mirror hangers and ornaments for the Holidays!
Ask the Gift Shop about the HOT ROD Monster Rides hat, FREE with your purchase of 2 or more 'full size' Monster Rides! and........ we just received the Monster Rides motorcycles!
Classic Shop Talk
Tech Articles
Instructions
Videos
Classic Performace Products
A Valued Vintage
Friday's Sponsor!
U.S. NAVY F432
CORSAIR COUPE
in 1:18 Scale
WIN some very
cool signs from

Ruckus Rods!

We will have these NEW signs in stock soon!



CLICK

above if you can't wait!

California Highway Patrol
The California Highway Patrol
-Valley Division-
A Vintage Fridays Sponsor & Supporter


Nothing Comes Close To
A Cobra

North American Headquarters:

Cobra Electronics Corporation
6500 West Cortland Street
Chicago, IL 60707

productinfo@cobra.com
1-773-889-8870


Sacramento Vintage Ford Shop Tour
by Craig Pike over at
My Ride Is Me.com
'The first thing I noticed'.......CLICK above to read the article
Photos by
Fender Donated The Guitar!




Gene Winfield Painted
It To Match WILD CAD!



Mike Clines Striped It in 12k White Gold with Green Accents To Match WILD CAD


Best Buy in Roseville, California donated the Fender Amp!





W

e gave it all away for Make-A-Wish
in July!


Watch out for this little
guy in our parking lot area.
Very friendly but hasn't learned he may get squished by a car.
O'Reilly Auto Parts
With over 3600 O'Reilly Auto Parts stores in 38 states, they are never far from home!
Better Parts...Better Prices, Everyday!
Norm Grabowski Passes
Norm Grabowski, the man who literally invented the T-Bucket with his famous "Kookie Kar" has passed away.
Grabowski's creation launched hundreds of thousands of copies and even entire cottage industries over the years which is certainly not what the talented craftsman and hot rodder had in mind when he built the car in the early 1950s. The car's look was revolutionary for the time and featured a pieces from a 1922 Model T, the shortened bed from a Model A pickup truck, a Cadillac engine, and lots and lots of time and fabrication work to make it all look "right". Grabowski showed and drag raced the car.
His success at the strip was so inspirational that Tommy Ivo himself managed to sneak into Grabowski's garage when he wasn't home to get measurements and details to built a 'bucket of his own to take to the drags. We all know what happened with that Ivo character!


The car became literally famous as a member of the cast of the show "77 Sunset Strip" where it was driven around by a character named Kookie, hence the car's name. So influential was the car that it appeared on the cover of Hot Rod in 1955, Car Craft in 1957, and during the same year it appeared on the cover of Life Magazine in an issue where lots of space was devoted to both it and Norm.
Why would Life write a cover story about a hot rod and the rodder that built it? Because this single car ignited a craze to build machines just like it around the country. So often in this hobby, things can't be traced back to a specific point but more a gathering of smaller pieces onto trends and movements that drive things in one direction or another. That's not the case with T-Buckets. Ground zero was Grabowski's car, no disputing it.

As the car got famous, so did Norm and he had an acting career for years because the car had opened the often tightly shut doors of show business to him. Grabowski was in many televisions shows and movies over the years. Along with his skills as a hot rodder and actor, Grabowski was a very gifted wood carver and his various artistic creations are highly coveted among hot rod collectors and enthusiasts. Norm was a hot rodder to the end working on a bunch of cool projects and being the generally awesome dude that everyone who knew him says that he was.

Norm joins too many of the foundation level hot rodders that have left us this year.
Above article courtesy Brian Lohnes as submitted to BangShift.com
Grabowski doing his thing!
The shot with Norm holding the model of the Kookie Car is one of Darold's favorites. Norm is holding the first die cast prototype and was quite impressed! Dale, a good friend and Norm's valued helper shot the photo for the Franklin Mint. That's the 'Puke Truck' in the background.
That's John LaBelle at Sacramento Vintage with the cut-out of Norm that John hade made for the display. John is the owner of the Kookie Car clone that Von Franco had created many years ago. This photo was taken just after we heard that we lost Norman.
Rest In Peace Norman! You will be missed.
As someone said on the HAMB......Hot Rod Heaven
will not be the same with Norm hanging around up there....

Pick-n-Pull
51 locations throughout the U.S. and Canada
DON'T MISS THE CELEBRITY ROAST OF BLACKIE GEJEIAN
Don't miss the Celebrity Roast of Blackie Gejeian and a Salute To Fresno Motorsports Heroes on Saturday, November 3rd at The Grand in Fresno, CA.
You don't want to miss this historic gala gathering of notables from the glory days of hot rodding, drag racing, Bonneville, oval track and boat racing! The evening's festivities kick off at 3:00PM and will include a rod & racecar display, automotive legends, a full tri-tip or chicken dinner and of course, the roast of the honored guest, Blackie Gejeian.
As we understand.....the event has SOLD OUT!

CLICK ABOVE TO PURCHASE YOUR TICKETS
Vintage Cars Headed To Sacramento!

Golden State Street Rod Nationals Plus

Was held October 5 - 7, 2012

at the California Exposition & State Fair

Sacramento, California

Sponsored by the
Thunderbolts Capital Auto Club
Thunderbolt member Butch Gardner during an interview

at the Poker Run.

Final hand at the Poker Run table

TOBY KEITH'S
I LOVE THIS BAR & GRILL
Leave it to country music legend Toby Keith to create a restaurant that offers great food and the best live music in Oklahoma City. Named after Toby's hit single "I Love This Bar," this exciting venue offers a real down-home experience.
Open for lunch 11am daily. Come as you are.
They'd love to have you anytime!
No reservations, but seated upon order of arrival.
Toby Keith's
I Love This Bar & Grill440 Palladio ParkwayFolsom, California 95630916-984-8629
Located in the PALLADIO at Broadstone
Your very own Toby Keith guitar pick. Available in the
Sacramento Vintage Gift Shop.
COMING SOON TO THE
SACRAMENTO VINTAGE FORD
SHOWROOM
Fresh off the Rodfather Goodguys Road Tour we will have Andy and Sue Brizio's 1932 Roadster on display in our showroom for you to enjoy. This very famous Roadster was built to drive, by Roy Brizio Street Rods, South San Francisco, California.
Greg and Rebecca Stokes on the left. Greg is the Feature Writer with
Hot Rod New Zealand Magazine
. This photo was taken during the stop at our store during Goodguys Hot Rod Week.
Another cool Roadster at the Goodguys Hot Rod Week stopover was Gary Meadors 1929 Model A Roadster. Another built to drive car, by Moal Coachbuilders, Oakland, California.
Gary's Roadster is also scheduled to be on display in our showroom for you to check out!
A huge thank you to the Meadors' and Brizio's Families for allowing us to share these cars with you!
Goodguys Tribute 1932 Nearing
Completition for SEMA Debut
The Goodguys Tribute 1932 sedan is darn near finished up at Kindig-It Design in Salt Lake City, Utah! The all steel deuce body was mated to the Pinkee's chassis over the weekend and only last minute finishing work will be required this week before it heads out Las Vegas this weekend for next week's SEMA Show at the Las Vegas Convention Center!
Look for the finished car on display at the Taxi Cab drop-off area of the North Hall of the Las Vegas Convention Center next week. It will also be one of the featured vehicles at the HRIA Industry Awards reception Wednesday night, October 31st.
After its SEMA show debut next week, the car will hit the road to be featured at 2013 and 2014 Goodguys National events before being given away at the Goodguys 2014 PPG Nationals in Columbus, OH.
To find out what's happening at KINDIG-IT Design visit www.kindigit.com
Images courtesy Goodguys and Kindig-It Design

Pepsi Beverages Company
Sacramento, California
Thank You Pepsi Beverages Company, Sacramento,
for your continuous support of our Make-A-Wish efforts.
Our Final Show of the Season:
Friday OCTOBER 26, 2012
Friday, October 26th is the last Vintage Friday's Car Show and BBQ of our 2012 season.
GREAT raffle prizes again this season with 100% of the ticket sales going the The Make-A-Wish Foundation of Sacramento and Northeastern California.
Stopped at 2:00 AM

An elderly man was stopped by the police around 2 a.m and was asked where he was going at that time of night.
The man replied, I'm on my way to a lecture about alcohol abuse and the effects it has on the human body, as well as smoking and staying out late. The officer then asked, really? Who's giving that lecture at this time of night? The man replied, that would be my Wife!
WIN A TIKI
Pacific Coast Customs has donated a couple of their custom METAL tikis that will be given away at our Make-A-Wish raffles. One was given away at the September show and the other will be raffled off at the October event. These guys stand a towering 15" tall and feature custom paint and chrome plated nose ring. Very Cool! Thanks Robbie!
Pacific Coast Customs
5757 Napa-Vallejo HWY 29
American Canyon, CA 94503
p. 707.224.4011
Goodguys promotes and produces 20 annual events in 13 states and publishes the monthly Goodguys Goodtimes Gazette from the association's Pleasanton, California headquarters. More info? Visit www.good-guys.com.
CLICK above to print a Goodguys $3. Discount Coupon, PDF version. Good for ANY Goodguys Event!
The KEY and TOKEN a WISH recipient is given to unlock the very special room that grants their WISH.
B.R. COHN WINERY
Founded by Bruce Cohn in 1984, B.R. Cohn Winery is located in the heart of Sonoma Valley. Offers a full line of ultra-premium wines, extra virgin olive oils, handcrafted vinegars and gourmet food products.
Thanks to B.R. Cohn Winery for their donations to our Make-A-Wish efforts again for2012!
This season at each of our events you may win, courtesy B.R. Cohn Winery, a VIP tour and tasting for up to 6 people, a bottle of their Picholine extra virgin olive oil and a bottle of their 15 year Balsamic Vinegar in a custom wooden box and to top it off, a Doobie Brothers 'World Gone Crazy' CD. Bruce Cohn just happens to be the Doobie Brothers manager.
B.R. Cohn Winery Amphitheater - Glen Ellen, California
PICK UP YOUR FREE PPG POSTER AT THE SHOW, FRIDAY OCTOBER 26
PRINT OUT THE COUPON!
CLICK
on the image to open the PDF file and print out your coupon! Poster measures 17" x 24" on heavy stock.
Bring your coupon to the cashier for your FREE copy!
Thanks to the folks over at PPG!
(limit one per customer while supplies last)
And thanks to Tom and Teri at FastFrame in Fair Oaks, California. Tom with one of the PPG posters they framed and matted for our Make-A-Wish efforts. Tom and Teri have been very gracious supporters of our events for many years!
5337 Sunrise Blvd, Fair Oaks, California, 95628
(916) 966-8766
Established in 1987, the Pick-n-Pull chain of self-service auto parts stores is one of the largest recyclers of end-of-life vehicles in the industry. You bring your tools, pull the parts you need and SAVE lots of money! Their 48 U.S. and 3 Canadian locations offer a huge a selection of used OEM (original equipment manufacturer) parts for cars, vans and light trucks - all makes and models, foreign and domestic - all at incredibly low prices.

Pick-n-Pull is proud of the fact that they recycle more than 350,000 vehicles and service more than 5 million self-service customers each year.

Pick-n-Pull is a subsidiary of Schnitzer Steel Industries, Inc., a global leader in the metals recycling industry that has been in business for over a century. Although Pick-n-Pull and Schnitzer have worked together since 1989, Pick-n-Pull became a fully owned subsidiary of Schnitzer in 2003 as part of its Auto Parts Business unit. Being part of a Fortune 1000 company has enabled them to grow stronger and introduce cost efficiencies into their system that have allowed them to bring environmental and cost benefits to their customers. At the same time, the Pick-n-Pull stores have retained the regional and local focus that has made them popular with their customers.


CLICK to find a Pick-n-Pull Near You!
OPTIMA Ultimate Street Car Invitational
OPTIMA® Batteries announced the premiere of its new 2012 television miniseries.
OPTIMA's Search for the Ultimate Street Car
will air on the nationally-televised
SPEED™ TV network
. The miniseries will feature two epsiodes showcasing participants of the OPTIMA Faceoff at the HOT ROD Power Tour and OPTIMA Faceoff at Road America as they compete to gain an entry to the fifth annual OPTIMA Ultimate Street Car Invitational presented by K&N and Royal Purple.
These new shows will bring viewers an insider look at the road to OPTIMA's Invitational taking place
Saturday, November 3
, immediately following the
2012 SEMA Show
. The annual event consistently features some of the most high-profile and prestigous SEMA Show vehicles as they are put to the test in a series of performance and design events, in order to crown the OPTIMA Ultimate Street Car.
In the first episode viewers will be taken to the OPTIMA Faceoff at the HOT ROD Power Tour in Arlington,Texas, the end destination to the grueling 1,371-mile, eight day drive of the HOT ROD Power Tour.
CLICK
on the photo above to view the video and to read more about the event.
A special Thank You for Optima's continued support
of our Make-A-Wish efforts!
A 1937 Ford Housecar
One of only six said to have been made per year in the
mid-'30s at the Ford Plant in St. Paul, Minnesota, according to an article on this car in a 1993 "Old Cars" magazine article.


Very few others--perhaps none--remain on the road, and certainly not in such amazing original condition. (The only other known example heard of was supposedly housed in the Henry Ford Museum in Dearborn, Michigan. But that turned out to be an early 1920s Model T conversion,
the curator mentioned. He said he'd never seen anything like this 1937!)
When discovered in a garage (under a heavy cover) in Northern Minnesota in August 2001, she had only 19,000 miles, and the owner's manual was actually still the glove box in like-new condition! She had always been garaged and treated with much TLC as a collector vehicle.
The interior, all wood lined, was still the way it appeared
in the '30s and '40s, complete with framed photos of the original owner on his travels (mainly to Florida) and his cabin in the North Woods, plus and other memorabilia from the era.
Built on the '37 Ford Pickup frame and cowling (powered by a 60-hp flathead V8 with aluminum heads), the rear framing is all wood, with the metal skin wrapped around it. The roof structure, too, is all wood, over which the heavy,
waterproofed canvas top is still very securely fitted. The structure of the body is solid, appearing from underneath to be all oak, and still in a remarkably unaltered, undamaged condition. The door frames are thick,
solid oak, and oak is visible around the window openings (as on thefour side windows in back) -- though it is painted over.
Article and photos copurtesy GTA Marketing
CLICK on the Ford for additional photos.
2012 Niello Concours at Serrano


Featuring the Marque of Pierce-Arrow &
Celebrating Fifty Years of the Cobra
Honoring Carroll Shelby
With 175 motor cars on the green, spanning over 100 years, this year's array of entrants was a pleasant surprise for all of the attendees at the 2012 Niello Concours at Serrano!
Serrano is located in El Dorado Hills - 25 miles from downtown Sacramento and 90 minutes from Lake Tahoe.
THE SACRAMENTO VINTAGE FORD
F100 PARTS CATALOG!
Our 408 page, full color 2012 catalog of 1948-1966 Ford Pickup parts and accessories. If you have been ordering your F-1 & F-100 Pickup parts from Sacramento Vintage, watch for it in your mailbox .
And a special THANKS to artist David R. Barrett for the very cool pickup art!
Not on our list? CLICK to order.
THE SACRAMENTO VINTAGE FORD
MODEL A PARTS CATALOG!
Our 480 page, catalog of parts for the 1928-1931 Ford Model A & AA. Parts and Accessories, Gift Items, Apparel and even a few items to make your little
Model A go.....faster!

Your source of quality Model A Parts since 1969!
What Ford Parts Do We Have For You?
1909-27 Model T
1928-31 Model A & AA
1932-48 Ford Passenger
1932-47 Pickup
1948-66 Pickup
1949-56 Ford Passenger
1967-79 Ford Pickup
Parts for your Hot Rod, Street Rod, Custom,
Suede & Rat.
Cool stuff for your shop, office and garage!
One Shot, Lil Daddy Roth, Von Hot Rod, Mack Brushes
Roth Rattle Bomb Paint, Stickers, Clothing, Books, Art
and a bunch more! And it's all at
www.VINTAGEFOD.com
Mac's Distributing
6001 Auburn Blvd, Ste 100
Citrus Heights, California 95621
916-722-6227
Scrapbook: A Collection of Tales and Images Compiled by the Editors of The Rodder's Journal.
The Scrapbook is nearly 500 pages of vintage, never-before-published photography featuring hot rods, customs, early dry lakes, drag racing and more. We have thoroughly researched the hundreds of images in order to tell the story of each topic covered in the book. Some pretty interesting connections between various people and places were made as well, resulting in some old hot rodding mysteries being put to rest and some new ones created. Over at The Rodder's Journal now and soon at Sacramento Vintage. $50.00
AMERICAN RESTORATION
AMERICAN RESTORATION features Rick Dale and his crew of loose screws at Rick's Restorations in Las Vegas, Nevada, as they take rusty, beat-up items and restore them to their original glory.
When it comes to restoration, Rick Dale is the Pawn Stars go-to guy. AMERICAN RESTORATION follows Rick's work as owner of Las Vegas-based Rick's Restorations, a family business that finds, restores and up-cycles cool objects ranging from Cadillacs to Coke Machines.
Rick's very nice Ford F-1 Pickup can be spotted on various episodes of American Restoration.

Did we mention Rick's pickup is:
1112 S Commerce Street
Las Vegas, Nevada 89102
SHEEPHERDER BAR AND GRILLE
The Citrus Inn opened in 1913
in this very building on Folsom Boulevard. Citrus was sold in front of the building to everyone that passed by on busy Folsom Boulevard.

Folsom Boulevard was a main thoroughfare for the gold rush in the mid 1800s. Many immigrants and forty-niners were in search of some of the gold that James W Marshall and John Sutter found in the American River. The railroads that are still visible across the street today were the same railroads that were constructed in the late 1800s.

Rumor has it that over the years The Citrus Inn became many different businesses, including The Edwards Hotel, and at one point, a brothel. Everyone came to the building to eat good food and to have a good time. There was drinking and dancing 'til late at night.

Later, the building became known as Sheepherder Inn. It was a place for Basque sheepherders to come and rest upstairs in the Inn and enjoy a hearty meal downstairs, which probably consisted of meats, fish, lamb stews, legumes, cheeses and Basque cider.

Sheepherder Bar and Grille
11275 Folsom Blvd.
Rancho Cordova, CA 95742
Phone: (916) 638-4584

Crossroads: Folsom Blvd. and Sunrise Blvd. just down
the street from Sacramento Vintage Ford.....
QUICK QUACK CAR WASH
3 Minutes Fast & No Waiting!
Quick Quack is a growing chain of exterior-only, soft cloth car washes in California, Texas & Colorado. They take pride in being environmentally friendly by conserving & recycling water.
ANDY'S PICNIC 2012 TIN SIGNS
If you missed the annual Andy's Picnic you can still have a very cool souvenir of the event!
These are metal signs are in full color and autographed by Andy Brizio himself. A great addition to your sign collection or garage art. CLICK above to order yours.
CANINE COMPANIONS FOR INDEPENDENCE
Kathy Zastrow with Canine Companions For Independence brought by a couple of 'trainees' that look liked they were all trained out!
Help is a Four-Legged Word
Canine Companions for Independence® provides highly-trained assistance dogs for children and adults with disabilities, free of charge. The most advanced technology capable of transforming the lives of people with disabilities has a cold nose and a warm heart!
Kathy and her Husband are the folks behind the
Zoom Zoom Woof Woof Car Show held each year in
El Dorado Hills, California.
TAKE-A-KID TO A CAR SHOW
There have been countless studies done to prove it, but virtually everyone knows that spending quality time with a kid is the greatest gift you can give them. And sharing your appreciation for collector cars is a great way to nurture their interest in a hobby that you can enjoy together for many years to come.
Through the SEMA Take a Kid to a Car Show coloring book app, kids of all ages will be able to customize and personalize each car. We encourage users to visit www.takeakidtoacarshow.com to discover additional fun and exciting resources through this campaign.
Mt BAKER LODGING HAULER
Dan Graham from Maple Falls, Washington sent us a note and a couple photos of his build!
The truck will be on display at SEMA in Hot Rod Alley between the Gear Vendors and Ford booths. It was built utilizing a large number of parts that I obtained from Sacramento Vintage.
In case I miss you at SEMA, I'll be attending the Good Guys Show in Pleasanton the following weekend. I've attached a couple of pictures of the truck, and hope to see you at one, the other, or both
Thanks for the photos Dan....looks amazing!
In 1965 the first T.G.I. Friday's restaurant opened in New York City at the corner of First Avenue and 63rd Street and quickly became the meeting place for single adults, with $1 million in revenues its first year.
"T.G.I. Friday's® is known for serving authentic American food and exciting drinks. We also understand that our restaurants are more than just a place to eat. They are places where communities form, gather and engage."

"So, we take our commitment to community seriously. Our Team Members have cultivated strong local relationships and take great pride in their engagement with guests and their participation in the communities that they live and work in."
MODEL T PARTS
Yes....we are hard at work on our ALL NEW parts catalog for the Model T Fords, 1909-1927!
CLICK above to get on our list for your FREE copy or give us a call at 888-FORD-100 and ask to be added to the Model T Catalog list.

As new parts arrive, and there are a lot, please check our Model T web pages as they will go up to the web as soon as they become available.
CLICK the logo to browse our Model T parts!
You can also send an email with your name and mailing address to modelt@vintageford.com and we will place you on the list for a FREE copy when available.

LES SCHWAB TIRES
Rancho Cordova, California

Thanks to Mitch and the crew over at Les Schwab Tires in Rancho Cordova for their support of our Make-A-Wish efforts!


2838 Sunrise Boulevard Rancho Cordova, CA 95742


Next to Home Depot!


(916) 858-8666



Remember......Tires and service on your 'modern' car go see Mitch over at Les Schwab in Rancho Cordova!

Skinny Tires for your Antique or Vintage car, head over to Sacramento Vintage Ford.
FLOWMASTER MUFFLER
In 1983 California Sprint Car racers were experiencing 'excessive sound' issues at numerous race tracks and were told to quiet the cars down or lose racing privileges. All attempts to silence the race engines without sacrificing power repeatedly failed.

Enter Flowmaster founder, Ray Flugger, with over 45+ years of exhaust design experience, and while working out of a small 800 square foot barn in Kenwood, California, created Flowmaster's first patented design of racing silencers. Ray attached handles to ease carrying the square shaped race mufflers through the race pits, and the mufflers became known as the "suitcase muffler." Today, these innovative Flowmaster mufflers are the result of years of development with top race engine builders, thousands of hours of dyno research and "real-world" on-track testing

Flowmaster's product line includes exhaust products for Performance Street, Muscle Cars, Trucks, Street Rods, RV's, Motorhomes, and all types of race applications. With over 400 different muffler models, 370+ exhaust systems and numerous exhaust accessories available, Flowmaster offers you the choice of sound to fit your preference from "wild to mild" and your specific vehicle needs.

HOUSEHOLDER MOPAR PICK AWARD
To Include a $100. CASH BONUS!

This season Sacramento Vintage will have a 'Mopar Pick' at each of the 4 Vintage Friday's shows this season. Any pre-1973 Mopar is eligible for the pick that has registered at the show.
Included with the Pick Award will be a $100. CASH AWARD to the Pick winner! The Larry Housholder Pick award is sponsored by John and Rosemarie LaBelle.
Larry Householder 1944-2011
Our enthusiastic 'entertainment director' that had graciously donated his services for the past 12 years.
Jerry was the award recipiant at the June 29th show.
Plus a $100. cash prize.
Presenting the Householder award left to right: Sharon and Roya from Hooters Restaurant, Rancho Cordova.
SCOTT'S SEAFOOD GRILL & BAR
Folsom
9611 Greenback Lane
Folsom, California
(in River Rock Plaza)
(916) 989-6711
Scott's on The River
4800 Riverside Boulevard
Sacramento
(in the Pocket Area, on the Sacramento River)
(916) 379-5959
Taco Tuesday
Two Blackened Tilapia Tacos for $3
at The River 4:00pm to 7:00pm

at Folsom 4:00pm to 10:00pm
CALIFORNIA SUPER STORES
Facing the terrain and looking for a

Dodge Ram Truck
or
Jeep
Dealer?
Thinking that a
Chrysler
is more your style?
Vintage Dodge At the Folsom Boulevard Store
PARTS - ACCESSORIES - APPAREL - GIFTS
California Superstores - Folsom
12545 Folsom Blvd Folsom, California 95630
888-228-9289
MOPAR - CHRYSLER - DODGE - JEEP - DODGE RAM

VINTAGE FRIDAY'S
- Car Shows and BBQ -

Sacramento Vintage presents our 14th Annual Season of Vintage Friday's 2012!
All pre-1973 U.S. makes and models are welcome! Participant parking is limited, please no saving spaces.
A relaxed, family cruise night with good friends and their rides! No car? No Problem!
Come on by, check out the cars & trucks, grab one of our famous burgers or hot dogs, a Soda, a bag of chips and enjoy the evening. There is no entry fee for vehicles or spectators.
Oh...and Win Stuff! Excellent prizes from our great sponsors and supporters! Remember to relax, we have tables and chairs at the BBQ.

Home & Garage Accessories, Cars on Display
In The Showroom and All Kinds Of Neat Stuff
in the Gift Shop!
Western Pacific Events will once again be sponsoring the Best of the Best Award at our Vintage Friday's Car Shows.
Along with the
2012 Best Of The Best
trophy that will be
awarded at the October show
, Butch Gardner with Artesia Street Rod Promotions is, again this year, including a
$100. cash bonus
for the Best Of The Best winner.
CLICK above to visit the Western Pacific Events site.

COBRA ELECTRONICS
Cobra Electronics Corporation
is a leading designer of mobile communications products in the United States, Canada, Europe and around the world. After 50 years of innovation, the company continues to grow by boldly entering into new product categories.
Today the company's products include:
Mobile navigation devicesTwo-way radiosRadar/laser detectorsCitizens band radiosMarine electronicsPower inverters
Cobra products are available in nearly 40,000 storefronts in North America and in a growing number of retailers throughout the world.
We would also like to thank Cobra Electronics for their support of our Make-A-Wish efforts.
HOLLYWOOD HOT ROD ACCESSORIES

DID YOU SIGN UP FOR OUR NEWSLETTERS?
Sign up a friend for our email newsletters!
CLICK Above
When you join our e-mail list, you can also
'fine tune'
what information you would like to receive from Sacramento Vintage Ford......from the type of car(s) you
have.... to 'Garage Sale' bargins.....Catalogs .....and more!
(We do not sell or rent our valued customers e-mail addresses)
You can also forward this newsletter to a friend using the box at the lower left corner of this newsletter.
CLICK above to view newsletters you may have missed!
Cruisin' around the Sacramento Vintage parking lot in the 'Sacramento Vintage Equipped' Grand National
'Speed 33' Roadster, owned by John Buck.
That's It For This Edition!
Thank You!
Please drive safe, have fun and enjoy your ride!
1-888-FORD-100