BrainCore of NY Opens NYC Neurofeedback Center
Back to School Special Officially Unveiled
Exciting News! We are happy to announce that BrainCore neurofeedback therapy is now available in our Upper West Side office. With the addition of our newest Manhattan location, we now have a total of 7 BrainCore centers throughout the NYC/Long Island area!

Our Back to School special for optimal performance is in effect until September 16. Check out the details in our press release or click on the image above and then call us to see how BrainCore can help your child overcome behavioral or academic challenges as well as promote peak performance.
Check out our press release:

Concussions on the Field, Repercussions in School
High school sports tryouts are underway. While it's exciting to make the team, how safe is your child's chosen sport? With concussion rates on the rise for student athletes, the long-term impact of brain-related injuries on academics is a serious concern.

Common practice traditionally has allowed players to quickly return to the playing field once the dizziness subsides. Researchers are now learning that actual brain changes can be seen up to a year after the initial injury, including memory and focus issues and mental sluggishness. Brain-injury specialists believe the harder students recovering from a concussion try to concentrate on mental activities like normal class work, the more severe their symptoms may become. Those who have recovered from the initial headaches and dizziness of a mild brain injury can find that the long-lasting symptoms can impact grades, college entrance scores and other test results.
To help kids keep safe from concussion, the CDC just released a new smartphone app called Heads Up that provides preventative tips for parents and coaches.

It is imperative to act quickly when there is any head trauma to minimize the recovery time and prevent long-term injury. A chiropractic neurological therapy plan can help rehabilitate the brain through cognitive exercise, complex and specific eye movements, and balance/coordination exercises, helping the patient to resume his/her normal activities.
Read more here:

Training Your Brain For Peak Performance With Neurofeedback
How's your mental game? Performing at your best starts with your brain. Whether it be for sports, musical performance, academics or business, when your brain is properly regulated and producing appropriate brain-wave patterns, then your mind and body operate optimally.


BrainCore neurofeedback therapy can help you develop a higher levels of focus, helping you to effectively use and strengthen your brain to achieve your optimum potential.

Learn more about the efficacy of neurofeedback for peak achievement training and then call us to learn how you can train your brain for success!
Read how a young cellist optimized his performance with neurofeedback brain training:

Back to School Tips for Cellphones & Backpacks
It's that time of year again... the school shopping frenzy. Did you know that backpacks are a leading cause of back and shoulder pain for millions of children and that they should not exceed 10% of your child's weight? Before you head out to the mall, check out The American Chiropractic Association's (ACA)'s advice on selecting the appropriate backpack for your child.

Is a new cellphone on your shopping list? Although the Environmental Working Group no longer publishes its annual list Specific Absorption Rate (SAR) values for cellphones (see report for more info), it does offer a helpful safety list for cellphone usage. Meanwhile, in July, CNET published its report of the 20 Lowest Radiation Cellphones to help parents with the purchasing decision.
Read about CNET's cellphone self-defense guide

September is National Childhood Obesity Awareness Month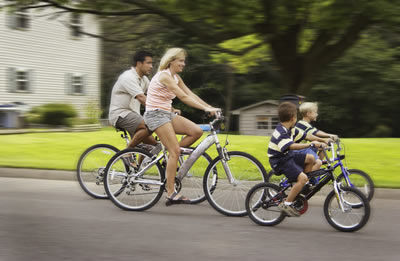 Studies show that an alarming 1 in 3 children is overweight or obese, putting children at risk for health conditions that were once thought to be a concern only for adults such as Type 2 diabetes and cardiovasular disease.

Creating a physical activity plan for the whole family and involving your child in preparing family meals can help improve attitude towards diet and exercise. Remember, proper nutrition and physical exercise not only help weight in check, but also fuels the brain for optimal school performance.
Check out some healthy lunch menu ideas:

Sandman Didn't Show?
Getting to the root of insomnia with neurofeedback
Have you noticed the days are getting shorter? For many, the slow shift into the autumn season unsettles sleep patterns, triggering insomnia. Stress and anxiety also impact the body's ability to get a restful sleep.

While occasional bouts of sleepless nights can leave you groggy and listless, chronic sleep loss can sap your energy, siphon productivity and lead to depression, anxiety and even heart disease.

Prescription medications are often prescribed as the first line of treatment for insomnia, however they merely mask the symptoms and do not address the source of the problem. If you find you're struggling each night for a sound sleep, BrainCore neurofeedback can help regulate the abnormal brain-wave patterns that underlie your insomnia.
Hear how BrainCore therapy "brought my brain back."