Educational


Film Collection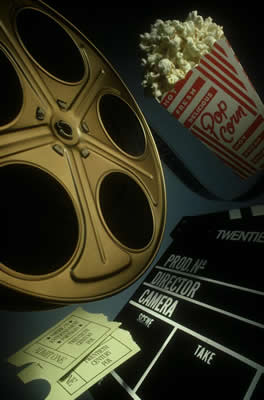 | | |
| --- | --- |
| It's Show Time ! | December 2012 |
Hello Faculty,
I hope you had a productive semester. I want to let you know with your suggestions we added 109 new films to our collection this semester. We are still working on replacing our highly used VHS films with DVD copies where possible. If you have run into a problem using a film this semester because the equipment you needed wasn't available, please let me know so that I can look into getting a DVD copy for you and if that is not available we will work to find something comparable.
Have a relaxing break and I look forward to working with you in the Spring semester,

Amy
Amy Trepal
Manager - Educational Films

Room 317
Woman Demon Human

A powerful opera film: Born into the world of the Beijing Opera Company and with her personal world marked by trauma, a young professional actress submerges herself into her stage roles. Yet she dreams of more: she wants to play the major 'male' roles.
If you know of a new film that you would like us to add to the collection please send me an e-mail including the title, director, year, and any other information that will help in finding the film.
Educational Film Database:
Want to search what we already have? Visit the Educational Film Database and search our film collection in a variety of ways including title, language, or genre
New films acquired during November 2012.
Lavish action-filled account of the separation, separate lives, and eventual reunion of three brothers: one raised by a Hindu policeman, one raised by a Muslim tailor, and one raised by a Catholic priest. Hindi Language
Devil's Highway
A casual bus trip across the desert becomes a struggle for survival when a madman begins stalking the riders on the bus.
Don, a wanted criminal, dies in a police chase. DSP D'Silva is the only one who knows about his death, and to get hold of the gang he trains Don-lookalike Vijay. But Vijay faces danger from the police and from within the gang.
A vibrant world where friends and strangers dream, fear, cry, love, and laugh out loud in an attempt to find their true selves. Adapted by writer/director Tyler Perry from Ntozake Shange's acclaimed choreopoem, this gripping film paints an unforgettable portrait of what it means to be a woman of color in the modern world.
Depicts, through one woman's life from marriage to old age, the joys and tragedies of village life in rural India.
Noorie is a young and beautiful girl from the valleys, who along with Yusuf has a simple dream: a house, a family and a life full of love. But nothing is that simple in life as Noorie and Yusuf's dreams are torn apart at the hand of a couple of village thugs for whom Noorie is just a conquest. Hindi Language
Also known as the War of the Triple Alliance, The Paraguayan War was the crucible in which the modern nations of Brazil, Argentina, Uruguay and Paraguay were formed. Though the largest war in South American history, it has largely been neglected by scholars. This documentary details the conflict, drawing on the rich storehouse of archival photographs, paintings, drawings, and newspaper articles and biographies and seeks to present and objective view of the conflict in which debacles and catastrophes, as much as heroism and bravery, were never in short supply among all involved.
While 48 percent of Mexican-American students currently drop out of high school, Tucson (Ariz.) High [School's] Mexican American Studies Program has become a national model of educational success, with 93 percent of enrolled students graduating from high school. However, Arizona lawmakers [state school superintendents Tom Horne and John Huppenthal and Gov. Jan Brewer have] shut the program down because they believe the students are being indoctrinated with dangerous ideology and embracing destructive ethnic chauvinism.
The Revolutionary
In this documentary film, "Sidney Rittenberg reflects on his remarkable life as an American member of the Chinese Communist Party. From the mid-1940s through the end of the Mao era, Rittenberg had remarkable access to the highest reaches of political power in Beijing. Ranging from his conversations with Mao Zedong and Zhou Enlai to his two long imprisonments under suspicion of espionage, Rittenberg provides a fascinating window onto China's continuing revolution under Mao.