B&W P3, Winner of T3 Magazine's Gadget of the Year!

What tops this year's most wanted?
Personal audio - devices to plug & play music collections from iPads and smart devices such as the B&W Zeppelin Air. Headphones are also in demand - check out B&W's new fold-able and lightweight P3 (pictured).
iPads and tablets are still a popular choice. If you'll eventually want to add A/V, Security or other home automation controls to your device, please call us and we'll be glad to help. An all-in-one remote (single room controller) is always appreciated or how about a turntable for your vinyl-lover?
And, for the person who has "everything", a Visual Sports Simulator! Fore!
Stop in to audition your choices - bring your list!
It's a Great Time to Upgrade your Security System!

Act now to receive 50% off your equipment & installation PLUS your first 3 months of monitoring free by upgrading to Total Connect by Honeywell.
Concerned about your alarm signal getting through in the event your phone line is cut or damaged? Thinking about giving up your home telephone? Total Connect is the perfect solution.


Click here for coupon and get connected!
featuring our latest blogs "Bridgestone Design Replaces 34 Speakers with 3 Arrays"
and
"James Bond is no match for GSM"
Industry Partners
Mark your Calendar
Area Safety Council members:
Audio Video Interiors & Safety Technologies is proud to sponsor this annual CEO event for our chapter. Michael will be the guest speaker presenting on New Technologies that Re-define "Safe and Secure".
We look forward to hosting the November 28th event.
Looking Ahead

Watch for emailed invitations to upcoming events including...
Techorating, designing and decorating with technology.
In 2013, watch for our new website - we're integrating our 2 sites for a better user experience. Our monitored clients will soon be able to take care of their accounts via an online portal and we'll be demonstrating various technologies through improved navigation and informative videos.

Savant's iPad-Powered Home of the Future
Watch as Savant's CEO gives Forbes a tour of their NYC Experience Center, then come by our showroom for a hands-on demo!

Career Opportunities
Please check our websites for a list of current openings.
We are currently seeking:
Staff Spotlight
Our newest Safety Technologies additions
Doug Gambrell
Sales & Project Management

Doug has been building automation, security, surveillance and video distribution systems since 1992. He is also experienced in designing, installing and managing these applications. Doug is a service-oriented sales professional with extensive, specialized experience in Electrical, Security, Audio-Visual, Controls, Tele-Data, Energy-Conservation and Mechanical Businesses. Contact Doug at dougg@safety-technologies.net with your security and life-safety systems inquiries. Welcome aboard!
Jim Chase
Sales Support Engineer

Jim is an accomplished IT/Field Service Professional of 23 years, most recently owning a consulting and installation firm specializing in commercial & residential security and video surveillance projects. He brings his unique blend of expertise to our security and life-safety division. Welcome Jim!
Don't Miss Out!

From time to time we'll be offering promotions exclusively for our facebook friends. Check out our page and be sure to LIKE us, but don't stop there....please comment on our posts, tell us what you what to know more about and share us!


Safety Tip

Babysitter Checklist


This thorough list was shared with us and we felt it worth passing along. Arm your babysitter with everything they need to know while you're away. Download the list from our Safety Technologies website.





Welcome Fall!
Fall was ushered in with a blast from Sandy! We hope that you and your family had little impact. We're proud of the work our trade associations and manufacturers, like Honeywell, are doing to help. Locally, our friends at Trevarrow (Sub-Zero Appliances) are collecting "Jammies for Jersey". Let us know what you are doing and we'll help spread the word.
We wish you a beautiful, memorable Thanksgiving. Enjoy all that it brings - family, turkey and football! (time to get that 65" flat panel?)
As always, remember not to "socialize" your holiday travel plans via facebook or twitter and be sure to download our babysitter checklist below. It's a great tool for your child's caregiver while you're at holiday gatherings. Stay safe!
Black & White Friday!
Hit the snooze bar and stroll in between 10am-5pm to take advantage of these B&W Specials! No Lines! No hectic holiday madness.
Black Friday turns Black & White with Bowers & Wilkins!
The Zeppelin Air is the ultimate iDock - Receive $100 towards your next purchase when you buy it before November 30th, 2012. Receive $25 toward your next purchase with the C5 in-ear or new C3 foldable headphones. Receive $50 towards your next purchase with the P5 Headphones. And how about this one - Get the Panorama for only $1999 with any LCD or Plasma purchase (a $2200 value) - and we've got installations specials too!
We think the choice is...well...Black & White!
Charity Event Raises $1200!

Contribution accepted by Leslie O'Connor, UH Rainbow Babies & Children's Hospital
October's Fused Glass Pendant Workshop and the Art Gallery Opening & Charity Chinese Raffle raised over $1200 for UH Rainbow Babies & Children's Hospital. Thank you Daniel Pruitt, our featured artist, for presenting the workshop and hosting this very special event. And thanks to our partners and neighbors for your generous contributions that ensured this event's success!


Security & Life-Safety Update - Introducing "Refer to Secure"
and you could get rewarded with Free Monitoring for Life!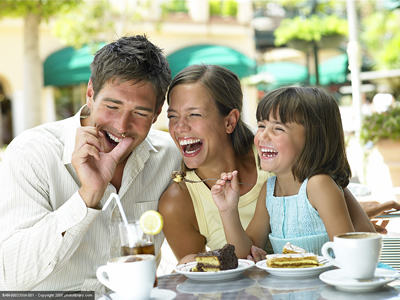 If you're already enjoying the peace of mind that a monitored system with Safety Technologies can bring, thank you. We appreciate that you entrust us with whom and what you value most. If you're not currently signed up with us, now's the time to start! Our clients now have the opportunity to get their basic home monitoring at no cost by referring their friends and family!
►We will credit your monitoring account $50 for each referral that signs up for security services with us.
►After the 7th referral, your security system monitoring will be free for life*.
►Your friends and family will receive 3 months of free monitoring!
Call or visit our website for more information.
Emerging Trends - Monitor, Manage & Control your Refrigerator Effortlessly with Integrated Crestron Control
Automate tasks such as making ice overnight, reduce power consumption when away on vacation, check refrigerator/freezer door status, set demand response levels, and more.
Sample Screen Control
Use your AppleŽ or AndroidŽ device, or a Crestron touch screen or handheld remote to trigger actions or monitor the appliance's status. If the door is left open or the refrigerator requires service, the system will notify you! Is your frig this smart? Call or email Steve to find out more.
Steve Bland provides demos of refrigerator controls at recent Trevarrow Showroom Event.
Commercial Corner - Video Conferencing is Sexy...no, really!
Polycom Open Telepresence Experience High Definition 300

Imagine using this technology in YOUR business! Polycom's immersive experience puts you directly across the table, whether you're across town or across the globe. Polycom offers several levels of conferencing. Call or email Gary to discuss which solution is right for your company's needs.
Industry Partner News
We're excited to be particpating in Crestron's new Interior Design Partner Program. Please download the flyer from our
website
to learn more about the exclusive invitations and benefits for our Interior Design partners!
The latest from Environments by Design
Welcome our newest partners, Erie Energy
Consulting Group. Christopher Balson, LEED, Lee Krost and Tom Clause provide
Energy Efficient Lighting: LED and Induction, Consulting Services (Cost Recovery, LEED), Utility Services, Fluorescent Disposal and Lighting Maintenance Plan. Through the use of energy efficient lighting Erie Energy creates a solution that provides cost savings
while impacting the environment in a positive manner. With their international resources and local p
artners, they maintain the flexibility that allows them to work on a variety of project scopes and sizes.
They are a perfect complement to the products and services offered by Audio Video Interiors and the partners of Environments by Design.
Christopher Balson, Lee Krost
& Tom Clause
On the Lighter Side
We started "Dumb Thief Thursdays"! Check out our facebook page every Thursday for the latest video posting of stupid criminals in actions...you know, the guys who write the "stick-up" note on their own deposit slip, or the one who runs through the woods at night wearing light up shoes. As a security company, we get excited about those "caught on tape", so we'll strive to bring you the best and brightest doing what they do best, caught on camera.
If you're in need of a CCTV System, give us call. Either way, enjoy this classic and
LIKE us on facebook
!
Very Dumb Thief
Sincerely,
Audio Video Interiors
&
Safety Technologies