Welcome to another email update highlighting the happenings at Light of Hearts Villa (LOHV).
WHAT'S NEW
LOHV Unveils New Vehicle
| | |
| --- | --- |
| | |
| Executive Director Elizabeth Hickle & Liberty Ford salesman Walt Bailey | |
LOH
V is thrilled to receive our newest vehicle-a 2015 Ford Flex. This sleek an
d sturdy Flex replaces our two PT Cruisers, which put in 12 years
of faithful service at the Villa. Now Residents and Staff can look forward to riding in comfort and style to and from appointments in LOHV's spiffy new Ford Flex.
Save the Date - Create, Sip & Celebrate - May 5
Tre
at yourself to an evening of fun, relaxation, and creativity! Light of Hearts Villa will host a Painting Fundraiser on Thursday, May 5, 2016 in the Villa's Activity Center. Doors open at 6:00 p.m. and painting starts at 7:00 p.m. Cost is $40 per person, which includes supplies and you will take your "masterpiece" home at the end of the night. Wine and light appetizers will be available. All proceeds directly benefit our residents through the Sr. Helen Scasny, SC Benevolent Fund.

Space is limited to 40 people

, so reserve your spot today by calling Nancy Ilg, Fund Development Manager at 440-232-1991 ext. 560.
Come join us and release your inner Picasso!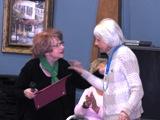 March Birthday Bash
Many thanks to Councilwoman Marilyn Zolata, who partied with our residents at our Birthday Bash on March 4th and helped us celebrate special proclamations for residents Genevieve Aukstuolis and Raymond Hlavaty.
"Walk with Me" Stations of the Cross
On the afternoon of Tuesday, March 15th, residents and staff participated in "Walk with Me," a dramatic presentation of the Stations of the Cross. With the guidance of Pastoral Care Director Sr. Regina, staff members Nancy Ilg, Justin Fegan, and Diann Kubinski took on the roles of bystanders along Christ's path to Calvary.
LOHV Receives Another Deficiency-Free Survey
Light
of Hearts passed the ODH State Survey with
flying colors. We are 100% compliant and deficiency free. Thank you to all of our staff for continuing to uphold our mission and showing LOHV in its true light!
Time to Color Easter Eggs
Our newly relocated Craft Room was the
perfect spot for our Residents to socialize and color Easter eggs. An "egg-cellent" afternoon was
enjoyed by all the participants, who showed off their colorful and creative sides.
Easter Greetings from St. Barnabas Students

LOHV
would like to thank the students at St. Barnabas Catholic School for the beautiful Easter greetings. Their creative and colorful handmade cards-each with a very special message written inside-brought Easter joy to our Residents.
Winner of the 2016 Easter Basket Contest

Congratulations go out to our volunteer receptionist Marlene Pancake, the winner of our 2016 Easter Basket guessing contest. Marlene's guessing skills proved very impressive-her guess was just two eggs over the total count of 288 eggs. Have a sweet Easter, Marlene!
Tea With Betty
C

el

ebrating Tea with our lovely residents, sharing stories and enjoying each other's company.
Please reply or call me at 440.232.1991 if you have anything you would like to discuss or stop by my office the next time you're here. You can also see more pictures and updates on our
Facebook page
as well as our website
Light of Hearts Villa
.
In peace and light,



Betty

Elizabeth J. Hickle, MPA, LNHA, CDP