Applications for Mentees for the Program Standards Mentorship Program Due Dec. 17
LHDs may submit applications to participate as a mentee LHD in the second cohort of the NACCHO Mentorship Program. Selected mentee LHDs will benefit from the experience of other LHDs in understanding how to best apply the Program Standards to improve their retail food protection programs through shared experiences and provision of guidance, tools, and resources related to the Program Standards.
To learn more about the first cohort's experience, check out this video
.


The overall objective of the mentorship program is to match LHD practitioners experienced in applying the Retail Program Standards with LHDs currently or newly enrolled in the program standards and looking for guidance or networking opportunities for achieving a standard(s).


Funding per mentee LHD is anticipated to range from $8,000 to $10,000.


The application deadline is Dec. 17 at 8:00 PM EST.
Download the RFA and application here.


If you have any questions, e-mail
Amy Chang.
NACCHO Survey of Food Safety Policies and Practices
NACCHO is conducting a survey of its member policies and practices to assure food safety in retail food establishments. LHDs were selected using a random sample of all LHDs stratified by state. The results of the survey will provide national estimates of the prevalence of LHD food safety policies and practices at both national and state levels.

Look out for a NACCHO email from Ken Smith, Lead Senior Analyst for Chronic Disease and Environmental Health. If your LHD was selected, please click on the link and fill out the survey. Participation is completely voluntary. The survey consists of up to 29 questions over three sections. It could take up to 30 minutes to complete the survey depending on expertise and familiarity with food safety policies and practices in your jurisdiction. We recommend the survey be completed by the Food Service Manager or other agency staff responsible for food safety.

If you are selected and have questions about the survey, contact Ken Smith at ksmith@naccho.org.
NACCHO's Environmental Health in All Policies (HiAP) Toolkit
NACCHO is pleased to announce the launch of its Environmental HiAP Toolkit. This toolkit includes tools and resources that have been developed and used to help local decision makers educate, and raise awareness of health in all policies and environmental health policy. Click here to access the toolkit. NACCHO has also developed a YouTube video, which gives a brief overview of HiAP and provides an introduction on how to use the toolkit.

Last Chance to Provide Feedback on CIFOR Resources


The deadline for the survey of the Council to Improve Foodborne Outbreak Response (CIFOR)

Guidelines for Foodborne Disease Outbreak Response & Toolkit

has been extended through Dec. 3.

Click here to complete the survey.
Energy Conservation Awareness and Practice in Restaurants
NEHA
has published a journal article by the Hennepin County Human Services and Public Health Department on the awareness and practice of licensed restaurant owners of energy-efficient methods of operation. The authors found that a gap between the owners' awareness and practice provides "opportunities for consultation and outreach to restaurant owners about energy-efficient business operation."
Learn more here.
CDC Tracking Network: Birth Defect Toolkit
The CDC has
released a
toolkit to help LHDs promote how the Tracking Network is providing data and information about Birth Defects. LHDs will find overall messages about the Tracking Network and topic-specific content in the toolbox, including key messages; talking points; facts about birth defects; a matte article; and sample Facebook posts and Tweets. The items in the toolkit are designed for LHDs to customize and share with their target audiences. LHDs will find pages 10-18 in the toolkit must helpful.
Learn more here.
Atlas of Health and Climate
The World Health Organization and the World Meteorological Organization have released the Atlas of Health and Climate. The report maps the links between weather and climate and major health challenges such as diseases of poverty and and emergencies stemming from extreme weather events and disease outbreaks. The information is not new, but the way the information is connected provides decision-makers and the public with clear and accessible information on climate and health. Learn more.



Steps to a Walkable Community

America Walks has released Steps to a Walkable Community, a guide that provides urban planners, government agencies, and anyone else that plays a role in creating walkable environments with pro-walking tactics. The guide includes a compilation of innovative and multidisciplinary tactics that can improve walking in communities and outlines how investing in walking and walking infrastructure can help address communities' health, safety, transportation, social equity, and economic issues. Learn more here.
Food Safety During the Holiday Season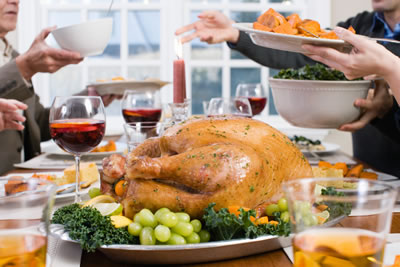 NACCHO has collected a variety of resources to help ensure food safety during the holiday season. The resources include tips and information on storing holiday leftovers and safe food preparation and handling. Learn more here.

CDC Sortable Risks and Health Indicators
The CDC has released an interactive database of behavioral risk factors and health indicators, Sortable Stats 2.0. Health indicators include risk factors such as smoking, physical activity, drinking, seat belt use, and various health burdens and preventative services. The data set includes state-level data and allows users to view, sort, and analyze data on the state, regional, and national levels. Learn more here.
Opportunities
Dec. 6 from 2:00 PM to 3:00 PM EST
Dec. 6 from 3:00 PM to 4:30 PM EST
Visit the new NACCHO Career Network to look for public health career opportunities and to post any opportunities that you would like to publicize to NACCHO's members.
Calendar of Events
NACCHO's Environmental Health Toolkits
NACCHO's Climate Change, Food Safety, Healthy Community Design, and PACE-EH Toolkits offer downloadable tools and resources for local health departments. These toolkits connect local health departments with tools and resources to help support environmental health functions, projects, and activities.

NACCHO welcomes any tools or resources you would like to share with local health departments. To submit a tool to the Environmental Health Toolkits, contact Jacques Colon.
The National Connection for Local Public Health
The mission of the National Association of County and City Health Officials (NACCHO) is to be a leader, partner, catalyst, and voice for local public health departments.
National Association of County and City Health Officials
1100 17th Street, NW, 7th Floor
Washington, DC 20036