Village Board Meeting Tuesday, January 22
The Village Board will hold its regular meeting on Tuesday, January 22 at 7:30 PM. The Board will:
Consider an ordinance to allow parking permits for Shorewood High School
Discuss the sewer rate for 2013-2014
Consider the appointment of Trustee Patrick Linnane to serve on the Library Board
Consider the appointment of Elizabeth Miller to the Conservation Committee for a term to expire May 2014
Consider the appointment of Maria A Terres-Sandgren to the Conservation Committee for a term to expire May 2014.
~~~~~~~~~~~~~~~~~~~~~~~~~~~~~~~~~~~~~~~
If you missed Shorewood on Around the Corner with John McGivern, Catch it on Youtube!

Last week, Shorewood was featured on MPTV's "Around the Corner with John McGivern" with a very informative and entertaining 30 minute spot. If you missed it, MPTV has provided the whole show on YouTube using the following link: http://www.youtube.com/watch?v=bUoRK_rmM24

Please forward this email to others you think might enjoy watching this show.

Back to Top
~~~~~~~~~~~~~~~~~~~~~~~~~~~~~~~~~~~~~~~
Wanted: 100,000 Jars of Peanut Butter for being Delicious and Nutritious
The Milwaukee County Fire Departments have joined the Milwaukee Hunger Task Force in this "nutty" endeavor to collect 100,000 jars of peanut butter for needy families.
Please drop your peanut butter donation at the Shorewood Firehouse or any of the following fire departments: Cudahy, Hales Corners, Franklin, Greendale, Greenfield, Milwaukee, all North Shore locations, Oak Creek, South Milwaukee, St. Francis or Wauwatosa.
~~~~~~~~~~~~~~~~~~~~~~~~~~~~~~~~~~~~~~~
Utility Payment - ACH Authorization
The Utility Department will be processing its first ACH debits on January 22, 2013. Please be mindful of the following:
If you completed an ACH authorization form and submitted it to the Village prior to January 16, 2013 and your January utility bill

has not

been paid, we will process your ACH on January 22, 2013 (without penalty).
If you completed an ACH authorization form and your January utility bill has been paid, your account will not be debited on this billing cycle. You ACH authorization will take effect with the April 2013 bill.
The Utility department will contact all individuals who have an ACH payment to be processed this billing by January 19. If you have not been contacted by then, your ACH payment will not be processed this billing cycle. You will need to make other payment arrangements to pay this bill, i.e. online or by check by January 20 (in order not to incur a penalty).
Any ACH authorization forms received after January 15 will not be processed until the next billing cycle.
As a reminder you can check the status of your bill payment online here.
~~~~~~~~~~~~~~~~~~~~~~~~~~~~~~~~~~~~~~~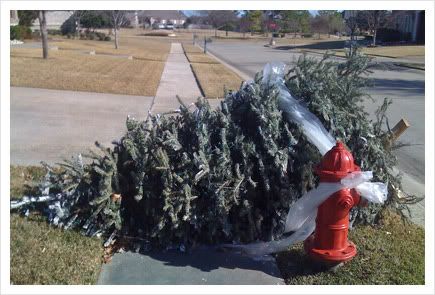 Christmas Tree Collection
Christmas trees will be collected curbside during the month of January. Trees which are cleaned of lights and ornaments will be chipped for compost. PLEASE be sure that lights and any bolts or screws from the stand have been removed as these can cause costly damage to our chipper.
Back to Top
~~~~~~~~~~~~~~~~~~~~~~~~~~~~~~~~~~~~~~~
Tax Bill Information
Tax season is upon us. As a reminder to our residents, January 31, 2013 is the deadline for timely payment of either your full 2012 real estate tax bill, or the first installment of your 2012 real estate taxes, with subsequent installments due on March 31, 2013 and May 31, 2013 to pay your taxes in full.
There are additional options to pay your taxes online to include credit cards and electronic checks. To pay your taxes online, click here. Keep in mind that both of these methods will incur a fee paid by the resident. We thank those residents who are providing stamped, self-addressed envelopes for the return of their paid receipts, which allows staff to more expeditiously process the return of these receipts. You may direct any questions regarding the tax bills or the tax collection process to the Village Clerk/Treasurer by phone at 414.847.2608 or by email at cto@villageofshorewood.org.
~~~~~~~~~~~~~~~~~~~~~~~~~~~~~~~~~~~~~~~
Toddler Time and Rock and Read
Registration for February Toddler Time and Rock and Read Lap Sit Story Times at Shorewood Library begins next Monday, January 21. You can find more information about story times here: http://www.mcfls.org/shorewood/storytim /Storytime%20Main.html.
Our story times fill up quickly, so be sure to register early to ensure a spot. You can register by calling us at 847-2670, starting on January 21.
Back to Top
~~~~~~~~~~~~~~~~~~~~~~~~~~~~~~~~~~~~~~~

Message on the Flu from the North Shore Health Department
This year the flu has peaked earlier than previous flu seasons.While the numbers of cases is higher than the last several years, the actual number is more typical of a flu season. The flu vaccine is moderately effective ( 62%) against the flu strains circulating.
What does this mean for you? If you haven't had your flu vaccine yet, try to get it. While we encourage you to get your vaccine, the North Shore Health Department no longer has a supply of adult flu vaccine, but we do have a supply of children's flu vaccine. In the meantime, practice good hygiene: wash your hands frequently, cover your coughs and sneezes with your arm, and stay home if you are sick!
Back to Top
~~~~~~~~~~~~~~~~~~~~~~~~~~~~~~~~~~~~~~~
Finding Popular eBooks
Before searching Wisconsin's Digital Library Digital Download Center. for ebooks that are high in demand, log in to your Shorewood library account. Once logged in you will see the true number of copies available to you. The public libraries in Milwaukee County have cooperated to purchase additional copies of the most popular and bestselling titles which are only available to Milwaukee County residents. We are currently purchasing one copy for every 3 holds placed by our residents. Keep in mind that the number you see for people on the waiting list still reflects the state-wide waiting list. Because our additional copies are available only to our residents, the wait is much shorter! For help with ebooks, contact the Library: shorewood@mcfls.org or 847-2670.
Back to Top
~~~~~~~~~~~~~~~~~~~~~~~~~~~~~~~~~~~~~~~
Free Tax Assistance for Seniors
FREE Tax Help provided by volunteers from AARP will be availiable at the Senior Resource Center on Thursdays from Feb 2 - April 12, 2013 from 1- 5 pm. Appointments are required. Please call the
Senior Resource Center at 414-847-2727 to schedule an appointment.
AARP volunteers cannot help with rental properties or recent divorce. NOTE: PLEASE DISREGARD AN EARLIER NOTE THAT CAPITAL GAINS ARE NOT HANDLED! THEY ARE COVERED ROUTINELY.
Back to Top
~~~~~~~~~~~~~~~~~~~~~~~~~~~~~~~~~~~~~~~
Is your Block the Shorewood "Neighborhood of the Year"?
The third annual Shorewood Neighborhood of the Year contest is now underway, with applications accepted through February 28, 2013. Winners of the contest, sponsored by the Shorewood Connects project, will have their block featured in an edition of Shorewood Today and will have the opportunity to march behind the "Shorewood Neighborhood of the Year" banner in Shorewood's annual Fourth of July parade. In addition, signs noting the award will be placed on the winning block. Past winners include the 2600-2700 block of E. Shorewood Blvd. and the 4200 block of N. Ardmore. The one-page application is easy to complete. Go to the "Shorewood Connects Neighbors" Quick Link on the Village of Shorewood's website www.villageofshorewood.org today!
Back to Top
~~~~~~~~~~~~~~~~~~~~~~~~~~~~~~~~~~~~~~~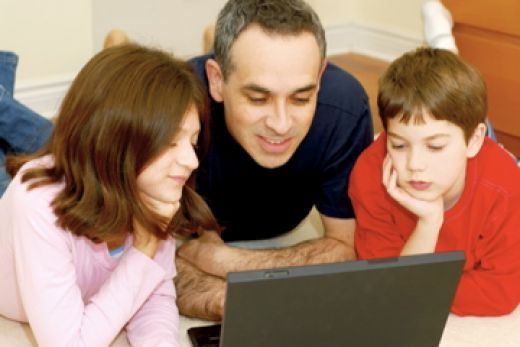 Tip for a Safe Home from the Shorewood Police Department
Teach home safety to your kids
Show them how to use the door and window locks, and the alarm system.
Never let them allow anyone into your home without asking your permission.
Never let a caller at the door or on the phone know that they're alone. Teach them to say "Mom can't come to the phone (or door) right now."
Be sure they carry a house key with them in a safe place. Don't leave it under a mat or on a ledge outside the house.
Be sure they know how to call 9-1-1, your area's emergency number, or the operator.
~~~~~~~~~~~~~~~~~~~~~~~~~~~~~~~~~~~~~~~
Composting Seminar led by Josh Knox
Sat., Feb. 2, 10am to 12pm
Shorewood Village Center
Participants will learn various techniques for composting as well as why composting helps the environment, decreases the amount of trash sent to landfills and can help keep property taxes lower.
Shorewood High School Winter Musical: Godspell
Thurs., Feb. 7 through Feb. 9 at 7pm, Sun. Feb. 10 at 2pm.
Shorewood High School Auditorium
Shorewood High School proudly announces GODSPELL as its Winter Musical. This upbeat and energetic musical by Stephen Schwartz, is a modern and refreshing account of the Gospel according to St. Matthew. SHS's GODSPELL has a cast of 22 talented actors, a live pit orchestra featuring SHS band students, and a crew of over 20 talented technical theatre artists!
GODSPELL premieres on Thursday, February 7 and runs through Sunday, February 10, 2013.Ticket prices are $10 for adults and $5 for students. Tickets are available from any cast member, by mailing your order to Shorewood High School (Attn. Mr. Joe King) at 1701 E. Capitol Dr., by calling the box office at 414-963-6940, or by emailing the box office at BoxOffice@shorewood.k12.wi.us.



Village Board Meeting

Tuesday, January 22, 2013 at 7:30 PM
Court Room



Design Review Board

Thursday, January 24, 2013 at 5:00 PM
Committee Room



Plan Commission

Thursday, January 24, 2013 at 6:30 PM
Committee Room

Quote of the Week

We should not judge people by their peak of excellence; but by the distance they have traveled from the point where they started.

Henry Ward Beecher
Health Tip
Play with your dog. Go for a 10- to 15-minute walk with your pet and play fetch. Having a dog is an easy way to workout.The Humane Society of the United States recommends walking a dog twice per day for health reasons and to avoid behavior issues.
Environmental Tips

Consider using non-toxic de-icing substances such as clean clay cat litter, sand, or fireplace/stove ash to prevent hazardous waste from chemicals. Chemical de-icers can be hazardous to your pets, your trees and shrubs, and the environment.