The Beaver Creek Fire
August Fires Will Bring Record Snowfalls
Hello all SkiPost Readers,
Plan your trip to Sun Valley/Ketchum, Idaho (Nordic Town USA) this winter, to take in over 200km of immaculate groomed trails along with fine dining, sunshine and many other accoutrements for the entire family.
We are destine to have a record breaking snow fall and record long ski season.
Because August fires bring October skiing.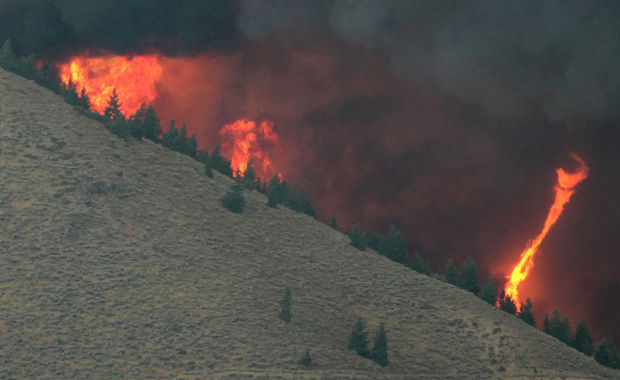 We made national news the past week due to the Beaver Creek fires that threatened Hailey, Ketchum and Sun Valley. The fires were ferocious and did flank the western side of the Wood River Valley. But the good news is that a large portion of the fires have been contained and many of us that were forced to evacuate are back in our homes and offices. Beyond what the national news reported many people
that are not Hollywood stars live and
work here. One reason we do so is because it is Nordic Town USA.
A few of the reasons every Nordic enthusiast should visit Sun Valley/Ketchum/Hailey this winter
Sun Valley Nordic Festival Janurary 25 through February 2, 2014
Demo days
BCRD Trails, Harriman Trail Croy Creek Trails Ski The Rails
Sun Valley Ski Education Foundation
Sturtos Hailey
Community School/Sun Valley Ski Academy
More American Birkebeiner Champions make this their home town than any other.
....and many more reasons to visit Sun Valley that are too numerous to list.
Plan your Nordic getaway in Sun Valley today at visitsunvalley.com/ because August fires will deliver a record breaking ski season.
You heard it here first, see you on the Sun Valley Trails.
Andy at SkiPost
What to do today?
Begin by identifying your goals.

Be realistic about the amount of time and energy you can give your athletic goals, plan accordingly and while you should try to stick to your plan, don't obsess over it. Missing workouts should be expected, and one shouldn't try to make up for missed training.


Plan in reverse from the date of your primary goal.

Mark the date or dates of your season's primary objective on the calendar and plan backwards taking into account the length and focus of each period of training, as well as all personal considerations. Specific means to address your strengths and weaknesses should be incorporated into your training plan
see the "Self Analysis" section.
Andy Newell Flying in New Zealand

How light are those Boots?
More images here
Train Like and With a Birkie Champion
Tad Elliott (on a Mtn Bike)!
Seeley, Wisconsin; Lenroot Lodge
Two and a half full days of great training and learning. This will be the perfect weekend as it is just before the Chequamegon 40 Fat Tire race and right when a lot of citizen athletes are thinking about starting their Fall dry land training for Nordic. Get last minute race tip s for the Fat Tire and great dry land drills for your Fall Nordic season.
This camp is designed for the Citizen/Master athlete that wishes to improve and progress their skiing while fitting the demands of family, work, and lifestyle into their schedule. Sessions will be held on technique, strength, and ski skills along with discussions on equipment, stretching, and the body and the effects of aging. There will also be a session to mountain bike with Tad and pick up last minute strategies on course and racing, optimizing your bike equipment, and riding skill development. You do not have to roller ski to attend this camp. We will show you what it takes to progress to your goals for skiing or biking no matter what your abilities are as an athlete. So, whether you are an elite athlete or an aspiring athlete looking to participate in your first major event, this camp will train, motivate, and inspire you to your best! Don't pass on a great opportunity to train with a Birkie Champion!!
More in at http://www.fastperformancetraining.com/
Birkie Trail Run
Team Strongheart Golf Tourney Fundraiser


When: Sunday, September 29th - shotgun start at 1:00 pm
Where: Shamrock Golf Course at 19625 Larking Road Corcoran, MN 55340 (763-478-9977)
Why: A supporting event for Team Strong Heart, Camp Odayin and Matt Liebsch
Nordic Job Openings
BNS Sales Associate Position
Boulder, CO
Overview
Boulder Nordic Sport (BNS) currently has openings for sales associates at our Boulder location. We are looking for individuals who are excited to share their knowledge, experience and passion for Nordic skiing and/or alpine touring with our customers. BNS serves all skiers; from absolute beginners to recreational touring to elite racers-applicants should be willing and able to provide a positive experience to any customer seeking equipment, ski service or advice.
Qualifications
Mastery of both skating and classical Nordic skiing - required
and/or
Advanced backcountry/alpine touring experience - required
Extensive knowledge of ski maintenance - required
Ability to work in a fast-paced and occasionally stressful environment - required
Basic computer skills - required

Friendly, personable and comfortable working with people

Ability to understand and articulate sporting-goods technology to customers

Strong customer service skills

Ability to work a flexible schedule, including nights and weekends - preferred
Experience racing at the high school, collegiate or elite masters level - preferred
Previous retail sales experience - preferred
Part- and full-time retail associate positions are available from approximately October 15-March 15.
Compensation: dependent on experience
Interested candidates should send a resume and cover letter to jobs@bouldernordic.com.
Application Deadline: September 30, 2013
West Yellowstone Ski Education Foundation
Head Coach - West Yellowstone Nordic Ski Team
June 2013
Position: Head Coach - Nordic Ski Team
Accountable To: WYSEF Board of Directors in consultation with the West Yellowstone School District
Primary Objective of Position: Under limited supervision, acts as the Head Coach for the West Yellowstone Nordic Ski Team
The Vail Nordic Center, located in beautiful, Vail, Co. is looking for full and part-time help for this winter, 2013/14 season. The ideal candidate will have retail experience and a good knowledge of Nordic skiing. Teaching experience in classic and skate skiing is a huge plus. Please contact Mia at info@vailnordiccenter.com for all inquiries.
VBT Job Openings
VBT Bicycling and Walking Vacations is hiring seasonal Ski Trip Leaders to lead groups in Yellowstone National Park. As a growing leader in the active travel industry for over 41 years, VBT is expanding its tour offerings to include some of America's most majestic places.

Find out more about the tour: http://vbt.com/Tours/Yellowstone-Skiing/Overview
For more info on the hiring process: http://vbt.com/about/careers-us

The application deadline is August 7th. Please email me at cbaele@vbt.com to receive an application packet or to ask any questions. If you or anyone you know might be interested, feel free to forward their contact info to me.
We look forward to meeting excellent candidates to join the VBT Team!

Leader Responsibilities A leader's primary role is to ensure the guests experience the best vacation of their lives! § Service, service, service! Put customer needs ahead of their own at all times Use people skills and social leadership to bring guests of diverse backgrounds together Offer group presentations on various topics (safety, skiing skills, daily routes, flora and fauna, sights. . .) Demonstrate safe and efficient ski techniques Deliver guest luggage to their rooms Ski daily with guests and coordinate bus support Prepare picnics and translate special events such as wine tastings, sightseeing tours, etc Perform administrative tasks such as record keeping and tour budget accounting Represent VBT well and maintain professional, balanced relationships with tour guests, our hotels, and citizens of local communities through which tours travel, as well as with VBT coworkers and staff

For more info, please check out http://vbt.com/about/careers-us or email me directly.
All the best!
Cedric Baele
Job Position:Nordic Skiing Head Coach, Amherst Regional High School, MA
Amherst Regional High School is looking for a new head coach for their Nordic Ski Program. The program was established 5 years ago and has grown into a respectable team which competes in the Berkshire League throughout Western Massachusetts. The program is comprised of approximately 30 dedicated skiers and their supportive parents, one paid assistant coach, and many volunteer assistant coaches. The head coach is responsible for:
Designing a training program that will develop both novice and experienced skiers while promoting positive life skills and sportsmanship.

Maintaining the positive relationship between athletes, parents, and assistant coaches.

Supervise skiers during travel, practice and meets.
To inquire about the position please contact Nat Woodruff, Current Nordic Head Coach, at 617-939-4317
woodruffn@arps.org To apply for the position please contact Rich Ferro, ARHS Athletic Director, at 413-362-1747 ferror@arps.org
FAIRBANKS SKI CLUB
Looking for Assistant Coach for Jr Program
Info at the link below: http://www.nscfairbanks.org/new/
Bogus Basin Nordic Team
Coach opening
The Bogus Basin Nordic Team (BBNT) in Boise, ID
www.bogusbasinnordicteam.com
is seeking to hire a Part-time Head Coach for the middle school Comp-Devo Team/Assistant Coach for the high school Comp Team. Position requires availability for practice 4-6 days week and assistance with other aspects of running the team which can be flexibly scheduled around other commitments. Additionally there are 5-6 overnight trips scheduled each year in whichthe assistant coach would be expected to take part.
Please contact Head Coach/Program Director Nick Crawford at
ncrawfo2@gmail.com
with any questions or to submit a resume.
XC/Nordic coach at Clarkson University
(Div. III/USCSA)
The position offers free tuition, healthcare and stipend. Perfect for someone looking to work on a graduate degree. The NCAA link is below.http://ncaamarket.ncaa.org/jobs/5335767/assistant-coach
Questions? Email head coach Jim Allott at Jallott@clarkson.edu ,
Many thanks,
Jim Allott Head Coach
International Coaches looking for U.S. positions
Sondre Thune Lunde
My name is Sondre and I am working as a Head Nordic skiing coach at a Sports Academy in Norway. Toppidrettsgymnaset in Telemark
For the next season I look for a real adventure and I want to proffer my coaching skills abroad.
I thoroughly enjoy working with Nordic skiers who seek to get the most out of their talent. As a coach I believe that mutual respect for one another plays as important a role as the actual training, both on and off the field. Therefore, I strive for harmony and balance in all aspects of the athlete's lives. In order to achieve their sport's goals, discipline as well as good sportsmanship and positive life skills are of great importance. Every individual is a member of a team, and I always try to create a
winning mentality
in the group.
Lars Hänel
Oberwiesenthal, Germany
I have been studying sport science for two years, with an emphasis in winter sports (cross-country skiing, biathlon, alpine skiing).
Professional cross-country skier in German national ski team for 5 years.
Regular work as ski instructor for cross-country skiing and alpine skiing.
Work as an assistant trainer at cross-country skiing center in Oberwiesenthal.
"Trainer B"-Licence after finishing the bachelor study (09/2013)
Good knowledge in waxing/ski preparation
About SkiPost
Cross-Country skiing's community lodge. Where knowledge and stories are shared. The goal of SkiPost is to make the sport of Cross-Country skiing easier and more enjoyable for all who choose to participate. If you have questions on Cross-Country Skiing email us weanswer@SkiPost.com and visit SkiPost.com
Enjoy Winter,
Andrew Gerlach
Director/Editor- SkiPost

The one gift you receive at birth is time. You'll never have more than you have today. Find the Time.
KEEP FOCUSED
For more BLIZ USA info
bliz@endurance-enterprises.com
406-585-2660
NONAME
Get your team custom unis from NONAME
and separate yourself team from the pack.
Woodski roller skis
Support Tomorrow's Nordic Stars Today
Cross Country Ski Vacations
February 26 - March 5, 2014

7 Nights, 8 Days of Skiing

Salomon Nordic
Start's Race Service Retailers have just received this winter's fastest product. Visit a Start Race Service Center below
Nordic Ski Colorado