18th Annual Meeting ... One Week Away!

Father Joseph McShane, President of Fordham University (L), Michael Julian

, Deputy Commissioner, Personnel of the NYPD (C);

Honorable Scott Stringer, Comptroller, City of New York (R)




Just one week until the

Lincoln Square BID's 18th Annual Meeting on Wednesday, May 13 at 8:15am at Fordham University, 113 West 60th Street, 12th Floor.

The meeting will begin with a complimentary breakfast and we will hear from our three interesting guest speakers:

Father Joseph McShane

, President of Fordham University;

Michael Julian

, Deputy Commissioner, Personnel of the New York City Police Department; and

Honorable Scott Stringer

,

Comptroller, City of New York.




We will also be reviewing the Lincoln Square BID's Fiscal Year 2016 budget, electing Directors to our Board, and discussing the past year's accomplishments.




At our Annual Meeting, property owners, businesses and commercial tenants, and residents of the district can vote (subject to eligibility) on important matters regarding our organization. You must be registered to vote and can do so by

clicking here

.




And, o

ne lucky attendee will receive a DVD copy of

The Dance Goodbye

,

a documentary i

nspired by Merrill Ashley's departure from the New York City Ballet by filmmakers Ron Steinman and Eileen Douglas of Lincoln Square based Douglas/Steinman Productions

.

All you need to do is attend the meeting to learn how you can win!




Space is limited and reservations are required. You may also RSVP to the meeting by visiting the

Keep Informed

section on our website, emailing

[email protected]

, or calling our office at 212.581.3774.

Lincoln Center Kids Spring Fling

Bring the family to Lincoln Center on Saturday, May 9 for LC Kids Spring Fling - a fun filled day of FREE performances, crafts and activities designed especially for kids! Starting at 11:00am, kids of all ages can enjoy a day of culture at Lincoln Center's Josie Robertson Plaza, David Rubenstein Atrium and Damrosch Park featuring:

A sing-along at the Revson Fountain with Dan Zanes

An interactive Dance-Along Story Time event with Angelina Ballerina™ and author Katharine Holabird presented by WNET

A kids dance lesson from Dancing Classrooms

And, much more from the New York Philharmonic, Jazz at Lincoln Center, Film Society of Lincoln Center, The Little Orchestra Society, and Big Apple Circus. For a full schedule of the day's performances visit kids.lincolncenter.org/events.

Lincoln Center Kids (LC Kids) is an exciting program at Lincoln Center that makes the performing arts accessible to children and their families. Through curated family programming, special events and behind the scenes opportunities, LC Kids promotes and encourages a lifelong enjoyment of and participation in the arts. LC Kids has an array of family friendly programming coming up. Visit kids.lincolncenter.org to start planning the fun.

Robert Graham Opens at Columbus Circle!

Robert Graham is now open at the Shops at Columbus Circle!

Robert Graham is American Eclectic. Since its launch in 2001, Robert Graham was created on the premise of introducing sophisticated, eclectic style to the fashion market as an American-based company with an intention of inspiring a global movement.

Robert Graham's approach to fashion design extends beyond the literal theme of cleverly and intricately mixed fabrics, trims and embroidery. This luxury lifestyle brand is a true design house, developing garment-making techniques and complex textiles that are unique to the brand alone. Designs are inspired by various elements in time and place including vintage motifs, cultural statements in history and awe-inspiring landmarks.

Come celebrate their grand opening on Saturday, May 9 from noon to 4:00pm. Customers will receive a complimentary gift with purchase and enjoy light bites and drinks.

Robert Graham is located on the ground floor of The Shops at Columbus Circle and carries men's sportswear, shoes, and accessories, and women's sportswear.

Visit

robertgraham.us

and then stop in to pick up your favorite looks at the new Lincoln Square location.
Celebrate Mother's Day in

Lincoln

Square
In Lincoln Square, there are many ways to show your mother you care on this sweet Hallmark holiday, this coming Sunday, May 10.

Out For A Meal:

Rosa Mexicano, located at 61 Columbus Ave, has crafted a sweet and savory menu selection (listed under Sample Menus on their website) for their El Dia de Las Madres Brunch. Choose from several egg dishes, or sweet stuffed French toast, and grab a Rosa Royal drink too. You can reserve a space for brunch by calling 212.977.7700 or visiting Rosa Mexicano's website and using their online reservation option.
Visit Atlantic Grill Lincoln Center located at 49 West 64th Street between Broadway and Central Park West for brunch and dinner specials on Mother's Day. Plus, you'll even receive a free small gift.
At 72 West 69th Street, Telepan will be offering a $55 three-course Mother's Day Brunch, which includes a special treat to follow up your meal and a large selection of delicious plates from hazelnut crepes to pan-roasted trout.
At Time Warner Center, Bouchon Bakery encourages everyone to treat their mom to a special brunch dish or a quaint dinner at their café. For brunch, enjoy a choice of Sourdough Waffles or Eggs Florentine, and for dinner, Wild Striped Bass. The offer extends to Mother's Day, but you can grab these delicious plates any day up until Sunday, May 10. A Voce is offering a three-course prix fix brunch special featuring delectable dishes such as Gnocco fritto or Uova strapazzate, which is a polished egg and salmon dish. The brunch is $60 per person and $38 for children under 10 years old. To make a reservation for Mother's Day brunch, call 212.823.2523. And Landmarc has its own selection of specials for Mother's Day. If you stop in for a bistro brunch or lunch on that Sunday, you'll receive complimentary sticky buns with sugar vanilla glaze, and they've even crafted a special honeydew mimosa cocktail. Or, for lunch, there is a special grilled chicken dish available as well as an appetizer special. Make a reservation by calling 212.823.6123 or by visiting Landmarc's website.
Gifts For The Occasion:

Epicerie Boulud at 1900 Broadway has a selection of delectable sweet treats to choose from for a Mother's Day gift. You can purchase a "Breakfast-in-Bed" box, filled with gourmet coffee, custard pastries, and more, or you can pick up an "I Love You Mom" chocolate bar infused with berries. These treats are all decorated specially for the holiday.
At West Elm, located at 1870 Broadway, there is a large selection of jewelry holders and decorative boxes available at a discount as gifts to show mom you care. There are boxes with colorful geometric patterns and some in a simple wooden design as well as stone crafted ring dishes and metal necklace tree holders. You can order these gifts online or head over to the store between 61st and 62nd Street.
Century 21 Department Store
, located at 1972 Broadway,
has some great
suggestions for Mother's Day
. Find the right gifts that add some style with a wide range of accessories including scarves, wallets, and handbags, or indulge with vintage luxury items.

And over at Time Warner Center, Crabtree & Evelyn is offering a holiday discount on their Hand Therapy Paint Tin - a cute floral tin filled with a dozen soothing hand lotions all with different scents. This deal is specially crafted just for your favorite mom and is only available while supplies last. At Diptyque you can pick up a number of sweet-scented items for Mother's Day. Recently launched in stores is a mini candle duo set and set of two elegant perfume oils, among other delicate, aromatic gifts perfect for the occasion. Eileen Fisher always has new trends to keep your mom in style. Check out their Spring 2015 Lookbook with items designed specifically for May and June. L'Occitane has a large selection of lotions, creams and beauty sets - perfect pampering gifts for Mother's Day. And, as an added bonus, any purchase of gift from this section, in store or online, over $45 makes you eligible for a special Pink Box treat at a discounted $20.
Visit lincolnsquarebid.org to see all of our shops and restaurants where you can get a terrific meal or gift for Mother's Day.
Update on the Third Water Tunnel Project in Lincoln Square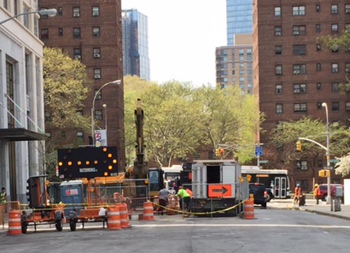 The NYC Department of Design and Construction (DDC) has been managing a capital construction project throughout the Lincoln Square area and the construction isn't over yet! With an anticipated completion date of winter 2017, the latest work scheduled includes connecting the new Third Water Tunnel Shaft, installing new trunk and distribution water mains, replacing specific sewer pipes, private utility upgrades, updating various pedestrian ramps (based on conditions), the reconstruction of curbs and sidewalks in certain locations, and some new traffic signal and street lighting poles.
The DDC work is complete on W. 60th Street between Columbus Avenue and Amsterdam Avenue (though look out for some Con Edison work!), as well as on Columbus Avenue north of W. 63rd Street. Work on W. 60th Street between Amsterdam Avenue and West End Avenue continues and should be complete this summer.
In addition, there's more to be completed on Amsterdam Avenue from W. 59th Street to W. 62nd Street and micro-tunneling work for the 48" trunk water main on W. 62nd Street between Columbus Avenue and Amsterdam Avenue. The micro-tunneling is taking place at either end of the block, with a jacking pit set-up closer to Columbus Avenue and a receiving pit closer to Amsterdam Avenue. There are other minor operations that will be performed throughout the area.
The Lincoln Square BID routinely posts project updates on the "News" section of its website. Specific questions about these projects can be directed to Ms. Sanchi Malhotra, the Community Construction Liaison for the project at 646.738.4894 or via email at [email protected].
The New York City Department of Small Business Services ("SBS") will hold a public hearing on the City's new styrofoam ban. The hearing will focus on a rule proposed by SBS that would enable City businesses to apply for financial hardship waivers. The public hearing will take place at 10:00am until noon on Friday, May 29 on the fourth floor Hearing Room at 110 William Street.
New York City's ban on single-service expanded polystyrene foam articles is set to go into effect on Wednesday, July 1, 2015. To learn more about the ban, click here.
Anyone can comment on the proposed rules online via rules.cityofnewyork.us, through email [email protected], by mail (Zen Baraki, Department of Small Business Services, 110 William Street, 7th Floor, New York, NY 10038), or by fax to 212.618.8865. You may also sign up to speak at the hearing by calling 212.513.6428 or signing up in the hearing room before the hearing begins. You can speak for up to three minutes. All written comments must be submitted before Friday, May 29, 2015.
To learn more about the hearing and the ban, please click here.
1841 Broadway, Suite 1112

New York, NY 10023
Note: Some of the text above has been provided by or gathered from other sources.