Just 61 Days Until Winter's Eve

The 15th Annual

Winter's Eve at Lincoln Square

is fast approaching. This year the event will take place on Monday, December 1st. W

e've already broken some major news, but in case you missed it...the legendary folk artist

Arlo Guthrie

is back to headline the Upper West Side tree lighting ceremony in Dante Park! What's more, the most reputable and well known party band in New York City, the

Cafe Wha? House Band

, will get everyone moving at the Winter's Eve Dance Tent.

The award

winning NYC singer/songwriter

Suzi Shelton

has been booked to perform at Kids' Central located at the American Bible Society, 1865 Broadway. A kid's music veteran, delighting both parents and kids for over 10 years, Suzi Shelton has earned six prestigious awards for her two CD's and live DVD. In fact, she has just released her third solo album "Smile In My Heart" to much critical acclaim.




Even more on Winter's Eve:

We are still lining-up more great artists, musicians, dancers and buskers to make the 15th year of New York's Largest Holiday Festival truly memorable. A huge thanks to our generous sponsors who make the entire event possible.

Keep up on all the latest news and announcements by visiting the new Winter's Eve website

www.winterseve.nyc

.

Lincoln Center Kitchen Now Open


Classic American cuisine now comes served with a side of symphony. Lincoln Center Kitchen is now open inside of Avery Fisher Hall.


Lincoln Square's latest addition to the neighborhood's premium dining scene, Lincoln Center Kitchen, is now open to the public for dinner Tuesday - Saturday, 5pm - 11pm, and for lunch on Fridays and Saturdays (only when there is a matinee), 11am - 2pm. Diners will enjoy top quality cuisine accompanied by the sounds of the New York Philharmonic piped in on performance nights as they play live upstairs within Avery Fisher Hall.


Chef Ed Brown brings his talents and experience to Lincoln Center Kitchen as the Chef/Innovator for the restaurant. He is joined in the kitchen by Executive Chef Daniel Anconetani, who will carry out Chef Brown's vision on a day-to-day basis. The bar menu at Lincoln Center Kitchen features a selection of distinctive beers and local brews, an acclaimed American and international wine list, and a unique and creative cocktail menu from Mixologist April Wachtel.


Lincoln Center Kitchen is located inside of Avery Fisher Hall at 10 Lincoln Center Plaza. For more information, visit www.lincolncenterkitchen.com or call 212.874.7000.

What's Happening at Time Warner Center


The Shops at Columbus Circle

at Time Warner Center have added some new shopping spots, and several stores have undergone renovations, all meant to better your shopping experience.

The new

Michael Kors

store opened recently on the first floor with a wonderful selection of bags, shoes, and other accessories.

Etienne Aigner

, a brand with classic, chic, and effortless style, has opened in a kiosk on the second floor selling bags and accessories.

Floga New York has opened a kiosk selling

l

uxury leather and fur goods on the first floor.

There is an inventive and interactive pop-up on the first floor demonstrating the Model S electric car from

Tesla Motors

.

Aveda

,

L'Occitane En Provence

, and

Tumi

have all received makeovers and are all open. P

lus,

the Coach Store will re-open this fall after getting a makeover of its own and Moleskine has relocated to the second floor.

Be sure to check it all out and enjoy the updates.

Also, Time Warner Center has teamed up with close neighbors, Central Park and

Central Park Conservancy

, for a fall 2014 campaign titled "Shop for a Cause" which is meant to raise money for the green heart of NYC. This month,

C. Wonder

will host a benefit on Wednesday, October 8 from 6pm-9pm, where sweet treats and a 20% discount will accompany a fabulous night of shopping at the store. They will also donate a portion of their proceeds to Central Park Conservancy. Be sure to look out for more events through the end of November.

John Gerrard: Solar Reserve at Lincoln Center

Lincoln Center

, in association with

Public Art Fund

, is presenting

Solar Reserve

, a digital simulation recreating a Nevada solar thermal power plant and its surrounding landscape by Irish artist John Gerrard. The digital simulation is displayed on a 28 × 24 foot frameless LED wall. At the center of this dazzling virtual world is a tower surrounded by 10,000 mirrors that adjust their positions in real time according to the location of the sun and reflect light upon the tower to generate electricity.


This hyper-realistic simulation is created with a team of programmers using a sophisticated video game engine that situates the sun, moon, and stars as they would appear at the actual Nevada site over the course of a year. As this virtual world rotates on the earth's axis throughout a 24-hour day, the perspective of the viewer gradually shifts from ground level to satellite view every 60 minutes, so that no view is precisely the same at any point during the course of the exhibition.

Solar Reserve will be on display from Friday, October 3 through Monday, December 1.

Click here

to learn more about the installation and the artist.

Halloween Treats in Lincoln Square


From decor, to costume parties, to classic horror flicks, Lincoln Square is full of treats this Halloween.




If you're stumped on what to do after you've carved your pumpkin, sign up for Williams-Sonoma's

Pumpkin Palooza

technique class on Sunday, October 19. You'll learn to prepare delicious and easy pumpkin favorites from breakfast to dessert dishes. And, fo

r tips on decorating Halloween-themed cookies, bring the kids to Williams-Sonoma's

Halloween Cookie Decorating

junior chef class on Saturday, October 25. Kids from ages 5-13 will have fun making their own treats and are welcome to come in costume.

Don't forget to snag some Halloween-themed bake ware and goodies from the Columbus Circle shop before you head to your Halloween festivities. Then, stop by

IT'SUGAR at 1870 Broadway to stock up on candy corn, a Halloween staple, and a wide variety of other sweets.


If it's a party you're after, The Empire Hotel Rooftop invites you to Monster Bash on Friday, the 31st. The party features a one-hour vodka open bar from 9pm - 10pm and a special live DJ performance. Buy your tickets here and get ready to don your most original costume. Or if you'd rather stay in and be spooked, The Film Society of Lincoln Center is showing classic horror flicks from Friday, October 31 - Thursday, November 6, sure to provide a frighteningly good time.

Boulud Sud's Voyage Dinner Series





On Tuesday, October 21 Chefs Travis Swikard and Tyler Atwell will treat diners to

An Evening in Turkey.

The family-style, four-course dinner will highlight authentic local flavors and dishes, with regional wine pairings by Sommelier Michael Madrigale. Chef Travis's menu joins traditional Ottoman staples from sweet, citrusy sumac and urfa pepper to tangy pomegranate, preserved lemon, and crunchy fresh herbs, highlighting the essence of the country's complex culinary history.




Each dinner is $120. Boulud Sud is located at 20 W. 64th Street between Broadway and Central Park West. Visit the restaurant online at bouludsud.com and check out the entire lunch, brunch and dinner menus.
Highlights from the 2014-15 Season at Kaufman Music Center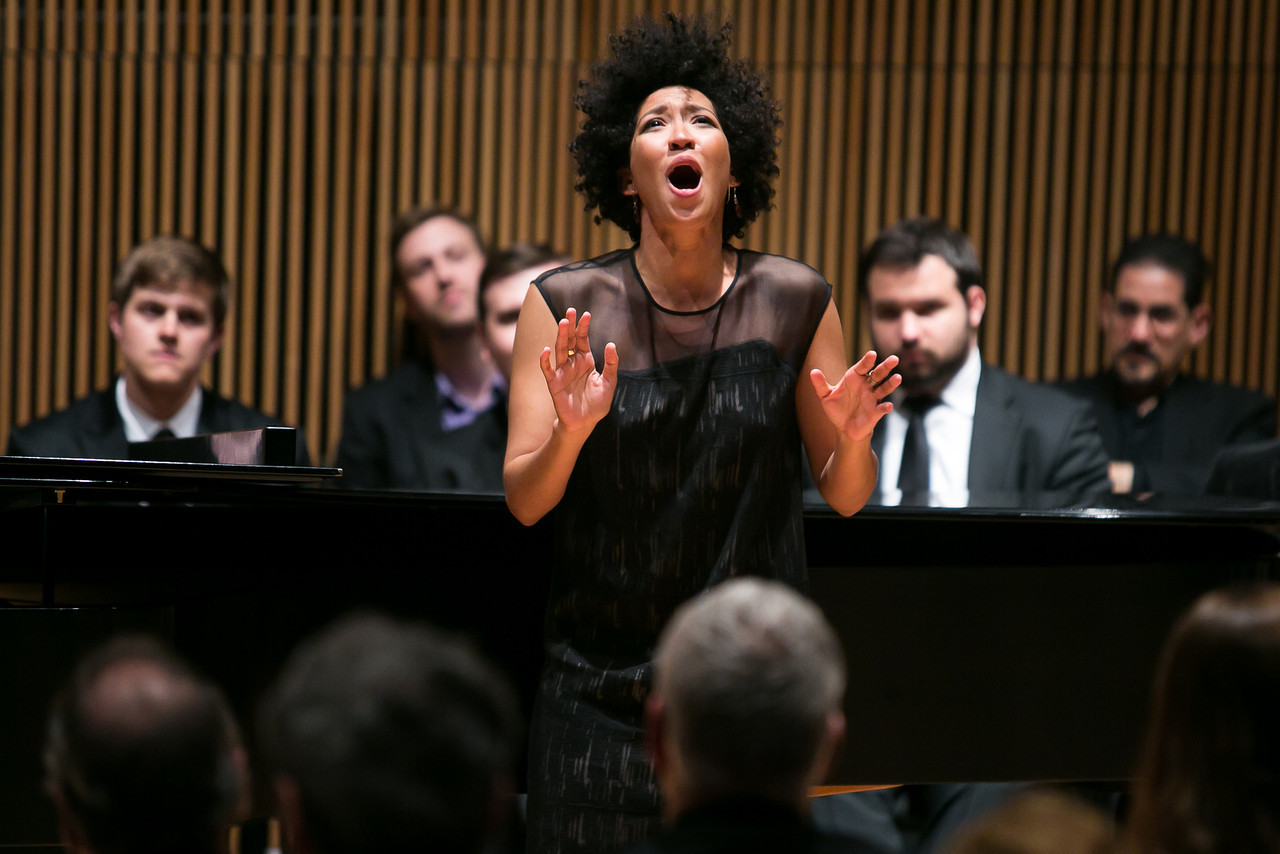 The
Kaufman Music Center's Merkin Concert Hall has a repertoire full of dynamic performances this season. Take a look at some of the highlights below and be sure to visit
one of Lincoln Square's brightest neighborhood cultural centers.
Meet the people who make musicals happen at
Broadway Close Up
, the series that takes you behind the scenes of your favorite Broadway shows. The new season begins on Monday, October 6 with the Tony Award-winning
Bridges of Madison County.
Listen to iconic masterpieces with new ears as NPR music commentator Rob Kapilow shows you what you've been missing in his acclaimed
What Makes It Great?
series. He unravels and explores great musical works including Vivaldi's "Four Seasons", Beethoven's once-shocking "Appassionata" Sonata, child prodigy Mendelssohn's "Octet" and the songs of Stephen Sondheim.
Get to know a new generation of extraordinary young performers in a concert hall famous for near perfect acoustics and an intimate connection between performer and audience.
Tuesday Matinees
begin on Tuesday, October 7 with the "technically dazzling" pianist Alexandre Moutouzkine.
Musical adventures with the Poppy Seed Players are the perfect way for kids and families to celebrate the Jewish holidays and heritage together! The 2014-15 season includes the Hanukkah show "Latkes & Applesauce" and the Passover musical "Young Moses" as well as the world premiere of "VASHTI! The Musical," which tells the Purim story you didn't know.

Merkin Concert Hall will host many more terrific performances including the New York Festival of Song and The New York Virtuoso Singers, one of today's finest professional choirs. Get the season's full schedule at kaufmanmusiccenter.org/mch.
Two New Exhibits at The American Folk Art Museum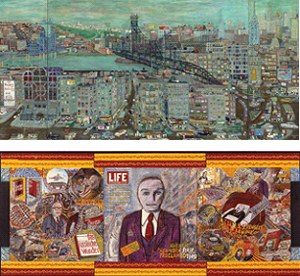 Ralph Fasanella (1914-1997) celebrated the common man and tackled complex issues of postwar America in colorful, socially minded paintings. The exhibit,
Lest We Forget
, celebrates the one hundredth anniversary of the artist's birth and brings together key works from a career spanning fifty-two years. This major exhibition includes a selection of artworks from the American Folk Art Museum's collection, which holds more than one hundred paintings and drawings by the artist. Visit the exhibition's
gallery
to learn more about the collection and archive.
Willem van Genk's
Mind Traffic
is the first monographic exhibition of works by the internationally acclaimed Dutch artist Willem van Genk (1927-2005) to be presented in the United States. The exhibition features over forty pieces including: panoramic paintings, collages, drawings, personal notes, sculptures of trolleys, and even an installation of raincoats (van Genk collected hundreds of raincoats over the course of his lifetime). Van Genk was a restless stockpiler of information, factoids, and trivia and his artworks can be seen as "memory palaces" or visualizations implemented to organize and recall information. Since the artist believed that all things were connected, these imaginary landscapes serve as sophisticated frameworks to map hidden forces.
For more information on both exhibits visit
folkartmuseum.org
.
The American Folk Art Museum is located at
2 Lincoln Square (Columbus Avenue at 66th Street).
Fresh Fall Produce at Lincoln Square's Green Market
This is the best time of year for produce at the
Greenmarket
. Both summer and fall crops are in season and they are available twice a week right here in Lincoln Square at Richard Tucker Park. There are heirloom tomatoes, peppers and eggplants, as well as perennial favorites like swiss chard, kale and beets. And now, fall crops like winter squash, cauliflower and bok choy are popping up too.

The produce at the Greenmarket is ripened in the sun and has typically been picked less than 24 hours before it arrives in Lincoln Square. And who knows fresh fruits and vegetables better than those people who grew them? The farmers and their representatives are present at the market to answer your questions about how they produce their food.

The Greenmarket accepts Food Stamps (EBT) and many of the farmers accept Farmer's Market Nutrition Program checks, and WIC. And until Saturday, November 15, EBT shoppers get an extra $2 coupon for fresh fruits and vegetables for every $5 they spend with their EBT card.
The Richard Tucker Park Greenmarket is a year round, twice-weekly farmers market, located on 66th Street between Columbus and Broadway. It is open every Thursday and Saturday from 8am-5pm. There are over 50 Greenmarkets in New York City featuring fresh local foods all grown and produced within 200 miles of the city. For more information on the Richard Tucker Park Greenmarket visit
grownyc.org
.

This coming season, WNET has some wonderful programming lined-up for its viewers. Among the lot is a special on PBS Channel 13, The Roosevelts: An Intimate History. This seven part film initially aired September 14, and will continue to air throughout the fall. The series tells an interlaced tale of three of the most influential Americans in US history: Theodore, Franklin and Eleanor. Don't miss this in-depth documentary about family, love, and courage, directed by Winter's Eve 2001 alum, Ken Burns. The next episode of the series will air Thursday, October 2 on NJTV at 8pm and Friday, October 3 on WLIW21 at 1pm.

Also coming soon is a live streaming of "The Nance" starring the hilariously talented Nathan Lane. "The Nance" is a humorous, Tony Award-nominated production about love in the days when burlesque ruled the stage. It is part of the PBS Arts Fall Festival Live at Lincoln Center series and it will air Friday, October 10 at 9pm. Click here to see a short preview and make sure to tune in!
NYC Department of Small Business Services: Small Business First
Small Business First
is a new initiative led by the NYC Department of Small Business Services (SBS) and the Mayor's Office of Operations in coordination with multiple City agencies aimed at improving the regulatory climate for the business community in New York City. From the bold to the practical, SBS wants to hear every idea that is floating in the small business community on how the City can improve the regulatory climate.
Small Business First seeks to assist businesses by:

SBS is visiting every borough, keeping the conversation alive on social media (#SmallBizFirst) to ensure you have every opportunity to share your thoughts and ideas.
You can submit your ideas right now at
nyc.gov/sbs
.
1841 Broadway, Suite 1112

New York, NY 10023
Note: Some of the text above has been provided by or gathered from other sources.