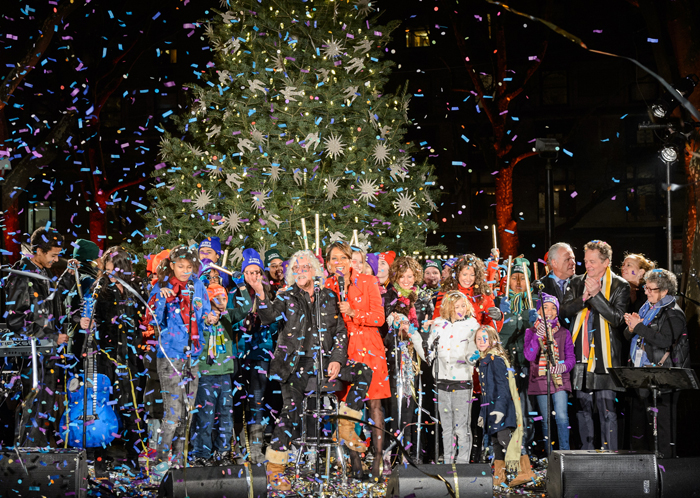 Dear Friends:
On Monday evening, December 2nd, just two weeks ago, over 20,000 locals, commuters and tourists flocked to the Upper West Side for the 14th Annual Winter's Eve at Lincoln Square, New York's largest outdoor holiday festival.
Families and grandparents, students and professionals, arts lovers, foodies and shoppers packed Dante Park and stretched up Broadway to watch Winter's Eve headliner, folk legend Arlo Guthrie along with Rosie's Theater Kids, Michael Bacon, Frank London's Klezmer Brass All-Stars, and WABC-TV's Sade Baderinwa on the main stage. The celebration kicked off with the Upper West Side's traditional tree lighting ceremony.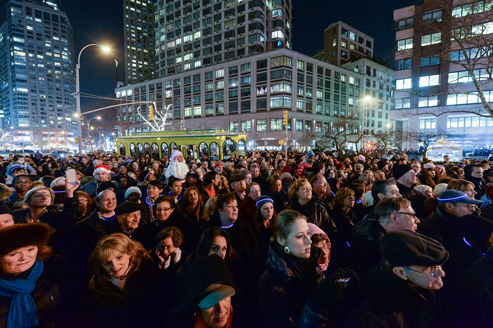 The crowds waiting for Arlo and Sade to light the Upper West Side Holiday Tree sponsored by P.J. Clarke's.
Lincoln Square's sidewalks and public spaces came alive with over 20 live, free performances that included processional groups, stilt-walkers, ice-sculptures, dancers and other great entertainment. People moved to the beat at the Winter's Eve TD Bank Dance Party with DJ David Chang, Arthur Murray Dancers and Bryant "Drew" Andrews. The Empire Hotel lobby was transformed into a hot jazz club for the evening featuring Brianna Thomas. Time Warner Center shined brightly with performances by Big Apple Circus, Pippin, LaGuardia High School Show Choir and Kate Davis presented by Jazz at Lincoln Center. And, American Bible Society was again our Kids' Central with music and lots of family fun.
Over 30 of Lincoln Square's finest restaurants and eateries offered delectable food tastings and savory samples of signature dishes to warm spirits at three outdoor locations. And, dozens of local stores and neighborhood institutions hosted activities and offered holiday cheer throughout the evening.
Words can't convey how successful Winter's Eve was, but pictures do -- so visit flickr.com/lincolnsquarebid to see a sample of what went on. To view the full lineup visit winterseve.org.

And yes, Winter's Eve will be back next year bigger and better than ever! Thanks to everyone who helped make this event possible -- our generous sponsors, our many City partners, and our wonderful businesses and non-profits who opened their doors on Winter's Eve and welcomed the public! What a team effort!
Sincerely,
Monica Blum, President
Lincoln Square BID