Event of the Month: Halloween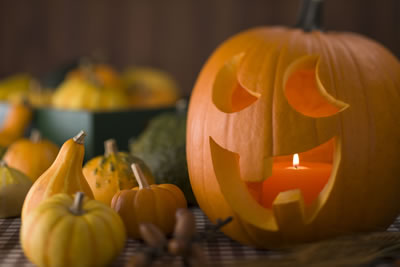 The 31st of October has finally arrived. Kids around the country are putting the finishing touches on their costumes and setting aside a bag to collect their sugary treats. Before you set out with your ghost or goblin for the evening, check out these tips for a safe and healthy Halloween:
1. Eat well before you trick-or-treat. Having a healthy meal containing whole grains and lean protein can keep children & parents satisfied and energized for their walk around the neighborhood or mall. They will also be less likely to eat treats along the path.
2. Keep the bag size small. Filling up a small bag with Halloween treats can be visual satisfying while controlling the amount of sugar brought home.
3. Start early--end early. Halloween can be exhausting for kids. Starting trick-or-treating early and returning home early can help kids to enjoy the evening without becoming too tired.
4. Glow in the Dark. Have kids wear glow-in-the-dark bracelets and necklaces to increase their visibility at night. Carrying a flashlight can also help to illuminate themselves and their path.
5. Select the best, get rid of the rest. Set a treat limit for your children. Then have them go through their candy stash, choose their favorites, and throw away the rest.
6. End the night with a new toothbrush. Halloween is a wonderful time to review the importance & proper techniques of brushing.