WAHCE Conference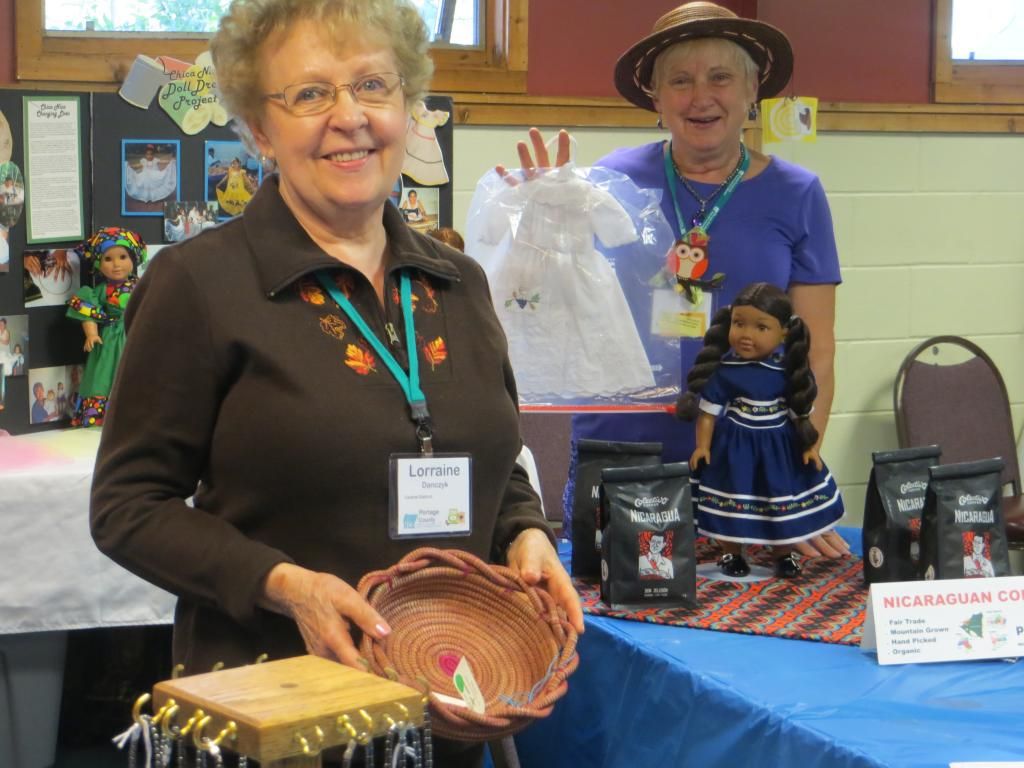 Special thanks to W/NP Volunteers Lorraine Danczyk and Jean Kelly for hosting a booth at the Annual WAHCE Conference featuring the W/NP Chica Nica dolls dresses along with many other hand crafted items from Nicaragua. The outstanding sales from the members will greatly help the Chica Nica and Learning Center projects. The display booth and words shared during the luncheon raised awareness about how important the support from WAHCE members impacts the W/NP Learning Center Program. Click here for short video from luncheon WAHCE is a non-profit organization that partners with UW-Extension Family Living Programs to bring quality educational programming to members and their communities for the past 65 years! When looking at the WAHCE Mission Statement it's no wonder such a perfect harmony exists between W/NP and WAHCE. HCE offers opportunities for:
Learning in a social setting
Sharing what we learn
Caring to make a difference in our homes, communities, and the world
Much like W/NP, Wisconsin Association HCE Values
Families and communities
Opportunities for personal growth through learning, sharing, &

volunteering

Meeting great people and forming friendships and enjoyment
Volunteering to make a difference
Leadership
Next W/NP Quarterly Meeting September 2014
Bee Project
Update on Honey Bee Project from W/NP Chad Carlson. "Our beekeeping trip to Nicaragua began Monday morning September 15th with our flight to Managua from Madison via Atlanta. Dr. Michael Bauer (Waupaca,WI) and myself (Chad Carlson Madison, WI) are embarking on our second international beekeeping trip together. Our trip to Haiti in June 2014 was a great success, and we are excited to learn and teach in Nicaragua....
Wisconsin/Nicaragua Student Partners
Rachel & Rachel, co-presidents of the W/NP Student Chapter at SPASH (Stevens Point Area High School) hosted a booth at the 2014 Project Welcome. The event helps new and returning students scope out groups to get involved with during the upcoming school year.
Youth involvement gets students thinking about their communities and beyond, in some cases incorporating "international" thinking as a part of their life. Encouraging the next generation of leaders to think and address local as well as global issues across neighborhoods and nations is in everyone's best interest.
Many teachers in Wisconsin have recognized the value of curriculum integration in reaching the goals they set for their students. A couple examples are the Bike/Hike event, the library book project and group travel opportunities. Students have been a significant part of the October month long Bike/Hike event, have made wonderful books or projects (in either Spanish or English) to help the libraries in Nicaragua as part of their assignments - win/win for everyone! For the past 5 years, W/NP has facilitated youth exchanges, next opportunity is this summer, June 15 - 23, 2015 for Wisconsin students to travel to Nicaragua. Contact wnp@uwsp.edu for more details and information.