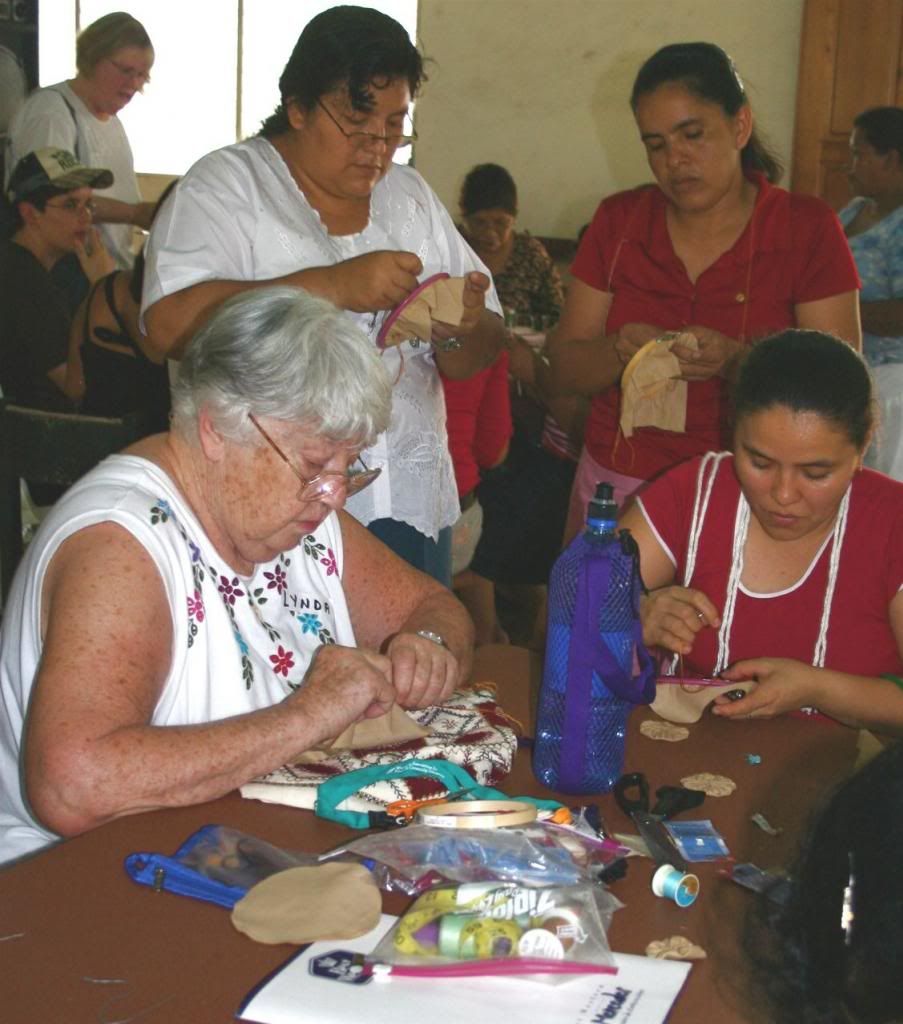 Lynda Lou Pracht age 77 from New Richmond, Wisconsin died on Wednesday April 24, 2013 at Westfields Hospital in New Richmond, Wisconsin. She was born on July 21, 1935 in Kiel, Wisconsin to August & Linda (Hingiss) Bessler. Lynda was a Home Economics Teacher for 20 years at the New Richmond High School. Lynda was an active member of the St. Croix County Home and Community Education (HCE) program for over 40 years. She served on the Local and State HCE Board as International Chair promoting international projects such as Water for All and the WI/Nicaragua Partners of the America's. Lynda traveled to Nicaragua in 1998 on a W/NP sponsored Learning Centers Mission. The excellent embroidery and design skills that she was witness to, along with the enthusiasm of the Nicaraguan women, their spirit, and their strong desire to become self-sufficient, inspired her to find a niche market in the doll dress trade. Each year she would gather old sewing machines and sewing notions from all over Wisconsin to ship to Nicaragua. She was preceded in death by her husband, Lorn Pracht. Survived by her children, Michael (Terri) Pracht, David Pracht, Sue (Lawrence) Collova; grandchildren, Dana Collova, Amanda (Patrick) McCarthy, Jacob Collova, Madison Pracht; great grand daughter, Isabella Collova.

Memorial Service 11 AM Monday April 29, 2013 at the First Lutheran Church 218 County Road K in New Richmond, Wisconsin. The visitation will be held one hour prior to the service at the church. In lieu of flowers, memorials preferred to the Wisconsin Nicaragua Partners.



CULLENCREA FUNERAL HOME NEW

RICHMOND WISCONSIN (715) 246-2667
A note from Nicaragua:
A life of inspiration, this is what Lynda Pracht means to many people in Nicaragua since 1998. Lynda opened a path of opportunities for our ladies and their families through the Learning Center Program and Chica Nica Project.
For 14 years, the ladies in Nicaragua could see the power of a woman that was providing skills to help empower them. Ladies in Nicaragua through the W/NP Learning Centers have felt powerful having Lynda. During these years she directly impacted about 1,000 and indirectly to more than 10,000 people and special ladies in Nicaragua. Sadness came to us about the news that she will not be any more with us, but her legacy will be forever in our hearts. This Saturday the monthly Learning Center meeting will be dedicated to her and we will sing her honor, her favorite Nicaraguan song, Nicaragua Nicaraguita.
14 years of Lynda's dedication to women in Nicaragua has been a really significant second opportunity in life for the ladies most in need in Nicaragua and just we will miss her a lot. - Moises
A note from Wisconsin:
I've been thinking of the times that we were in Nicaragua with Lynda. One of fun moments was a night we were eating in the patio garden of Las Mercedes. There was a big party in the dining area with a band. Carlos Mejía Godoy was performing. We were listening from afar. Lynda was excited to hear Carlos singing. She especially loved his song Nicaragua, Nicaragüita and could sing along with the words. The band went on break. When we were done eating we strolled back to our rooms and there in the hallway was Carlos Mejía Godoy! He was using the room next to ours as a changing room. Lynda got to talk to him and have her photo with him. She was so happy.
I am proud to have known Lynda. She was an inspiration for many many people. - Linda Weber, W/NP VP