Volatility, Volatility, &
More Volatility
Special Quarterly Edition: Weekly Update - September 30, 2013
Though stocks fell again last week, weighed down by worries about a budget impasse in Washington, the major indices are still up for the month and the quarter. Through Friday, September 27, the S&P 500 grew 5.32% for the quarter, while the Dow grew 2.33%, and the Nasdaq increased by 11.11%.

[1]

Despite significant volatility this summer, both the S&P and the Dow reached new highs in September, which is sometimes described as the worst month for stocks.

[2]
Markets have been volatile in the last weeks of the quarter, roiled by renewed budgetary debates in Washington as Congress struggles to approve a 2014 budget before the September 30 deadline. If Congressional Democrats and Republicans cannot come to an agreement, the U.S. government may shut down, causing many government services to grind to a halt - including the release of critical economic data. Even if a budgetary measure is passed, Congress will have to immediately turn its attention to the debt ceiling issue.
The debt ceiling - the Treasury Department's authority to borrow money to meet government expenses - must be raised or the Treasury will reach its spending limit by mid-October.
[3]
The federal government actually hit its spending limit in the spring, triggering a series of "extraordinary measures" that the Treasury has used to keep government spending under the ceiling. Unfortunately, there are no more extraordinary options left and lawmakers must raise the ceiling or risk defaulting on obligations to holders of U.S. Treasuries. While we don't think its likely to happen, a debt default would have serious repercussions for U.S. international credibility and the credit rating on Treasuries.
In terms of economic data, the quarter was generally positive. Despite worries about the effect of rising interest rates on the housing sector, the housing recovery is continuing. Home prices are up nationwide - an average of 12.4% since 2012 - and home sales are still growing.
[4]
The labor market continues to slowly improve, though not as quickly as we might like; while unemployment has dropped to 7.3%, hiring rates remain below healthy levels.
[5]
On the negative side, consumer sentiment slid in September to a five-month low as consumers worried about the effect high interest rates and debates in Washington will have on the economy.
[6]

For the last few months, markets have been heavily influenced by the expected tapering of Federal Reserve stimulus programs, which boost markets to the tune of $85 billion of bond purchases each month. Though Wall Street had been convinced of a September taper, after reviewing recent economic data during the FOMC meeting last week, the Fed decided to delay tapering until economic indicators looked more positive. While we believe the economy is strong enough to withstand a gradual removal of monetary support and that tapering is largely priced into equities, we're happy that the Fed is taking a cautious, considered approach to the process.

Bottom line, despite some headwinds, economic trends remain largely positive, and we're confident about the economy's potential for growth in the fourth quarter. However, it's important for investors to be prepared for more market volatility in the coming weeks and months as markets grapple with Fed tapering and fiscal issues in Washington. We still believe that additional market upside is possible. Inflation remains low, economic indicators are generally positive, corporate balance sheets are still healthy, and the Fed seems to be in no hurry to taper.

That being said, it's never possible to predict the direction of market movements, and we caution our clients to prepare for additional bumps in the road ahead. While volatility can be stressful, it's important to look beyond the headlines and focus on your long-term financial goals. One of the benefits of volatility is that it can provide opportunities to find quality investments at attractive prices. If you have any concerns about your portfolio or any questions about how these issues may affect your investments, please reach out to us. We are honored by your trust and are happy to be a source of information to you and your family.
ECONOMIC CALENDAR:
Monday: Chicago PMI, Dallas Fed Mfg. Survey
Tuesday: PMI Manufacturing Index, ISM Mfg. Index, Construction Spending
Wednesday: ADP Employment Report, EIA Petroleum Status Report, Ben Bernanke Speaks 3:00 PM ET
Thursday: Jobless Claims, Factory Orders, ISM Non-Mfg. Index
Friday: Employment Situation

Notes: All index returns exclude reinvested dividends, and the 5-year and 10-year returns are annualized. Sources: Yahoo! Finance and
Treasury.gov
. International performance is represented by the MSCI EAFE Index. Past performance is no guarantee of future results. Indices are unmanaged and cannot be invested into directly.
HEADLINES:

Truck freight tonnage up. The tonnage of freight moved by trucks, an important indicator analysts use to gauge economic demand, increased by 1.4% in August, reversing a previous decline. While the number of loads remains flat, analysts hope that the tonnage increase foretells future demand for manufactured goods later in the year.[7]
China's central bank to push reforms. The Chinese central bank announced its intention to keep monetary policy steady while forging ahead with important interest rate and currency reforms. These reforms will make China more competitive in the long run and bring economic policies in line with international standards.[8]
Jobless claims fall to a near-six-year low. The number of Americans filing new unemployment claims fell significantly last week in a hopeful sign for the labor market. The drop was unexpected since analysts had expected claim numbers to be distorted by processing issues. The four-week average, a less volatile measure, fell to the lowest level since July 2007.[9]
Oil prices fall as summer ends. Oil prices have fallen significantly from a two-year high of $110.53 reached earlier this month. A peaceful resolution to the Syria crisis and the end of the summer driving season drove a decrease in demand.[10]

"Every artist was first an amateur"
- Ralph Waldo Emerson
Chicken, Pesto & Fried Egg Pizza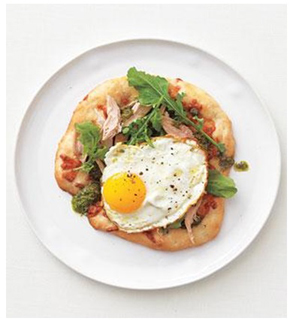 This dish is perfect for a relaxed brunch. Recipe from RealSimple.com.
Ingredients:

1 pound store-bought pizza dough, at room temperature
2 tablespoons olive oil
1 1/2 cups (6 ounces) grated Asiago or Parmesan
4 large eggs
Kosher salt and black pepper
1 1/2 cups shredded rotisserie chicken, warmed
1 cup arugula
1/4 cup store-bought pesto

Directions:

1. Heat oven to 425° F. Shape the dough into 4 rounds. Brush both sides with 1 tablespoon of the oil and place on 2 baking sheets. Dividing evenly, sprinkle with the Asiago and bake until golden, 12 to 15 minutes.
2. Meanwhile, heat the remaining tablespoon of oil in a large nonstick skillet over medium heat. Crack the eggs into the skillet and cook, covered, 2 to 3 minutes for slightly runny. 3. Dividing evenly, top the baked dough with the chicken, arugula, pesto, fried eggs, and ¼ teaspoon each salt and pepper.
Tax Rules for Early Retirement Plan Withdrawals
Taking money out early from your retirement plan can cost you an extra 10% in tax penalties. Here are a few things you should know:
An early withdrawal normally means taking money from your plan, such as a 401(k), before you reach age 59½.
To find out more about early distributions from retirement plans, speak with your tax professional or review IRS Publication 575, Pension and Annuity Income.

Every major golf manufacturer offers free custom fitting for all of their clubs. However, most golfers just buy off the rack. Companies design their clubs with the average golfer in mind, meaning that few clubs will fit perfectly without modification. When clubs don't fit, changes must be made in your swing to accommodate the problem, leading to inefficiency and potential discomfort. There are many factors that can be custom fitted, including length, lie, shaft flex, grip size, and shaft weight.

Since there are no industry standards for these specs, the only way to be sure your club fits your swing is to get a personal fitting from a PGA professional. Next time you're in the market for a new club, ask your pro shop if they can do a custom fitting session.


Keep Noodle Dishes for a Special Treat
While it's hard to turn down a delicious plate of Asian noodles at your favorite takeout joint, there are quite a few health reasons for staying away.
Too much sodium. Many prepared noodle dishes are loaded with sodium, which can play havoc with blood pressure and the urinary tract.
MSG. Monosodium Glutamate is a flavor enhancer frequently used in noodle dishes. Many people are allergic to MSG, which can cause severe headaches, facial flushing, pain and burning sensations.
High glycemic index carbs. Noodles are highly processed starches that rank pretty low on the healthful food scale. While they're fine for an occasional treat, diabetics and those concerned about their health should be wary of indulging too much.
Natural Gas - A Greener Alternative?
As more people are turning to renewable energy, many wonder how much better for the environment electricity generated by natural gas is. Natural gas consists mainly of methane - its emissions release 30% less carbon dioxide into the atmosphere than oil and 45% less than coal. However, natural gas production still releases troubling emissions into the atmosphere. So, for the present moment, natural gas should not be seen as the final step, but a cleaner stepping-stone to even more environmental-friendly energy technologies.

Share the Wealth of Knowledge!

Please share this market update with family, friends, or colleagues. If you would like us to add them to our list, simply click on the "Forward email" link below. We love being introduced!
Investing involves risk including the potential loss of principal. No investment strategy can guarantee a profit or protect against loss in periods of declining values.
Diversification does not guarantee profit nor is it guaranteed to protect assets.

The Standard & Poor's 500 (S&P 500) is an unmanaged group of securities considered to be representative of the stock market in general.
The Dow Jones Industrial Average is a price-weighted average of 30 significant stocks traded on the New York Stock Exchange and the NASDAQ. The DJIA was invented by Charles Dow back in 1896.
The Nasdaq Composite is an index of the common stocks and similar securities listed on the NASDAQ stock market and is considered a broad indicator of the performance of stocks of technology companies and growth companies.
The MSCI EAFE Index was created by Morgan Stanley Capital International (MSCI) that serves as a benchmark of the performance in major international equity markets as represented by 21 major MSCI indexes from Europe, Australia and Southeast Asia.
The S&P/Case-Shiller Home Price Indices are the leading measures of U.S. residential real estate prices, tracking changes in the value of residential real estate. The index is made up of measures of real estate prices in 20 cities and weighted to produce the index.
The 10-year Treasury Note represents debt owed by the United States Treasury to the public. Since the U.S. Government is seen as a risk-free borrower, investors use the 10-year Treasury Note as a benchmark for the long-term bond market.
Google Finance is the source for any reference to the performance of an index between two specific periods.
Opinions expressed are subject to change without notice and are not intended as investment advice or to predict future performance.
Past performance does not guarantee future results.
You cannot invest directly in an index.
Consult your financial professional before making any investment decision.
Fixed income investments are subject to various risks including changes in interest rates, credit quality, inflation risk, market valuations, prepayments, corporate events, tax ramifications and other factors.
These are the views of Platinum Advisor Marketing Strategies, LLC, and not necessarily those of the named representative, Broker dealer or Investment Advisor, and should not be construed as investment advice. Neither the named representative nor the named Broker dealer or Investment Advisor gives tax or legal advice. All information is believed to be from reliable sources; however, we make no representation as to its completeness or accuracy.
Please consult your financial advisor for further information.
By clicking on these links, you will leave our server, as they are located on another server. We have not independently verified the information available through this link. The link is provided to you as a matter of interest. Please click on the links below to leave and proceed to the selected site.
[1] Google Finance
[2] http://www.reuters.com/article/2013/09/28/us-usa-stocks-weekahead-idUSBRE98Q18Z20130928

[3] http://blogs.wsj.com/moneybeat/2013/09/20/debt-ceiling-act-iii-will-the-market-notice-at-all-this-time/

[4] http://www.foxbusiness.com/markets/2013/09/24/stock-futures-waver-after-three-day-slump/

[5] http://www.reuters.com/article/2013/09/27/us-usa-fed-dudley-idUSBRE98Q18R20130927

[6] http://www.cnbc.com/id/101068286

[7] http://www.cnbc.com/id/101066568

[8] http://finance.yahoo.com/news/china-central-bank-keep-policy-104335281.html
[9] http://www.cnbc.com/id/101064542

[10] http://abcnews.go.com/Business/wireStory/oil-falls-103-gas-346-gallon-20360123
| | | |
| --- | --- | --- |
| | | |


Copyright © 2013. All Rights Reserved.