Economy Drives Rally Forward

Weekly Update - May 20, 2013

In This Issue

The Markets:


Stocks rallied for the fourth week in a row on positive economic data as both the S&P 500 and Dow Industrials hit new highs. For the week, the S&P 500 gained 2.07%, the Dow increased 1.56%, and the NASDAQ added 1.82%.[1]


Markets experienced some volatility as stocks pulled back early in the week amid worries that the Fed may be tapering off its bond-buying program soon. However, investors soon regained their positivity after realizing that the Fed would not slow its quantitative easing activities without a simultaneous improvement in economic growth. In other good news, data showed that consumer sentiment is on the upswing, reaching its highest level since July 2007, according to the Thomson/Reuters University of Michigan index.[2]


The rate of economic growth has been expected to fall in the second quarter as sequestration and higher taxes continue to bite; however, improvements in the labor market, housing market, and retail sales show that the recovery is still ongoing. While a measure of volatility is expected, many analysts are upbeat about the year's market prospects. JP Morgan raised its year-end target for the S&P 500 to 1,750 from 1,500, indicating that their analysts expect additional upside this year.[3] Although we don't want to dwell too much on technical indicators, preferring a long-term strategy driven by research and quality investments, we like to see that analysts are remaining optimistic about market performance this year.


This week will see the release of important housing and manufacturing data, which will hopefully give additional support to the market rally. Ben Bernanke will speak about the economy before the Joint Economic Committee of Congress on Wednesday. Analysts will watch carefully to see whether he believes the economy is strong enough to justify paring back the Fed's bond-buying activities any time soon.

Overall, we're pleased with how equity markets have been performing this year and we're glad to see the economic recovery advancing. Even so, we are determined not to become complacent, but rather, to remain alert for both risks and opportunities. Thank you for allowing us to serve you. We hope you have a great week!

ECONOMIC CALENDAR:
Monday: Ben Bernanke Commencement Speech Notes 8:00 AM ET
Wednesday: Existing Home Sales, Ben Bernanke Speaks 10:00 AM ET, EIA Petroleum Status Report, FOMC Minutes
Thursday: Jobless Claims, PMI Manufacturing Index Flash, New Home Sales
Friday: Durable Goods Orders
Performance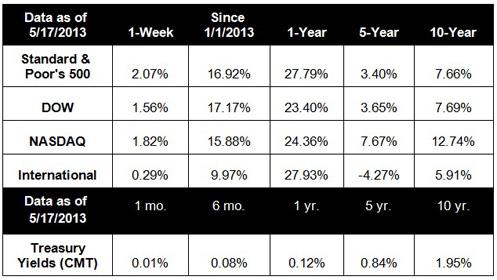 Notes: All index returns exclude reinvested dividends, and the 5-year and 10-year returns are annualized. Sources: Yahoo! Finance and Treasury.gov. International performance is represented by the MSCI EAFE Index. Past performance is no guarantee of future results. Indices are unmanaged and cannot be invested into directly.
Headlines


Soft CPI suggests inflation remains in check. Consumer prices slipped in April due to a decrease in gasoline prices. The CPI, a measure of inflation, rose just 1.1% in the last 12 months, the smallest increase since November 2010. The decline in prices is good news for consumers and shows that policymakers should focus on jobs creation, not inflation.[4]

Housing starts drop in April. Housing starts, a measure of new home construction, fell 16.5% in April, driven by a large drop in the volatile apartment sector. However, starts are still up 36% from one year ago and building permits, a much less volatile measure of housing construction, increased 14.3% to the highest level since June 2008.[5]

Slovenian credit rating cut. Fitch Ratings downgraded Slovenia's sovereign credit rating to BBB+, citing a weak economic outlook. The Eastern European EU member has struggled with banking overhauls and high levels of debt and may be forced to seek a bailout.[6]

China's housing inflation accelerates. China's April housing inflation rate soared to a two-year high, driven by high prices in Beijing and Shanghai. Average new home prices rose 4.9% from a year ago, reigniting concerns about runaway property inflating and complicating the task of policymakers struggling to contain inflation while boosting economic growth.[7]


"Either write something worth reading or do something worth writing."
- Benjamin Franklin


Chocolate Cinnamon Pudding With Raspberries

Smooth chocolate and warm cinnamon spice up a simple treat. Recipe from RealSimple.com.
Ingredients:
1/2 cup unsweetened cocoa powder
1/2 teaspoon cinnamon
1/4 cup cornstarch
2/3 cup plus 1 tablespoon packed brown sugar
2 1/2 cups whole milk
1 1/4 cups heavy cream
2 teaspoons vanilla extract
1 1/2 cups fresh raspberries, or frozen raspberries, thawed
Directions:
In a heavy saucepan, combine the cocoa, cinnamon, cornstarch, and 2/3 cup of brown sugar. Whisk in the milk and 1/2 cup of the cream. Over medium-low heat, bring to a boil and cook, stirring constantly, until the pudding is thick and smooth. Remove from heat and stir in the vanilla.
Pour into individual ramekins or a large bowl and press plastic wrap directly onto the surface to prevent a skin from forming.
Whip the remaining heavy cream with the remaining sugar until soft peaks form. Serve the pudding warm or chilled with the raspberries and whipped cream.


Try to concentrate on stacking your impact position.

This means that your left arm, the shaft, and your weight should all be stacked over your left leg during that crucial moment. This will help you better control the shot and ensure you hit it crisp and solid. If you aren't stacked, your chipping will be inconsistent, and it'll be hard to judge distances and how much the ball will fly and roll. But if you stack it, all you need to do is judge how far you want the ball to go and lengthen or shorten your backswing so it fits the shot. Tip from Golf Tips Mag.
Cure Your Sweet Tooth
Many health professionals advise us to try to include less sugar-rich candies and more fruits in our diets. Skipping dessert and sticking to the same fruits can get boring, so remember to branch out and try new fruits and low-sugar desserts. If you haven't tried them, papayas, mangos, star fruits, and other tropical fruits can be a fun new treat.
Use Your Blinds
Leave blinds down on south- and west-facing windows on hot summer days to keep your space cool. This will prevent the sun from warming your home and making your cooling system work harder - therefore increasing your electricity bill. In winter, leave blinds up to allow the sun to help heat your home and lend your heating system a helping hand.
Share the Wealth of Knowledge!

Please share this market update with family, friends, or colleagues. If you would like us to add them to our list, simply click on the "Forward email" link below. We love being introduced!

Investing involves risk including the potential loss of principal. No investment strategy can guarantee a profit or protect against loss in periods of declining values.

Diversification does not guarantee profit nor is it guaranteed to protect assets.

The Standard & Poor's 500 (S&P 500) is an unmanaged group of securities considered to be representative of the stock market in general.

The Dow Jones Industrial Average is a price-weighted average of 30 significant stocks traded on the New York Stock Exchange and the NASDAQ. The DJIA was invented by Charles Dow back in 1896.

The Nasdaq Composite is an index of the common stocks and similar securities listed on the NASDAQ stock market and is considered a broad indicator of the performance of stocks of technology companies and growth companies.

The MSCI EAFE Index was created by Morgan Stanley Capital International (MSCI) that serves as a benchmark of the performance in major international equity markets as represented by 21 major MSCI indexes from Europe, Australia and Southeast Asia.

The 10-year Treasury Note represents debt owed by the United States Treasury to the public. Since the U.S. Government is seen as a risk-free borrower, investors use the 10-year Treasury Note as a benchmark for the long-term bond market.

Google Finance is the source for any reference to the performance of an index between two specific periods.

Opinions expressed are subject to change without notice and are not intended as investment advice or to predict future performance.

Past performance does not guarantee future results.

You cannot invest directly in an index.

Consult your financial professional before making any investment decision.

Fixed income investments are subject to various risks including changes in interest rates, credit quality, inflation risk, market valuations, prepayments, corporate events, tax ramifications and other factors.

These are the views of Platinum Advisor Marketing Strategies, LLC, and not necessarily those of the named representative, Broker dealer or Investment Advisor, and should not be construed as investment advice. Neither the named representative nor the named Broker dealer or Investment Advisor gives tax or legal advice. All information is believed to be from reliable sources; however, we make no representation as to its completeness or accuracy. Please consult your financial advisor for further information.