Markets Decline Ahead of Sequestration
Weekly Update - February 25, 2013
In This Issue

The Markets:




Markets slid last week as fears surrounding sequestration, Fed policy, and disappointing economic reports finally drained investor optimism. The S&P 500 snapped its seven-week winning streak, ending the week with a 0.28% loss; the Dow edged back into positive territory, closing up 0.13%, and the Nasdaq trimmed 0.95%.

[1]

On the sequestration front, President Obama phoned up Speaker of the House John Boehner and Republican Senate Leader Mitch McConnell, but no announcement was forthcoming, indicating that the two sides are still at an impasse with just a few days remaining before the March 1 sequestration deadline.

[2]

While it's possible that both sides may come to an agreement before mandatory spending cuts strike, it's too early to know what the outcome will be.

Spending cuts would cause major disruptions to government activities and stop payments to some government-funded organizations (many of whom are in the defense sector.) While the total economic cost of sequestration is difficult to calculate, some analysts estimate that sequestration would contribute to the loss of 700,000 jobs (including drawdowns in the armed forces,) and shave 0.6% off of GDP this year.

[3]

While these losses may not be catastrophic in terms of the overall economy, slower growth, increased unemployment, and reduced consumer confidence certainly won't help the economic recovery.

Investors also reacted negatively to last week's Federal Open Market Committee (FOMC) January meeting minutes, which indicated that Fed stakeholders are concerned about the potential costs and risks of future assets, meaning that the Fed may be cutting short its quantitative easing initiative. Hopefully, we'll find out more when Ben Bernanke speaks before the Senate Banking Committee on Tuesday and the House Financial Services Committee on Wednesday.

[4]

Applications for jobless claims increased for the first time in three weeks, returning to pre-holiday season levels and showing little improvement.

[5]

While employment appears to be stable, some analysts have expressed concern that the pace of hiring is not picking up.

Bottom line: Equity markets may continue to respond nervously to the upcoming sequestration deadline, though a deal could lead to a market rally. As lawmakers tackle the country's spending issues and the Fed clarifies future actions, we won't be surprised by continued volatility. In the meantime, we'll keep you updated with news on sequestration talks and related issues. Should you have questions about how these matters affect your long-term financial plans, please feel free to reach out to us. We hope you have a great week!



ECONOMIC CALENDAR:


Monday: Dallas Fed Mfg. Survey


Tuesday: S&P Case-Shiller HPI, New Home Sales, Consumer Confidence, Ben Bernanke Speaks: 10:00am


Wednesday: Durable Goods Orders, Ben Bernanke Speaks: 10:00 AM ET, Pending Home Sales Index, EIA Petroleum Status Report


Thursday: GDP, Jobless Claims, Chicago PMI


Friday: Motor Vehicle Sales, Personal Income and Outlays, PMI Manufacturing Index, Consumer Sentiment, ISM Mfg. Index, Construction Spending




Performance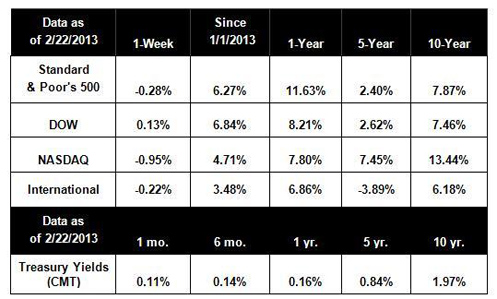 Notes: All index returns exclude reinvested dividends, and the 5-year and 10-year returns are annualized. Sources: Yahoo! Finance and Treasury.gov. International performance is represented by the MSCI EAFE Index. Past performance is no guarantee of future results. Indices are unmanaged and cannot be invested into directly.

Headlines


Moody's downgrades British debt.
Credit rating agency Moody's Investor Service downgraded Britain's government bond rating from AAA to AA1, citing the country's growing debts and "subdued" growth prospects. Though Britain is in the midst of cost-cutting austerity measures, analysts are still concerned about poor economic growth.
[6]
Investors fear Italian election result.
Italians went to the polls over the weekend to elect the next national government. The most recent poll numbers (releasing polls during the election is illegal in Italy) indicate that none of the front-runners has enough of a majority to win a strong mandate. This could cause political infighting during a tenuous period in Italy's economic recovery.
[7]
Wal-Mart's feeble fourth-quarter results point to cash-strapped customers.
Wal-Mart's earnings report for the last three months of 2012 show that same-store sales grew an anemic 1%; deeper analysis of the results shows that its (primarily low-income) customers are living paycheck-to-paycheck and lack the confidence to spend money.
[8]
Homebuilding drops, but future growth looks safe.
Housing starts, a measure of new construction of houses, dropped 8.5% in January, pulled down by the volatile multi-unit category. The drop followed a significant December increase and was largely confined to the Northeast, indicating that winter weather may have contributed to the drop. However, permits for future construction jumped during the same period, showing that the housing recovery continues.
[9]


"You cannot dream yourself into a character; you must hammer and forge yourself into one." - Henry David Thoreau
Salmon Fillet with Citrus and Thyme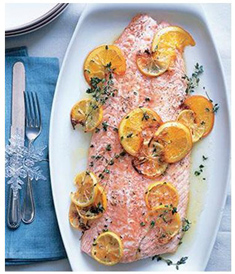 Citrus and thyme jazz up a healthful weeknight dish. Recipe from RealSimple.com.

Ingredients:

1 3-pound piece skinless salmon fillet

1 tablespoon olive oil

kosher salt and pepper to taste

1 orange, thinly sliced

1 lemon, thinly sliced

12 sprigs fresh thyme


Directions:

Heat oven to 375° F. Place the salmon on a parchment-lined baking sheet.
Drizzle the salmon with the oil and season with ¾ teaspoon salt and ½ teaspoon pepper. Scatter the orange, lemon, and thyme around it.
Roast until the salmon is opaque throughout, 20 to 25 minutes.

Using 2 large spatulas, carefully transfer the salmon to a platter and scatter the orange, lemon, and thyme on top of it.


Maintain Balance

Maintaining your balance is important in all sports. In golf, better balance throughout your swing insures a solid shot. Here are two ways to improve your balance, which in turn will improve your ball contact and control, leading to lower scores.


Limit the amount of force you use when hitting the ball. Too many golfers think they need to use all their strength to hit the ball and this causes severe control problems. The majority of golf professionals will tell you they only use about 75% of their strength when hitting and/or swinging at the ball.
Wear the slickest soled regular street shoes, or boots, when possible whenever you practice (NOT spikes or golf shoes). It's amazing how fast you learn to swing within yourself, keep in balance and maintain control when NOT doing so could cause you to lose your balance.

Whole grains are not just a major source of vitamins and minerals but also important dietary fiber. An AARP-NIH study shows that regularly consuming whole grains like whole wheat bread, whole wheat pasta, and brown rice can reduce the risk of heart disease, respiratory illnesses, and cancers like colon and breast cancer.


Get Your Hot Water Faster
Most people run their showers for a few minutes to let the water warm up. This accounts for hundreds of gallons of wasted water (and wasted energy) each year. By situating your hot water heater closer to your bathroom or other points of use, you can save energy and get your hot water faster. When it's time to upgrade your plumbing, switch copper lines to PEX (cross-linked polyethylene), which has a smaller inner diameter and will reduce the amount of heat lost during travel.

Share the Wealth of Knowledge!

Please share this market update with family, friends, or colleagues. If you would like us to add them to our list, simply click on the "Forward email" link below. We love being introduced!





Investing involves risk including the potential loss of principal. No investment strategy can guarantee a profit or protect against loss in periods of declining values.


Diversification does not guarantee profit nor is it guaranteed to protect assets.


The Standard & Poor's 500 (S&P 500) is an unmanaged group of securities considered to be representative of the stock market in general.


The Dow Jones Industrial Average is a price-weighted average of 30 significant stocks traded on the New York Stock Exchange and the NASDAQ. The DJIA was invented by Charles Dow back in 1896.


The MSCI EAFE Index was created by Morgan Stanley Capital International (MSCI) that serves as a benchmark of the performance in major international equity markets as represented by 21 major MSCI indexes from Europe, Australia and Southeast Asia.


The 10-year Treasury Note represents debt owed by the United States Treasury to the public. Since the U.S. Government is seen as a risk-free borrower, investors use the 10-year Treasury Note as a benchmark for the long-term bond market.


Google Finance is the source for any reference to the performance of an index between two specific periods.


Opinions expressed are subject to change without notice and are not intended as investment advice or to predict future performance.


Past performance does not guarantee future results.


You cannot invest directly in an index.


Consult your financial professional before making any investment decision.


Fixed income investments are subject to various risks including changes in interest rates, credit quality, inflation risk, market valuations, prepayments, corporate events, tax ramifications and other factors.


These are the views of Platinum Advisor Marketing Strategies, LLC, and not necessarily those of the named representative, Broker dealer or Investment Advisor, and should not be construed as investment advice. Neither the named representative nor the named Broker dealer or Investment Advisor gives tax or legal advice. All information is believed to be from reliable sources; however, we make no representation as to its completeness or accuracy. Please consult your financial advisor for further information.