And We're Off...

Weekly Update - January 7, 2013

In This Issue




Markets finished the first week of 2013 with a bang, upbeat over resolution surrounding fiscal cliff talks. The S&P 500 closed up 4.6% for the week, hitting a high of 1,466 on Friday; a level not seen since December 2007. The other indices also closed up, with the Dow gaining 3.8% and the Nasdaq climbing 4.77%.

[1]

Although soon-to-be-released fourth-quarter earnings data could slow things down, a flood of new pension and 401k money has potential to keep the rally going.

[2]

Only time will tell the story.




Though you may be following this already, we feel a responsibility to recap some recent events and their outcomes. The U.S. Senate was finally able to reach a deal with the White House in the early hours of January 1, after which the House ratified the American Taxpayer Relief Act of 2012. Major provisions of this bill include:




- Raise $600 billion in revenue over 10 years through tax increases.

- Postpone for two months the start of $1.2 trillion in automatic spending cuts. (Unfortunately, postponing spending cuts just means that we'll be revisiting the issue again soon.)

- Permanently extend the Bush Tax Cuts for income below $400,000 per individual, or $450,000 per family. Income above that level would be taxed at the highest rate of 39.6%. For earners in the top bracket, capital gains and dividend tax rates would return to 20% from 15%.

- Permanently patch the Alternative Minimum Tax (AMT) and index it to inflation.

- Extend unemployment benefits for one year for the long-term unemployed.

[3]




Although Americans are relieved that the fiscal cliff quagmire is over, a Gallup poll shows that opinions are split over the deal, with 43% showing approval, while 45% disapprove.

[4]

There is still much work to be done when it comes to balancing our nation's finances, and this deal barely puts a dent in the budget deficit, but we hope lawmakers will remain committed to formulating lasting solutions.




Looking ahead, fourth quarter earnings will kick off this week and American corporations will be under the microscope as analysts try to decide whether fundamentals support further market upside.




ECONOMIC CALENDAR:

Wednesday: EIA Petroleum Status Report

Thursday: Jobless Claims

Friday: International Trade, Import and Export Prices, Treasury Budget





Performance

Notes: All index returns exclude reinvested dividends, and the 5-year and 10-year returns are annualized. Sources: Yahoo! Finance, MSCI Barra. Past performance is no guarantee of future results. Indices are unmanaged and cannot be invested into directly. N/A means not available.

Headlines

Lenders nearing a deal on foreclosure abuse claims.
A $10 billion settlement to resolve claims of foreclosure abuse among major U.S. lenders is expected to be announced this week. The settlement covers abusive practices like flawed paperwork and botched loan modifications and will be split among homeowners who have already lost their houses and those who are in danger of foreclosure.

[5]
Hostess Brands may be purchased
. Flowers Foods Inc. and Grupo Bimbo SAB are in discussions to acquire pieces of Hostess Brands Inc.'s bread business, as the maker of Wonder Bread and Twinkies sells off assets and liquidates. Hostess, whose brands include Wonder Bread, Nature's Pride, Home Pride, Merita, and Butternut, is still determining how to split up assets and package them for buyers, said people familiar with the talks.

[6]
Health insurers are seeking double-digit premium increases.
Despite federal regulations seeking to prevent high premium increases, health insurers are seeking to raise premiums, by as much as 22% in some cases. Some states have insurance commissions with the ability to strike down rate increases.

[7]
U.S. and China leave Europe in the dust.
Despite fears of contagion, it appears that the economies of China, the U.S, and much of the developed world have succeeded in decoupling from troubled Europe. According to manufacturing surveys released this week, the U.S. remains in growth territory, while Europe is firmly mired in a recession.

[8]


"The talent of success is nothing more than doing what you can do well."
-Henry W. Longfellow


Slow Cooker Lasagna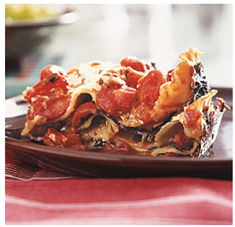 Switch out spinach from swiss chard for a change in this healthful lasagna.
Recipe from RealSimple.com.
Ingredients:
2 28-ounce cans diced tomatoes, drained
3 cloves garlic, finely chopped
1/4 cup fresh oregano, chopped Salt and pepper
1 15-ounce container ricotta
1/2 cup fresh flat-leaf parsley, chopped
1/2 cup grated Parmesan 8 ounces standard lasagna noodles (not no-boil)
1 bunch Swiss chard, tough stems removed and torn into small pieces (7 cups)
12 ounces mozzarella, grated
Directions:
In a medium bowl, combine the tomatoes, garlic, oregano, 1/2 teaspoon salt, and 1/2 teaspoon pepper. In another medium bowl, combine the ricotta, parsley, Parmesan, and 1/4 teaspoon pepper.
Spoon 1/3 cup of the tomato mixture into the bowl of a 4- to 6-quart slow cooker. Top with a single layer of noodles, breaking them to fit as necessary. Add half the Swiss chard. Dollop with a third of the ricotta mixture and a third of the remaining tomato mixture. Sprinkle with a third of the mozzarella.
Add another layer of noodles and repeat with the other ingredients. Finish with a layer of noodles and the remaining ricotta mixture, tomato mixture, and mozzarella.
Set the slow cooker to low and cook, covered, until the noodles are tender, 3 to 4 hours. Let rest 10 minutes before serving.


How to Hit Under Tree Limbs

If you need to keep your ball low, such as under tree limbs, but need distance to execute the shot, here's another trick for your bag:
1) Play the ball slightly rear of center and press your hands forward of the ball.
2) Use a 3, 4, or 5 iron, and close the club face slightly.
3) Keep your hands ahead of the club for the whole swing.
T
he ball will come out low and hot, so compensate with the amount of back swing you use. Sometimes the ball will draw a little more than usual, so practice this shot on the range before you take it on the course.
Research suggests that people with a consistent, active social life are less likely to experience declines in their ability to reason or remember. Maintaining important relationships may also help you maintain a regular schedule of daily activities, critical to mental health and wellbeing.

Many of us like to warm up the car before driving in cold weather. However, according to the California Energy Commission, idling is a less efficient method of warming up a car than just driving it. Save time and carbon dioxide emissions by skipping the idle time.
Share the Wealth of Knowledge!


Please share this market update with family, friends, or colleagues. If you would like us to add them to our list, simply click on the "Forward email" link below. We love being introduced!

Investing involves risk including the potential loss of principal. No investment strategy can guarantee a profit or protect against loss in periods of declining values.
Diversification does not guarantee profit nor is it guaranteed to protect assets
The Standard & Poor's 500 (S&P 500) is an unmanaged group of securities considered to be representative of the stock market in general.
The Dow Jones Industrial Average is a price-weighted average of 30 significant stocks traded on the New York Stock Exchange and the NASDAQ. The DJIA was invented by Charles Dow back in 1896.
The MSCI EAFE Index was created by Morgan Stanley Capital International (MSCI) that serves as a benchmark of the performance in major international equity markets as represented by 21 major MSCI indexes from Europe, Australia and Southeast Asia.
The 10-year Treasury Note represents debt owed by the United States Treasury to the public. Since the U.S. Government is seen as a risk-free borrower, investors use the 10-year Treasury Note as a benchmark for the long-term bond market.
The Housing Market Index (HMI) is a weighted average of separate diffusion indices based on a monthly survey of NAHB members designed to take the pulse of the single-family housing market. Each resulting index is then seasonally adjusted and weighted to produce the HMI.
The Pending Home Sales Index, a leading indicator of housing activity, measures housing contract activity, and is based on signed real estate contracts for existing single-family homes, condos and co-ops. The PHSI looks at the monthly relationship between existing-home sale contracts and transaction closings over the last four years. The results are weighted to produce the index.
The Chicago Board Options Exchange Market Volatility Index (VIX) is a weighted measure of the implied S&P 500 volatility. VIX is quoted in percentage points and translates, roughly, to the expected movement in the S&P 500 index over the upcoming 30-day period, which is then annualized.
The BLS Consumer Price Indexes (CPI) produces monthly data on changes in the prices paid by urban consumers for a representative basket of goods and services. Survey responses are seasonally adjusted and weighted to produce a composite index.
The Conference Board Leading Economic Index (LEI) is a composite economic index formed by averages of several individual leading economic indicators, which are weighted to produce the complete index.
Google Finance is the source for any reference to the performance of an index between two specific periods.
Opinions expressed are subject to change without notice and are not intended as investment advice or to predict future performance.
Past performance does not guarantee future results.
You cannot invest directly in an index. Consult your financial professional before making any investment decision. Fixed income investments are subject to various risks including changes in interest rates, credit quality, inflation risk, market valuations, prepayments, corporate events, tax ramifications and other factors.
These are the views of Platinum Advisor Marketing Strategies, LLC, and not necessarily those of the named representative or named Broker dealer, and should not be construed as investment advice. Neither the named representative nor the named Broker dealer gives tax or legal advice.
All information is believed to be from reliable sources; however, we make no representation as to its completeness or accuracy. Please consult your financial advisor for further information. By clicking on these links, you will leave our server as they are located on another server. We have not independently verified the information available through this link. The link is provided to you as a matter of interest. Please click on the links below to leave and proceed to the selected site.