Both houses of Congress have passed the
Child Care Development Block Grant Act of 2014.
This marks the first time in 18 years that comprehensive Child Care and Development Block Grant (CCDBG) reauthorization legislation has passed both the House and Senate. Read below a statement from
Jodi Grant, Executive Director of the Afterschool Alliance, about the impact of this bill.
"Today's action by the Senate to pass the House-approved version of the Child Care and
Development Block Grant (CCDBG) is a major step forward that will improve the health, safety and prospects of millions of children. This is the first time in 18 years that both houses of Congress have passed this legislation, which will enhance transparency and improve the quality
of care for children up to age 13 in low-income families. The funding increase of some $400
million over the next six years is badly needed and long overdue.
"This bill supports working parents by helping child care and afterschool providers offer quality care. One-third of children served by CCDBG are school-age and this funding will provide enrichment
and learning opportunities to these children after school, before school, and during the summer. It offers tremendous potential to better blend and leverage CCDBG with other federal, state and local afterschool program funds in order to provide quality programing to more of the 19 million young people whose parents would put them in afterschool programs, if programs were available.
"This legislation contains a number of important provisions, including promoting stability by
allowing children to be enrolled for 12 months after the family is found eligible for child care assistance. While the CCDBG Act of 2014 represents great progress, it will be essential that
Congress and the states provide adequate funding so providers can implement the improvements the law contains. We look forward to working with the U.S. Department of Health and Human Services and state agencies on implementation to ensure that all new policies and provisions take into account the needs and circumstances of school-age children served by afterschool providers.


We urge President Obama to waste no time in signing this bill into law."
Click here
for more briefs and resources from the Afterschool Alliance, and to subscribe to the Afterschool Snack.
Follow us yet?

Click below to stay
in the loop!

Quick Links
Oregon's Hour of Code in Afterschool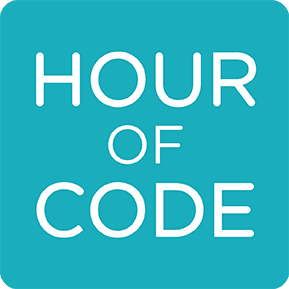 This year in Oregon, we are
excited to highlight a number of events happening in afterschool for the Hour of Code. OregonASK is partnering with Thinkersmith to equip afterschool programs with the resources needed to implement an online or unplugged lesson during the week. Thinkersmith lessons have been the primary unplugged curriculum for Computer Science Education Week for two years and we are lucky to have the expert located right here in Oregon.
One local program has taken the initiative to plan a variety of opportunities to implement the Hour of Code in their afterschool program. Woodburn After School Club (WASC) will be offering all of their K-8th grade students the opportunity to go through
Code.org
online lessons. For the younger students in the program, staff will lead them through unplugged, hands-on activities to introduce concepts before online lessons are started.
During the week of Dec 8-15, over 400 WASC students will be exposed to programming, and some of those students will then have a chance to become the teacher. WASC will be opening their doors to community members and local legislatures as students partner up to lead them through the online tutorials at an Hour of Code Open House event during CS Ed week.
To register your program's activity, Sign Up Here. For resources to help you engage more community members, visit CSEdWeek.org
Oregon Programs Highlighted on
National League
of Cities Website
The National League of Cities has recently launched
Afterschool Success: Small Cities Lead Local Innovation,
which is
an online publication that brings to life promising afterschool initiatives in small towns and rural communities across America. This publication provides information on innovative practices and examples of afterschool successes in small cities.
Afterschool Success also
offers a
resource section that
provides a variety of resources, templates and tools collected from a host of national organizations and cities that will provide municipal, school and community leaders with the information and knowledge they need to support and improve their afterschool efforts.
Heidi Sipe, Superintendent of Umatilla speaks at
NLC Congress of Cities
In connection with the National League of Cities's
Afterschool Success: Small Cities Lead Local Innovation
, Heidi Sipe, Superintendent of the Umatilla School District, spoke at the NLC's Congress of Cities onNovember 21 in Austin. Heidi spoke about Umatilla's successful afterschool programs that offer
STEM
and career exploration opportunities to students. Congratulations, Heidi!
Oregon Girls Collaborative Project Mini Grants are OPEN!
Are you interested in receiving a
$1000 Mini-Grant
to put together an amazing
Girl-focused STEM project
? You're in luck! The Oregon Girls Collaborative Project has an open
mini
-
grant
application for new collaborative projects or an expansion of current opportunities.
In order to apply for a
mini
-
least 2 programs collaborating on a project, all partners must be registered in the
NGCP Program Directory
, and the project must be more than a 1 day event.
If you or someone you know is interested in applying, please read more about the Mini-Grant Requirements on our website. You can follow this link to Apply. We are looking forward to reading through some engaging ideas!
Applications must be completed by
December 18th
.
Upcoming Trainings and Conferences
Teaching Successful Science Lessons in Afterschool
January 10, 2015 9:00am-4:00pm
Cost: $89, includes lunch
Location: 9140 SW Pioneer Ct, Wilsonville
The TechBridge curriculum is designed to engage student interest in STEM, promote inquiry, and highlight real-world applications so kids can see how STEM careers make the world a better place. It can be used with girls and boys in a variety of out-of-school time settings, including afterschool programs, summer programs, and youth groups. All units are appropriate for older elementary students and middle school students. Participants will receive Set 2 professional development credit from the Oregon Registry.
Register HERE
Coding for Middle Schoolers
January 31, 2015 9:00am-4:00pm
Cost: $89, includes lunch
Location: 9140 SW Pioneer Ct, Wilsonville
This training from ThinkerSmith will empower educators to teach the concepts of programming in a variety of settings. Every part of the course is a blend of online and "unplugged" activities that are integrated to provide students with an introduction to coding along with preliminary skill development. The workshop provides hands on training using both computers and physical manipulatives to explain computer concepts. The second phase of training allows educators to work independently through the 20 online self-paced lessons provided by code.org. Educators will be given connections to the common core, strategies for implementing the curriculum in their afterschool program, and opportunities to collaborate on best practices.
Register HERE
Behavior Management in Afterschool
January 31, 2015 9:00am-4:00pm
Cost: $89, includes lunch
Location: 9140 SW Pioneer Ct, Wilsonville
In this workshop, participants will learn techniques for managing behavior in the context of afterschool. The training will include transition and time filler activities, designed to reduce waiting time, keep students busy, and reduce behavior problems. More details to come soon! Participants will receive Set 2 professional development credit from the Oregon Registry.
Register HERE
NCCE Conference: Aloha Instructors!

March 18-20 in Portland





NCCE is a professional learning organization for educators and hosts the largest education conference in the Northwest. Join them for their annual conference in March for keynote speakers, workshops, and an exhibition hall!

For more information, click here

Resources & Opportunities
Better Together: A Resource Directory for Afterschool System Builders




The American Youth Policy Forum (AYPF) has created a helpful tool to support afterschool system building efforts. "

Better Together: A Resource Directory for Afterschool System Builders," is a comprehensive directory that identifies over 50 organizations that offer resources and tools on afterschool system building. Staying on top of the ever-evolving list of national organizations and their work can be daunting, and this directory is a one-stop shop for information on the leading afterschool tools, information, and resources.

Download the Directory HERE
DHS Subsidies to Child Care Programs

DHS h

elps eligible low-income working families pay for child care. To do this, they

work with providers and other child care partners across the state to help families find and keep good child care, improve the availability of

quality child care in Oregon, and to develop resources for parents and child care providers. For more information about how your program can become a DHS listed provide, download the flyer here
The American Honda Foundation supports nonprofit organizations and educational institutions nationwide that address the areas of youth and scientific education.
Due Feb. 1, 2015