Lights on Afterschool
OMSI and YDC Team Up!
The Oregon Museum of Science and Industry (OMSI) will partner with the Youth Development Coalition of Lincoln County (YDC) to offer a community science celebration to commemorate
Lights On Afterschool
2014. Youth participants and their families will be invited from all YDC afterschool program providers, including the Lincoln County School District. OMSI educators will present a high-energy science stage show and staff festival-style portable exhibits and tabletop activities, which include hands- on experiences for all ages in a variety of STEM topics.
When:
October 23rd, 1-6pm
Where:
Lincoln County Fairgrounds

Cost:
FREE
There will be 12 science tables (bi-lingual) and two different assembly programs. One assembly will be held at 5:15 so working parents can attend. OMSI will also be giving away door prizes!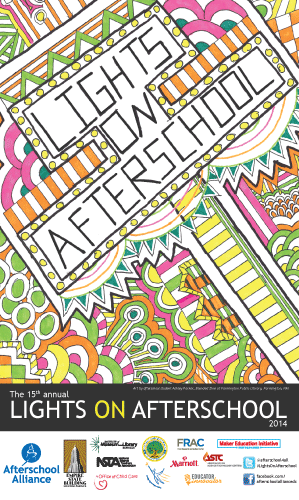 Click here
for more briefs and resources and to subscribe to the Afterschool Snack.
Follow us yet?

Click below to stay
in the loop!

Quick Links
REGISTER NOW for the Oregon Afterschool Conference!

Learning in Afterschool & Summer: Activities, Curriculum, and Environment.


The one and only OAC is returning on November 8!
Keynote speaker will
Dr. Johnny Lake
, from Northwest Christian University.
Plus
, check out our
Conference Brochure,
which has descriptions of 21 professional development sessions. Topics range from "Tapping into the Power of Play" to "Teaching Computer Science Without Fear," and all sessions are linked to the Oregon Registry and Oregon Standards for Afterschool and Summer Programs.
Don't miss out, and
register now
!
Cost: $89 (include lunch and swag bag!)
Location: Chemeketa Community College
Click here
to download the flyer-- pass it around to anyone you think would be interested in the conference!
Senator Merkley Speaks in Support of
Afterschool
We applaud Senator Jeff
Merkley for his recognition of afterschool in a recent back to school e-news, where he stated:

"We need to expand our after-school programs, which provide a safe space for youth and afford them a wider range of academic opportunities."


Thank you Senator Merkley - we agree!
SL3 Finishes its Third Summer!
Summer 2014 has come to an end and we at OregonASK, along with the hundreds of children and youth that participated in the 3rd year of
"SL
3
: Summer Libraries, Summer Learning, Summer Lunch" are grateful and appreciative of the multiple levels of support! This community
collaboration coordinated by Oregon Afterschool for Kids is a framework of state level coordinated support for local partners in high need schools. The national and state level partners include: The National Summer Learning Association, Oregon State Library, and Oregon Department of Education - Child Nutrition Summer Food. Local partners include Salem Keizer Education Foundation - Bazillion Books and each of the librarians who facilitated the program in their local elementary school library! Without their hard work the program could never have made over 3500 free and borrowed books available to more than a thousand children this year.


We also want to express a big thank you to Senator
Ron Wyden, who
took time to r
ecognize the importance
o
f summer
learning by visiting SL3 sites in Woodburn, Salem, Springfield and
Medford, and meeting the students and librarians who make this program possible. We also appreciate his special food serving partner deputy superintendent Rob Saxton
.

They did an excellent job!
We are thrilled that this program, which began with four schools, had participation from twenty-two schools this year. Working in conjunction with the USDA Summer food schedule, this simple model focuses on the access and opportunity gap for children in Oregon, providing food, access to books, and connections to local library summer reading programs. Studies show that low-income
children lose two to three months in reading each summer, while their middle and upper-income peers make slight gains. Access to expanded learning opportunities over the summer has been shown to not only stop the "slide," but children participating in these programs have access to healthy food and demonstrate gains when returning to school in the fall.
We appreciate each and every partner who collaborated this year, and are looking forward to next summer already!
As SL3 wraps up its third summer, OregonASK is very excited to announce our partnership with the youth at Portland Youth Builders Youth Media to create a video about the SL3 Summer Learning project!
PYB Youth Media is the technology work force training arm of Portland Youth Builders. PYB Youth Media provides professional media services to low income entrepreneurs, non-profits and social service agencies in the Portland area. OregonASK is thrilled to work with the youth involved in the media program to develop a series of video's that tell the story of the need for expanded learning opportunities for children and youth in Oregon.

Check out PYB Youth Media's website here. And keep an eye out for the SL3 video coming soon.
OregonASK Quick Highlights
Training
Over the past month, OregonASK has been busily training more than 171 afterschool staff from 44 different programs and agencies.

Those 171 people have racked up 680 hours of training time!

Each of these trainees are heading into the new afterschool year with quality lesson plans and activities at their fingertips.

Quality
In September, OregonASK trained a cadre of 12 observers in the National Science Foundation Dimensions of Success (DoS) Observation Tool.

The DoS define twelve indicators of STEM program quality in out-of-school time (e.g., afterschool, summer camps, etc.). It was developed and studied with funding from the National Science Foundation (NSF) by the Program in Education, Afterschool and Resiliency (PEAR), along with partners at Educational Testing Services (ETS) and Project Liftoff. The DoS tool allows researchers, practitioners, funders, and other stakeholders to track the quality of STEM learning opportunities and to pinpoint strengths and weaknesses.

The DoS tool will allow OregonASK to track the quality of STEM expanded learning opportunities, plus provide detailed feedback and

recommendations for programs.


Science, Technology, Engineering, and Math
On September 15, OregonASK hosted more than 65 STEM providers,
program managers, formal and informal educators, business leaders, and community members who gathered for the official launch of the
Oregon Girls Collaborative Project (OGCP). The all-day conference featured a
keynote by Dr. Lynn Dierking of Oregon State University, presented an interactive panel of STEM providers, educators, and female students, and offered an array of breakout sessions focused on techniques and strategies for engaging girls and their families in STEM. For more information on the OGCP and to see more pictures, visit our website.
Come one, come all to Indie Game Con in Eugene on October 3rd and 4th! This con celebrates local independent game developers and artists, and gives participants the unique opportunity to meet the actual developers behind the games. Come learn how anyone-- from inexperienced college students to fathers in their 40s-- can develop and produce their own games. The barriers to game development have never been lower, and now is the perfect time to learn how you can become engaged in this quickly expanding field, and bring it to your afterschool program!

The 2-day event will feature:
Game Expo (Oct. 4): More than 15 independently developed games will be on display. Come play the games, meet the creators. and learn how they did it!
Industry Talks (Oct. 4, concurrent with Game Expo): Successful developers from the industry will be giving talks throughout the day on their experiences as independent game developers. The keynote speaker is Charles Cox, founder of 4gency (the team behind Habitat) and a bonafide super star in the game development world.
Art Show (Oct. 3): Game inspired art from more than 10 local and international artists will be on display.

Visit the website to learn more about the events, and to pre-register for free!

And check out this article in the Eugene Weekly on the Con and indie game development in Oregon!

October 23: Lights on Afterschool
Plan to attend the joint OMSI and YDC event at the Lincoln County Fairgrounds, or register your own event with the Afterschool Alliance, an
d pro
mote the need for quality afterschool p
rograms
fo
r
all
children. Learn more and register an event by
Clicking Here
November 7: OGCP Collaboration Forum
Join the Oregon Girls Collaborative Project as they host a Collaboration Forum on November 7th at Chemeketa Community College. The forum will examine exemplary practices in creating Better and Stronger Collaborative Relationships, especially looking at creating partnerships with school districts and out-of-school time programs or community based organizations. OGCP will invite STEM content providers, district programs, and afterschool or summer programs to share about their experiences building collaborative experiences for girls in STEM. They will also announce the timeline for their exciting mini-grant program!


Time: 1:00-5:00pm
Location:
Chemeketa Community College
Cost:
$10
Register
HERE
Resources & Opportunities
Attendance Awareness Month

Join OregonASK in recognizing Attendance Awareness Month by downloading an
Attendance Awareness Badge
to promote partnerships that make an impact in the lives of students.
Take a look at this article,
Building a Culture of Attendance
to find out more about Pennsylvania and Baltimore districts that have taken action to improve student attendance through afterschool partnerships.
Thanks to these successful partnerships, programs and districts around the country have a model for boosting student attendance and helping students acheive tomorrow.
Find out more and get connected with
Attendance Works.
DHS Subsidies to Child Care Programs

DHS h

elps eligible low-income working families pay for child care. To do this, they

work with providers and other child care partners across the state to help families find and keep good child care, improve the availability of

quality child care in Oregon, and to develop resources for parents and child care providers. For more information about how your program can become a DHS listed provide, download the flyer here
The M.J. Murdock Charitable Trust's mission is to enrich the quality of life in the Pacific Northwest by supporting nonprofit organizations that seek to strengthen the region's educational and cultural base in creative and sustainable ways.

Due Dec. 1