Join Our List


We all have the potential to be superheroes. By looking out for each other as we travel, we have the power to save lives.
Spotlight: Celebrate Earth Day by Investing in Youth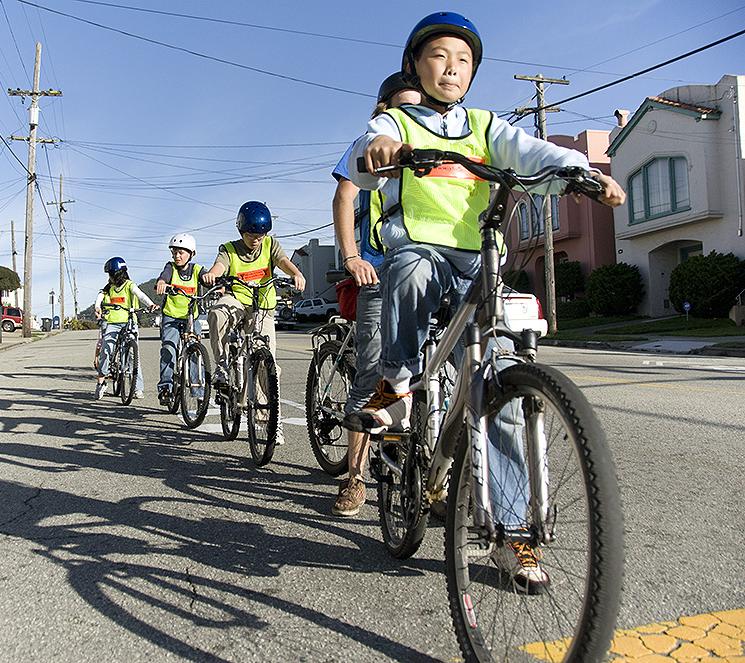 (Image courtesy of YBIKE program)
The children are the future, so let's celebrate Earth Day this year by teaching our youth about environmentally friendly transportation. How do you get them interested in making smart travel choices? What about hopping aboard the bike train! Bike trains are pre-planned bike routes for kids, supervised by adults, with scheduled meet-up points along the way to pick up friends and families. They're a really fun way to get to school and be safe too; just make sure you and the family know the
rules of the road
before you go. It is also a smart idea to have an adult "driver" lead the group and have an adult "caboose" follow behind. For more tips and demonstration videos, check out this
SDOT blog post
about bike trains. To get kids excited about the idea, help them make bike train signs or get bike bells and streamers to decorate their bikes. Thanks for doing your part to support our green transportation future!
Options to Get Around
The Parking Squid will have a new home on Earth
Day, April 22, 2013.
In celebration of Earth Day, SDOT is relocating the b
eloved
Parking Squid
bicycle rack from the Seattle Center to its new residence at the base of the Pike Street Hill Climb.It will be situated across from the Seattle Aquarium and offer accessible bicycle parking to users of the Central Waterfront. It is a creative design that
addresses the expanding need for bicycle parking, as identified in
SDOT's
Bicycle Master Plan
.Check out the
Seattle Waterfront's website for more options to walk, bike or ride transit to the Central Waterfront.
Metro buses on Fairview Avenue are
back on track
. Metro bus routes 70, 71, 72, 73, 83 (which travel between downtown Seattle and the University District) and route 309 (which travels between First Hill and Kenmore) are back to their regular schedules thanks to the completion of road construction at Fairview Avenue North.
Tools to Help You Walk, Bike and Ride
Have you tried the new WhichBus
app? It not only provides real-time bus arrival information, but it also allows you enter in your destination and arrival point to map out different bus route options. WhichBus went live earlier this year, and is already gaining notoriety.
Inspiration to Walk, Bike and Ride
Help your neighborhood go green.
"We love living on the (Wallingford) greenway and enjoy seeing cyclists and pedestrians making the most of our leafy streets."-Mark and Karen.
Seattle Neighborhood Greenways is a rapidly growing volunteer coalition representing many neighborhoods across Seattle.The groups plan and advocate for safe, equitable and comfortable streets. If you've heard the buzz about the Seattle Neighborhood Greenways and want to learn more about your neighborhood group or want to get involved, check out their website or e-mail them at info@seattlegreenways.org.
Looking for an excuse to ride the light rail? Check out the Seattle Transit Blog that features great reasons to ride the Link to Rainier Valley, including fun activities and restaurants to try. Their next suggested event is the Plate of Nations that runs from March 24 to April 6 in the MLK area.
Upcoming
Wednesday, April 3 is National Walking Day. Get moving with the American Heart Association (AHA), on April 3 - National Walking Day! You can participate by briskly walking for 30 minutes or more - it's that simple! Companies, organizations and individuals are invited to be part of this national effort to encourage active lifestyles and lower the risk for heart disease.
Join the Downtown Seattle Group Walk & Rally at Noon for a one-mile group walk. The rally will be emceed by KING 5 meteorologist Rich Marriott and include free t-shirts, healthy snacks, and blood pressure checks. Meet outside the Union Bank branch at 5th and University.
To get a National Walking Day toolkit with information about how to organize your own walk, healthy living tips, and other resources, visit PugetSoundHeartWalk.org.
Attend a (free!) Sustainable Mobility Seminar. On Friday, April 19 from 10:30a.m.-12p.m, the Pacific Northwest Transportation Consortium will host Dr. Robert Cervero, Director of the University of California Transportation Center. Come listen to his exciting presentation about sustainable mobility, including success stories from Europe and Asia. Where? The University of Washington Husky Union Building Room 334.

Join the Earth Day Green Ride/Walk on Sunday, April 21 from 12-4 p.m. Start and end at Ballard Commons Park, 5701 22nd Avenue NW.
Use neighborhood greenways to visit green sites in Ballard, get healthy exercise and still have time to visit the Farmers Market.
Subscribe to the Walk Bike Rider, your monthly newsletter with quick tools, information and inspiration to help you walk, bike and ride. Subscribing is quick and easy, and you may unsubscribe any time.
We appreciate your feedback and suggestions.
Current and past newsletters are on our newsletter web page.
Regards from the Way to Go, Seattle! Team