Adventures in Live Remote Broadcasting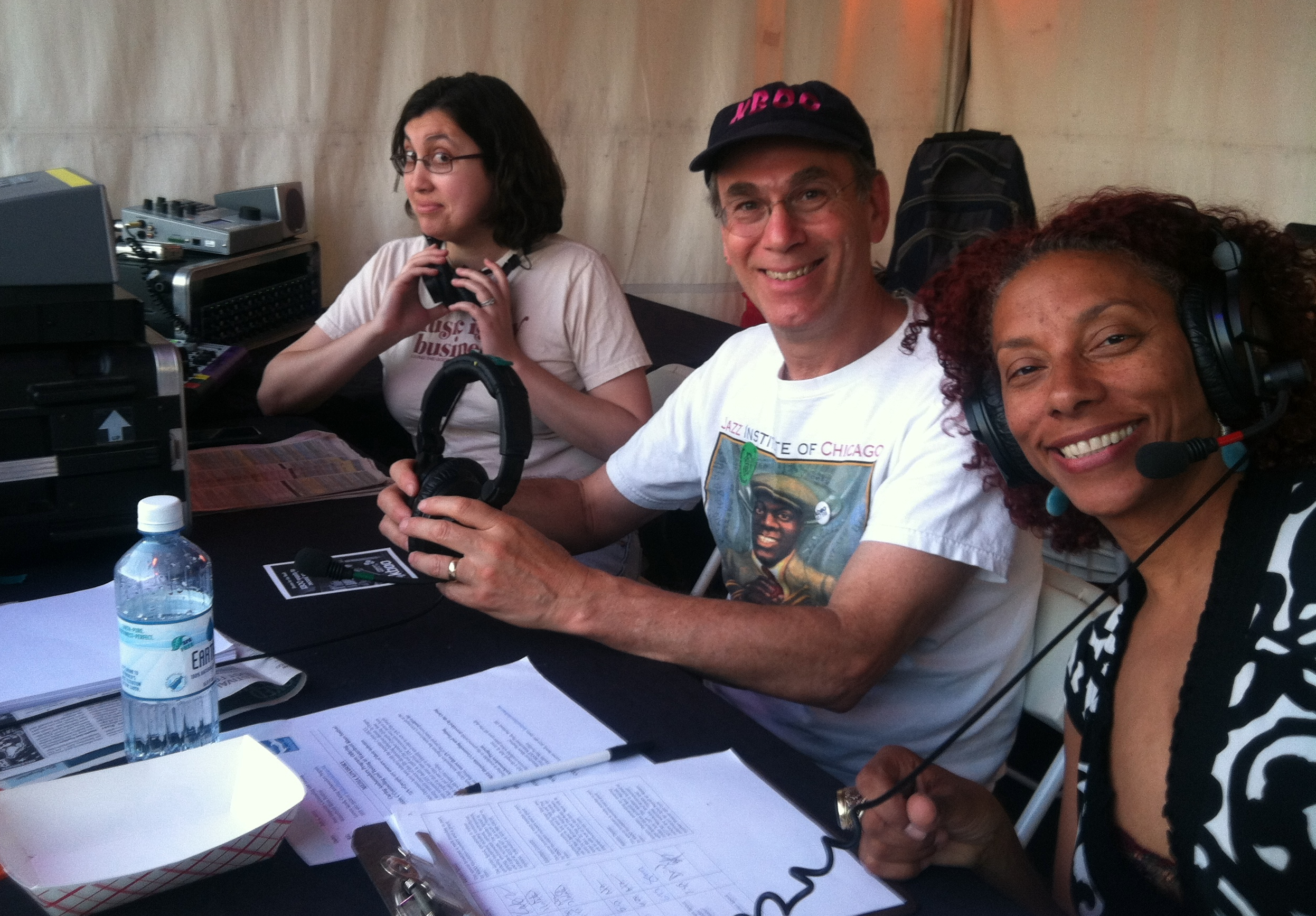 Jessy, David and Pat at the

2012 Waterfront Blues Festival
It sounds the same, but it really isn't. Not even close. Broadcasting on location adds a whole dimension to producing radio.

Whether it's from the Waterfront Blues Festival or embedded inside Portland's Occupy camp for several weeks, understand that there are no second takes here and no safety net. Learn, see and even hear what our intrepid remote engineers have been
doing
recently (with our new gear!).
Grateful Dead & Friends receives 'Best Of'

The July 25 Willamette Week included their
'Best Of' Portland article. Clear that the idea is cliche and "a tired staple of the newspaper industry", they instead chose to "write about the people, places, stories and curiosities that make Portland the snowflake it is."
Read the story
.
August 3-5, Pendarvis Farm, Portland, OR

(

map)
From very humble beginnings in the late 1990s and multiple relocations, Pickathon has found its home at Pendarvis Farm just off SE 167th and Foster Rd.





The festival has also radically adjusted the music it offers, consistently expanding its reach.

A partial list of some more recognizable names this year include Neko Case, Dr. Dog, The Wood Brothers, Blitzen Trapper, Todd Snider and Langhorne Slim.



Do yourself a favor and go there, you'll be glad you did.

But if you're not there, tune in online (or at 90.7 FM in Portland) this Saturday between 9am - Noon for our live remote broadcast.

Fulfilling Community Needs

Help KBOO grow and evolve to better meet our community's needs!
We are in the midst of analyzing our programming at KBOO, and we need your input! Help us by taking listener and member surveys. Change can be challenging, but without change we become stagnant. With your input, we can make sure that our changes will be guided by our community.
In the past few weeks, the local radio community has been rocked by the loss of KBPS Summer Sound- although it has been announced that the plan is to put KBPS back on the air by September. We've also had the recent loss of music on OPB FM. Most media outlets seem genuinely uninterested in hearing from their 'customers' when changes are under consideration. But not at KBOO.
We feel fortunate that we have a community whose participation we can actively solicit in our decision making process. Please keep an eye out on
the KBOO website
for future surveys, and feel free to
contact us
at any time with programming feedback, positive and negative. We look forward to hearing from you. -Erin Yanke, Interim Program Director
Out of the Shadows:
Remembering Hiroshima and Nagasaki
Please mark your calendars and plan to join KBOO for Out of the Shadows: Remembering Hiroshima and Nagasaki, the 2012 commemoration of the atomic bombings of these two Japanese cities in August of 1945. The event takes place Monday, August 6th, 6:00 pm at the Japanese American Historical Plaza (map). There will be guest speakers, performers, activities and opportunities for you to get involved in making sure that nuclear weapons are never used again. More info...
Portland Hawthorne Hostel's
9th Annual Bike-In Movie
Don't miss HI-Portland Hawthorne Hostel's 9th Annual Bike-in Movie on Saturday, August 18th, 6:00 - 10:00 pm. They will be featuring Bike themed film shorts from around the world and live music from Greenish Grey. Mia Birk, author of Joyride and a leader in the American urban biking movement, will speak before the movies. All the details...
Now It's Time For You To Tell Us A Story

Click the picture to get started..
Next year, KBOO turns 45 and we are soliciting, recording and collecting stories from
YOU
.
Were you ever a KBOO programmer? Volunteer? Staff person or board member? Are you a listener who first heard music or a public affairs program that changed your life? You probably have an interesting or maybe even controversial KBOO story to share.
Now is your chance. The picture above is of
Ern Hood, a founding father of KBOO and one of the first programmers. Listen to his stories about how we got our infamous call letters. Then, we want you to complete and submit the Stories for the Vault form. Soon thereafter, a KBOO staff person or volunteer will contact you to learn more about your story and schedule a recording session

.
We will broadcast these stories, and more from our vast KBOO Vault, throughout 2013, as part of our 45th birthday extravaganza.
Don't miss out on this opportunity; we really want to hear from YOU!
Share your story and become a radio celebrity! Help honor our 45-year heritage and the impact KBOO has had on the evolution of Portland - into the unique, creative, one-of-a-kind, community we are.
Volunteering at KBOO
Did you know that around 500 volunteers participate in KBOO?

They are a very diverse, dynamic, and engaged community. You hear lots of them on the air, but there's any even greater number who only work behind the scenes. Volunteers write and report news stories, act as receptionists, fix equipment, staff outreach tables, perform clerical work, engineer live music, run errands, post and produce audio programs to and from the internet and
so much
more

. If you think you'd like to be a KBOO volunteer, come to our next volunteer orientation, Tuesday,
August 28th, 6 - 8 pm (
map
), or contact
Ani Haines
for further assistance.
Advertise at KBOO.fm
With nearly 100,000 loads every month,
KBOO.fm
allows you to reach the KBOO community online with your eye-catching web ad. And because your ad loads across all pages in the KBOO domain, your work will be aligned with KBOO's progressive values whether they're searching for hiphop or hillbilly, feminist or folk.
KBOO.fm advertising and program underwriting: A sound promotional strategy.

Contact Justin Miller,

KBOO's Underwriting Coordinator to get started. Your clients are listening.
Get A Little Radio Active
But in a good way... by like joining one of KBOO's committees. To join, you must be a current KBOO member and be interested in working cooperatively with others to better the radio station.

Interested in helping raise money for KBOO? Or

maybe you just have some creative ideas about events or outreach/marketing

. Why not try the Development Committee? Their next meeting is next Monday, August 6th at 6pm. Share your ideas and get involved.


KBOO in Print
We don't just broadcast n

ews, we get in it too.




Read about us.
Did you Miss It?


Nope. Click to listen.
Volunteer Spotlight

Sam Parrish

KBOO Volunteer
Click Sam to find out what he enjoys most about KBOO

You

could be a KBOO volunteer.
Get oriented on
Tuesday August 28, between 6-8pm.


KBOO Elections...

KBOO members choose our board members in an annual election. This year the election is on Sept. 15.

This week we sent ballots to all current members. Please read the ballot and vote; it is important.

Start or renew a KBOO membership here and we'll send you a ballot.



Tune in to KBOO from 7-8 pm on both Tues. August 7th and Wed. August 8th

to hear prospective board members answer some questions. You can meet the candidates on August 18th at

Mt. Scott Park

(

map

) when KBOO hosts a social from Noon-4pm.
Promote Yourself!
Underwrite KBOO programs and get your message out to the area's 50,000 most progressive, diverse audience and discover what KBOO underwriting can do for your business.
They didn't know they could donate their used vehicles to KBOO. But now you do. Click the image for details.

KBOO Staff
Program Director