Awkward and Sweet Wedding Toast
What Our Clients Are Saying About Us:
Home Care Pulse, an independent quality management agency, randomly surveys our clients on a monthly basis. Here's what two of them had to say last month:


"I have been so blessed with this agency, I don't know what I would do without this agency."
--D. L.
Boise, Idaho


"The answering service was excellent, and they took care of our problem very quickly."
--A.M. Boise, Idaho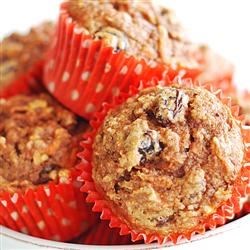 Morning Glory Muffins
are packed with energy and a perfect way to help you transition (if you find that you need to leave a bit earlier in the mornings because of students and school zones.)

Like Us On
Follow Us On
Greetings!
School, football, harvest, yard clean up: September is a busy month. We hope you are able to take a moment (before the weather changes completely) and enjoy the moderate temperatures, and spending time with those you love.
"In the garden, Autumn is, indeed the crowning glory of the year, bringing us the fruition of months of thought and care and toil. And at no season, save perhaps in Daffodil time, do we get such superb color effects as from August to November."
- Rose G. Kingsley, The Autumn Garden, 1905
If you were forwarded this issue of CARING Connections, or you are viewing it on our website, you can sign up for your own subscription by clicking here.

Thank you,
The Team at Assisting Angels Home Care
A Reason to Share Passwords

If you are one of the 36.4 million households who bank online--there is one more thing to consider when planning your estate.
You may have heard of discussions regarding the
digital legacy
of a deceased family member being a difficult issue because of privacy policies, and these privacy rules can create a cumbersome hurdle for the family.
The simplest of resolutions can be adding details for online access to your safe or safe deposit box. However, many people are diligent to change passwords frequently.
For more information and solutions, see the New York Times article
"Leaving Behind the Digital Keys to Financial Lives."
Preparing for the Worst

September is National Preparedness Month. Preparing for disaster is actually preparing for survival.
Aging Animals Receive Human Treatments
Just as with humans, aging takes a toll on our pets. Hair color changes, listlessness and stiffness are only visual reminders of the changes inside. Disease plagues our furry loved ones as well.
Some veterinarians have found treatments designed for humans to be beneficial for animals. Here is a list of five possibly
surprising treatments
now used on animals (medical marijuana included.)
Does anyone else wonder if someday we will need regulations on human testing for animal treatments?
First Day of Fall (Prevention)
September 22 marks the first official day of autumn. In order to create awareness about the leading cause of accidental death in adults age 65 and older it is also a day to spread information
regarding fall prevention
.
There are several easy steps you can take to prevent falls and reduce the fear of falling in older adults. For example, remove throw rugs and incorporate confidence-building exercise.
For these tips and more, see our extensive resource site:
Preventing falls in older adults

.

Brenda Critell, President / CEO
Certified Senior Advisor (CSA)®
A native of Boise, Idaho and a 4th generation Idahoan. Brenda founded Assisting Angels Home Care in 2006.



Skip Critell, VP/COO
Director of Operations and Community Liaison for the Treasure Valley








Sherry Atwell, Office Administrator
Manages Operations and Scheduling of Direct Care services








Rebekah Calkins, CFO
Manages billing, payroll and financial affairs
Sonya Harris, Client Care Coordinator
Provides quality client care and supervision of direct care services for the Treasure Valley.
About Assisting Angels Home Care
Serving the state of Idaho, Assisting Angels Home Care, Inc. has been providing personalized care at home with supporting services since 2006. Assisting Angels uses certified personnel for supervision and monitoring of all direct services, has no minimum requirement for hours for accepting clients, and does not charge separately for travel to and from the job location. All employees are bonded and insured. Complete screening and thorough background checks are performed prior to any person having contact with one of our clients or patients. Assisting Angels provides a wide spectrum of personalized in-home care services, including live-in care, general homemaker, personal care, and private duty nursing for all ages.
Visit www.AssistingAngels.biz or call 208.344.7979 (Boise), or 208.733.2550 (Twin Falls) for more information.