Robotic Mobilization Device
What Our Clients Are Saying About Us:
Home Care Pulse, an independent quality management agency, randomly surveys our clients on a monthly basis. Here's what two of them had to say last month:


"The caregiver is always able to do the things we ask them to do."
--Anonymous


"The caregiver's personality makes it easy to get along with her, and she works very hard."
--A.M. Boise, Idaho
Grilled Peaches and Cream: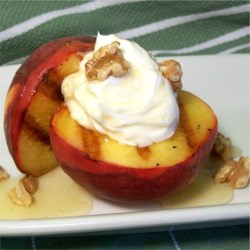 For a fast, hassle-free dessert this August: leave the grill on after cooking dinner.
Brush a little light flavored oil on a firm, ripe peach and grill cut side down for 5 minutes. Turn.
Then drizzle with honey, add some soft cream cheese and a sprinkle of nuts. Grill 2-3 more minutes and enjoy!

Like Us On
Follow Us On
Greetings!
Even though many schools begin at the end of August you don't need to consider summer over. There are many chances left to play and enjoy the weather.
In the words of Nathanial Hawthorn, "I cannot endure to waste anything as precious as autumn sunshine by staying in the house. So I spend almost all the daylight hours in the open air." We hope you enjoy the rest of the month.
If you were forwarded this issue of CARING Connections, or you are viewing it on our website, you can sign up for your own subscription by clicking here.

Thank you,
The Team at Assisting Angels Home Care
Centenarians

The US Census Bureau
projects that the elderly population will nearly double between now and 2050. They
Susannah Mushatt Jones at 113.

Although a recent study by the Boston School of Medicine found that centenarians varied widely in education,
socioeconomic status, religion, ethnicity and patterns of diet--they found a several common
characteristics of centenarians
.
Longevity secret from a 114 year old woman
on Huffington Post.
The Cost of Aging Inmates
The impact of aging boomers is starting to affect the nation's prisons. According to a 2012 report by the American Civil Liberties

Union:
at least 15 percent of prisoners in 20 states are 50 years or older
.

It is even higher in some places, such as
West Virginia
.
The costs of conf
ining older prisoners are double--$68,270 per year as opposed to the average annual cost of $34,135 for younger inmates.
Medical needs and costs for inmates with a life sentence will only increase as they face the same diseases which plague everyone: Alzheimers, Parkinson's, tumors, etc.

Read more or watch the video to learn about the dilemma and the question "
Should frail, incapacitated inmates be there
?"
Senior Citizen Rate at BSU
If space is available at a Boise State University course, Idaho residents who are at least 60 years old may register for the course at a reduced rate:
$5 per credit hour
. (There is also a $20 registration fee per semester, and some classes have additional costs.)
Regular
Tuition
starts at $260 per credit hour.
To register at the senior citizen rate,
first apply for admission. Next,
request the Idaho Senior Citizen's Fee Reduction form at the Payment and Disbursement Center when you pay your registration charges. Here is a
list of Fall 2013 dates
.
Traveling Seniors
If you haven't already reserved your vacation, you might have difficulty finding a vacancy, that is if you are willing to brave the crowds. But as a senior citizen, you don't have to book travel during peak months.
Senior Spirit
, the Certified Society of Senior Advisers' newsletter, suggests several other benefits for Seniors in addition to traveling off-season.
Seniors are more likely to have flexibility, and if you combine last minute deals with other discounted rates even those with limited income have a reason to explore.

Brenda Critell, President / CEO
Certified Senior Advisor (CSA)®
A native of Boise, Idaho and a 4th generation Idahoan. Brenda founded Assisting Angels Home Care in 2006.



Skip Critell, VP/COO
Director of Operations and Community Liaison for the Treasure Valley








Sherry Atwell, Office Administrator
Manages Operations and Scheduling of Direct Care services








Rebekah Calkins, CFO
Manages billing, payroll and financial affairs
Sonya Harris, Client Care Coordinator
Provides quality client care and supervision of direct care services for the Treasure Valley.
About Assisting Angels Home Care
Serving the state of Idaho, Assisting Angels Home Care, Inc. has been providing personalized care at home with supporting services since 2006. Assisting Angels uses certified personnel for supervision and monitoring of all direct services, has no minimum requirement for hours for accepting clients, and does not charge separately for travel to and from the job location. All employees are bonded and insured. Complete screening and thorough background checks are performed prior to any person having contact with one of our clients or patients. Assisting Angels provides a wide spectrum of personalized in-home care services, including live-in care, general homemaker, personal care, and private duty nursing for all ages.
Visit www.AssistingAngels.biz or call 208.344.7979 (Boise), or 208.733.2550 (Twin Falls) for more information.