Reflections Campaign:
Instead of a video this month, we wanted to share with you photos from the
Novartis Reflections Campaign
Commercial advertising photographer Tom Hussey photographed an award winning campaign for Novartis' Exelon Patch, a prescription medicine for the treatment of mild to moderate Alzheimer's dementia. The highly conceptual photographs depicted an older person looking at the reflection of their younger self in a mirror.
What Our Clients Are Saying About Us:
Home Care Pulse, an independent quality management agency, randomly surveys our clients on a monthly basis. Here's what two of them had to say last month:


"I would recommend them to others and I have before. I tell them how reliable and efficient the caregivers are. They do their job very well."
--M.T. Boise, Idaho
"I got all the help I needed."
--Anonymous
Stir Fried Shrimp with Snow Peas and Ginger: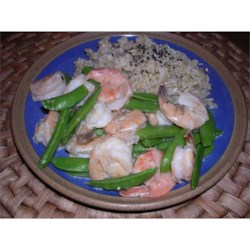 Peas are one of the first garden harvests. Whether you are looking for yours in the yard or the supermarket, here is a
delicious recipe
which isn't complicated or time consuming.
Ginger
has many health benefits, just like
peas
, and stir fry is easy to adjust according to taste.

Like Us On
Follow Us On
Greetings!
For many, Memorial Day begins the summer with the first camping trip, barbecue or picnic. Others spend the day in tribute -- placing flags or flowers at graveyards.
Memorial Day began in 1868 as "Decoration Day." It was a way to honor those killed in war by decorating their graves.
Our thoughts and thanks are still offered today, especially on the last Monday in May, for all who have given their lives through military service to our country.
eHow has also listed
other ideas
for honoring living veterans and their families.
Happy Memorial Day to you and your family!
If you were forwarded this issue of CARING Connections, or you are viewing it on our website, you can sign up for your own subscription by clicking here.

Thank you,
The Team at Assisting Angels Home Care
Live to 150
Depression Combined with Loneliness
Those with the highest levels of depression and the lowest levels of social needs fulfillment are at the greatest risk for fraud states a new study in Clinical Gerontologist.


Watching the lights go out
Retired Doctor, David Hilfiker, has begun a blog chronicling his decline with with Alzheimer's. The 68-year old lives with his wife in the nation's capitol.

One of Hilfiker's goals is to dispel some of the fear and embarrassment surrounding Alzheimer's.
See more
.
May Tribute to Furry Friends
May is National Pet Month and National Guide Dog Month.
Pets can help individuals live happier and longer -- but matching an adult to the best pet is crucial.
Here is an article which
highlights potential mismatches
for elderly aging in place who are interested in finding a pet.
Income-qualified families, seniors and others who cannot afford veterinary care may receive low cost spay/neuter services through the
Idaho Humane Society's H.A.R.T. program
.
You may also search adoptable pets online through the
Humane Society
or facilities such as
Simply Cats
.

Brenda Critell, President / CEO
Certified Senior Advisor (CSA)®
A native of Boise, Idaho and a 4th generation Idahoan. Brenda founded Assisting Angels Home Care in 2006.



Skip Critell, Executive Vice President Director of Operations for the Treasure Valley.








Sherry Atwell, Office Administrator
Scheduling Coordinator, Billing and Payroll and Office Manager.











Sonya Harris, Client Care Coordinator
Provides quality client care and supervision of direct care services for the Treasure Valley.
Rebekah Calkins, Administrative Assistant
Assists the Office Administrator with scheduling, administrative duties, and billing and payroll.
About Assisting Angels Home Care
Serving the state of Idaho, Assisting Angels Home Care, Inc. has been providing personalized care at home with supporting services since 2006. Assisting Angels uses certified personnel for supervision and monitoring of all direct services, has no minimum requirement for hours for accepting clients, and does not charge separately for travel to and from the job location. All employees are bonded and insured. Complete screening and thorough background checks are performed prior to any person having contact with one of our clients or patients. Assisting Angels provides a wide spectrum of personalized in-home care services, including live-in care, general homemaker, personal care, and private duty nursing for all ages.
Visit www.AssistingAngels.biz or call 208.344.7979 (Boise), or 208.733.2550 (Twin Falls) for more information.