Christmas Light Display:
Children's Gingerbread House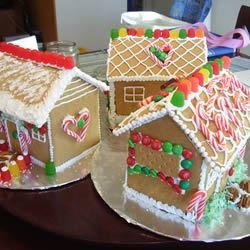 The greatest appeal of making a gingerbread house for children might be sneaking bites of candy while decorating. Recapture some of the joy of childhood and sneak a few yourself.
You could use graham crackers and store-bought frosting, but
here
is a great recipe to make your own from scratch, it just doesn't compare.
Intimidated?
Watch this detailed video
. If you give it a try, we'd love to see your pictures on our
facebook
page.

Like Us On
Follow Us On
Greetings!
Merry Christmas to all of the Assisting Angels family. We hope you have the opportunity to spend leisure time this season with others, especially the ones close to your heart.
It is our wish this month's articles provide valuable information and encourage you.
The Team at Assisting Angels Home Care
The AIDS Virus May be a Cure for
Cancer
Last spring a six year-old Pennsylvania girl was given a disabled AIDS virus as a last chance for her debilitating Leukemia disease. Read more about the cure on MSN.
Similarly, scientists in Korea are using the AIDS virus to cure lung cancer in mice. The idea is that the virus' mutating powers can reprogram your immune system to kill off cancer cells. (Did they begin this research before or after I am Legend?)
Helping Seniors Heat Their Home

The Low Income Home Energy Assistance Program, LIHEAP, provides help to families during peak energy months -- a time when energy costs can total 30% of a household income.

If you know someone who has difficulty juggling the cost of bills, medicine and food, here is more information about the mission of this program and how to apply. Also see LIHEAP program providers here.
Identity Theft Targets Seniors

Seniors may be more susceptible to identity theft
simply because they do not check their credit reports or open new accounts and theft remains undetected. Here are examples of financial exploitation against seniors and here is a list of ways your identity can be stolen.

An annual report is free, and easier than you might think. AnnualCreditReport.com. Identify your state and click "request report." Then follow the prompts.

In addition, you can also download a list of data breaches or subscribe to the rss to see if you are at a higher risk because of a breach at one of the institutions which holds your information.

There may be identity theft insurance available through your insurance company or others, such as Zander Insurance.

While the insurance may not guard your identity, it provides help recovering after the theft. Your best plan is to follow steps to prevent fraud.
AARP has new dating website
The AARP has connected with HowAboutWe to create a new dating website targeting seniors.
Since loneliness may link to serious health problems and decline among the elderly, this is a practical solution.
You do fill out a standard profile and upload pictures, however the uniqueness of this site is that you suggest dates. For example: "How about we volunteer at...
"
Once you are intrigued or you want to accept a date suggestion you will need to subscribe. (Discounted rate for AARP members.)
Because the date is already planned, you don't have to wonder what to do or how to initiate contact, you just choose a time. Click here to visit the site or here for more information.

Brenda Critell, President / CEO
Certified Senior Advisor (CSA)®
A native of Boise, Idaho and a 4th generation Idahoan. Brenda founded Assisting Angels Home Care in 2006.



Skip Critell, Executive Vice President Director of Operations for the Treasure Valley.








Sherry Atwell, Office Administrator
Scheduling Coordinator, Billing and Payroll and Office Manager.











Sonya Harris, Client Care Coordinator
Provides quality client care and supervision of direct care services for the Treasure Valley.
Rebekah Calkins, Administrative Assistant
Assists the Office Administrator with scheduling, administrative duties, and billing and payroll.
About Assisting Angels Home Care
Serving the state of Idaho, Assisting Angels Home Care, Inc. has been providing personalized care at home with supporting services since 2006. Assisting Angels uses certified personnel for supervision and monitoring of all direct services, has no minimum requirement for hours for accepting clients, and does not charge separately for travel to and from the job location. All employees are bonded and insured. Complete screening and thorough background checks are performed prior to any person having contact with one of our clients or patients. Assisting Angels provides a wide spectrum of personalized in-home care services, including live-in care, general homemaker, personal care, and private duty nursing for all ages.
Visit www.AssistingAngels.biz or call 208.344.7979 (Boise), or 208.733.2550 (Twin Falls) for more information.