Video: Granny trades knitting needles for tattoo ink
Video on TODAY.com: TODAY's Jenna Wolfe takes a look at a new trend involving older women who embellishing their bodies with permanent works of art later in life.

Honeycrisp Apple, Cheddar and Cranberry Turnover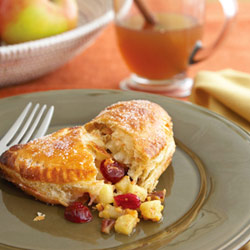 Fresh cranberries will start to show up at the market in the next few weeks, and since new research indicates cranberries promote longevity, we thought it was a great time to rediscover this delightful fruit. These turnovers can be made in about two hours.

Like Us On
Follow Us On
Greetings!
Have you pulled out the sweaters and reorganized your closet yet? Chances are, the chilly weather has you motivated to consider covering the lawn furniture and replacing the heater filters.
Whether you are spending the month planning for a marathon, making apple sauce or dreaming of hot toddies, we hope this month's articles provide encouragement and timely help.
The Team at Assisting Angels Home Care
First Words About Last Wishes: The Conversation Project
Talking about end of life decisions and hospice care can be extremely difficult with loved ones who aren't ready to approach the end of life. However, making decisions for them, alone, without knowledge of their wishes is emotional and can be filled with uncertainty and doubt.
A new website, The Conversation Project, offers help. According to their website, 56% of people have not communicated their end of life wishes.
You can click here to download their free starter kit and begin the conversation.
Combating Loneliness in Seniors with Technology
According to a Cornell Study, loneliness can mimic the aging process. Today's seniors don't need to allow social isolation to negate many of the benefits of aging in place.
Bonnie Kearney, director of Trustworthy Computing Communications for Accessibility and Aging at Microsoft, lists four ways that technology is helping seniors.
USA Today has an interactive web page showing technologies currently being developed to improve elderly assistance.
Photo Montage: Aging Across America
"Citizens over sixty represent the most rapidly growing sector of American society," and this caused Geriatrician and photographer, Jeffery M. Levine, M.D., to wonder why there were so few images of older Americans.
Click here to see a collection of inspiring images which have appeared for the last 25 years in medical journals and the New York exhibit "Aging Through a Physician's Lens."

Brenda Critell, President / CEO
Certified Senior Advisor (CSA)®
A native of Boise, Idaho and a 4th generation Idahoan. Brenda founded Assisting Angels Home Care in 2006.



Skip Critell, Executive Vice President Director of Operations for the Treasure Valley.








Sherry Atwell, Office Administrator
Scheduling Coordinator, Billing and Payroll and Office Manager.











Sonya Harris, Client Care Coordinator
Provides quality client care and supervision of direct care services for the Treasure Valley.
Rebekah Calkins, Community Outreach Coordinator
Provides information to the community through outreach and educational presentations. She also conducts in-home assessments and works with staff to begin care for new clients.
About Assisting Angels Home Care
Serving the state of Idaho, Assisting Angels Home Care, Inc. has been providing personalized care at home with supporting services since 2006. Assisting Angels uses certified personnel for supervision and monitoring of all direct services, has no minimum requirement for hours for accepting clients, and does not charge separately for travel to and from the job location. All employees are bonded and insured and a complete screening and thorough background checks are performed prior to any person having contact with one of our clients or patients. Assisting Angels provides a wide spectrum of personalized in-home care services, including general homemaker, personal care, and private duty nursing for all ages.
Visit www.AssistingAngels.biz or call 208.344.7979 (Boise), or 208.733.2550 (Twin Falls) for more information.