Things To Do This Month
Get out and weed while the soil is soft and the weeds are still small.
Vow to grow at least one new vegetable or flower this year.
Check charts and soil temperatures for the best time to plant those cool season crops.
Consider building a small cloch to give your plants a head start this spring.
Protect new plants and seedlings from those slimy slugs who love to eat tender new growth. Use iron phosphate based bait if needed. Check labels carefully. Sluggo and Escargo are safe to use in our organic Community Garden.
Missed the Required Orientation Meetings?
Another meeting is being offered, this one is at the Luscher Farmhouse. Don't miss it.
April's Work Party
Saturday, April 14, 10a-12p at Luscher Farm
Classes at Luscher Farm
Learn about soil, plants, compost , beneficial insects and more from Oregon Tilth instructors. To register, click here.
Saturday, April 7 at 10-11:30a
Old Fashioned Farmer's Cutting Garden
Discover interesting and colorful annuals and perennials to grow for household arrangements. You'll learn when to pick and how to arrange them to extend their freshness. To register, click here.
Saturday, April 14 at 9:30-11a
Tomato Tips from Master Gardeners
Join Master Gardeners Bob and Karen as they share their knowledge and secrets of growing America's favorite vegetable. To register, click here.
Saturday, April 14 at 2-4p
A Successful Community Garden Experience
Here's your chance to learn from Oregon Tilth how to get more produce from your plot by using succession planting, vertical gardening and other techniques. To register, click here.
Saturday, April 28 at 10a-12p
Lake Oswego Hanging Baskets
Love those beautiful hanging baskets on our city streets? Create your own that complements your home's color scheme. Fun and easy, all materials provided. To register, click here.
Saturday, May 5 at 10-11:15a Class #2325050
Saturday
May 5 at 1-2:15p Class #2325051
To register for any of these classes and more,
click here
.
Transplanting Hints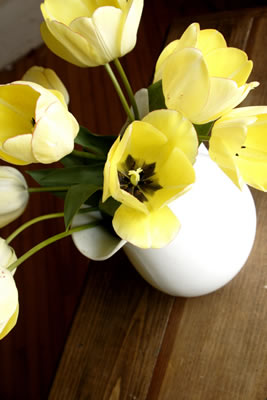 Select transplants carefully. Look for sturdy rather than large/tall seedlings. Transplants should have at least three pairs of dark-green leaves. They should be well rooted, but not pot bound. (I tap one of the starts out of the tray to check the roots). Ideally the roots should just be reaching the sides of their container. Most store-bought seedlings will benefit from a week of "hardening off" before planting, as they may be moving from a very warm greenhouse to your chilly damp outdoor garden. To help them through this phase, put plants outdoors in progressively brighter light each day, but bring them back in at night. Continue for about a week. When ready to plant, scoop out a hole in your garden soil about 4 inches deep and mix in a small amount of organic fertilizer into the soil. Next, I like to set the transplant container into water up to the soil level and wait for the air bubbles to escape and the soil to loosen from the sides of the container. Then I carefully tip out the seedling, touching the plant as little as possible. Try to handle them from the seed ball or leaves, not the stem. Plant them up to their first two leaves so the plan won't fall over. Press the soil gently around the plant, but don't squash the root ball below. Water well with tepid water. Give them a bit of special care for the first week or so.
Much of this information is courtesy of fellow Community Gardener Dave Robison
What are Pelleted Seeds?
They are seeds that have been coated with a clay-based material to form a larger, round shape. This makes planting by hand easier and allows for more controlled sowing of small seeds such as carrots or lettuce. These hard-to-manage seeds can now be sown in a tidier row, using less seeds (which saves money) and greatly reduces the time consuming chore of thinning later. The color contrast of these seeds make them easier to see went you are planting. Disadvantages are that they a bit more expensive, harder to locate to buy and seeds need to be used in the same year they are purchased. They won't be good next year. (In the process of being coated, the seeds get wet which shortens life of left over seeds.) TerritoriaI Seeds sells pelleted carrot and lettuce seeds and Johnny's Select Seeds sells lettuce, parsnips, and onion seeds. You might want to give them a try.