Registered Towns – We want You!
Not certified yet? Well, this is your year to join the 195 Sustainable Jersey certified municipalities, and we're here to help! Sustainable Jersey staff is ready to guide registered and expiring towns through the certification and recertification process, just reach out by email. We're hosting a webinar to share proven strategies and tools to help map out a path to certification within six to twelve months. Don't miss the upcoming webinars, visit the Events page.
PowerSave Schools Program in Monmouth, Morris and Ocean Counties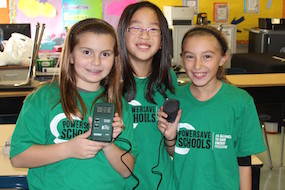 Students at Drum Point Elementary School (pictured) are using light meters to make recommendations to their school about whether or not a class room is using more light than it needs. Sustainable Jersey for Schools is partnering with New Jersey Natural Gas (NJNG) and the Alliance to Save Energy (ASE) to bring the PowerSave Schools program to 14 New Jersey public schools. The schools are receiving training, lesson plans and other tools and resources to educate students about energy efficiency and engage the school community in energy saving activities. Schools get in-person support from a local project leader, both in implementing program activities and in earning points towards Sustainable Jersey for Schools certification. PowerSave teams at Canfield Avenue, Rockaway Valley and Riverview Elementary Schools are holding hallway-based competitions to assess who is best at following the energy-saving recommendations of their PowerSave teams. The winning hallway will receive a pizza party.
Hubs: Green Teams Continue to Think Regionally
After a year and a half, the Sustainable Jersey regional hubs have made progress on collaborative projects, public education and connecting sustainability-minded partners within their areas. From mentoring struggling green teams to hosting fundraisers and collaborating on actions such as green fairs and film series, the hubs have been instrumental in supporting individual green team efforts and expanding capacity and resources. The current hubs are located in Atlantic-Cape May, Burlington-Camden-Gloucester, Essex, Hunterdon, Mercer, Monmouth and Somerset counties. Learn more.
Resiliency Program: Nature-based Mitigation Solutions Planned for 20 Coastal Municipalities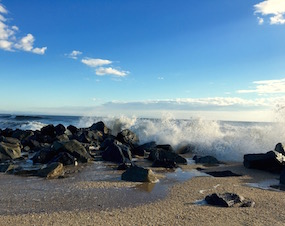 New Jersey municipalities depend on our coast's natural resources and climate change is putting many of these vital resources at risk. By investing in smart strategies for conserving and restoring our lands and waters, communities can be better prepared and strengthen their resiliency. Investments in green infrastructure, or nature-based strategies, can help mitigate the impacts of flooding from storms and sea level rise, while also improving water quality and community health. Sustainable Jersey's Resiliency Program and a team of experts are helping towns identify these nature-based strategies. The goal is to identify specific strategies and projects that will help to reduce the community's vulnerability to the increasing threat of flooding and erosion, while also protecting natural ecosystems and habitats of fish, wildlife and flora. The Resiliency Program is providing technical assistance for nature-based mitigation strategies to 20 municipalities across the state. Project partners include the National Wildlife Federation, the New Jersey Department of Environmental Protection, the Stevens Institute of Technology and others.
Save the Date: 2016 NJ Sustainability Summit on June 15 – Keynote Speaker: Dr. Benjamin Strauss
Join us on June 15 for the 2016 New Jersey Sustainability Summit. We're pleased to announce that Dr. Benjamin Strauss who serves as vice president for sea level and climate impacts at Climate Central will be the key note speaker. He is a national expert and author of numerous scientific papers and reports on sea level rise. He appears often as an expert on national network news, nationally syndicated radio and documentary television.
Last year we had more than 50 experts and industry professionals lead 16 concurrent sustainability sessions. We're developing our program for the 2016 Summit and we want your ideas on speakers and topics – especially in the energy and waste management areas. Take this 5-minute survey to help develop the sessions you want to attend: Session Survey.
Board Spotlight: Caroline Ehrlich
Caroline Ehrlich serves as treasurer on the Sustainable Jersey Board and is the chief of staff to Woodbridge Township Mayor John E. McCormac and executive director of the Woodbridge Township Redevelopment Agency. Carol leads the Sustainable Jersey Certification Standards Committee, she spearheaded efforts to designate Woodbridge Township a Sustainable Jersey community and was instrumental in creating the Greenable Woodbridge program. Under Caroline's leadership, Woodbridge Township received a 3-STAR Community Rating for national leadership in sustainability – a designation that places Woodbridge among the top sustainable cities and communities in the nation. Woodbridge Township has received the Sustainable Jersey Sustainable Champion award six times for achieving the most certification points and has been certified at the silver-level certification for six years.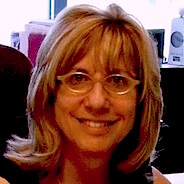 When asked about the meaning of sustainability, Carol said, "What we do today, needs to have a positive impact on tomorrow. Everybody can help make a difference from preschoolers to seniors and every little bit helps. I have always preferred the model of adding handprints for each individual effort over shrinking a carbon footprint." She added, "I love being able to facilitate this process. What makes it easy and fun is the road map that Sustainable Jersey provides us. We couldn't do it without Sustainable Jersey!" Carol was born and raised in Maplewood, New Jersey. She has two children. Her daughter Kim is the director of HUD programs at the NJ Economic Development Agency and her son Sean is an associate professor in political science at Florida State University. In her free time, Carol likes to exercise daily, read – she just finished "A Common Struggle" by Patrick Kennedy which she highly recommends, and spend time with her family and "two wonderful" granddaughters named Mollie and Violet.
Who does that? Behind the Scenes
Winnie Fatton has been a vital member of the Sustainable Jersey staff since the first day the program launched in 2009. As a program manager, she organizes the trainings and workshops and supports a number of Sustainable Jersey Task Forces, including Animals in the Community, Arts and Culture, Diversity and Equity, and School Programs and Partnerships. This year Winnie is also working with the 'registered but not yet certified' municipalities to help these towns achieve certification. Winnie is a member of the first NJ Learns graduating class and is on the Flemington Creative Team. Winnie said she is encouraged by the progress she has seen over the years, "When I speak with people today, the word 'sustainable' is a common term now, which was certainly not the case before."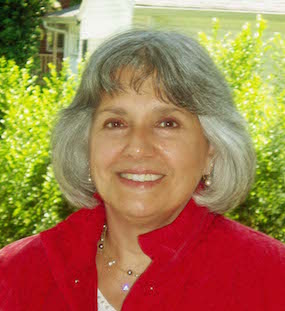 Winnie was an educator for over 30 years and the director of education for the South Branch Watershed Association, Inc. where she helped to develop "The Waterways Stewardship Group" program which teaches students how to conduct biological monitoring of waterways. She is a New Jersey native; she grew up in Flemington and now lives in Raritan Township. She met her husband Patrick at Hunterdon Central Regional High School. After Winnie attended college in Missouri, she returned to New Jersey and married Patrick and they had two children. Her son Dan is the director of the New Jersey Work Environment Council and her daughter Kate is a part-time Pilates instructor who also works part-time for a physical therapist. In her spare time, Winnie loves to babysit her 27 month-old twin grandchildren named Calvin and Emma. She also loves to read; she is currently reading "The Nature of College" which has a sustainability focus. Read more at Sustainable Jersey staff bios.
---