59 Schools Achieve Certification in First Year
Fifty-nine schools achieved Sustainable Jersey for Schools certification with five schools qualifying for the more advanced silver-level. Five school districts emerged as sustainability leaders by successfully supporting the efforts of multiple schools in their district to achieve program certification. The five standout school districts are: Egg Harbor Township, Cherry Hill, Medford, Readington and Wayne. Schools collaborate with their district to complete actions, upload documentation and achieve certification. Read more. Need a grant for your district or school, visit the current grant opportunities page.
Sustainable Jersey Annual Luncheon on Nov. 17
We're getting ready for the premier celebration of New Jersey's sustainability community. Join us as green teams and municipalities celebrate the 2015 newly certified and re-certified communities. Find out who will be this year's Sustainability Champions and special award winners. The luncheon never fails to provide a big helping of inspiration and hope for the future of sustainability in New Jersey. Enjoy the event, meet your colleagues and then stay for the New Jersey State League of Municipalities (NJLM) conference; we have a series of Sustainable Jersey workshops for you to attend. Register for the luncheon. Review the Sustainable Jersey Workshops. Register for the 100th Annual NJLM Conference.
Rising Tides, Storm Surge and Vulnerable Populations
Over the next year and a half, the Sustainable Jersey resiliency team will be piloting Coastal Vulnerability Assessments (CVA) in 25 of NJ's coastal and tidal municipalities.The CVA is a resiliency tool that helps communities identify the vulnerability of community assets to future flood scenarios, including sea level rise and storm surge, and then determine the consequences and risks to the entire community. Sustainable Jersey developed the CVA as part of the New Jersey Resilient Coastal Communities Initiative, a post-Sandy project funded by the National Oceanic and Atmospheric Administration, and managed by the NJ Department of Environmental Protection's Office of Coastal and Land Use Planning Coastal Management Program. We anticipate converting the CVA into a Sustainable Jersey action in 2016.
Regional Hubs: Somerset, Monmouth and Essex County
In October, the Somerset County Green Leadership Hub was launched with the help of the Somerset County Planning Division and Freeholder Patricia Walsh. The county department heads, Somerset County Business Partnership and municipal representatives from the county are participating. The group is creating an inventory of the county organizations and departments that can assist towns with Sustainable Jersey actions. In September, the Monmouth County Hub focused on open space preservation by hosting a film and panel discussion. In October, the Essex County Hub hosted a workshop on the future of recycling and waste management. Watch the video if you missed it. Interested in learning more about the Sustainable Jersey Hubs, email us: hubs@sustainablejersey.com.
Identifying Energy Efficiency Initiatives in Schools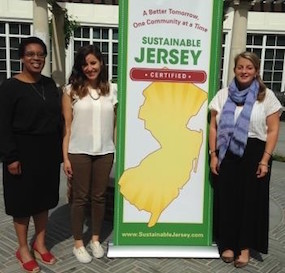 This summer, Sustainable Jersey for Schools provided seven school districts in Monmouth and Ocean counties with hands-on-help. Thanks to the Environmental Defense Fund (EDF) Climate Corps' fellowship program, we paired three specially trained fellows with school districts to provide expertise and support for evaluation, planning and implementation of projects to improve the energy performance in their buildings. This technical assistance program was made possible through funding from New Jersey Natural Gas. Lindsey Walaski worked with the Shrewsbury Borough School District to track the school's electricity and natural gas consumption and to begin the process of identifying energy efficiency initiatives. "I helped the school district apply for a fully funded energy audit through the New Jersey Clean Energy Program (NJCEP). This energy audit will provide the school with specific energy conservation measures to reduce operating costs and to enhance the reliability and efficiency of building operations," Lindsey said. "I identified several potential projects for the school to reduce operational costs through lower energy consumption. NJCEP rebates covered 40% of the capital costs for these projects. These rebates allowed the school to tackle issues within their facilities and maintenance program and increase the sustainability of their operations." Read more.
Board Spotlight: Anthony Cancro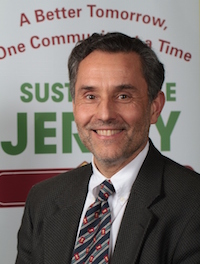 Anthony Cancro is the Plainsboro Township Administrator and a member of the Sustainable Jersey Board. He has decades of experience in government administration at the state, federal and municipal levels. He worked with the NJ Departments of Energy and Community Affairs. At the federal level, he was the Chief of Staff for Region 2 of the U.S. Environmental Protection Agency, serving under former Community Affairs Commissioner Jane Kenny who was Regional Administrator when former Governor Christine Todd Whitman served as USEPA Administrator. In 2006, Cancro was recruited by the mayor of Edison, Jun Choi, to serve as Township Administrator. Anthony's environmental efforts in Edison are a point of pride for him. He started with energy audits in municipal buildings that resulted in many energy conservation improvements and developing one of the state's largest municipal hybrid vehicle fleets. He was also instrumental in obtaining Sustainable Jersey certification in the first year of certifications. Anthony holds a B.S. in Environmental Science/Planning from Ramapo College, a M.A. in Environmental Science/Education from the City University of New York and an M.P.A. in Public Administration and Management from Rutgers University. Anthony grew up in Teaneck where his father owned and operated Cancro's Restaurant for more than 50 years. He is a lifelong vegetarian, a yoga practitioner/teacher and an avid hiker. "My passion when I was growing up was being outdoors, cherishing nature and how beautiful it is," Anthony said. "I wanted to preserve nature and outdoor space and make a career of protecting the environment." Anthony lives in Pennington with his wife Frances and his son Alexander who is a senior in college.
Who does that? Behind the Scenes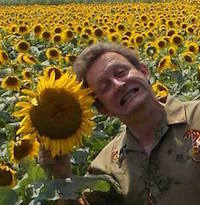 Anthony O'Donnell is an economist and project specialist for Sustainable Jersey. He deals with highly specialized technical, economic, and policy topics associated with research and outreach on energy and sustainable development. Although he works behind the scenes, many people know Tony because he is the co-chair for several of the Sustainable Jersey Task Forces. Before coming to Sustainable Jersey, Tony was the staff economist at the New Jersey Pinelands Commission where he was responsible for managing the Long Term Economic Monitoring Program. Tony has an M.S. in Urban Planning from the Bloustein School of Planning and Policy Development at Rutgers University, an M.S. in Food and Business Economics from Rutgers University from and a B.S. in Environmental and Business Economics from Cook College at Rutgers University. He lives in Plumsted, located in Ocean County New Jersey with his wife Lesley. They have two children: Richard (14 years-old) and Sarah (25 years-old). In his free time, Tony likes to read, keep up on current events, and spend time with his family enjoying the great outdoors. When asked about how he first got interested in sustainable energy, Tony said, "My passion is to figure out how systems work together using the tools of economics and statistics. Prior to coming to Sustainable Jersey, a lot of my focus was on Natural Resource economics. In the last few years I have come to see just how critical energy is to society. There is probably no issue that has a greater effect on the sustainability of our planet than energy production and consumption. It has been very exciting for me to work with my colleagues to help address the challenges in this field for New Jersey." Read more at Sustainable Jersey staff bios.
---