31 Schools and 4 Districts Receive Grants
The end of the school year ushered in good news for thirty-one schools and four districts that received Sustainable Jersey for Schools Small Grants funded by the PSEG Foundation. "We're excited to receive this assistance in our first year as a sustainable school district! We look forward to accomplishing our goal to significantly reduce the amount of non-recyclable and non-biodegradable waste from our schools' cafeterias, as well as address the problem of food waste," said John DiNicola, Margate City School District. Food waste recycling, a no-Styrofoam cafeteria zone, district-wide green cleaning, water hydration stations, sustainability education, teaching gardens and more were funded this round. Read about the funded projects and recipients. Need a grant, visit the current grant opportunities page.
How is NJ Doing? Drinking water, air quality, education, oh my.
Is New Jersey succeeding in addressing our most pressing sustainability issues? Read the 2015 NJ Sustainable State of the State Report. This report suggests 57 goals that define a vision of sustainability for NJ. Each goal has indicators that provide clues about how NJ is doing in achieving these sustainability goals. Download the summary report and the technical report from the 2015 NJ Sustainability Summit page.
Keep a Little Green in Your Pocket with Rebates and Incentives
Kids these days are smarter than ever - even about saving energy. Watch how these youngsters identify old, inefficient appliances and make sure the homeowner knows about available rebates through New Jersey's Clean Energy Program. The possibilities to save energy and money are endless! Keep a little green in your pocket with these rebates and incentives: Refrigerator, Clothes Washer, Clothes Dryer, Central Air Conditioner, Ductless Mini-Split A/C System, Domestic Water Heater, Gas Tankless Water Heater, Solar Domestic Water Heater, Air to Air Heat Pump, Gas Furnace, Gas Boiler, Oil Furnace, Oil Boiler, Discounted ENERGY STAR Lighting and Refrigerator/Freezer Recycling.
Regional Hubs: Monmouth Hub Launched
Seventy-five people came out to celebrate the Monmouth Hub kick-off networking event on June 30. Twenty resource providers were on hand to share how they can help towns with Sustainable Jersey actions and green team members attended to find partners and share best practices. New connections were already being formed at this first event. Keansburg Borough is ready to register and start working toward certification, but came looking for some help. Green team members of the Sustainable Jersey certified Keyport Borough were quick to step up and invite Keansburg to attend their upcoming green team meeting to get started. We look forward to seeing how the newest hub grows!
Students Assist Sustainable Haddon Heights
Twenty-five students from the Bonner Institute and The College of New Jersey (TCNJ) assisted Sustainable Haddon Heights conduct a tree inventory. Students were trained how to measure tree height and identify species, and then logged the information in a central database. Sustainable Haddon Heights will use the information to help the municipality with Sustainable Jersey certification actions including: i-Tree Assessment of Municipal Trees (10 pts), Tree Hazard Inventory (10 pts), Climate Adaptation-Flooding Risk (20 pts) and Natural Resources Inventory (20 pts). The Community Engaged Learning Project Team's initiative is designed to offer Sustainable Jersey municipalities support from TCNJ students for specific projects. Through this program, students supported sustainability efforts in Haddon Heights, Madison, Middletown, Washington Borough and Haddon Township.
Board Spotlight: Arthur Ondish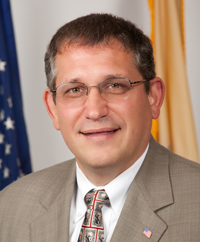 Arthur Ondish is a member of the Sustainable Jersey Board and has been the mayor of the Borough of Mount Arlington (Morris County) for the last 13 years. Art was an original member of the Mayors Committee for a Green Future, a group that partnered in the creation of the Sustainable Jersey program in 2009. Art has been a tireless advocate for Sustainable Jersey and has traveled all across New Jersey working with the staff to help other municipalities understand the benefits of sustainability. As a lifelong resident of Mount Arlington, Art is proud that the borough achieved Sustainable Jersey certification in 2012. His family has deep roots in Mount Arlington dating back to the late 1930's when his grandparents built a summer home on Bertrand Island. His parents purchased a home on the island in the 1950s and Art bought a house across the street from his parent's house and lives there with his wife. In addition to being mayor, Art is a regional public affairs manager at PSEG and was previously employed at JCPL for 20 years. Art served as the president of the New Jersey State League of Municipalities (NJLM) and as the president of the NJLM Education Foundation. In his free time, Art enjoys boating and snowmobiling. When asked why Sustainable Jersey is important, Art said, "when you focus a municipality's efforts on sustainability, it saves money, improves our environment and our quality of life now and in the future. And as a conservative mayor, the saving money means a lot!"
Who does that? Behind the Scenes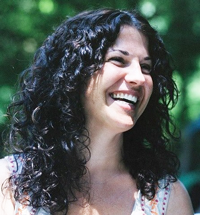 "My earliest memories as a kid were of rallies on the beach that my parents were leading to shut down a chemical plant that was dumping its waste off Ortley Beach. That's when I began to understand the power that a community can have to make change, said Lauren Skowronski. Activism and community organizing are in the blood of this Jersey girl from Toms River. As Program Director for Community Engagement, Lauren supports Sustainable Jersey's grassroots regional hubs across the state. Lauren also heads our Community Information & Civic Engagement initiative which provides strategies for towns to move into the digital age and make government more accessible to the people. Prior to joining our team, she served as State Campaign Director of The Citizens Campaign for over ten years. Lauren has a Master's degree from the School of Social Work at Monmouth University. In her free time, Lauren attends music festivals, with blues, bluegrass and jam bands being her favorite. She loves to travel, and recently returned from a trip to Iceland. When asked why sustainability is important Lauren said, "I realized that climate change is our most pressing issue since it impacts all of the things I care about. If we don't get this right, then we can't move forward with other social issues. Read more at Sustainable Jersey staff bios.
---