32 NJ Towns Receive 'Big' Grants
In March, 32 towns received Sustainable Jersey Small Grants funded by the PSEG Foundation. At the event, one grantee suggested that we re-name the grant program. "The 'small grants program' name is so wrong because the word 'small' diminishes the power and effectiveness of these grants which serve to energize and incentivize important sustainable community initiatives that are huge in their scope and effectiveness," said John Hughes, chair of the Rutherford Green Team, as he accepted a $20,000 grant for a bike and pedestrian ring. Food waste recycling, woodlands restoration, energy efficiency outreach, green business recognition, water conservation, creative assets inventory and more have been added to the list of initiatives that the Sustainable Jersey Small Grants program is funding. Read about the funded projects and recipients.
2015 NJ Sustainability Report and Summit
Is New Jersey succeeding in addressing our most pressing sustainability issues? The 2015 New Jersey Sustainability Summit will provide an understanding of how we are doing as a state. Through educational sessions designed to share existing efforts and test emerging best practices, attendees will take home valuable resources to make progress in their communities. Participants will come away with a clear sense of the state of the movement, a new community of fellow practitioners and the inspiration to go back to their own communities and start making change from the community up. Reserve your spot at this important event as tickets will go fast: Registration Link
Prepared for Future Flood Risks?
The NJ Resiliency Network released the results of a Post-Sandy Municipal Needs Assessment. Many municipalities have struggled to take adequate steps to fully evaluate their potential risk and vulnerability to future sea level rise and storm surge, a problem that could potentially have devastating consequences. The lack of planning to address future flood risks was just one of several key findings that indicate municipalities are not yet ready for the next extreme storm event. Eighty-seven municipalities in the coastal and Superstorm Sandy impacted regions of New Jersey supplied data for the needs assessment through interviews and a detailed survey. Read more.
191 NJ Schools Step Up for Sustainability
The number of schools that have registered for Sustainable Jersey for Schools has nearly doubled in one month's time. We're thrilled to welcome the first 60 school districts and 191 schools. Sustainable Jersey for Schools is now accepting grant applications from New Jersey public school districts and schools for sustainability projects. Application proposals are being accepted through April 26, 2015. Visit the grants page to submit an online application and participate in a webinar to get tips for the grant application process on April 13 (Register here). See the list of participating districts and schools.
Regional Hubs Energize Collaborations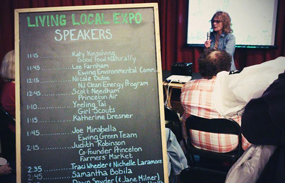 Just about a year after the official launch of the Sustainable Jersey Regional Hubs, the results are already easy to see. Towns and schools districts are getting together regularly to connect, learn from each other and collaborate on projects. This month, several towns which are part of our Mercer County Sustainability Coalition, teamed up to put on the Mercer County Living Local Expo. What started as Lawrenceville's green fair has turned into a multi-municipal county-wide effort, with each participating town receiving certification points. Down south, a team of Atlantic and Cape May towns came together to host two events in February for the greater green team pool, a social mixer and a workshop focused on access to healthy foods. And our Essex County Hub held an interactive leadership seminar in February and then hosted a networking event highlighting the Sustainable Jersey for Schools program last month. A hubs webpage is in the works, but if you need more info before it is up, contact Lauren at (609) 771-3129.
New Jersey benefits from a state-wide program that provides incentives for clean energy projects, especially for upgrading building efficiency. The New Jersey Clean Energy Program is one of the largest and most successful in the country, and provides the foundation upon which most of the energy efficiency upgrades in the state are developed. These incentives can be used to upgrade municipal and school district buildings, as well as a wide variety of energy projects for residential, commercial, and industrial customers. Sustainable Jersey includes twelve certification actions that help municipalities make the most of these incentives, and supports overall energy planning (like carbon footprints) and building efficiency upgrades. For municipal buildings, these actions include energy tracking, audits and transition plans, as well as implementing efficiency measures. Municipalities can also get certification points for promotion and community outreach for the state's Home Performance with EnergySTAR and Direct Install programs.
Board Spotlight: Wanda Chin Monahan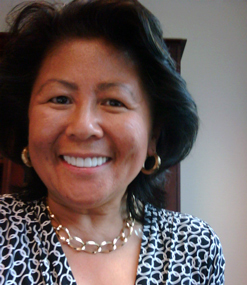 Wanda Chin Monahan has been a member of the Sustainable Jersey Board since 2013. She is a partner with the law firm Sedita, Campisano & Campisano, LLC located in Wayne, Passaic County where she specializes in environmental, site remediation and brownfields redevelopment law. Having spent several years as a Deputy Attorney General representing the New Jersey Department of Environmental Protection, she brings over 20 years of environmental legal expertise to both public and private sector clients. Wanda is a member of the New Jersey Bar Association (Environmental Women and Minority Groups); Passaic County Brownfields Commission; Center for Urban Environmental Studies Sustainable Brownfields Task Force; Brownfields Coalition of Northeast (Management Committee) and the Environmental Business Council. She is a graduate of Rutgers College, Rutgers University and Seton Hall University School of Law. Wanda is a life-long resident of Cranford, Union County where she and her husband, who is also an attorney, raise their four sons, ages 22, 19, 17 and 13. Wanda's interests are traveling, baking, collecting Depression Glass and outdoor/sports activities with her family. Read Wanda's full bio.
Who does that? Behind the Scenes
Melanie McDermott has been charged by an elephant in India and narrowly escaped the eruption of Mount Pinatubo in the Philippines; she has lived all over the world, most recently in Zimbabwe and Trinidad, after growing up in Seattle, Washington. We're lucky that Melanie has made New Jersey her home base. She is the Senior Researcher leading Sustainable Jersey's collaborative effort to develop New Jersey's goals and indicators for sustainability. Melanie is working on the first in a new series of Sustainability State of the State Reports that will be released at the 2015 New Jersey Sustainability Summit on June 10. This work will serve as a basis for subsequently creating the gold-level for certification for Sustainable Jersey.
With degrees in interdisciplinary social science (PhD.) and forestry (MSc.), Melanie has over 20 years' experience in the U.S., Asia, Southern Africa, and the Caribbean in academic and applied research and consulting. Major topics of this work include community forestry, coastal resilience, and the impact of climate change mitigation policy on social equity. Prior to coming to Sustainable Jersey, she served at Rutgers University in various capacities, including as research faculty, lecturer, and Associate Director of the Climate and Society Initiative. Melanie enjoys time spent with her anthropologist husband David and her two children Jesse, age 16 and Sophia, age 14. Read more at Sustainable Jersey staff bios.
---