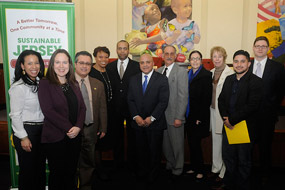 Sustainable Jersey announced the Small Grant Program recipients at an event at Camden's City Hall on March 12.
City of Camden Hosts Grant Announcement Event
What's stopping you from recycling your food waste, biking to work or conserving water? The Sustainable Jersey Small Grants Program, funded by the PSEG Foundation, selects projects that are innovative and, in many cases, remove barriers to enable environmental tipping points. Coupled with the leadership of Green Teams at the local level, these projects leverage small investments into large returns. Read about three of the projects funded in Montclair, Lawrence and Hammonton. See the full list of grant recipients.
Municipalities Making an Impact with Home Energy Audit Programs
Did you know that for most homeowners the biggest contributors to greenhouse gas emissions are their homes? The first step to make your home more energy efficient is to have an audit. Energy audits help you discover where and how your home is using energy inefficiently, and what can be done. The New Jersey Clean Energy Program has a rebate and loan program called Home Performance with ENERGY STAR to help homeowners. Sustainable Jersey has two certification actions that guide municipalities through the process of creating a Town-Wide Home Energy Assessment Program and/or doing outreach to promote the program. Four Sustainable Jersey towns have done exemplary work by implementing a town-wide program:
Highland Park: Sustainable Highland Park did one of the first pilot programs in 2012. Over the 15 month "In Our Power Highland Park" campaign, over 250 homes had audits performed with more than 60 homes implementing the recommended upgrades.
Woodbridge: Greenable Woodbridge's Home Energy Assessment Program has proven so successful that the town is planning a three year extension of the program. Watch this episode of Greenable Woodbridge that discusses the program: video link.
Princeton: Sustainable Princeton's Energy Smart Homes Campaign started in 2013 and over 60 home audits have been done for resident's homes with six homes completing upgrades.
Glen Rock: This month Glen Rock launched their program called Energy Smart Rock Homes and already over a dozen residents have signed up for audits.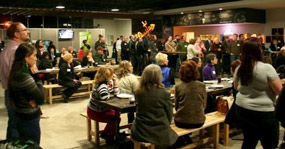 Inspiring conversations, Flying Fish Brewery beer and all within a short drive–what could be better? We are thrilled that Green Teams across New Jersey are collaborating by meeting locally. Sustainable Jersey continues to support regional green team networks. In February, Sustainable Cherry Hill, Sustainable Jersey and Flying Fish Brewery held a networking event that brought together nearly 150 people at the Flying Fish Brewery in Somerdale to socialize, share ideas and work together towards a sustainable South Jersey. We are now working with Somerset County to host a meeting on March 31, 2014 for its municipalities.

Board Spotlight: Jane M. Kenny

Jane M. Kenny has been a member of the Sustainable Jersey Board since it was first formed in fall 2011, serving on the Sustainable Jersey Executive Committee and the Governance Committee. Jane is a Director at New Jersey Resources and serves on the board of NJ Resources Clean Energy Ventures, which invests in, owns and operates renewable energy projects.

When asked about how she got interested in sustainability issues, Jane said, "I was first deeply exposed to environmental issues as a young woman working for Governor Tom Kean. I was hired to answer his correspondence, and the environment was a strong focus of his administration. Many letters from constituents expressed concern about various environmental issues that we face in New Jersey, such as sites discovered to be contaminated with the chemicals dioxin and radon, the clean-up of Liberty State Park and the vigorous debate about siting a golf course in the park, and numerous letters dealing with various superfund sites. There was also strong support in the administration for bond issues to preserve open space and to protect our shore. Researching the answers to these questions gave me insight into some of the great challenges we face in this industrial state, and made me a believer in working towards sustainable solutions."

In 2001, President George W. Bush appointed Jane as the Regional Administrator of the U.S. Environmental Protection Agency (EPA), where she oversaw the federal agency's work in New York, New Jersey, Puerto Rico, and the Virgin Islands. She is a founding member and part owner of The Whitman Strategy Group, a consulting firm that specializes in issues pertaining to the environment and energy. Jane is the recipient of numerous national awards. In her free time, Jane enjoys outdoor activities, especially cycling. She has taken a few cycling trips, most recently to Puglia, Italy, and plans to spend eight days cycling in Provence, France this summer. Read Jane Kenny's full bio.

Sustainable Jersey for Schools

Tasks force meetings to develop the Sustainable Jersey for Schools program have begun. Facilitated in partnership with the New Jersey School Boards Association and over 300 public and private partner organizations, volunteer task force members are developing actions items and building the program infrastructure for an October launch at the 2014 New Jersey School Boards Association Workshop. It's not too late to get involved in the program development phase. To volunteer for a task force, email [email protected]. Read more.

Who does that? Sustainable Jersey Behind the Scenes

Joining the team in December 2012, Renee Haider with other Sustainable Jersey staff, supports the municipal certification program and coordinates with the Sustainable Jersey Task Forces to review and develop program actions. And she can definitely relate to your Green Team needs. In her home town, she is the Chair of the Monroe Green Team and a member of the Environmental Commission. .

Prior to Sustainable Jersey, Renee was a research associate at the Mineta Transportation Institute at San Jose State University and the Associate Director of the National Transit Institute at Rutgers University. She focused on transportation and land use programming efforts aimed at supporting the core value of sustainability. Renee is a very proud parent of two great kids: a son who is a senior in college and a daughter who is a junior in high school. Renee says her connection to sustainability issues comes from her love of the outdoors. As a former Girl Scout leader she always took her troop camping and hiking to enjoy New Jersey's natural beauty; she especially likes Fairview Lake in Sussex County. She hopes that the camping adventures helped the girls develop a sense of stewardship for the environment. Sustainable Jersey staff bios.
---
Our Sponsors