Dr. Shashank Josi will be a featured speaker at the Beyond Newtown Summit
Green Collar Careers Summit Highlights ROP And Green Career Opportunities
With the increased demand for skilled employees in "green" industries, the San Mateo County Office of Education (SMCOE) Regional Occupational Program (ROP) is leading a county-wide effort called the Green Collar Career Pathways Working Group.
Nearly 80 professionals attended the Green Collar Summit.
.
The Pathways Working Group --comprised of key professionals from high schools and school districts as well as Caņada College, College of San Mateo and Skyline Community Colleges -- is addressing curriculum pathway needs, sharing of resources, and working on developing programs, such as a countywide career Advisory Board to provide input to the classroom, guidance for career/academic counselors, and employer mentoring and internship placement.
As a result of these efforts, SMCOE hosted a very successful Green Collar Careers Summit on March 22. The summit connected nearly 80 professionals from the county's high schools, community colleges, employers, nonprofits, government and workforce development agencies to discuss what students need to learn to do the diverse jobs our economy and environment demand. These careers can encompass a wide variety of training and education levels in energy, environmental science, research, green design and construction, clean technologies, building management and other careers.
Learn more about the Green Collar Careers Summit and ROP here.
See the Green Collar Careers Summit agenda and more on the
Beyond Newtown Summit Highlights How to Ensure School Safety
On April 29, 2013, "Beyond Newtown: How to Ensure Safe Schools and Communities," a countywide summit on school and community safety, will bring together a host of concerned leaders from around the county to address this important issue. School district personnel and school board members;
law enforcement; county behavioral health; early care and education; PTAs at the local, regional and state level; local government officials; business leaders, and local nonprofit agencies serving youth have all been invited to attend.
Dr. Shashank Joshi, child psychiatrist at Stanford, will be a featured speaker at the Beyond Newtown Summit.
.
Jointly sponsored by Congresswoman Jackie Speier, County Supervisors Adrienne Tissier and Don Horsley, Sheriff Greg Munks, County Superintendent of Schools Anne Campbell, the San Mateo County Police Chiefs and Sheriff Association, and retired assemblymember Gene Mullin, the event will take place at the Oracle Conference Center in Redwood Shores from 8:30 a.m. to 2:00 p.m.
After months of planning, the speakers and program are now set. The day will begin with a keynote address by Katherine Newman, the James B. Knapp Dean of the Krieger School of Arts and Sciences at Johns Hopkins University and the author of the book, Rampage. Dr. Newman will examine the factors that can contribute to incidents of violence and discuss ways for communities to address these gaps.
Dr. Newman will be followed by Dr. Shashank Joshi, a child psychiatrist at Stanford University, who will delve into the question of how we can improve mental health supports for schools.
The afternoon program will feature Tony Beliz, Deputy Director, Los Angeles County Department of Mental Health and Jeneé Littrell, a school administrator in the Grossmont Union High School District in San Diego County. This afternoon session will address the importance of information sharing and collaboration across systems. "We want to ensure that within San Mateo County we have the knowledge, tools, and infrastructure to build collaborative systems of support that are critical to increased safety for our youth," notes Nancy Magee, Administrator, Board Support and Community Relations at the San Mateo County Office of Education.
The overall aim of the summit is to begin a community conversation that can lead to sustainable outcomes. At the conclusion of the event, participants will have the opportunity to join one of several task forces, each of which will address a key component of the summit program. These working task forces will further the conversation and move towards implementation of the necessary next steps to creating a broader, more tightly woven net of safeguards and supports for the improved well being and safety of the children and youth in San Mateo County.
Symposium Focuses on Reforming School and Discipline Practices
On April 9, as part of RESPECT! 24/7, the San Mateo County Office of Education (SMCOE) and the San Mateo County Juvenile Justice and Delinquency Prevention Commission hosted the third of a three-part symposium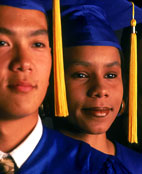 focused on the disproportionate rate of suspensions and expulsions for students in different demographic subgroups. Held at the Sobrato Center for Nonprofits - Redwood Shores, the session focused on examining discipline practices and strengthening those practices that offer interventions that encourage positive student behavior as opposed to simply punishing through suspension and expulsion.
San Mateo County Superintendent of Schools Anne Campbell welcomed 60 participants including teachers, principals, school district and county office administrators as well as members of the Juvenile Justice and Delinquency Commission.
National, state and local data on suspensions show that out-of-school suspension is not only a frequently used option for managing student discipline, but is also applied disproportionately to students in particular subgroup populations, including race, gender and disability status.
Research indicates that out-of-school suspension is often associated with low achievement, increased risk for dropping out and a greater likelihood of juvenile justice involvement.
Presented with the question, "What can San Mateo County's educational and community leaders do to better understand this trend and, based on this deeper understanding, initiate reform in school and discipline practices?" participants were challenged to:
-- Learn about the experiences of others who have successfully enacted proactive/preventative strategies in their districts/schools
-- Review district-wide suspension/expulsion data for their respective districts to identify trends and areas for further inquiry and /or action
-- Adjust their understanding/plans for addressing and redressing disproportionate suspension/expulsion rates.
Learn more about the symposium here.
San Mateo County Celebrates
National Week of the Young Child
On April 15, as part of the annual, national Week of the Young Child™, the San Mateo County Office of Education (SMCOE), in collaboration with the California State Preschool Program, sponsored its third annual Intentional Teacher Fair at three public library branches across the county.
Coastside Parents' Nursery School display at the Intentional Teacher Fair
South San Francisco Orange Branch Library, the San Mateo Main Library and the Redwood City Library showcased the work of preschool, transitional kindergarten, and kindergarten teachers, and included exhibits related to curriculum, school readiness and family engagement. Panel displays documented the process, flexibility and magic of high-quality early learning.
"My goal is to advocate for the opportunity to showcase early learning and broaden the public's understanding of early care and education as important milestone years of learning," said Maryanne Patterson, SMCOE State Preschool Manager of Child, Youth and Family Services.
This event is an outcome of the professional development program based on Ann Epstein's book, The Intentional Teacher, and her belief that, "the debate about how to teach young children pits supporters of child-initiated learning against advocates of adult-directed instruction." Epstein offers a more balanced approach that combines child-guided and adult-guided experiences. "Children's interests and developmental levels shape adult-guided learning; adults use their knowledge and observations to decide when and how to support child-guided experiences. Everyone is active and everyone learns together."

The Week of the Young Child™, first established in 1971, recognizes that the early childhood years (birth through age 8) lay the foundation for children's success in school and later life. The purpose of the Week of the Young Child™ is to focus public attention on the needs of young children and their families, and to recognize the early childhood programs and services that meet those needs.
"All our young children need and deserve high-quality, early learning experiences that provide vital preparation for the years ahead," noted County Superintendent of Schools Anne Campbell. "The Week of the Young Child™ offers us a unique opportunity to learn more about the components of high-quality early education and the lasting benefits such experiences offer our children, their families and the entire community."
Upstanders, Not Bystanders
A Digital Call to Write
To celebrate Digital Citizen Month this May, RESPECT! 24/7 is sponsoring a local contest for the "Digital Call to Write" project, hosted by the California Writing Project (CWP) and Common Sense Media.
To create a positive online community that promotes responsible and respectful digital behavior, K-12 students attending a public or private school in San Mateo County are invited to submit digital responses to the prompt: What does it mean to be an upstander?
According
to CWP, an upstander is an individual, group or institution that chooses to take a positive stand and act on behalf of themselves and others and someone who takes action to stop bullying behavior or other inappropriate behaviors.
In a digital genre of their choosing, students are asked to share a real life example of an upstander. Using current or past events, students are to illustrate how and why this person, in their opinion, is an upstander, and how the person and events surrounding his or her life have served as a call to action to the writer.
CWP has published an online comprehensive resource packet to help teachers integrate "Upstander, Not Bystander" work into their already-existing curriculum. These resources, available at the California Writing Project, provide support across grade levels including guidelines for the use of digital tools that will best help students research, compose and then transform a print genre into a digital genre, before going public and publishing. Digital genres may include video/digital essays, podcasts of students reading their work, blogs, websites and wikispaces or teacher/classroom Facebook pages. Teachers may access lesson plans and may listen in on planning discussions for those lesson plans.
Students are invited to post their digital entries on the RESPECT! 24/7 Facebook page between April 2nd and May 24th. A winner will be selected in each of the following grade categories: Grades K - 2; Grades 3 - 5; Grades 6 - 8; Grades 9 - 12.
A panel of judges will select the winners, with equal weight being given to the relevance of the submission to the topic, artistic composition, cohesiveness, organization, creativity, writing style and grammar. The winners will be chosen by May 30. Each winner and a guest of their choosing will receive a personal tour of the Facebook campus in Menlo Park.
Dr. Gary Waddell Leads Statewide Curriculum Committee
Dr. Gary Waddell wears many hats in his role as Deputy Superintendent, San Mateo CountyOffice of Education. He provides direct oversight of the Instruction Services Division (ISD), and its departments and programs including preK-12 Curriculum and Instruction;
Dr. Gary Waddell fills many roles at SMCOE.
Educational Support Services; Networks for Success (Program Improvement); STEM Center; Early Learning Support Services; Compliance, Assessment, and Special Projects; Outdoor Education; Safe Routes to School, and Beginning Teacher Support and Assessment(BTSA).
Additionally, Dr. Waddell serves as Chair-Elect for the Curriculum and Instruction Steering Committee (CISC) of the California County Superintendents' Educational Services Association (CCSESA), and will serve as statewide chair of that group in 2014. The CISC initiates collaborative leadership with school districts, the California Department of Education (CDE), and other partners to support success for all students in California. The committee identifies statewide curriculum and staff development needs, provides a communication and implementation network for curriculum and professional development activities, and assists the CDE in adopting and implementing instructional materials and developing publications such as curriculum frameworks.
He also currently chairs the Mathematics Subcommittee of CISC, which provides statewide leadership in mathematics education in collaboration with the CDE. Five times a year, Waddell convenes a dynamic committee involving county offices from each region in California along with staff from the CDE and statewide organizations, such as the California Math Project and the California Mathematics Council, to share current information and network around statewide initiatives in mathematics.
"It is an honor to work with the high caliber, dedicated staff of the Instructional Services Division who are about the business of providing quality service to the schools and districts of San Mateo County," Waddell says. "My priorities are to ensure the highest caliber of services, preK-12 to our schools, districts and their students. The ISD staff is committed to equity and ensuring that the youth of San Mateo County have not only the opportunity, but the likelihood of achieving the kind of success in school that will prepare them to be educated, empowered and engaged citizens in the digital age of the 21st century."
Networks for Success Addresses Achievement Gap
Talk to Brian Simmons, Director of Networks for Success, a unit within the Curriculum and Instruction Services program of the San Mateo County Office of Education (SMCOE), and you'll get an enthusiastic understanding of what he and his team provide to county districts and schools at risk of entering or already in Program Improvement (PI).
Simmons' team, including core staff and Program Improvement consultants, is fully versed in the research, mandates and processes related to PI. They work with San Mateo County districts or schools to assist them in moving through and exiting PI. The Networks team also helps schools take preventative measures to avoid entering PI. More importantly, they frame the work of Program Improvement as an opportunity for schools and districts to close the achievement gap while continuing to raise achievement for all students.
Under the requirements of the No Child Left Behind Act (NCLB), schools and districts enter Program Improvement when one or more demographic subgroups fail to make adequate yearly progress (AYP) for two years in a row. By 2014, all California schools are supposed to be out of Program Improvement and meeting benchmarks. However, only four San Mateo County districts met AYP this last year, as did only 17 percent of districts statewide.
"It's easier said than done to exit PI, but not impossible. Since the majority of districts in San Mateo County are now in Program Improvement, everyone is being treated like they are in need of intensive care - and that's not quite the case. It's difficult to triage." Simmons shared. "We're concerned with intervening appropriately."
Simmons' team has adopted a pyramid model - similar to one used by schools in organizing their intervention strategies, understanding that not all subgroups, classrooms or individuals require the same intensive care.
Lean more about Networks for Success and the pyramid model here.
Check Us Out on Facebook
The San Mateo County Office of Education (SMCOE) now has a page on Facebook. We'll be providing frequent upd
ates on SMCOE events and education news of interest, adding groups of interest, and linking to other education organizations. Check us out and "like" us today on Facebook!
About the San Mateo County Office of Education
The San Mateo County Office of Education provides a variety of instructional, business and consulting services to the County's 23 public school districts, charter schools, the Community College District and County Office of Education staff.
Believe in Tomorrow: Think
Green
Today