Commencement Schedule
December Commencement
will take place December 14-16, 2012 in the College Park Center.
Students who will complete their degree requirements in August 2012 or December 2012 are invited to participate in December commencement ceremonies.
All candidates for graduation are encouraged to invite their family and friends to help them celebrate this significant milestone and momentous occasion. All family and other guests over the age of two must have a commencement ticket to attend the ceremony. Find ticket information here.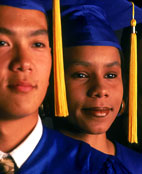 Friday, December 14
7:30 p.m. College of Nursing
Saturday, December 15
10:00 a.m. College of Business
2:00 p.m. College of Education and Health Professions
6:00 p.m. College of Liberal Arts
Sunday, December 16
12:00 p.m. School of Urban and Public Affairs, School of Social Work, and University College
3:30 p.m. College of Science and School of Architecture
7:00 p.m. College of Engineering
Coming soon: Parent & Family Association membership directory
The Maverick Parent & Family Association will begin working on a membership directory this month. The directory will be an electronic document that is only available to members. It will include the following information for each family:
First and last name of parents/family members
Hometown
Email address
Student name(s) and classification(s)
The purpose of the directory is for parents to be able to connect with one another. For example, two families from the same area may want to work out a carpool arrangement when their students travel home.
There are currently 850 member families in the Association. We hope that each member finds value in the Association, and that this directory will prove to be helpful.
If you would like to be included in this directory, please email parents@uta.edu and simply type "opt in" in the subject line. Also, please provide your preferred email address(es) to include in the directory. Please RSVP by January 6, 2013.