Bloom Energy Announces New Leasing Program with Bank of America Merrill Lynch
On August 13, Bloom Energy announced their new leasing program with Bank of America Merrill Lynch, which will provide leasing opportunities for their customers, reducing the need for up-front financing.
The multi-million dollar commitment is part of the Bank of America's $50 billion environmental business initiative, which delivers lending, equipment finance, capital markets and advisory activities, and carbon markets finance to clients around the world to help address global climate change and demands on natural resources.
TaylorMade-adidas Golf Company and Honda Center in Anaheim are the first customers to take advantage of the new program.
The full press release can be found here.
Mercedes-Benz Purchases 123 Additional Plug Power Fuel Cell Forklifts for New Alabama Plant
On August 20, Plug Power Inc. announced that Mercedes-Benz has ordered another 123 GenDrive fuel cell units to be used in forklifts at its new manufacturing plant in Tuscaloosa, Alabama.Earlier this year, construction began on the new $70 million, 900,000 square-foot warehouse where the forklifts will operate.
Last July, Mercedes-Benz purchased 72 Plug Power fuel cells for their current manufacturing plant in Tuscaloosa.
A link to the full press release can be found here.
Hyundai Prepares Hydrogen Energy Station in Chino, California for Public Launch
On August 5, Hyundai announced that Hydrogen Frontier, Inc. had received $3 million in grant funding from the California Energy Commission (CEC) to build a fully renewable hydrogen fueling station for fuel cell electric vehicles (FCEVs) at Hyundai's hydrogen generation and storage station in Chico, California. The project will purchase the energy used to create the hydrogen from a renewable provider, and will be able to produce up to 100 kilograms of hydrogen per day, enough for 6,000 to 9,000 vehicle fill-ups a year.
The estimated completion date for the new project is October 2014, at which point Hyundai plans to open the station to the public to support California's existing hydrogen refueling infrastructure. An additional $1.7 million in funding has been provided by Hydrogen Frontier, Inc., Powertech, and ITM Power to modernize the facility.
A link to the full press release can be found here.
FuelCell Energy Applauds Creation of Fraunhofer Center for Energy Innovation at University of Connecticut
On August 1, FuelCell Energy expressed its support of the creation of the Fraunhofer Center for Innovation (CEI) at the University of Connecticut, the seventh Fraunhofer research center in the United States. The Fraunhofer CEI will aim to develop advanced technologies related to storage, fuel cells, in-stream hydro, power management and distribution.
FuelCell Energy Inc. and Fraunhofer IKTS are partners in a German-based joint venture to expand the European market for highly efficient and environmentally friendly stationary fuel cell power plants.
FuelCell Energy's press release can be found here.
ITM Power Selected to Install and Operate Renewable Hydrogen Mini Grid System in UK
On July 29, the UK Homes and Communities Agency selected ITM Power to become the operator of a Hydrogen Mini Grid System (HMGS) in Rotherham.
The HMGS consists of a 225kW wind turbine coupled directly to an electrolyser, 200kg of hydrogen storage, a hydrogen dispensing unit, and a 30kW fuel cell system for backup power generation for nearby buildings.
ITM Power's press release can be found here.
Connecticut Department of Transportation Uses Fuel Cell Mobile Light for Major Construction Project
On July 11, it was announced that the Connecticut Department of Transportation (CT DOT) is using a Fuel Cell Mobile Light unit to illuminate a major interchange construction project, the I-95 New Haven Harbor Crossing Corridor Improvement Program. The unit, which has been field-tested across the country, is being used in order to reduce emissions and noise in the work zone and allow the CT DOT to gain experience with fuel cells.
Director of Sandia National Laboratories Lennie Klebanoff (far left) and members of the CT DOT with the Mobile Fuel Cell Light
The Fuel Cell Mobile Light was initiated through a cooperative R&D agreement between Boeing and Sandia National Laboratories, and has since been expanded into a larger coalition of partners.
The full article can be found here.
University of Connecticut to Create an Independent Microgrid with ClearEdge Power Fuel Cell and Solar Photovoltaics
On August 13, the University of Connecticut (UConn) announced that it will be creating an independent microgrid at its Depot Campus in Storrs. The microgrid will include an existing ClearEdge Power 400kW fuel cell and a demonstration-scale 6.6 kW photovoltaic solar panel array.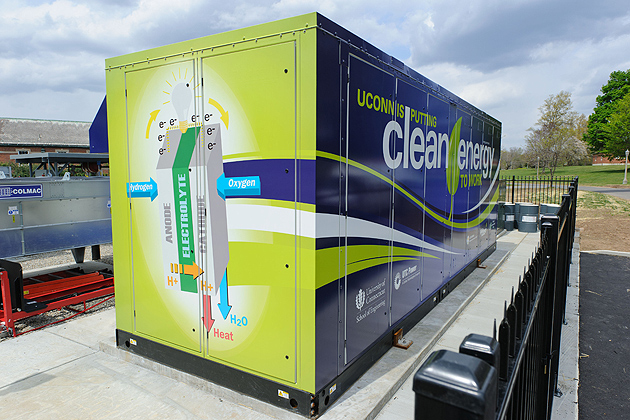 The ClearEdge Power fuel cell located on the UConn Depot Campus (Source: UConn)
The University has received $2.14 million in state funding through the Connecticut Department of Energy & Environmental Protection (DEEP) to create the microgrid. The microgrid will support a number of critical facilities at the UConn campus and is expected to be operational by June 2014.
An article on the microgird can be found on the UConn website here.
ITM Power Receives EU Grant for Hydrogen Energy Storage
On August 21, ITM Power announced that it has received confirmation of a €0.35 M grant award from the European Union program CommONEenergy. The program addresses the need to redesign and refurbish non-residential buildings for energy efficiency and renewable energy in Europe.
ITM's role in the project is to demonstrate hydrogen energy storage systems as an effective way of integrating renewable energy into the built environment. ITM Power's first demonstration is at a shopping center, where the installation will be designed to match supply and demand profiles required for renewable power systems.
A link to the full press release can be found here.
USA Today Reviews the Honda FCX Clarity
On July 27, USA Today published a review of the Honda FCX Clarity. The review was generally positive, citing the advantages of fuel cell electric vehicles over their battery electric counterparts. The Clarity was dubbed a "terrific blend of premium features, eye-catching style and futuristic power."
USA Today's full article can be found here.
ClearEdge Power Launches New Website
On August 15, ClearEdge Power launched a completely redesigned external website. This new site provides a clean, fresh look for the company and incorporates many important innovative features, including a stackable design for easy viewing on personal electronic devices and a fully integrated social media platform.
Please take a few minutes to explore their new site and be sure to encourage others to do the same: www.clearedgepower.com.
Fuel Cell Energy Launches Website for European Operations
On August 1, Fuel Cell Energy Solutions GmbH announced that they were launching a new website, www.fces.de, to highlight their accomplishments and operations in the European market as well as potential future applications. The website promotes several different opportunities for stationary fuel cells, such as grid support and on-site power for universities and industry.
This announcement comes at the same time as the completion of the first fuel cell module manufactured at their facility in Ottobrunn. The module will be installed at the Federal Ministry of Education and Research (BMBF) in Berlin, Germany.
The full press release can be found here.
ACORE Publishes Transportation Energy Review - Includes California Hydrogen Roadmap Article Submitted by CAFCP
On August 20, the American Council on Renewable Energy (ACORE) published a Transportation Industry Review, a digest of member-submitted journal articles that discuss challenges and corresponding opportunities related to renewable energy in the transportation sector.
Among the eight articles submitted is "Deploying Fuel Cell Electric Vehicles and Hydrogen in California," submitted by the California Fuel Cell Partnership's Chris White.
The full report can be found here.