FuelCell Energy to Install 14.9 MW Fuel Cell Park in Bridgeport, Connecticut Under Agreement with Dominion
On December 14, FuelCell Energy, Inc. announced a turnkey agreement with power producer Dominion to install and operate a 14.9 MW fuel cell park in Bridgeport, Connecticut. The park will consist of five 2.8 MW DFC 3000 power plants which will be fueled by natural gas. The electricity generated from the park will be sold to Connecticut Light & Power under a 15 year purchase agreement.
Construction will begin in the summer of 2013, with the park expected to be operational by December of that year. According to FuelCell Energy, the project is expected to create 160 jobs.
FuelCell Energy's press release is available here.
Bloom Energy Fuel Cells to Power Largest Carbon-Neutral Office Building in the United States
On December 12, international real estate firm, Hines, and equity partner J.P. Morgan Asset Management announced that Bloom Energy would be installing roughly 570 kWs of solid oxide fuel cells at an office building in La Jolla Commons in San Diego. Hines reports that the building is expected to be the largest carbon neutral office building in America once completed in 2014.
The Hines press release is available here.
Texas Awards $500k to Air Products, Vision Industries, Environmental Defense Fund to Partially Fund State's First Public Hydrogen Fueling Station
On December 5, the Texas Emission Reduction Program (TERP) awarded $500,000 to Air Products, Vision Industries, and the Environmental Defense Fund (EDF) to partially fund construction of the state's first public hydrogen fueling station. The hydrogen will likely be fed by Air Products' recently completed Gulf Coast Connection Hydrogen Pipeline.
In addition to offering public access for personal vehicles, the station will service fuel cell electric hybrid trucks to be used by the Port of Houston.
EDF's press release is available online here.
Hydrogenics Receives Order of Fuel Cell Power Modules for Telecommunications Back-up in North America
On December 5, Hydrogenics announced receipt of an order from CommScope Inc for fuel cell power modules for telecommunications backup power solutions. CommScope will be integrating the power modules into their fuel cell cabinets at hundreds of wireless sites in North America, servicing an unnamed leading wireless operator.
CommScope and Hydrogenics announced a strategic alliance in 2010. This is the largest order developed through that partnership to date.
Hydrogenics' press release is available online here.
Ground-Breaking Ceremony Held at Berlin Brandenburg Airport for Hydrogen Fueling Station
On December 6, Linde, ENERTRAG, TOTAL, McPhy Energy, and 2G Energietechnik broke ground and laid the foundation stone for a hydrogen fueling station at the Berlin Brandenburg Airport.
The hydrogen for the station will be generated by electrolysis utilizing excess energy from a nearby windpark. The hydrogen will be stored in a metal hydride system for use at either the hydrogen station, or a CHP plant.
McPhy's press release is available online here.
Audi to Build Natural Gas and Hydrogen Plant in Germany in 2013
On December 13, Audi began construction of a renewable natural gas and hydrogen plant in Werlte, Germany. According to Audi's press release, the plant will be in full operation in 2013. The hydrogen will be generated by electrolysis utilizing solar- and water-generated electricity.
The plant will also combine its hydrogen with waste carbon dioxide from a nearby gas plant to create methane. The result will be a renewable synthetic natural gas which can be fed into the existing natural gas infrastructure or used to fuel vehicles. Audi reports that it can produce more than 1,100 tons of synthetic natural gas and consume nearly 3,100 tons of carbon dioxide each year using this method.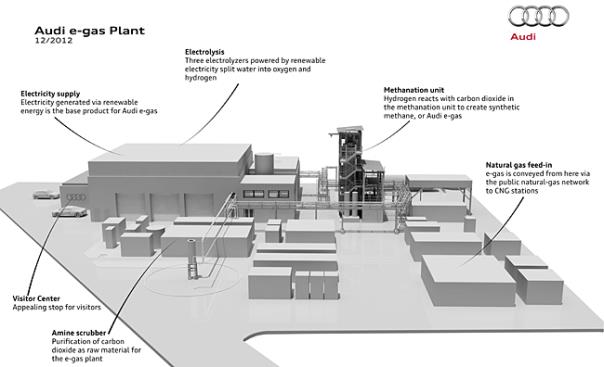 Audi's press release is available online here.
ITM Power Update on Fuel Cell Membrane Performance
On December 6, ITM Power released an update on the development of their hydrocarbon fuel cell membrane. In partnership with Carbon Trust and major automotive OEMs, ITM Power has been performing standardized accelerated stress tests on the membrane material to test its durability.
ITM Power reports that three months into the program, the membrane material has outperformed all targets, including demonstrating a durability over three times that of a U.S. Department of Energy target.
ITM Power's full press release is available online here.
Western Hydrogen Plant to open in early 2013
In a December 7 article in the Fort Saskatchewan Record, Western Hydrogen's President and CEO, Neil Camarta, announced that the company's pilot hydrogen plant will be completed by the end of January 2013. Fabrication of the plant is being conducted off-site and will be relocated near Fort Saskatchewan once complete.
Hydrogen from the plant will be generated using a process called Molten Salt Catalyzed Gasification. This process was developed at the Idaho National Laboratory and exclusive licensing rights were granted to Western Hydrogen to develop and commercialize the technology.
The Fort Saskatchewan article is available here. More information on Western Hydrogen is available here.
Air Liquide Announces Plans for Public Hydrogen Fueling Station in Netherlands
On December 11, Air Liquide announced a collaboration with the Dutch Ministry of Transport and the Environment to install a public hydrogen fueling station in Rotterdam, Netherlands. The station will be open to the public by late 2013 and will operate at both 350 and 700 bar. Once complete, this will be Air Liquide's first hydrogen station in the Netherlands.
The project is receiving funding from the EU through the Trans-European Transport Network (TEN-T). Formed in 2006, this is the first time funds from TEN-T have been allocated to a hydrogen electric mobility project.
The Air Liquide press release is available here.
FuelCell Energy Solutions, GmbH to Install Power Plant at London Office Tower
On December 4, FuelCell Energy announced that its German joint venture with Fraunhofer IKTS, FuelCell Energy Solutions, will be installing a fuel cell power plant at the 20 Fenchurch office tower in London, England. The 300 kW fuel cell is being installed in a combined heat and power (CHP) configuration, providing electricity, heating, and cooling to the building. The fuel cell will be installed in 2013, in time for the expected building completion in 2014.
20 Fenchurch is a unique 38 story, 690,000 square foot building with a top-heavy design being developed by Canary Wharf Group, PLC and Land Securities PLC. 20 Fenchurch is one of three major skyscrapers under construction in London.
The installation will support targets established by the Mayor of London, Boris Johnson, to supply 25% of London's energy from decentralized sources and reduce CO2 emissions by 60% by 2025.
FuelCell Energy's press release is available online here.
Hydrogenics Wins Hydrogen Storage System Award for Renewable Electricity Linked to Refueling Facility in Europe
On December 10, Hydrogenics Corporation announced the receipt of a major energy storage research, development, and demonstration award from the European Commission, under the auspices of the Fuel Cells and Hydrogen Joint Undertaking (FCH JU). Hydrogenics, along with eight other project partners, will receive a €2.86 million grant to develop and demonstrate an integrated hydrogen storage system for renewable electricity linked to a hydrogen refueling facility. The technology will be designed, built, deployed, and operated at a site near Brussels, Belgium.
Hydrogenics' press release is available here.
Apple Doubling Size of Bloom Fuel Cell Installation to 10 MW at North Carolina Data Center
Apple filed paperwork last month with North Carolina to increase its Bloom Energy fuel cell installation to 10 MWs at its Maiden data center. Apple's initial plans had specified 4.8 MW of Bloom's solid oxide fuel cells to be installed.
The paperwork filing was first identified by the Charlotte News Observer on December 4. The filing is available online here.
Fuel Cells 2000 Report Profiles Select American Businesses Currently Deploying Fuel Cells
On December 3, Fuel Cells 2000 released a new report titled The Business Case for Fuel Cells 2012: Fuel Cells, America's Partner in Power. The report profiles nationally recognizable businesses deploying or demonstrating fuel cells and recognizes the accompanying economic and environmental benefits.
The full Fuel Cells 2000 report is available online here.
The DOE press release is available online here.