**Appropriations Update**
Senate Appropriations Bill Would Fund $104 Million for FCT, $25 Million for SECA
House Appropriations Bill Would Fund $82 Million for FCT, $25 Million for SECA
Both Bills Approved out of Committee for Floor Vote
Last week, both the House and Senate Appropriations Committees held mark-ups and approved their respective Energy and Water Development (E&W) bills.
The House Committee voted to approve the FY 2013 Energy and Water Appropriations Bill on Wednesday, April 25 on a voice vote. The House bill would fund the Fuel Cell Technologies Program in the Office of Energy Efficiency and Renewable Energy (EERE) at $82 million; $22 million below fiscal year 2012, but $2 million above the budget request. Furthermore, the Committee report language is very supportive of the Program stating, "Hydrogen and fuel cell technologies continue to be one of few possible ways to reduce Americans' exposure to future high gas prices, and the Committee continues to support research in this area."
The House Committee Report states that "not less than" $25 million would be allocated in FY 13 for the DOE's Solid State Energy Conversion Alliance (SECA) Program, the DOE's solid-oxide fuel cell (SOFC) research, development, and demonstration initiative in the Office of Fossil Energy. Though funding for SECA was zeroed out in the President's budget request, the House restored the Program to FY 12 funding levels, largely due to the support of Representative Louise Slaughter (D-NY), among others.
Representative Slaughter was quoted supporting the Program in a press release issued by her office saying, "Our region is at the forefront of fuel cell innovation and the country is counting on us. Great organizations from our area such as Delphi, RIT, University of Rochester, Praxair, GM and others are all working to develop the environmental and economic benefits of this technology and as a result, we are creating and retaining high-tech jobs right here in the Rochester region." You can see Representative Slaughter's press release on the Program here.
The House Appropriations bill will now be sent to the full House of Representatives for vote.
On the other side of the hill, on Tuesday, April 24, the Senate Appropriations Subcommittee on Energy and Water Development held a mark-up and approved their own E&W bill to the full committee. The Appropriations Committee held a Full Committee Markup on Thursday, April 26 and approved the Senate bill to the Senate floor.
The Senate bill would fund the Fuel Cell Technologies Program in the Office of Energy Efficiency and Renewable Energy (EERE) at $104 million for FY 13. This number is $24 million higher than the President's budget request and $22 million higher than the funding allocated in the House Energy and Water Appropriations bill approved out of Committee this week. The Senate bill also includes report language allocating funds within the Fuel Cell Technologies Program, this includes $14 million for Technology Validation, $34 million for hydrogen fuels R&D and $15 million for Market Transformation.
The Senate bill also would fund $25 million for the Solid State Energy Conversion Alliance (SECA) Program in the Office of Fossil Energy.
The Senate bill was approved out of Committee and has been sent to the Senate floor for vote.
In addition, Senator Charles Schumer (D-NY) put out a press release stating his support of the SECA program and fuel cell funding. Senator Schumer's press release is available here.
The House Appropriations FY 13 Energy and Water Bill is available here. The House Appropriations Committee Report is available here.
The Senate Appropriations Committee Report is available online here.
Linde Hydrogen Station for Fueling Fuel Cell Bus's and Cars Begins Operation at AC Transit in California
On Tuesday, April 10, AC Transit held a ribbon-cutting ceremony for a newly opened Linde hydrogen station at AC Transit's municipal bus operating division in Emeryville, California.
The ribbon cutting was a success with over 250 in attendance, including Congresswoman Barbra Lee (D-CA), who fueled both a bus and a car and stayed long after her scheduled time to attend.
Congresswoman Barbara Lee (D-CA) and Jaime Levin, Director of Environmental Technology at AC Transit, at the Ribbon Cutting
The station is one of two being supplied by Linde North America to AC Transit. This Emeryville station began operating in late 2011 and the second, located at the Oakland operating division, is expected to begin operating in 2013. The station currently fuels twelve fuel cell buses and up to twenty passenger cars a day.
The stations are part of AC Transit's HyRoad project to demonstrate the commercial viability of hydrogen fuel cell technology in public transport.
A video release of the announcement is available below.
Linde Hydrogen helps AC Transit in U.S. take the "HyRoad"
Linde's press release on the station opening is available online here. AC Transit's press release can be found here.
University of Connecticut Unveils UTC Power Fuel Cell
In an effort to reduce their carbon footprint and build a sustainable community, on Thursday, April 26, the University of Connecticut (UConn) unveiled a UTC Power fuel cell. The 400 kw UTC Power PureCell model 400 will provide heat and power for the campus to critical UConn research labs and offices, including those working on advancing fuel cell and micro-grid technology at UConn's Center for Clean Energy Engineering.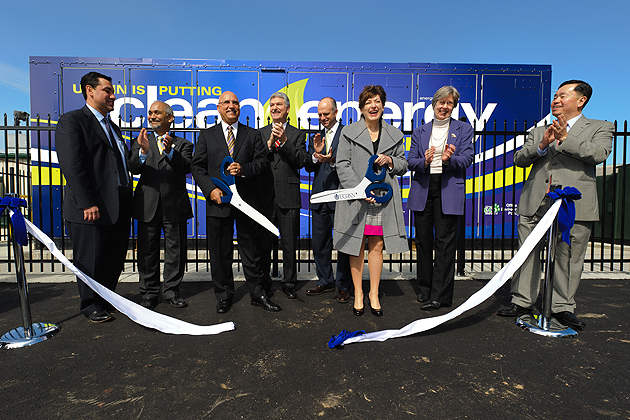 Bryan Garcia, CEFIA president, left, Prabhakar Singh, director of the Center for Clean Energy Engineering, Joe Triompo, UTC Power vice president and general manager, Donald Williams, state senate president pro tempore, State Rep. Gregg Haddad, President Susan Herbst, Patricia Bergman, associate director of the Center for Clean Energy Engineering, and Mun Choi, dean of the School of Engineering, cut a ribbon to mark the commissioning of a natural gas fuel cell at UConn's Depot campus on April 26. (Peter Morenus/UConn Photo)
More information on the unveiling can be found on the UConn press release here.
Coca-Cola Facility Unveils Five Bloom Energy Fuel Cells for Earth Day
On Thursday, April 19, Coca-Cola's announced plans to celebrate Earth Day by unveiling five Bloom Energy fuel cells at their beverage production facility in American Canyon, California.
Previously, Coca-Cola has deployed a Bloom Energy fuel cell at their Dinuba, California site, as well as UTC Power fuel cells at their Elmsford, New York and East Hartford, Connecticut facilities. Coca-Cola also is operating Plug Power fuel cell forklift fleets at their production and distribution centers in San Leandro, California and Charlotte, North Carolina.
Coca-Cola's press release is available online
here
.
Microsoft Announces Plans for Waste-Powered Fuel Cell Deployment for Data Center
Christian Belady, General Manager of Data Center Services for Microsoft wrote an article this month on Microsoft's Global Foundation Services website detailing the company's plans to power data centers with fuel cells fueled from biogas.
Belady explained that Microsoft is in talks with several municipalities to develop a public-private partnership to test a prototype model. This prototype would involve deploying a IT PAC, Microsoft's data center module, and a fuel cell at a waste-water treatment facility or landfill. The fuel cell would then harnessing the methane produced from the facility as fuel and be used to power the data center with 100% renewable energy. Belady described that a small 200 kW prototype data center would be able to offset over two million pounds of CO2 emissions per year.
A depiction of one of Microsoft's server-filled IT PAC data center modules paired with a fuel cell at a water treatment plant. (Image: Microsoft)
The full article in Global Foundation Services can be found online here. A summary in Data Center Knowledge can be found here.
Fuel Cells 2000 Report - Fuel Cell and Hydrogen Funding in Japan Tops $240 Million in FY 2012
Fuel Cells 2000 recently put out a press release detailing that hydrogen and fuel cell research funding in Japan topped $240 million in FY 2012. This is more than double the amount being spent by the U.S. Department of Energy in FY 2012 and triple the amount in the President's FY 2013 budget request.
Fuel Cells 2000 indicated that these totals were taken from a recent speech by the Director of the Hydrogen and Fuel Cell Promotion Office at Japan's Ministry of Economy, Trade, and Industry.
More information is available on the Fuel Cells 2000 press release
here
.
Obama Administration Announces Opening of Army Clean Energy Vehicle Laboratory - Will Include Fuel Cell RD&D
On Wednesday, April 11, the Obama Administration announced the opening of a new 30,000-square-foot lab in Detroit, Michigan to develop cutting edge energy technologies for the next generation of combat vehicles. This new lab will support the launch of the Army Green Warrior Convoy, which will test and demonstrate advanced vehicle technology, including fuel cells. As part of this effort academia and industry will partner to develop emerging technologies and share information, to improve our military's ground vehicles, but could also impact our nation's passenger and commercial vehicles as well.
In addition to the Detroit lab opening, the Administration also announced funding for a $30 million research competition through the Department of Energy's (DOE) Advanced Research Projects Agency - Energy (ARPA-E) to improve the capability of energy storage devices.
Also announced was an increased commitment to renewable energy by the Defense Department (DOD), with a goal of developing 3 gigawatts of renewable energy on DOD facilities by 2025. The Department stated that rather than reaching this goal using additional tax dollars, the DOD plans on leveraging private sector financing through authorities such as Power Purchase Agreements, Enhanced Use Leasing, Utility Energy Savings Contracts, and Energy Savings Performance Contracts.
The White House release can be found online here.
New Jersey Implementing $55 Million Large Scale Combined Heat and Power (CHP)/Fuel Cell Grant Program

The New Jersey Economic Development Authority (EDA) and the New Jersey Board of Public Utilities (BPU) has launched the Large Scale Combined Heat and Power (CHP) and Fuel Cell Grant Program. The state will be providing up to $55 million in grants to encourage CHP and fuel cell installations to encourage energy savings.
The program supports CHP or standalone fuel cell projects with an electric generating capacity greater than one megawatt. All New Jersey government, commercial, institutional or industrial entities advancing these projects are eligible.
Applications for the program must be submitted prior to the closing of the competitive solicitation through June 25, 2012 at 5:00 p.m. Applications can be submitted from the New Jersey EDA website here.
The program announcement can be read here.
Fuel Cells Industry Tops Clean Energy Patent Growth Index 2011
The Clean Energy Patent Growth Index (CEPGI), published quarterly by Heslin Rothenberg Farlet & Mesiti P.C. provides an indication of the trend of activity in the clean energy sector. The latest quarterly report was published earlier this month and shows that fuel cells continue to top the U.S. clean energy sector in patents with 952 registered in 2011. This beat out solar patents, who had the second highest number of patents at 541.
The full article can be found online
here
.
European Consortium Forms to Develop SOFC APUs for Heavy-Duty Trucks
A European research consortium has been launched to develop a solid oxide fuel cell (SOFC) auxiliary power unit (APU) for heavy duty trucks. The intention is to establish a 100% European value chain for the unit, which is expected to sell to both European and export markets. A demonstration of the unit is slated for 2014, with production runs to follow shortly after that. The name of the project is DESTA, or Demonstration of 1st European SOFC Truck APU.
More information can be found on the European Commissions' Community Research and Development Information Service (CORDIS) site here.
Germany Introduces Subsidy for Micro-CHP Projects

On April 2, the German government introduced a capital subsidy for micro power and heating (micro-CHP) products, which includes fuel cells. Subsidies are now available for eligible micro-CHP which generate up to 20 kilowatts of electricity, meet a total efficiency goal of at least 85%, and provide at least 15 - 20% energy savings. The system must also offer some form of energy storage, heat storage management and be installed with a smart meter.
For more information on the German subsidy program, you can see the official release from the Fede

ral Ministry of Economics and Technology (BMWi)
here
(link is in German). For additional information on the announcement, you can see the Fuel Cell Today coverage
here
.
Solid Oxide Fuel Cell Exceeds Operating Lifetime of 40,000 Hours
Late last month, the Ju

lich Institute of Energy and Climate Research in
Germany announced that they have achieved a world record for their solid oxide fuel cell (SOFC) exceeding an operating lifetime of 40,000 hours, or roughly five years.
Julich Institute's Single Cell Planar SOFC
More information can be found on the Julich Institute website,
here
.
Carson City Announces Plans for Hydrogen Station Which Will Sell Excess Oxygen for Profit
Earlier this month in Carson City, Nevada, H2 Technologies announced plans to install a hydrogen fueling station that will sell excess oxygen produced for profit. H2 Technologies Principal, Gary Lord, explained that contracts have been made with an industrial gas supplier to sell the waste oxygen produced from an on-site electrolyzer wholesale for medical and industrial uses.
H2 Technologies believes that this secondary market would make the hydrogen station profitable without ever delivering hydrogen fuel.
More information on this story can be found on the Northern Nevada Business Weekly website here.