21 Representatives and 9 Senators Sign Letters Supporting Funding for Fuel Cell and Hydrogen Energy Programs
In a robust show of support, last week 21 Representatives and 9 Senators signed programmatic funding request letters to their respective Appropriations Subcommittee Chair and Ranking Member on Energy and Water.
Representatives John B. Larson (D-CT) and Michael F. Doyle (D-PA) sponsored a letter to Chairman Rodney Frelinghuysen (R-NJ) and Ranking Member Pete Visclosky (D-IN) of the House Appropriations Subcommittee on Energy and Water Development. The other signatories of the letter sent on March 19, 2012 were:
Representative Christopher S. Murphy (D-CT)
Representative Chris Van Hollen (D-MD)
Representative Paul Tonko (D-NY)
Representative Rosa DeLauro (D-CT)
Representative Tim Ryan (D-OH)
Representative Louise McIntosh Slaughter (D-NY)
Representative Betty Sutton (D-OH)
Representative Edolphus Towns (D-NY)
Representative Bill Pascrell, Jr. (D-NJ)
Representative Dale E. Kildee (D-MI)
Representative Mike Thompson (D-CA)
Representative James P. Moran (D-VA)
Representative Joe Courtney (D-CT)
Representative James B. Renacci (R-OH)
Representative Daniel Lipinski (D-IL)
Representative Barney Frank (D-MA)
Representative Niki Tsongas (D-MA)
Representative Steve Israel (D-NY)
Representative Lee Terry (R-NE)
In addition, Senator Richard Blumenthal (D-CT) sponsored a letter to Chairman Dianne Feinstein (D-CA) and Ranking Member Lamar Alexander (R-TN) of the Senate Appropriations Subcommittee on Energy and water Development. The other signatories of the letter sent on March 21, 2012 were:
Senator Joseph I. Lieberman (I-CT)
Senator Daniel K. Akaka (D-HI)
Senator Ron Wyden (D-OR)
Senator Charles E. Schumer (D-NY)
Senator Debbie Stabenow (D-MI)
Senator Tom Udall (D-NM)
Senator Kirsten E. Gillibrand (D-NY)
Senator Christopher A. Coons (D-DE)
Please call and write thank you letters to these Members for their support of fuel cell and hydrogen energy industry.
The March 19 House letter is available here. The March 21 Senate letter is available online here.
President Obama Announces Alternative Technology Vehicle Support as Part of All-of-the-Above Energy Strategy
President Obama outlined new plans on Wednesday, March 8, 2012 as part of a $1 billion National Community Deployment Challenge to support the sales and use of alternative technology vehicles (ATVs). The plan supports electric, natural gas, and hydrogen-powered vehicles and is defined as an all-of-the-above energy strategy.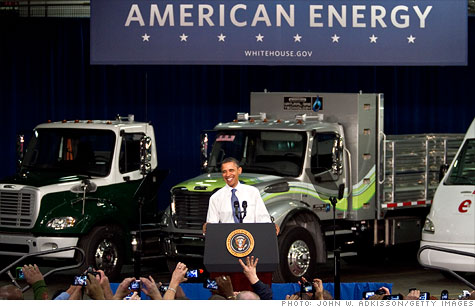 Part of the President's plan includes increasing the current $7,500 tax credit for ATVs to a maximum of $10,000. The credit would also be broadened to apply to different types of ATVs, moving beyond just plug-in cars to apply to electric battery, natural gas, and hydrogen vehicles.
"This is good news for any manufacturer who's taking a portfolio approach [to ATVs]" said John Hanson, U.S. spokesman for Toyota.
Funds from the National Community Deployment Challenge will also be used to help 10 to 15 "model communities" create incentives and infrastructure to support advanced technology vehicles, according to the White House proposal.
Communities will be able to use the funds in support of plug-in electric, natural gas, hydrogen fuel cell or any other advanced vehicle technology. The communities would then become "real-world laboratories," the White House said, providing models for full-scale deployment of these advanced technologies.

Read the White House fact sheet on the All-of-the-Above Approach to American Energy
here
.
Read the CNN Money article here.
Danish Government to Launch Hydrogen Infrastructure Program and Continue FCEV Tax Exemptions through 2015
On March 23, 2012, the Danish Government announced a new Energy Plan 2020 which included several initiatives supporting the development of hydrogen infrastructure and the deployment of fuel cell electric vehicles (FCEV). The overall goal of the Energy Plan 2020 is to bring the Danish Government to complete fossil fuel independence by 2050.
The Infrastructure Program within the Energy Plan 2020 would develop a country-wide hydrogen refueling network by 2015. This would also include a significant tax exemption on electricity for hydrogen production to encourage renewable hydrogen.
Furthermore, the Energy Plan 2020 includes the continuation of existing tax exemptions for FCEVs through 2015. The current tax on gasoline vehicles in Denmark includes a 180% tax and 25% value added tax (VAT) applied to the base vehicle price. By exempting FCEVs from the 180% vehicle tax, FCEVs would be competitively priced compared to traditional gasoline vehicles when they are released to the commercial market.
For more information on the Danish Government's Energy Plan 2020, please visit the press release here.
Canada Mobilizes National Research Effort to Reduce the Price of Fuel Cells
On Tuesday, March 20, 2012, a collaboration between six Canadian companies and 20 top fuel cell scientists and engineers from academia and government was announced. The collaboration is working to develop a way to significantly reduce the pl

atinum used in the proton exchange membrane (PEM) fuel cells for automotive applications.

The six companies involved are the Automotive Fuel Cell Corporation (AFCC), Ballard Power Systems, Hyteon Inc., BIC Inc., GM Canada, and Hydrogenics.
This CAD 8.1 million project is primarily being funded by the Automotive Partnership Canada (APC), which contributed CAD 5 million. APC is a partnership between five federal agencies that supports research at Canadian universities and government laboratories. The agencies included are the Natural Sciences and Engineering Research Council of Canada (NSERC); National Research Council (NRC); Canada Foundation for Innovation (CFI); So

cial Sciences and Humanities Research Council of Canada (SSHRC); Canada Excellence Research Chairs (CERC).
The research teams are also working towards improving the durability and efficiency of the platinum catalyst layer, which would translate into longer-lasting fuel cell stacks.
The APC press release can be found online here.
Toyota Announces Intent to Make 'Tens of Thousands' of Fuel Cell Electric Vehicles Annually by 2020
On Tuesday, March 6, 2012 at the Geneva Motor Show, Didier Leroy, head of Toyota's European operations, commented that the company is "preparing to be able to produce tens of thousands [of fuel cell electric vehicles] per year in the 2020s."
Toyota Motor Corporation displayed its hydrogen-powered FCV-R concept car, further establishing its intentions to sell non-polluting sedans by 2015.
Toyota FCV-R Hydrogen Fuel Cell Concept Car
Read full story here.
J

oint Base Lewis-McChord Operating Fuel Cell Electric Vehicles on Renewable On-Site Hydrogen
On Thursday, March 1, 2012 Joint Base Lewis-McChord (JBLM) in Washington State announced that the base is currently operating nineteen fuel cell forklifts and one fuel cell shuttle bus. Both the forklifts and bus are fueled from hydrogen generated on-site from waste gas from JBLM's waste water treatment plant. The gas was previously flared.
Proterra Hydrogen Fuel Cell Hybrid Bus
Though the forklifts and bus had been in operation since November 2011, for the first time the vehicles are being fueled from sustainable on-site hydrogen.
The companies who made the project happen are:
Plug Power, who provided the nineteen fuel cell forklift trucks
Air Products, who supplied the hydrogen transportation, compression, storage, and dispensing infrastructure
Proterra, who provided the hydrogen fuel cell bus
The Gas Technology Institute, who developed the waste gas clean-up and hydrogen generation infrastructure
JBLM will be hosting a ribbon cutting ceremony this Spring to commemorate the effort.
For the full story of the project, you can read Fuel Cell Today's coverage online here.
Senator Tester Questions Secretary Chu on Fuel Cell Electric Vehicles
Department of Energy (DOE) Secretary Steven Chu appeared as a witness at the Senate Committee on Appropriations Energy and Water Development Subcommittee on Wednesday, March 14, 2012 to discuss the FY 2013 DOE budget.
The Secretary was asked by Senator Jon Tester (D-MT) if the U.S. was ceding the lead in fuel cell electric vehicles (FCEVs) to other countries. The Secretary replied that the DOE still wanted to continue to support fuel cells for transportation and move forward with their commitment to PEM fuel cells for transportation.
Earlier in the hearing Chairman Feinstein (D-CA) said in her opening remarks, the committee would like to know why the Office of Fossil Energy was one of the few programs receiving cuts, and that the largest cut within Fossil Energy was the zeroing out of the Solid State Energy Conversion Alliance (SECA) program, which funds solid oxide fuel cell research and development.
The Secretary expressed that the Department believes solid oxide fuel cells are in a more mature place than PEM transportation fuel cells, with higher industry investment, and require less government support at this point.
A transcript of the exchange is available here.
Mercedes-Benz Makes an Invisible Fuel Cell Vehicle (VIDEO)
On Sunday, March 4, 2012, to make a statement about its upcoming fuel cell electric vehicles' zero carbon footprint, Mercedes-Benz cloaked one of its F-Cell vans to demonstrate its invisibility to the environment.
Invisible Mercedes
Read more about the Mercedes-Benz F-Cell here.