The Department of Energy Releases President's FY2013 Budget Request
Following the DOE budget roll-out, FCHEA hosted a webinar to review the Fuel Cell Technologies Program Budget on Tuesday, February 14, with DOE officials present to discuss and answer any questions.
A PDF file of the slides from the webinar, as well as an audio and video recording of the webinar, can be found here.
California Passes New Regulations Requiring 1.4 Million Clean Vehicles by 2025 - Supports FCEVs and Hydrogen Infrastructure
The California Air Resources Board (ARB) recently passed new emissions standards that will help to dramatically increase the number of electric vehicles (EVs), hybrids, and fuel cell electric vehicles (FCEVs) that are sold in the state in an effort to dramatically reduce greenhouse gas emissions. The guidelines mandate that 15 percent of all new cars sold in California by 2025 will run on electricity, hydrogen or other systems that produce zero or minimal emissions. Regulations are scheduled to kick in first for 2018 production year vehicles and ramp up annually to result in having 1.4 million clean vehicles on the road in 2025.
According to ARB, pure battery electric vehicles and FCEVs are expected to account for 500,000 of the 1.4 million vehicles, and will be supported by infrastructure that is also mandated by the new regulations. Oil companies will be expected to install alternative fueling stations voluntarily, if not, hydrogen stations and electric vehicle charging stations will be required once sales reach specified levels.
The ARB predicts that the package of initiatives included in the regulations will save Californians $22 billion through 2025, and create 21,000 new jobs in the state by diverting consumer money away from gasoline and into more productive economic sectors. The ARB also forecasted that the regulations will increase the price of a new car by $1,900 by 2025, but concurrently lower average gasoline costs by $5,900 over the life of a vehicle.
For more information on the ARB ruling, you can view articles online by Reuters, the LA Times, and the NY Times.
Apple to Install 5 MW Fuel Cell Power Plant Running on Biogas at North Carolina Data Center
Apple announced via a new Facilities Environment Report, that they will be powering their Maiden, North Carolina data center with a 20 MW solar array, the largest end-user-owned onsite solar array in the country, as well as a 5 MW fuel cell system, the largest non-utility fuel cell installation in the country.
The 5 MW installation will be fueled completely by biogas and will provide more than 40 million kWh of base-load renewable energy annually to the facility.
Apple's Facilities Environment Report is available online here.
U.S. Army Deploys First Fuel Cell Electric Vehicles in Hawaii - Supplied by General Motors
The U.S. Army has announced that they are testing a fleet of 16 General Motors fuel cell electric vehicles (FCEVs) across Hawaii. The vehicles were chosen over other alternative vehicles for their 200 mile range and rapid refueling time; and because they can be fueled 100% locally - they run on hydrogen produced exclusively from Hawaiian sources of energy.
Senate Appropriations Chairman Inouye (D-HI) Inspects the Hydrogen Fleet
The FCEV fleet serves as administrative vehicles; as Senator Inouye sees above, one of the vehicles demonstrates an option for the fuel cell to serve as a silent and efficient mobile generator, producing enough electricity to power a command center. "We think [the fuel cell generator] might have greater application in combat vehicles," said Major General Roger Matthews, Deputy Commanding General of the U.S. Army Pacific.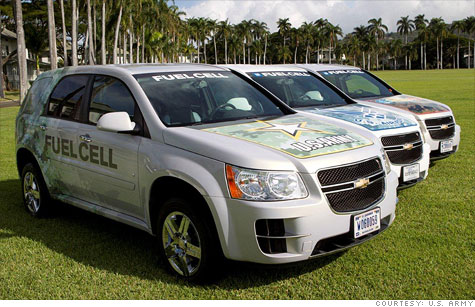 The full story is available online here.
Fuel Cells 2000 Releases State Policy Wrap-up 2011
Fuel Cells 2000 has released an overview of state legislation and policy initiatives that has affected the fuel cell and hydrogen energy industry in 2011.
The report covers Seventeen states which enacted, expanded or implemented fuel cell and hydrogen-related tax incentives, business support, grant funding opportunities and other policies
The report can be found online here.
Europe's Largest Hydrogen Refueling Station Opens in Hamburg
This week the city of Hamburg, Germany opened Europes largest hydrogen refueling station, capable of delivering 750 kilograms of hydrogen per day. The station, supplied by power company Vattenfall, will deliver fuel for twenty fuel cell buses in operation in Hamburg, as well as the general public.
Half of the hydrogen is produced by electrolyzers supplied by Hydrogenics which utilize the stations on-site renewable energy sources. The remaining hydrogen is delivered from off-site.
The station is part of Germany's "Clean Energy Partnership," a public-private partnership between Germany's federal government, oil and energy companies, automobile manufacturers working to develop Germany's hydrogen infrastructure.
The original article is available Welt Online here (webpage is in German). For an overview in English, you can visit Fuel Cell Today's coverage, available here.
Bloom Energy Installs First Fuel Cell in Los Angeles High-Rise
Bloom Energy has installed two of its solid-oxide fuel cell units at Century City skyscraper Constellation place, formerly known as MGM Tower. This is the first Los Angeles high-rise to be powered by electricity generated from a fuel cell.
The two fuel cell units total 400 kW of power, about one-third of the electricity needed by the 35-story tower, and will reduce the buildings emissions from power generation by 30%.
The full article is available online here.