UC Garden Clippings
University of California Botanical Garden
November 2012 - Vol 4, Issue 4
Quick Links

---

---

Landscape Cacti &
Succulents Nursery

Tropical & Indoor Plants Nursery

---

ON DISPLAY | Natural Discourse

Photo | Mitchell Maher

ON DISPLAY through Sunday, January 20, 2013

---

Free with Garden Admission


Visitor Update
Friday, November 2 The Garden will close
at 2:30 pm (no Admission
after 2 pm) due to the close
of Centennial Drive for the Cal Football game.

Sick Plant Clinic
Saturday, November 3
9 am - noon
Free.

Bees Explained
Sunday, November 4
2 - 3:30 pm

Where the Wild Things Are: Animal Signs
Sunday, November 11
2 - 3:30 pm



Wednesday, November 14

11 - 11:45 am




Docent Walks

Thursdays, Saturdays & Sundays
1:30 pm

Fall Self-guided Tour
The tour, which highlights plants from around the world, is a circuit and takes about one hour. It starts at the Garden Entrance. Look for the ORANGE numbered markers to guide you to the featured plants. Download the tour and map here.

Encephalartos horridus


Cycads




Cycads are a rather obscure group of plants, though most people know the sago palm, which is not a palm, but rather it is a cycad. The Garden has an outstanding collection of cycads, an ancient lineage of cone-bearing plants which look like palms but are more closely related to conifers.

Our cycad collection has been singled out and recognized by the North American Plant Collection Consortium of the American Public Garden Association. Cycads are native to warmer regions around the globe, and can be found in our Southern African, Australasian, Mexican/Central American and Asian Areas, and

of course in the Cycad and Palm Garden which surrounds the Conference Center.

Cycads are dioecious, meaning that separate male and female plants produce pollen and seed bearing cones, respectively. The Garden is working with international conservation groups to preserve several very rare species of cycads. There are several species of cycads planted in the Waterwise Entry Garden, where you can appreciate their striking landscape potential.

---

Members' Walk: Cycads

Thursday, November 15 1 - 2:30 pm
Discover the Garden's unsurpassed cycad collection with Horticulturist Meghan Ray. Advance registration required; members-only; free.

REGISTER ONLINE
Advance registration required; members-only; free

---

---




Propagator's Choice


Encephalartos lehmannii

Karoo Cycad, Encephalartos lehmannii

This lovely, South African cycad will make a striking centerpiece to a garden. Over time, its trunk can grow to 6' tall and 1-1/2' in diameter and is topped rosette of rigid, blue leaves that can grow to 5' long. It is considered as one of the hardiest and drought resistant of the South African species. The IUCN (International Union for Conservation of Nature) considers it near threatened in habitat. Our plants are seed grown in large treepots and sell for $25 each.




Giving Thanks


to our Members this Thanksgiving!


Treat family and friends to a free Garden trip between Monday, November 19 and Wednesday, November 21. As a member, visit the Garden during the week of Thanksgiving and enjoy free admission for you and up to five additional guests! Now is a great time to acquaint someone new to the unique plant collections, innovative exhibitions and stunning views the Garden has to offer.

Join or renew today to receive a year's worth of fantastic benefits. In addition to free year-round admission, members receive exclusive invitations to special events, discounts on programs, in the Garden Shop and at local nurseries as well as reciprocal admission to over 270 gardens and arboreta nationwide - perfect for the upcoming holiday travel season!

Four Ways to Join or Renew

On-Site: Stop by the Garden Kiosk

Phone: 510-643-1924

Mail: 200 Centennial Dr · Berkeley · CA 94720-5045
Visitor Update
FRIDAY, NOVEMBER 2 - Centennial Drive will close at 3pm for the Cal Football game.
The Garden will close at 2:30 pm
(no Admission after 2 pm) on this day, please plan accordingly.
Holiday Shopping at the Garden
Be the talk of the holiday party with these Garden-inspired host/hostess gifts.

Now available at The Garden Shop

Tillandsia Globes - $18.99Steve's Bee's Honey (Half Pint Jar) - $10Steve's Bee's Honey (2 Oz. Little Bear) - $4.50
Like summer in a spoon, Steve's Blackberry Honey is divine.
Only a few jars available of this hard-to-get local honey.

Upcoming Programs
Fall Bird Walk
Saturday, November 3, 9 - 10:30 am
Observe resident, migrant and vagrant birds in the Garden's many bird-friendly microhabitats with birding expert Phila Rogers and Associate Director of Collections & Horticulture Chris Carmichael. Advance registration required; $20, $17 members. REGISTER ONLINE

New Member Welcome Wagon
Sunday, November 4, 9:30 am - noon
We're rolling out the Welcome
to greet all our newest members and everyone that has joined the Garden over the past year. As a thank-you for joining the Garden family we are officially celebrating your contribution. New members are invited to join us at 9:30 am for a "meet & greet" and morning treats, followed by a Garden introduction from Garden Director Paul Licht at 10 am. At 11 am we'll take a special docent-led tour of the Garden. Come learn more about the Garden, its exciting programs, rich history and the many ways you can become involved in our Garden community. Advance registration required; free. Only 4 spaces left! REGISTER ONLINE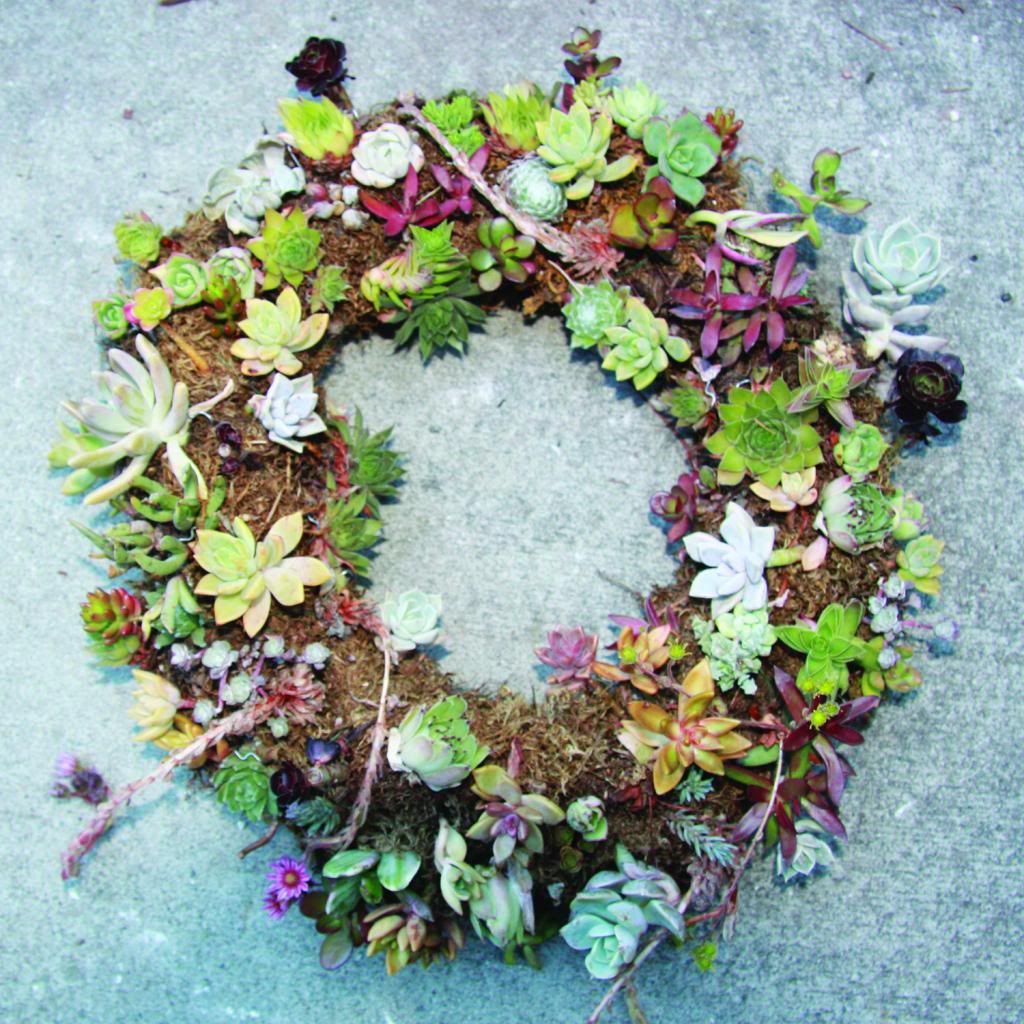 Succulent Wreaths
Wednesday, November 7, 6 - 8 pm
Create a gorgeous succulent wreath to enjoy all year round. You'll select among a variety of succulents and be guided on how to plant and care for your wreaths. All materials provided. Advance registration required: $65, $55 members. Only 5 spaces left! REGISTER ONLINE

Where the Wild Things Are: Animal Signs in the Garden
Sunday, November 11, 2 - 3:30 pm
What animals do you think might have their home in or near the UC Botanical Garden? What sign might they leave as clues to their presence? Test your nature detective skills by examining plaster casts made from animal tracks and learn about the different gaits (walk, gallop, hop) used by animals. Play a
critter identification guessing game looking at clues of signs and tracks. Free with Garden admission.

Family Movie Night
Saturday, November 17, 5 - 6:30 pm
View clips from Planet Earth and see them come alive in our up-close plant display! Pizza and popcorn provided - or bring your favorite snacks with you! Advance registration required: $10, $8 members.
December Preview
Spice & Chai Workshop
Saturday, December 1, 2 - 3:30 pm
Spend a chilly winter day in our warm and wonderful Tropical House - home to many of the spices you'll find in the Garden. Enjoy fascinating historical tales about the spices followed by a chai (tea) demonstration and tasting. Participants will receive a chai recipe to take home! Space is limited. Advance registration required: $20, $15 members. REGISTER ONLINE
Gorgeous Gifts from the Garden Holiday Soiree
Friday, December 7, 2 - 6:30 pm
You're invited to join the Garden for a special holiday shopping affair. From the sublimely simple to the ultra-chic there is sure to be a plant or Garden-inspired gift item to delight everyone on your holiday gift-giving list. Add extended shopping hours, tasty seasonal refreshments, extra discounts, hands-on activities and festive entertainment and the experience is complete! While you're here, don't forget to pick up a plant for yourself or a beautifully packaged Gift Membership for someone special. The event is FREE and fabulous!
The Gift of Garden Membership
by Suzanne Field, Membership & Program Manager
Happy Holidays!
As a current Member you know and understand the value and significance of the UC Botanical Garden. You have given your support and now we are asking that you share the magic of the Garden with your friends and family by giving the gift of Membership this holiday season. Garden Membership lasts a full year and compliments the recipient while supporting one of the finest and most diverse plant collections in the world!
How can we make this an even more perfect gift? By making this gift HALF OFF! Current members will receive 50% OFF all Gift Memberships this holiday season.*
*Gift recipients must NOT be a member of the same household as purchaser. Offer valid for current Members only November 1 - December 15, 2012. Discount applies to all levels of Membership. Use discount code: GIFT when redeeming online.
Buy a Gift Membership online OR download a form here.
You can order online, over the phone at 510.643.2755, or on your next visit to the Garden!
Feel free to contact us at 510.643.1924 or gardenmembership@berkeley.edu if you have any questions at all!
Happy holidays!
Manage Your Subscription
The UC Garden Clippings is a publication of the University of California Botanical Garden at Berkeley. You can manage your subscriptions to Garden electronic publications by choosing
Update Profile/Email Address
at the bottom of the newsletter. The
Update Profile/Email Address
feature provides subscription options, allowing you to select those garden publications you wish to receive. Select
Safe Unsubscribe
to remove your email address from all UCBG electronic publications. The Garden offers five email publications:
UC Garden Clippings:

This is a monthly newsletter featuring garden events and stories.

Updates:

Occasional brief emails are sent to highlight special garden events.

Plant Deck:

This is a monthly email describing plants available for purchase in the Garden.

Garden Clubs:

This is an occasional publication describing special events and opportunities for garden clubs and plant societies.

Tours:

Be the first to know when the Garden has a new tour available for schools and other groups. Get details on arranging tours for your group.
Botanical Art: You''ll receive exclusive information about classes and exhibitions.
Editor: Vanessa Crews,
vcrews@berkeley.edu
, 510-643-2937